… P/Rico and Antigua clubs in the way at Marabella
"From a Trinidad and Tobago standpoint, we are out of the Olympic and World Cup qualifying campaigns," said Neal & Massy Caledonia AIA coach Jamaal Shabazz. "So this gives us a chance to still keep in touch with the top teams in the CONCACAF region.
"For us and W Connection, qualification is more than just for our clubs."
Caledonia AIA and W Connection will figuratively hoist the Trinidad and Tobago flag this evening in Caribbean Football Union (CFU) Club Championship semifinal match-ups against Antigua Barracuda and Puerto Rico Islanders from 6 pm and 8 pm respectively at the Mannie Ramjohn Stadium, Marabella. Admission is $40.
The winners qualify automatically for the CONCACAF and meet in Thursday's final at the same venue while the losers meet in a decisive play off on Thursday. Three of the four competing CFU clubs will advance.

The CFU champions will join a three team group that includes United States' Major League Soccer (MLS) outfit Seattle Sounders and Honduran club, Marathon. Seattle employs Trinidad and Tobago under-23 attacker Cordell Cato and US striker Eddie Johnson.
The CFU runner-up will face top Mexican side Chivas de Guadalajara and Guatemalan team Xelaju while third place wins a date with England star David Beckham's LA Galaxy and El Salvador's Isidro Metapan.
Connection coach Stuart Charles-Fevrier and Shabazz hope a good showing from the two Pro League teams at CONCACAF level can provide impetus for the stuttering local game.
Barracuda and the Islanders, who both compete in the US lower leagues, naturally have different ideas.
Barracuda defeated Connection in CFU action on its last trip to Trinidad in May when striker Peter Byers, a former San Juan Jabloteh hitman, got the vital goal in a 2-1 win.
Antigua and Barbuda is also buoyed by an encouraging debut at the 2014 World Cup qualifying semi-final round.
The "Benna Boys" gave the US a scare before falling 3-1 in Florida while they drew goalless with Jamaica in their second qualifier. Barracuda, who competes in the third tier of the US game, is effectively a club version of the national side and is owned by new CFU President and AFBA General Secretary Gordon Derrick and run by national coach and Englishman Tom Curtis.
"They have a typical English style," said Shabazz, who also doubles up as Guyana national coach. "They are compact, aggressive and hard to pass and Byers is a big factor… We have to be alert and prevent him from turning and be prepared to battle with him all the time."
Despite Trinidad and Tobago football's recent misfortunes, Caledonia and Shabazz are enjoying stellar seasons.
The Morvant/Laventille-based team, which is also expertly steered by coach Jerry Moe, won an unprecedented hattrick of domestic knock-out titles this season while Shabazz has taken Guyana to the CONCACAF World Cup qualifying semi-final round for the first time—albeit at the expense of his homeland.
Shabazz's international success has severely limited his time with the "Eastern Stallions" but Moe has done an excellent job during his absences. Both coaches complement each other as Shabazz prefers to focus on tactics while Moe excels in preparation.
Flank play should be key for Caledonia today, particular with the absence of injured playmaker Ataullah Guerra, and teenaged Guyana left winger Trayon Bobb and right-side St Vincent and the Grenadines attacker Cornelius Stewart are expected to create opportunities for homegrown strikers, Devon Jorsling and Jamal Gay.
Bobb and Stewart will be supported by the adventurous full backs, Kareem "Tiny" Joseph and Guyana stalwart Walter Moore.
Central defender Radanfah Abu Bakr and midfield anchor and captain Stephan David will hope to impose themselves too. And, in goal, Shabazz and Moe are likely to choose between Guyana international custodian Ronson Williams and former national youth World Cup goalie Glenroy Samuel, who has returned from a stint with Barracuda's feeder club in Antigua.
"We have so many players who can go to the next level if they get the opportunity," said Shabazz. "Seven of our players are under-23 and we want the chance to play on ESPN against a top MLS or Mexican team…
"For us, it gives a chance to put Morvant/Laventille in the spotlight and on international television in a positive way."
While neither Barracuda nor Caledonia has played in the CONCACAF competition, tonight's clash between Connection and the Islanders represents a showdown between two of the Caribbean's most successful teams.
Connection's four titles is the most by a Caribbean outfit in the revamped tournament while the Puerto Rican team has two consecutive crowns and is seeking a hattrick in Marabella. Joe Public, one of four Trinidad and Tobago teams to top the region, also has two CFU trophies.
The Islanders also has an English coach, Adrian Whitbread, and a high-tempo, aggressive style to match.
Connection, who the 2011/12 Pro League title on the last game of the season, has never lost to the Islanders and defeated the visitors 2-1 in the 2009 CFU finals—thanks to a double from Dominican Republic attacker Jonathan Fana—as well as en route to its 2006 success.
"They won't want us to beat them a third time, so they will definitely come focused," said Fevrier, a St Lucian native. "We and Caledonia are at a bit of disadvantage because their leagues are still active and our season ended about a month ago.
"But we still feel that we were able to prepare reasonably well enough to compete. We want to win the Caribbean Club Championship and we want to play in the Concacaf competition."
A former employee will stand in Connection's way tonight.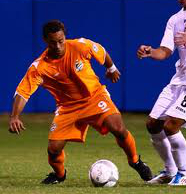 Fana, a nippy, diminutive striker, is on the Islanders roster and is part of a three-pronged attack that will not feel out of place in Trinidad. Alongside the Dominican Republic star is gifted Guyanese winger Gregory "Jackie Chan" Richardson and Jamaican Nicholas Addlery who once represented Joe Public and Jabloteh respectively.
Former Trinidad and Tobago utility player Osei Telesford and ex-Connection defender Justin Fojo are also expected to represent the Puerto Ricans.
Connection is led by national goalkeeper Jan-Michael Williams and boasts a competent defence and midfield with the likes of St Lucian veteran Elijah Joseph, Kittian midfielder Gerard Williams and the local quartet of Kern Cupid, Joevin Jones, Andrei Pacheco and "Soca Warriors" midfielder Clyde Leon.
The national youth trio of defender Joel Russell, midfielder Andre Quashie and striker Shahdon Winchester miss out through injury.
Winchester's absence leaves Connection light upfront where the less heralded trio of 23-year-old striker Hasim Arcia and cousins Rennie and Jerrel Britto must prove themselves at this elevated level.
"Nobody has stood out in terms of goal scoring for us this season," said Fevrier. "It has been more of a collective effort. These (youngsters) are the players who won us the league when no one expected us to.
"I have to support them and show confidence in them."
In the past 12 months, Trinidad and Tobago's international football has lurched between political scandals, financial disarray, High Court humiliation and a shocking early elimination from the 2014 World Cup qualifiers.
Domestically, last year's State of Emergency wreaked havoc on local fixtures while financial uncertainty has placed the once formidable Jabloteh on the brink of ruin.
Connection and Caledonia hope to begin Trinidad and Tobago's football revival today.
W Connection (possible line-up): Jan-Michael Williams; Kern Cupid, Akeem Benjamin, Elijah Joseph, Joevin Jones; Gerard Williams; Andrei Pacheco, Clyde Leon; Rennie Britto, Jerrel Britto; Hasim Arcia.
Caledonia AIA (possible line-up): Glenroy Samuel; Kareem Joseph, Nuru Muhammad, Radanfah Abu Bakr, Walter Moore; Cornelius Stewart, Stephan David, Keyon Edwards, Trayon Bobb; Devon Jorsling, Jamal Gay.