Liverpool star Mohamed Salah marked his World Cup debut with a goal this afternoon but it was not enough to stave off Egypt's elimination from the 2018 World Cup, as they fell 3-1 to Russia in St Petersburg.
Russia have one foot in the knockout round already now and both limbs should be in by lunch tomorrow, when Uruguay tackle Saudi Arabia in Rostov-on-Don. Anything but a win by the Saudis would see the host nation—who whipped the "Green Falcons" 5-0 last Thursday—advance alongside Uruguay.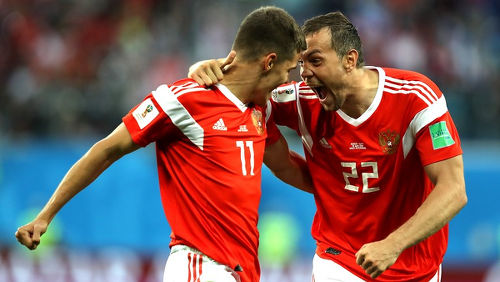 Presumably, Russians have not been this happy since they elected the US president.
It seems safe to say that the role of gracious and welcoming host does not come naturally to the "Bear", who appear to be particularly squeamish on the subject of Russian women having sex with foreigners.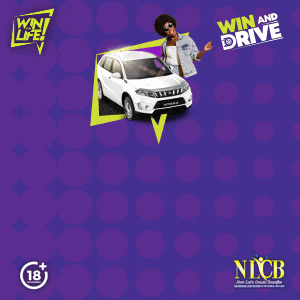 The 1980 Moscow Olympic Games apparently saw a spike in mixed-race babes born to Russian women, and MP Tamara Pletnyova, the head of her parliament's committee for families, women and children, is anxious not to have a repeat.
"We must give birth to our children [as] these [mixed-race] kids suffer and have suffered since Soviet times," Pletnyova told Govorit Moskva radio station. "It's one thing if they're of the same race but quite another if they're of a different race. I'm not a nationalist, but nevertheless I know that children suffer. They are abandoned, and that's it, they stay here with mum."
At the other end of the spectrum, Burger King Russia sparked outrage by promising 3 million rubles (US$46,800) and a lifetime supply of Whoppers for any girl who got pregnant for a "world football star".
"Girls, who will be able to get the best football genes, will lay the [foundation for] success of the Russian national team for several generations ahead," announced Burger King, via their social media platform. "Go! We believe in you!"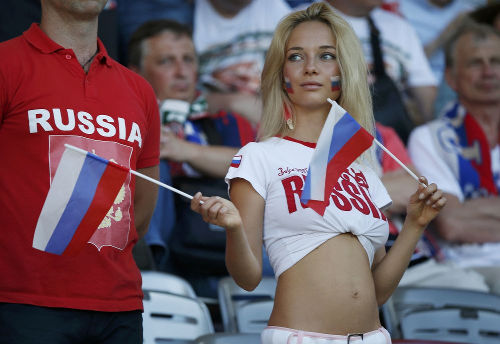 Eh… Have it your way?
Mr Live Wire is unsure whether Burger King was joking and if their definition of football star meant a currently active player or a retired one. But an unconfirmed report suggests that Dwight Yorke has already booked his flight to Russia.
Off-field shenanigans apart, the young men of Senegal were certainly in irresistible form today, as they held off a late Poland charge to win 2-1 in Moscow.
In the process, the African outfit became only the second team from off the continent to defeat a European side at the current tournament—after Mexico's stunning 1-0 triumph against defending champions, Germany.
Senegal were patient, organised, tactically assured and decisive. In contrast, the Poles undid themselves with two defensive lapses in concentration that would have provoked tongue lashings in even a fete match contest.
So maybe Senegal's Aliou Cisse slew a few stereotypes today, as he became only the second African coach to win a World Cup game—after Nigeria's Stephen Keshi, who led Nigeria to the Round of 16 in 2014.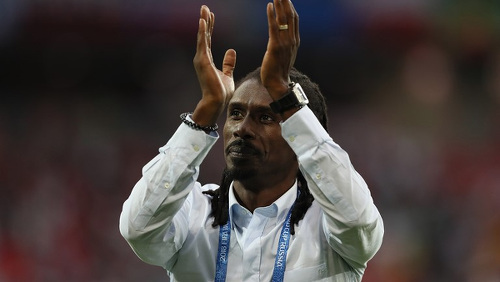 "We managed to control the game tactically and emotionally," said Cisse, after the final whistle.
The likes of travelling salesmen Tom Saintfiet and Otto Pfister are going to struggle for work if the example of Cisse and Keshi spreads through the old continent.
Argentine coaches are not looking too clever at the moment either. No other nation has supplied as many coaches to teams at the Russia World Cup with Jorge Sampaoli (Argentina), Jose Pekerman (Colombia), Ricardo Gareca (Peru), Hector Cuper (Egypt) and Juan Antonio Pizzi (Saudi Arabia) all hailing from the land of beef, Eva Peron and Diego Maradona.
Yet, at the end of the first round, not one from that quintet have won a game.
Pekerman got his own taste of the bitter stuff this morning, as Colombia were put to the sword by Japan's "Blue Samurai" in a 2-1 loss this morning. The South Americans played most of the match with 10 players, after some dozy defending by Davinson Sanchez led to a desperate handled ball by teammate and namesake Carlos Sanchez—who was ejected for the offence—before Shinji Kagawa's opening penalty.
Colombia, whose star playmaker James Rodriguez began on the bench due to muscle fatigue, clawed themselves back level before being levelled by a Yuya Osako header off a corner kick in the 70th minute.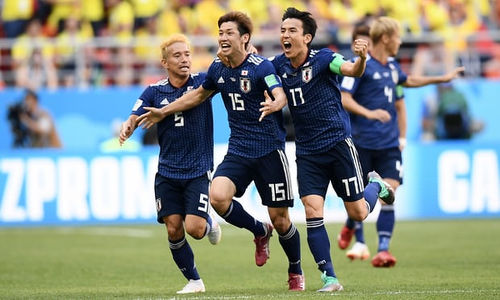 From the 39 goals scored at the Russia World Cup so far, 19 have come from set pieces with five successful penalties, four direct free kicks and the rest from corners. Make of that what you will, Mr Live Wire just wanted to show that he keeps stats too!
Cuper, of course, become the first of the Argentinean contingent to book his flight back to Buenos Aires, after his second straight loss today. Almost certainly, he will be followed to the departure lounge by Pizzi tomorrow, when Luis Suarez has Saudi Arabia for lunch.
Some sympathy for Cuper, though, whose star player, Salah, travelled to Russia half-fit, due to some rough tomfoolery by Real Madrid and Spain defender Sergio Ramos in the Champions League final.
It sure can't be easy for Salah to shoulder the expectations of a nation with a damaged wing.
Today, Russia were too good for them. The game seemed even enough until Egypt captain Ahmed Fathi spliced into his own net in the 47th minute. Within a flash—or 15 minutes, to be more precise—the Arabs were three goals behind.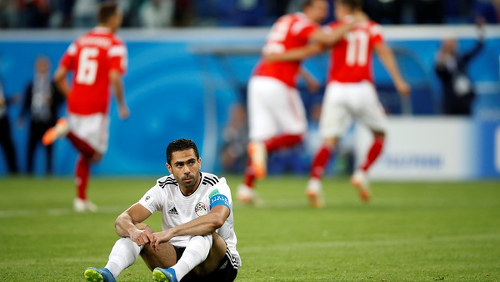 Putin's soldiers don't half press home an advantage when they sniff a weakness. They're like that friend you tell to wait in the gallery and turn your back, only to catch him in the kitchen rifling through your fridge.
Salah's late penalty, won after a VAR intervention, was scant consolation in the end. And the headlines belonged to Russian attacker Denis Cheryshev, whose item today—his third of the tournament—put him level with Portugal's Cristiano Ronaldo on the goalscoring chart.
Who knows what value Burger King Russia might put on Mrs Cheryshev' childbearing skills…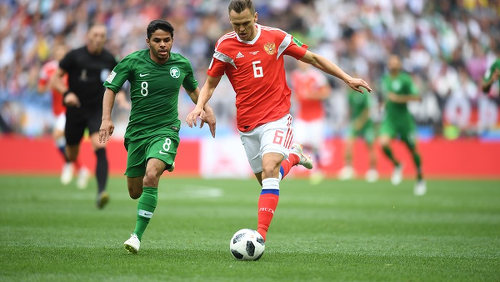 2018 World Cup
Group Stage
Today's results
Colombia 1 (Juan Quintero 39), Japan 2 (Shinji Kagawa 6 pen, Yuya Osako 73), Group H, Saransk;
Poland 1 (Grzegorz Krychowiak 86), Senegal 2 (Thiago Cionek OG 37, Mbaye Niang 60), Group H, Moscow;
Russia 3 (Ahmed Fathi OG 47, Denis Cheryshev 58, Artem Dzyuba 62), Egypt 1 (Mohamed Salah 72 pen), Group A, St Petersburg.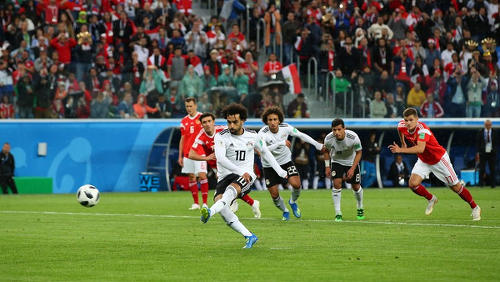 Tomorrow's fixtures
(Wednesday 20 June)
Portugal v Morocco, 8am, Group B, Moscow;
Uruguay v Saudi Arabia, 11am, Group A, Rostov-On-Don;
Iran v Spain, 2pm, Group B, Kazan.