"I was unfairly bypassed for selection for the 2018 Commonwealth Games," stated France-based Trinidad and Tobago international table tennis star, Rheann Chung. "I was neither given an opportunity nor informed of any trial events for selection by the TTTTA, despite my previous contributions as a national of Trinidad and Tobago, often at my own cost.
"[…] On the face of it, none of the players who have been chosen [Aaron Wilson, Yuvraaj Dookram and Arun Roopnarine] have the standard of play that either [Dexter St Louis] or myself have."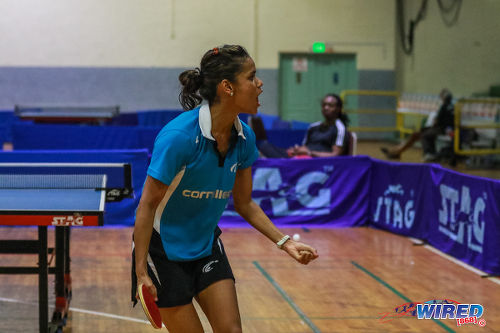 Chung, one of the best local players to ever wield a racquet, continued in her affidavit which is currently before the local High Court.
"I […] believe that, had I been given a fair and just opportunity," she added, "I would have been selected to represent Trinidad and Tobago at the 2018 Commonwealth Games."
The Trinidad and Tobago Table Tennis Association's (TTTTA) counter to the claim by Dexter St Louis and Chung, his step-daughter, of unfair practices in the selection of the team for the Games is that the star duo failed to follow the guidelines set out for qualifying for selection.

"Since the new executive took office in Jan 2017, official emails were sent to all foreign-based players," said TTTTA general secretary Aleena Edwards, in her affidavit, "informing them of the new executive members and also asked (sic) them to state their interest in representing the country for 2017.
"[…] Further, when TTOC asked for each individual player's requirements, emails were sent to both Rheann and Dexter asking for their details but (we) did not receive any responses from them to enter into the visa online system.
"[…] The persons chosen were duly chosen in accordance with the requisite processes of the Association in that regard."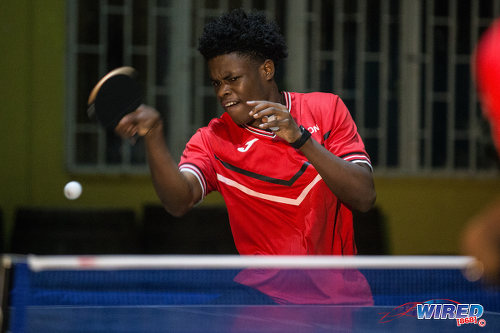 Edwards, a former international stand-out herself, went further.
"The selection of players is not based merely on a comparison of standard of play between [the chosen players] and [St Louis and Chung]," stated Edwards. "The Association duly followed the Association's policy and procedures in the selection of the players."
Almost certainly, the legal battle between St Louis/Chung and the TTTTA turns on two main points: Did the local table tennis body follow due process in selecting its team for the Commonwealth Games?
And, perhaps just as relevant, is a sporting body obliged to select its best players?
First, the prelude to a mighty contest.
At one end of the table stands the formidable pair of St Louis and Chung and it would be difficult to overstate their value to local sport. St Louis, a left-handed player with a devastating counter-attack, is the only table tennis player to ever represent Trinidad and Tobago at the Olympic Games, a feat he managed in 1996 and 2008.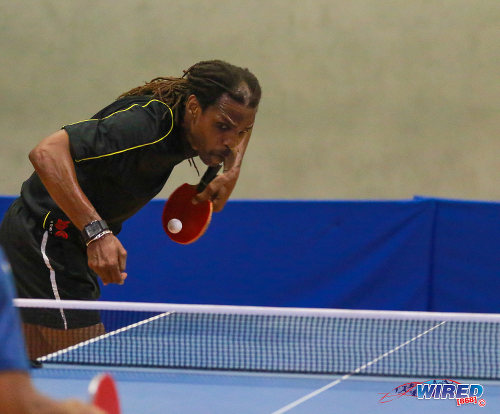 When St Louis won the Caribbean singles crown in 1994, he ended a 16-year drought for the two-island republic at that level. Since then, he has won the Caribbean title four times and is the country's only men's regional champion in this millennium.
Chung, a domineering player with an emphatic backhand, has also won the Caribbean crown five times. Her first triumph came in 2003 and ended a barren spell of over two decades for Trinidad and Tobago in the regional women's singles competition.
On 21 March, St Louis will turn 50 while, six days later, Chung will celebrate her 33rd birthday. But St Louis is as contemptuous of age as he is of his opponents' defence.
He was 40 when he qualified for the Olympics a second time. And 18 months ago, as whispered suggestions floated about that it might be time to put the veteran out to pasture, St Louis and Chung came home to whip the best the two-island republic had to offer en route to becoming 2016 National Singles champions.
St Louis' and Chung's achievements on the table tennis board in Trinidad and Tobago are such that, when eventually they do retire, they are virtually guaranteed places in the local Sport Hall of Fame.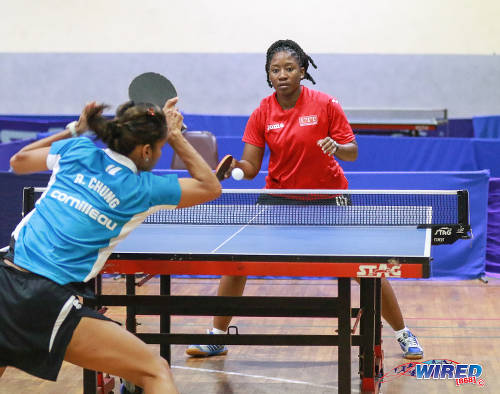 But, as Edwards' affidavit also stressed, the duo have often had an antagonistic relationship with the local table tennis body, whose executive they have publicly accused on multiple occasions of being—among other things—incompetent and self-centred.
The low point arguably came in 2007 when, as St Louis was eliminated from the Caribbean Championship at home after again complaining about mismanagement, his wife, Jeromaine Chung-St Louis, and Chung overturned the head table in protest.
Immediate suspension followed for the then 22-year-old Chung but, after she apologised, she eventually returned to the international fold and added to her remarkable collection of silverware.
In 2017, though, with a brand new TTTTA executive in place, St Louis and Chung would not have things their way. On Saturday 28 January, Arima Hawks secretary/treasurer Ian Joseph was elected TTTTA president with Edwards voted in as general secretary.
Joseph, 55, is a former A1 player in domestic competition who has represented his country as a coach and a manager but never as a player.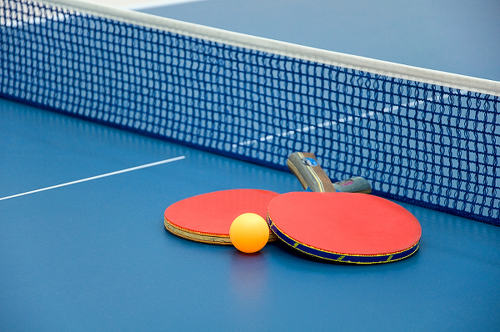 Edwards, 37, was the country's premier women's player before Chung's emergence and, in 2017, proved still good enough to walk away with the local Women's Player of the Year accolade.
Edwards also became one of the five members of the TTTTA's current Selection Committee, along with 1st vice-president Simon Spicer, North Zone president Merle Baggoo, East Zone secretary Dave Williams and South Zone president Vasdev Bob Roopnarine, father of Arun.
The TTTTA's Policy and Procedures document, designed to guide national team selection, lists its objectives as follows:
To select table tennis players who are athletes with requisite skill level and fitness who have been training to a program documented by an authorised coach or personal qualified coach;
To operate a system of development with continuous assessment to determine who fits the selection criteria to represent Trinidad and Tobago for eventual representation at the highest levels [of the] Olympics and World Championships.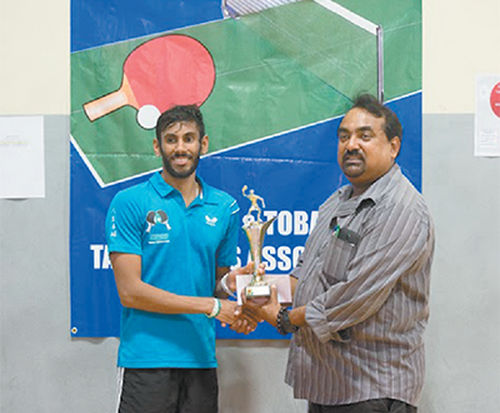 In team selection, the Selection Committee is mandated to use listed ranking tournaments, results of regional and international events within the last 12 months and attendance at national training programs or, in the case of foreign-based players, evidence of completion of training program.
Apart from possessing a valid Trinidad and Tobago passport to be eligible, players must demonstrate "the ability for a podium finish" within 12 months of their selection.
Crucially, the TTTTA document states that "foreign-based players must participate in any one of the [local] national tournaments listed for selection." Further, the Selection Committee "may advise of a mandatory event to be used for selection […] at least three months before where the other selection criteria demonstrably fail to yield a clear selection."
The first meaningful interaction between the France-based duo and the new 2017 TTTTA executive came on 16 February when St Louis contacted Edwards to request the ITTF code to represent Trinidad and Tobago at the Dusseldorf World Championships, scheduled to run from 28 May to 5 June. Once St Louis received the code, he also registered Chung and Anthony Corbin—without, Edwards contends, prior TTTTA approval.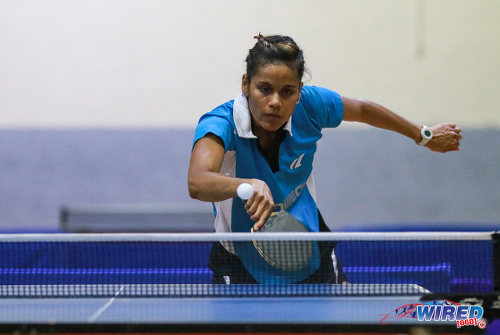 On 21 February, Edwards emailed St Louis and Chung to advise of the TTTTA's calendar of events for the year. Two weeks later, St Louis and Chung replied, congratulating the newly elected executive.  According to Edwards, both players went on to outline the terms under which they would continue to represent Trinidad and Tobago.
Chung requested two months' notice from the local body so she could inform her employers in Switzerland and France and arrange necessary insurance. St Louis had rather more to say.
"If I have to be selected by any selection committee, chairman, CEO or whatever name you call it that includes Bob Ramnarine [sic], Simon Spicer or any of the last administration," said St Louis, according to Edwards' affidavit, "even if the response is positive, which I don't believe, save yourself the email, What's App or phone call.
"My answer is NO…"
St Louis' position, he subsequently explained in a Trinidad Express interview, was based on the fact that Spicer and Roopnarine are respectively the parents of Catherine Spicer and Arun Roopnarine, both of whom are potentially Trinidad and Tobago international players.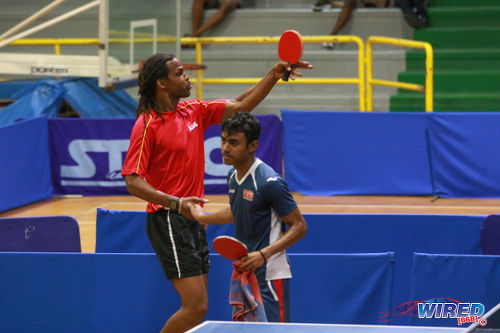 "I wrote to the new association concerning their selection policy, which I consider biased by having a parent as chairman who is a non-player/non-coach," St Louis told the Express. "To have that type of input into players' careers is dangerous."
A full six months later, neither St Louis nor the TTTTA had modified their respective positions.
And, in an article on 18 September, 2017 headlined "Don't use my name—No Commonwealth Games under current policy, says St Louis", the star player said he had ignored two emails from the TTTTA to represent the country at the Caribbean Championships and he was "holding firm to his decision not to accept a spot on any national team chosen by the existing selectors."
Regardless, on 12 October, the TTTTA sent emails to St Louis and Chung—as well as other considered players Shreya Maharaj, Brittany Joseph, Anson Lowkie, Spicer [C], Roopnarine [A], Wilson and Dookram—requesting information such as passport details, height, weight, etc, to be forwarded to the Trinidad and Tobago Olympic Committee.
The email read "URGENT Information Needed" and stressed that the relevant details were needed "no later than Sunday 15th October, 2017." The correspondence did not explicitly state that the requested information was vital to their eligibility for the 2018 Commonwealth Games or that failure to meet the deadline had implications for same.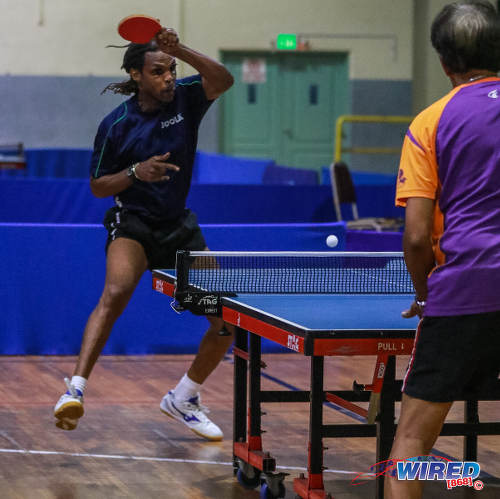 Edwards' affidavit suggests that St Louis told Joseph he did not receive the email but, regardless, he felt the TTTTA already had the information it had requested. It is not clear if the purpose of the TTTTA's request was ever conveyed to the France-based duo.
On 11 November, the Selection Committee met and chose Wilson and Roopnarine [A] for the Commonwealth Games, Dookram being named reserve.
Joseph [I] told Wired868 that the Selection Committee decided to shortlist three male players in the hope that the TTTTA might send a team to the Commonwealth Games rather than just one or two players for the singles event.
This meant that the 19-year-old Joseph did not benefit from Chung's non-selection, despite being the country's number one women's player at the time.
According to the General Secretary's affidavit, Spicer and Edwards recused themselves from the deliberations on the selection of the women while Roopnarine [V] recused himself when the selection of the men's team was being discussed.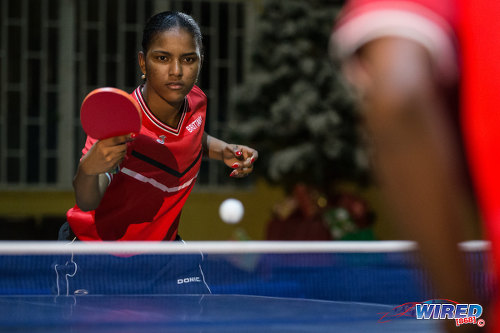 The TTTTA Management Committee ratified the selections by a vote of 13 to one. The lone dissenting voice was that of North Zone representative Kwame Laurence, who had interviewed St Louis for the aforementioned Express article. Eventual 2017 Player of the Year Dookram subsequently won a head-to-head match-up with Roopnarine [A] in a national competition and was elevated to one of the two guaranteed positions, Roopnarine [A] falling to a reserve spot.
Having failed to find a place, Chung pressed the TTTTA for an explanation; with none forthcoming, she turned to Canada-based sport attorney Emir Crowne for legal representation. St Louis was listed as party to the case against the local body although he did not file an affidavit.
The case is replete with contradictions on either side.
St Louis, who had said he was uninterested in representing Trinidad and Tobago under the TTTTA's current Selection Committee, sued for a place anyway.
The TTTTA claimed that the players were ineligible owing to their failure to compete in a local national tournament—and because Chung does not currently have a valid passport—but still included them on their TTOC long list and invited them to apply for Commonwealth Games selection.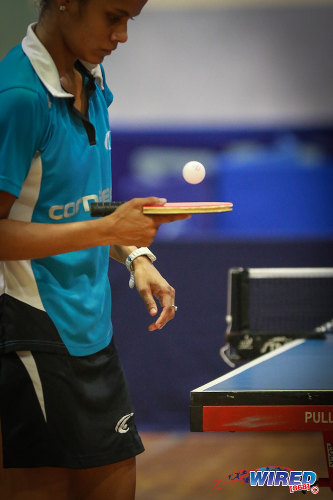 The TTTTA pointed to the fact that the players had missed their 15 October deadline; however, the date for TTOC's final selection of the Commonwealth Games team, Chung noted, is March 2018.
When Crowne requested an explanation for the omissions and, subsequently, that the matter be referred to the TTOC for arbitration, the TTTTA stonewalled. And he was again frustrated when he appealed directly to the TTOC for assistance.
"Section 31 of the TTOC's Constitution states that, where disputes/conflicts are unresolved by any National Sports Organisation (NSO)," the TTOC responded, "such NSO should seek the assistance of the TTOC to arbitrate on such disputes/conflicts.
"The section further states that for the TTOC to get involved, it is for the NSO to initiate the process.
"[…] As far as I am aware, TTTTA has not invoked Section 31 of the TTOC's Constitution. Accordingly, it will be unconstitutional and indeed premature for TTOC to accede to your request."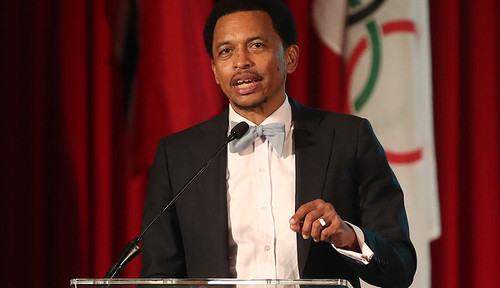 Crowne, who also represented gymnast Thema Williams during her unsuccessful effort to get to the Rio 2016 Olympics, suggested that, when put to the test, the TTOC's policy of "athlete first" appears to be little more than mere lip service.
"Section 31 of the TTOC Constitution gives an exclusive and unilateral power to appeal to the NSOs," Crowne responded. "This cannot be right. It is materially unfair to athletes for the TTOC to operate under such a unilateral appeal scheme.
"No fair and just sports dispute resolution system operates a unilateral appeal scheme. None. The TTOC, despite its talk of governance reform, has therefore done little to provide a meaningful dispute resolution mechanism for its athletes.
"NSOs, left to their own devices, have no impetus or motive to bring their disputes forward [to arbitration]."
So, Crowne—who added local-based attorneys Sheriza Khan and Matthew Gayle to his legal team—took the matter to the Port-of-Spain High Court, making a claim for damages for breach of contract and/or breach of duty, damages for conspiracy and/or unlawful interference, aggravated and/or exemplary damages, interest, cost and such further or other relief as the Court deems just.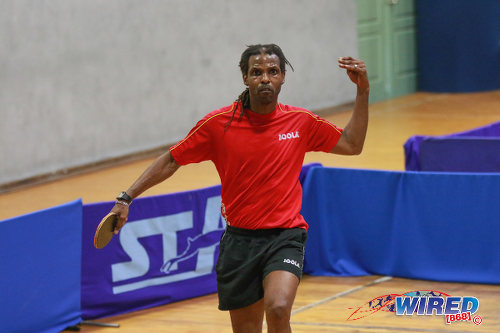 On Friday, Madam Justice Eleanor Donaldson-Honeywell granted the players an interim injunction against the TTTTA until the next hearing on 24 January.
Why, Justice Donaldson-Honeywell enquired, had the TTTTA not simply taken the matter to the TTOC and spared both sides the expenditure on legal fees?
The closest thing to a formal response from the table tennis body on its avoidance of arbitration is that it simply believes the players have no case and further consideration of the matter would be a waste of time.
"The selection of the athletes for the 2018 Commonwealth Games was carried out by the Association in a fair and proper manner," stated Edwards, "and all athletes were given a fair opportunity and considered fairly."
Wired868 asked Joseph (I) about the TTTTA's reluctance to seek arbitration.
"If we go to arbitration, we may have to compromise our position," he responded. "The TTOC has given all NSOs an objective of 10 gold [medals] by 2024 and that speaks to the age of our players.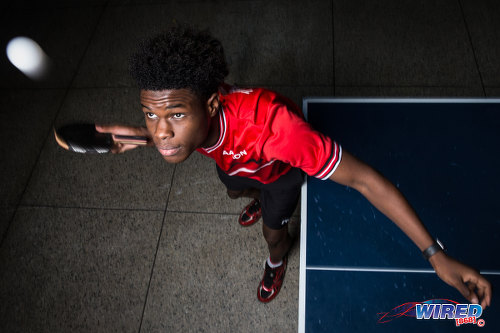 "Aaron Wilson is 19 years old and in 2024 he should be at the peak of his career. Dexter will be 50 in March so there must be a changing of the guard [sometime]."
St Louis, it seems, is convinced that if you are good enough, you are young enough and is not willing to be forced into retirement just yet; Chung, for her part, does not propose to take dictation from local table tennis officials.
In the end, the High Court—and, possibly, the TTOC and/or the Court of Arbitration for Sport (CAS)—will decide if the TTTTA followed the right procedure in its attempt to change the guard and bring the country's most decorated table tennis duo to heel.