The Ste Madeleine Strikers Under-13 football team yesterday captured the south title of the 2017 Republic Bank National Youth League (RBNYL) with an emphatic 6-1 trouncing of San Fernando Sports Academy in La Brea. Postponed last Sunday because of the observance of Mother's Day, South Zone matches resumed this weekend with a few decisive encounters to be completed.
The Under-15 victors were also determined, Petrotrin Palo Seco Sports Academy earning the right—albeit on goal difference—to represent the Southland in the national edition of the RBNYL. The Palo Seco-based team defeated a Club Sando outfit 2-0 in a cagey encounter, with goals coming from Jeremy Carter and Dariel Clarke on either side of the halftime interval.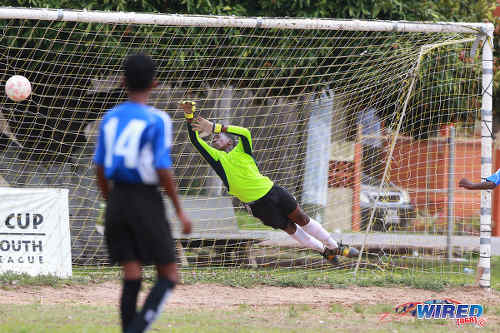 The game was far less competitive than the score-line suggests as Palo Seco spurned numerous opportunities to widen the gap. Had the crossbar been a couple of feet higher, Palo Seco might have reached double figures because, for most of the second half, they repeatedly saw their attempts go sailing over the bar.
The result meant that Giving Back Sports Club, a team based in Fyzabad, would need to defeat Barrackpore United Sports Club by nine clear goals to emerge as victors in the group. In the event, Giving Back could only manage a 3-0 victory, a margin which ensured that Palo Seco progressed.
The first Under-15 game was a battle of dynamic and explosive front-runners against a side that was more intent on positional play. Some bubbly dribbling and attacking play by Palo Seco attackers Ezekiel Garcia, Dariel Clarke and Trevor Augustin allowed them to be constantly probing and sometimes penetrating the Club Sando defence. It did not often lead to a concrete result.
Thanks to some fine attacking play and finishing by Joel Wilson, Rayshaun Crichlow and 12-year-old Aklilu Joseph, Ste Madeleine Strikers were able to register the most convincing result on the day in terms of goals. They have several really talented players, among them wingers Jeremiah Joseph and Jabari Forbes who are wing-backs' nightmares as they both possess good ball control, pace and impressive decision making skills for their age.
The dreadlocked Aklilu, though, was the eye-grabber, ever present in the build-up of the team's attacks and responsible for two goals and two assists. After he was substituted, he said, "Weeeeey, boy, ah wanted my hat-trick!" almost beneath his breath and not loudly enough for Ste Madeleine U-13 coach Ronnie Forbes to hear him.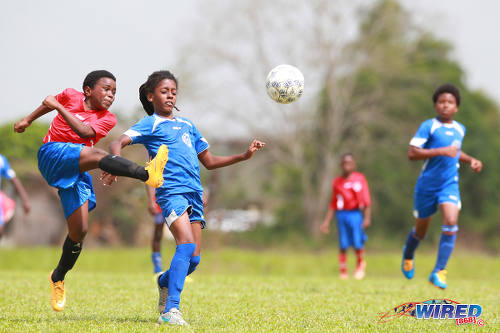 His strengths are fine off-the-ball movement, impressive decision making in passing, good composure on the ball and perceptive reading of the game. He reminds the spectator of magical French midfielder Zinédine Zidane, almost seeming to slow down earth with his touches and making the game look easy. His anticipatory play led to two vital interceptions that resulted in one goal and set up another.
Joseph hails from Cocoyea Village and aspires to one day become a professional footballer, in the first instance at W Connection and eventually at FC Barcelona. For the moment, though, he is hoping to secure an SEA place at St Benedict's College on the basis of his results in the recently completed exam.
He assured Wired868 that it has "nothing to do with football" but is because St Benedict's is "a good school."
Joseph was in action from the first minute of the game. He bobbed and weaved his way past multiple defenders before slotting past the San Fernando Sports Academy keeper at the end of the game's first attack. In the 15th minute, Joseph picked a defender's pocket on the right side of the box and squared the ball for Nicholai Campbell to sweep home through the keeper's leg.
In between those two goals, Alex Hernandez, a powerfully built defender who stands nearly six feet tall, had added some interest to the game in the seventh minute with a well taken goal. Thankfully, he was deployed as a defender or many more balls may have ended in the bushes behind the goalkeeper had some of his powerful strikes come from in and around the goalposts.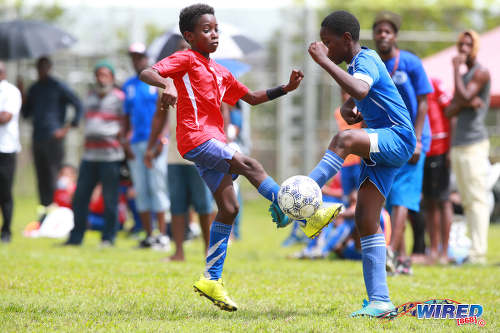 After the second Ste Madeleine goal, San Fernando coach Curtis Dabarsie promptly replaced his starting goalkeeper with Aaron Babwah, the son of current T&T National Women's team doctor Terrence Babwah. The 10-year-old twice came up with excellent saves to deny the attackers but San Fernando eventually conceded four more goals as Ste Madeleine strode to a 6-1 victory.
Coach Forbes said his coaching style emphasizes ball movement work and real game scenarios. But he wasn't entirely happy with the performance on the day.
"I have to do more work with them," he told Wired868. "I always tell them they ain't meet their match yet and the day will come when they meet up a skilful team and they will have to perform."
"I always tell them use this opportunity," he continued, "We didn't have all this when growing up so I glad the youths have a little opportunity now."
San Fernando Sports Academy enjoyed greater success in the Under-11 grouping where they wrapped up a 4-0 victory over Giving Back Sports Club. Young Babwah had better luck in this game where he was a mere spectator in the goal for most of the encounter.
The chief goal-getter was Jerome Barker, who bagged a hat-trick after Denzel James had opened the scoring for Sando in the fourth minute. The St Paul's Boy's Anglican pupil told Wired868 that he admires Paul Pogba and tries to emulate his skill in shooting, dribbling and passing accurately.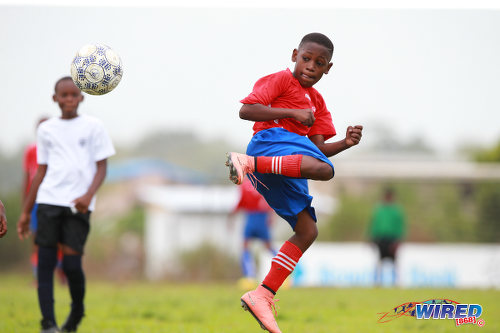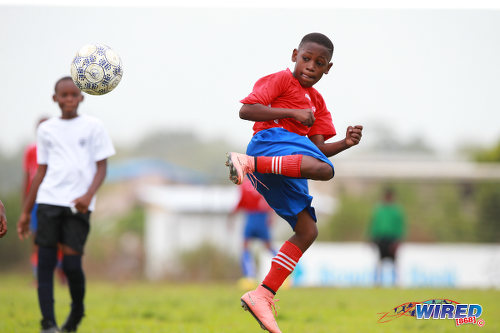 "Daddy, ah could go back on?" he asked after being substituted. The question was addressed to his father, who was a mere interested spectator on the sidelines and not to the coach.
"If ah go back on," he added before scampering off to get himself a drink of water, "ah go score three more and next week is four!"
The win moved San Fernando Sports up to six points while the other four teams in the group remained deadlocked on three points each.
Point Fortin Civic Academy also earned their first points of the tournament, winning by default over Marabella Family Crisis Centre, who were a no-show.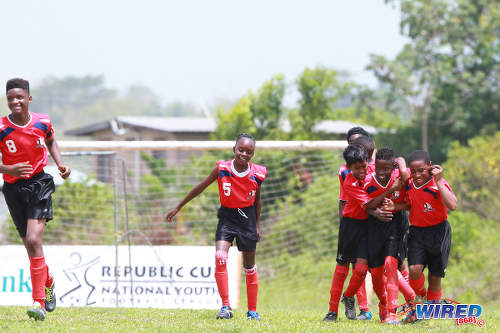 2017 Republic Bank National Youth League scores
(Sunday 21 May)
South Zone at Pt Dor, La  Brea
(Under-11)
Pt Fortin Youth Academy 3 vs. Marabella Family Crisis Centre 0 – by default.
San Fernando Sports Academy 4 (Denzel James 4, Jerome Barker 5, 33, 37), Giving Back Sports Club 0
(Under-13)
Petrotrin Palo Seco 1 (Darius Reid 57), Giving Back Sports Club 0
Ste Madeline Strikers 6 (Aklilu Joseph [2], Joel Wilson [2], Nicholas Campbell, Rayshaun Crichlow), San Fernando Sports Academy 1 (Alex Hernandez) 
(Under-15)
Petrotrin Palo Seco 2 (Jeremy Carter, Dariel Clarke), Club Sando 0;
Giving Back Sports Club 3 (Jaheim Guon, Deshawn Quashie, Tyrel Granger), Barrackpore United Sports Club 0.