Is the Trinidad and Tobago National Senior Team heading in the right direction?
On Sunday, the Soca Warriors fell 4-3 in extra time to Haiti at the Ato Boldon Stadium in Couva, which saw the host team finish bottom of a three-team Gold Cup playoff group that also included Suriname.
It was new Trinidad and Tobago coach Tom Saintfiet's third defeat in four games against, with the possible exception of Haiti, fairly modest opposition. So can the Belgian coach get the job done?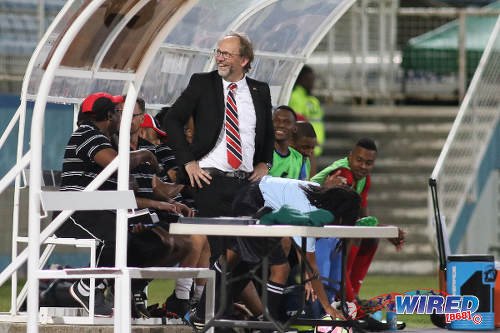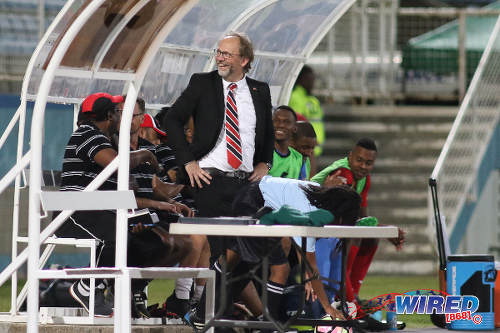 Central FC managing director and World Cup 2006 defender Brent Sancho is not happy so far.
"I don't think that the current head coach is someone who could get us to the World Cup," Sancho told Wired868. "The players have to take some blame. At the end of the day, the performances are not good enough."

Saintfiet opted not to select any Central FC players for the playoffs, despite the fact that the "Couva Sharks" are the defending Pro League and Caribbean champions. Naturally, Sancho, a former World Cup 2006 defender, was not happy about that, or Saintfiet's habit of publicly shaming his players.
"At some point the administration of the TTFA will have to sit down with all players that are eligible to get us to the World Cup and come to some sort of truce," said Sancho, "because for so many players to not want to play for their country something is wrong…
"No national team coach coming into a situation like he is would have a public falling out with their players. To go to the press to talk about players smelling of alcohol is an absolute no-no. You keep that sort of thing in-house…
"We don't need that now, we need points to get into the World Cup. If he was set out with a task to revolutionise football in this country then that is different."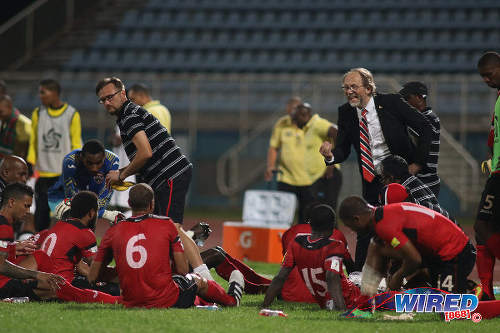 Bruce Aanensen, a former RBC director and manager of the 2006 World Cup team, also has concerns with Saintfiet's handling of his squad.
"I don't think the team he selected covered all his bases," he said. "When he got problems with injuries, he had to play people out of position and even in the starting lineup he had to play people out of position.
"The [Daniel] Cyrus situation—I don't have any [insider] details of it—but he seemed to just wipe the board with [him and midfielder Jomal Williams], rather than try and find out whether Cyrus did have a flat tyre."
Former Strike Squad captain and Trinidad and Tobago National Futsal Team coach Clayton "JB" Morris aimed his guns a little higher, as he blamed the TTFA for the problems affecting the game at present.
"This present administration is the worst I've ever seen," Morris told Wired868. "I read the other day where the team went to the airport, and they only found out a player's passport expired when he reached there… That alone shows you that there's something totally wrong.
"Something is totally not fitting. It's square pegs in round holes."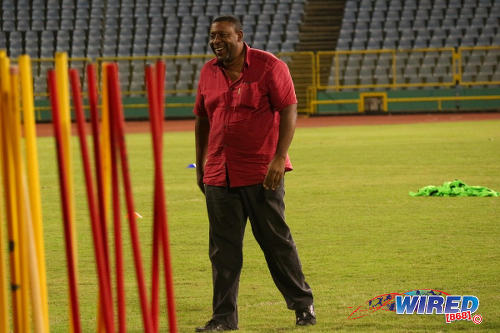 Morris has his own struggles with TTFA president David John-Williams and the entire Futsal squad are on the verge of initiating legal action against the local football body. But he suggested that the proof of value of John-Williams' input lies in the team's results, since he replaced Raymond Tim Kee on 30 November 2015.
"I think the record speaks for itself since he came into office with the kind of results we have been having," said Morris. "Unlike his predecessors, his name is always between everything… Even down to the selection of the team.
"If you get in those positions you have to sit back and allow people to do their jobs. You can't have this […] micro managing, and I think that's what happens."
Aanensen admitted that he was not well informed of the internal goings-on at the TTFA. But he was unimpressed by much of what he has seen.
"I don't have a lot of information regarding all that is happening," said Aanensen. "But certainly since this new coach on board and the results—apart from the 3-1 win in Nicaragua—have been less than convincing. And I have not heard a word from John-Williams about what the situation is or anything like that…
"It's difficult for me to say whether he should be doing this or that because I don't know what he is doing."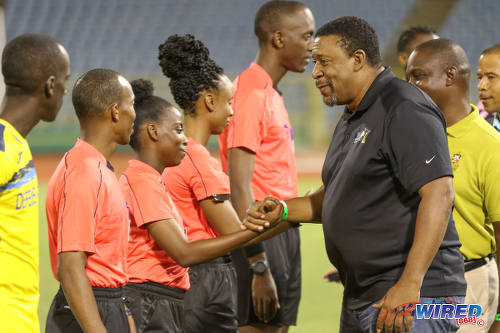 For Sancho, John-Williams has been a fantastic asset for the local game, though, thanks to the input of the W Connection football club.
"Whether you like him or you don't like him, many businessmen and conglomerates in this country have not done what he has done," said Sancho. "He poured his own money into the sport and for that, this sport football in Trinidad and Tobago should forever be grateful."
There was a caveat though, which—as Morris suggested—might have a negative impact on the Warriors' results.
"I think he needs to have a more holistic plan and encompass more people," said Sancho. "[There] seems to [be] a disconnect between the players and his administration, and because of that [problem] you can see the results on the pitch."
Trinidad and Tobago's record appearance holder, Angus Eve, did not think John-Williams was singularly responsible either. But the Club Sando and Naparima College coach suggested that the TTFA should have created a better coaching staff at this crucial stage in the team's World Cup campaign.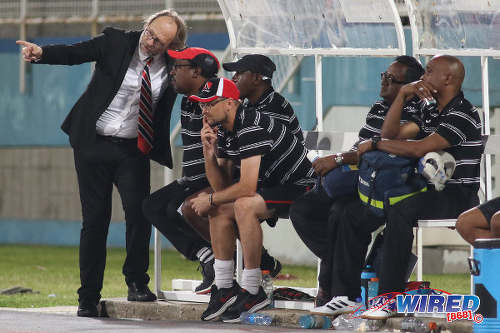 "If there would be any one knock on the President per se, it would be the choices in the coaching staff […] picked so far," said Eve. "We need the right people to bring a system and a structure so that the players can show their true abilities."
There was not much confidence voiced in the nomadic Belgian, who lost three of his four matches with Trinidad and Tobago so far—including an unprecedented loss to Nicaragua and the first competitive defeat to Suriname in 31 years.
"On the pitch, in terms of what has been the tactical display, I think he has gotten it very wrong," said Sancho. "In the first game, Suriname had it very easy for the 120 minutes… [And] his reasoning for dropping Kenwyne Jones and then putting Radanfah Abu Bakr to play the same [role] Kenwyne Jones would do is very questionable."
Eve echoed Sancho's sentiments and suggested that the Warriors had enough experience in their ranks to take care of Suriname and ought to be showing more after close to a month under Saintfiet.
"I think a month is enough time to see some semblance of how the team wants to play," said Eve. "What I'm seeing is that it is a smash-and-grab when we're going into the last 15 minutes in every game.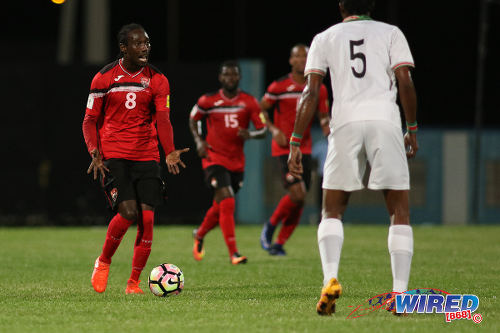 "Plan 'A' is the two wingers get the ball and try to dribble on their own and create something down the flanks. And plan 'B' is to hit the ball into big stoppers who go upfront."
Morris sympathised with Saintfiet's challenge. But he admitted that not much is going in favour of the Belgian.
"This is a very tough challenge for him to get these players to understand his philosophy," said Morris. "[…] We have already invested this money in him [and] everyone is looking forward to these two games against Panama and Mexico…
"From what we have experienced from the past week, I don't think people have confidence or belief in this coach to turn things around."
Saintfiet insisted that he can get the job done with more time.
Would it be practical to hire a third coach in just three months? Or has Saintfiet already burned too many bridges to make his position tenable?