Coach Tom Saintfiet got his Trinidad and Tobago football career off to a historic start tonight in Managua. But it was not the sort of history that local football fans would have hoped for, as his debut ended in a 2-1 loss to Nicaragua.
It was the first time that Nicaragua—ranked 124th in the world by FIFA at present—ever managed a win over the two island republic in their fourth attempt since 1967.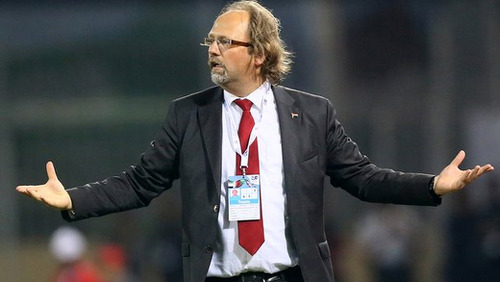 Midfielder Luis Peralta put the hosts ahead after just three minutes, as he peeled away from marker Alvin Jones to beat opposing goalkeeper Adrian Foncette with a downward header off a well worked corner kick routine. It was Nicaragua's first goal against Trinidad and Tobago in 49 years—the two nations played to a goalless draw in Port of Spain in October 2015.
The second item was even more memorable for the Central American nation, as Iceland-based forward Daniel Cadena beat Foncette with a dipping half volley from 35 yards to double their advantage.
Neither Peralta nor Cadena had ever scored an international goal before tonight.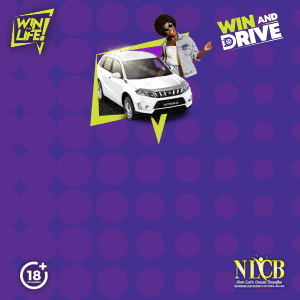 Defence Force playmaker Hashim Arcia halved the deficit with his first item in Trinidad and Tobago colours in the 75th minute. While, 17 minutes earlier, San Juan Jabloteh Tyrone Charles came close with a free kick that clipped the bar.
But the boys in red, white and black could not salvage a point.
Saintfiet said he was disappointed in the result but not the performance.
"As a coach you don't like to lose [and] I am disappointed with the result but I can't be too disappointed in the performance of the team," the Trinidad and Tobago coach told the TTFA Media. "Nicaragua were full strength and naturally we missed a lot of players. We gave some opportunities for players to make their debuts with a lot of young players in the squad and it was the first game after only two weeks in training together."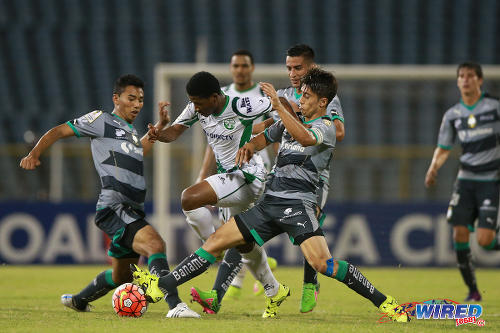 Not for the first time, Trinidad and Tobago's problems began before kick off—in fact, they started before the team even got on the plane. Mysteriously, W Connection winger Aikim Andrews never got on the flight to Nicaragua which left Piarco on Christmas Day.
Wired868 understands that Andrews, a former National Under-20 player, had an expired passport and only realised as much at the airport.
Warriors chef de mission Ewing Davis refused to explain why Andrews did not board with his colleagues.
"If you speak to Aikim, he would be best placed to tell you," Davis told Wired868. "But there were some challenges."

If Davis, the Trinidad and Tobago Football Association (TTFA) vice-president, was not much help to the young man, he did not do much better for himself. He also failed to make the trip. Again, he did not feel like explaining himself.
"In Trinidad, there are always challenges but my challenges are different to Aikim's," said Davis. "I should be going [to Nicaragua] tomorrow."
The fact that the TTFA has not reported on the absence of player or administrator—after two full days in Nicaragua already—arguably typifies current football president David John-Williams' administration, which has lurched from the clandestine to the incompetent to the farcical.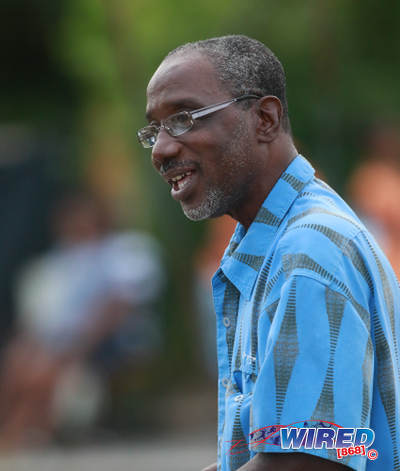 And so Saintfiet—having dropped the team captain Kenwyne Jones, snubbed first team goalkeeper Jan-Michael Williams, lost back-up goalkeeper Marvin Phillip to injury and axed defender Tristan Hodge for indiscipline—found himself still losing players at the airport.
Incidentally, the Belgian is yet to have a face to face meeting with his assistant coach, Russell Latapy, who spent his Christmas in Portugal.
Presumably, having spent almost his entire coaching career in second and third tier football nations like Namibia and Bangladesh, Saintfiet might be used to such hiccups.
At first glance, there was little adventure about his team though. Like Andrews and Davis, the Warriors barely showed up in the first half either.
Stunned by an early goal, Trinidad and Tobago spent almost the entire first half camped in their own side of the field as an apparent matter of strategic choice rather than necessity.
It was only Cadena's wonder strike, barely two minutes into the second half, that seemed to rouse the visitors into action.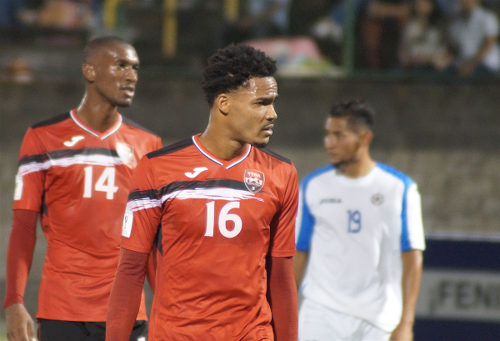 "It was a little bit sad that Nicaragua scored immediately after a few minutes," said Saintfiet. "It was a goal out of a standard situation with two players [who] didn't follow instructions of what was done in advance.
"The second half we wanted the make the equaliser but surprisingly they scored out of first of all, a hand ball in the midfield, but secondly, a world class goal with a player shooting from 30-40 metres."
Saintfiet sent Charles and World Cup 2006 veteran Cornell Glen on to replace the anonymous pair of winger Jomal Williams and striker Akeem Roach in the 55th minute. And, three minutes later, Charles served warning with a delicate free kick that just clipped the bar before going over.
Last year, Charles made a forgettable debut in a 1-0 international friendly defeat to Panama in Couva under former coach Stephen Hart. And the winger certainly intended to make the most of his second chance.
In the 65th minute, Charles produced a brilliant outside of right boot cross that should have created a scoring opportunity for Glen if he had been paying close attention.
"Tyrone Charles came on and did well," said Saintfiet. "He hit the cross bar with a fantastic free kick and then he had a good cross. We had a chance to make it 2-1 but it didn't happen… We tried to press more and we had some good occasions.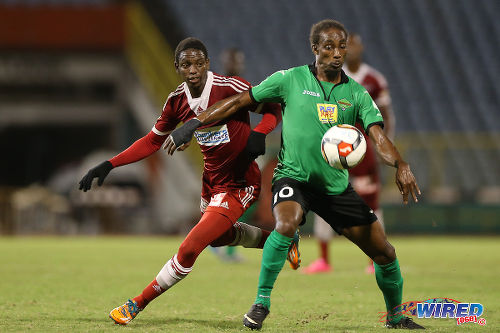 "Also Cornell Glen played very well, was pressing a lot and we tried to go for 2-2 and of course it means the opponent could have some chances as we opened up a bit at the back."
Finally, Nicaragua were being pressed in possession and beginning to look like what they are—an average Central American team that has only been to the CONCACAF Gold Cup once in the last 50 years.
In the 74th minute, the pressure told as the host nation conceded the ball in their own half of the field and Arcia galloped forward before belting into the far corner from 20 yards.
Any chance of an equaliser was lost in a raft of substitutions, though, with the most eye catching changes being Daneil Cyrus installed as a box to box central midfielder and Defence Force hardman Curtis "Boyo" Gonzales utilised as a right winger.
If Central's commanding midfield duo of Nathaniel "Spanish" Garcia and Leston Paul were watching online, they might not have known whether to laugh or cry.
Before the match, Saintfiet told the TTFA Media that his team was 80 percent ready for competition and, regardless of the result, he hoped to see a reproduction of their work on the training ground.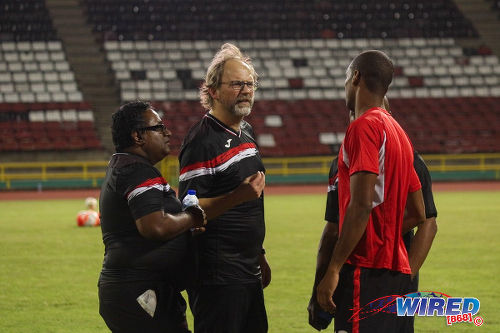 The good news is that it can only get better from here. He will even have TTFA vice-president, Davis, by his side when Trinidad and Tobago face Nicaragua again on Friday 30 December.
Saintfiet suggested too that his players found it difficult on artificial turf after training exclusively on grass in Trinidad—rather than getting some sessions in on turf at the Marvin Lee Stadium in Macoya. Nicaragua opened their artificial surface in 1992.
"It was also difficult on the artificial pitch but we can't change that surface," said the Belgian. "It was a very disappointing result but a satisfying performance for the first time of this team. Sure there were some weaknesses which we have to improve on and be ready for the future for the most important games against Suriname and Haiti and then Mexico and Panama."
Trinidad and Tobago host Suriname and Haiti in vital 2017 CONCACAF Gold Cup playoff fixtures on 4 and 8 January respectively. It is crucial that Saintfiet's troops get some momentum before then.
Saintfiet said he saw positives in Managua that the Warriors can build on.
"I am a football coach who likes to look into the future," he said. "I saw a lot of good things. I saw a committed team which played very well in the organisation, which made some small mistakes that the opponents scored out of. I think it was a decent start with disappointing result."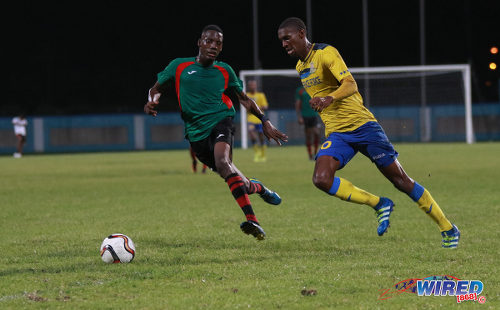 (Team)
Trinidad and Tobago (4-2-3-1): 22.Adrian Foncette (GK); 11.Carlos Edwards (captain), 6.Radanfah Abu Bakr, 17.Maurice Ford, 2.Aubrey David; 16.Alvin Jones (5.Daneil Cyrus 80), 15.Hughtun Hector; 8.Nathan Lewis (20.Trevin Caesar 66), 14.Hashim Arcia (4.Curtis Gonzales 78), 23.Jomal Williams (7.Tyrone Charles 55), 9.Akeem Roach (13.Cornell Glen 55).
Unused substitutes: Glenroy Samuel (GK), Carlyle Mitchell, Shahdon Winchester.
Technical staff: Tom Saintfiet (head coach), Jamaal Shabazz (assistant coach), Lukas Wojciak (goalkeeper coach), Riedoh Berdien (trainer), Dr Terence Babwah (doctor), Dave Isaac (paramedic), Michael Williams (equipment manager), Shaun Fuentes (press officer), Azaad Khan (interim manager).
Editor's Note: The TTFA revealed after Wired868's report that Aikim Andrews did not travel to Nicaragua due to a passport issue.