Point Fortin Civic conceded 23 goals in six Pro League outings this season. So no bonus points for guessing what their biggest problem might be.
Yesterday was another one of those days when pulling on gloves must have felt like a masochistic act for Civic custodian Miles Goodman.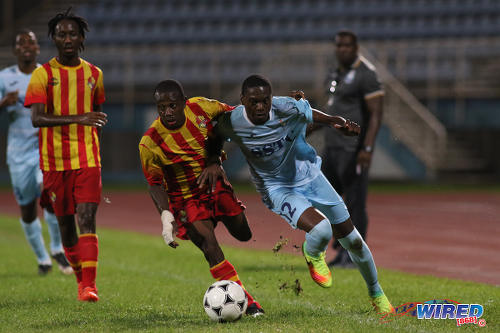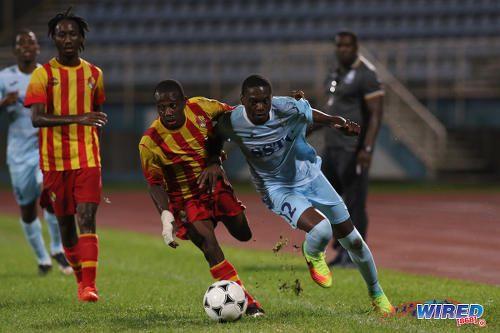 Police FC did not even show up with one of their three registered forwards, yet still ran away 4-1 winners in their First Citizens Cup quarterfinal meeting at the Ato Boldon Stadium in Couva.
Or to put it another way, if Civic did not appear for kickoff at all, then the penalty for their absence would have been a three goal loss. Surely it says something when that scoreline has become a regular feature of their season anyway.
Police coach Richard Hood has his own problems, though.

Already in the midst of a mini-injury crisis, Hood lost two more players last night as right back Jibri McDavid rolled himself off the field like a flat tyre while winger Micah Lewis left with only slightly more dignity on a stretcher.
While, curiously, the "Lawmen" turned up for the affair in Parkites-esque baby blue kits with the mysterious letters "SSTC" blazoned across their chests.
Did Hood raid the evidence locker? Were Police playing under cover?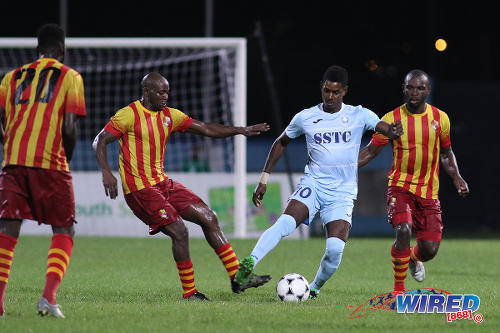 Not that any subterfuge was necessary really with Civic staying true to their own woeful identity this season. After just three minutes, the Lawmen went ahead with midfielder Kadeem Riley criminally unmarked in the penalty area for his first goal this season and only the second top flight item of his career.
Journeyman winger Micah Lewis also got off the mark this term, as he doubled Police's advantage in the 20th minute.
Civic, to their credit, did muster a response in the 42nd minute, although the referee's assistant might have been lenient not to raise his flag.
There was just a hint of offside when Akeem Redhead collected a threaded pass from Nickcolson "Ice" Thomas. But, as referee Keilon Bacchus allowed play to continue, Redhead squared for forward Jamille Boatswain to finish with a neat, precise header into the corner past stand-in goalkeeper Theon Browne.
It was Boatswain's third goal this season from his club's total of five items. And, remarkably, they were all scored against the Lawmen. This is one young man who doesn't run when he sees the police coming.
On the last meeting of these two teams, a Boatswain double helped Civic to a 2-2 draw which remains their only point so far in this nascent season.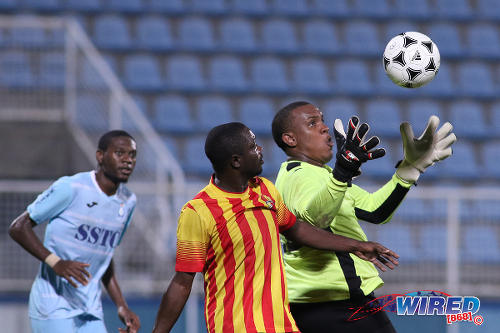 But there would be no comeback in Couva yesterday.
Police utility player Christon Thomas outfoxed Goodman from a sharp angle down the left flank in the 62nd minute, only to be denied by the post. And Goodman was relieved by Lewis' greed in the 68th minute as, after dribbling past Civic defenders Shaquille Stewart and Kurfi Pierre, the winger tried to score himself from an implausible angle with two teammates waiting unattended in the area.
But Police finally got their insurance item in the 83rd minute, as overlapping left back Nequan Caruth pulled the ball back from the byline for Riley to sweep home first time with an assured finish.
Police were playing with 10 men at the time, as Hood was still preparing a substitution for the injured McDavid. And, fittingly, Caruth stayed down for medical attention after his exertions.
It was difficult to tell whether the Police trainer offered Caruth the 'magic spray' or an energy drink. Civic players could have definitely done with the latter treatment.
Four minutes from time, Police made it 4-1 as Thomas produced a neat, close ranged finish from a clever Todd Ryan through ball.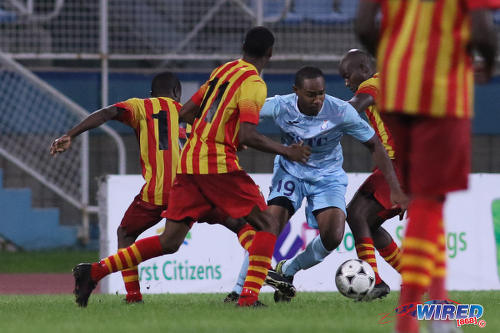 In stoppage time, Police substitute Kadeem Hutchinson tried to run down the clock near the corner flag, despite his team leading by three clear goals. It was unclear whether Hutchinson was acting out of exaggerated respect for the presumed capabilities of his opponent, or making a peace offering.
Opposing left back, Stewart, responded by shoving Hutchinson on to the running track. Maybe Civic have some fight in them yet.
It is Police who advance, though, as they will face Ma Pau Stars in the First Citizens Cup semifinal round on 22 November with Morvant Caledonia United and Defence Force squaring off in the other round of four match-up.
Hopefully, Hood will find their kit by then.
(Teams)
Police FC (4-2-3-1): 22.Theon Browne (GK); 6.Jibri McDavid (2.Akiel Thomas 86), 20.Elijah Belgrave, 17.Dexter Alleyne, 38.Nequan Caruth; 25.Kenaz Williams, 21.Todd Ryan (captain); 23.Micah Lewis (29.Kadeem Hutchinson 80), 19.Christon Thomas, 12.Kadeem Riley; 39.Joshua Leach (10.Kareem Freitas 69).
Unused substitutes: 8.Kurdell Braithwaite, 13.Dillon Kirton, 32.Kemron Purcell.
Coach: Richard Hood
Point Fortin Civic (4-1-4-1): 22.Miles Goodman (GK) (captain); 13.Shevhon Abraham, 6.Shane Garraway, 3.Kurfi Pierre, 23.Shaquille Stewart; 7.Nickcolson Thomas; 8.Akeem Redhead (9.Sylvester Teesdale 58), 11.Shaquille Dublin, 12.Rondell Phillip, 2.Ancil Wells (30.Mario Romero 69); 20.Jamille Boatswain.
Unused substitutes: 40.Tevin Moore (GK), 17.Kestwin Goolie, 99.Tereek Joseph, 16.Tyrell Johnson, 32.Nestor Ruiz.
Coach: Dick Furlonge
Referee: Keilon Bacchus
Man of the Match: Kadeem Riley (Police FC)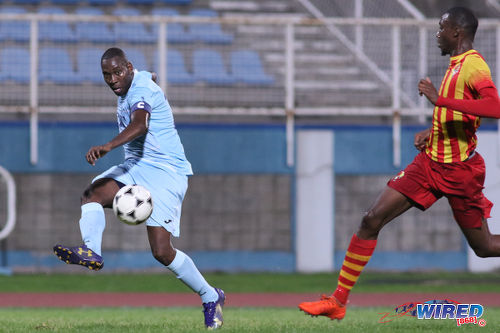 First Citizens Cup 
Quarterfinal round
(Saturday 12 November)
St Ann's Rangers 2 (Dylon King 53, Marvin Lee 72), Defence Force 4 (Devorn Jorsling 10, 20, 50, 84) at Ato Boldon Stadium;
W Connection 0, Ma Pau Stars 0 at Ato Boldon Stadium;
*—Stars won 3-0 on kicks from the penalty mark
(Sunday 13 November)
Central FC 0, Morvant Caledonia United 0 at Morvant Recreation Ground;
*—Morvant Caledonia win 3-2 on kicks from the penalty mark;
(Monday 14 November)
Police FC 4 (Kadeem Riley 3, 83, Micah Lewis 20, Christon Thomas 86), Point Fortin Civic 1 (Jamille Boatswain 42) at Ato Boldon Stadium;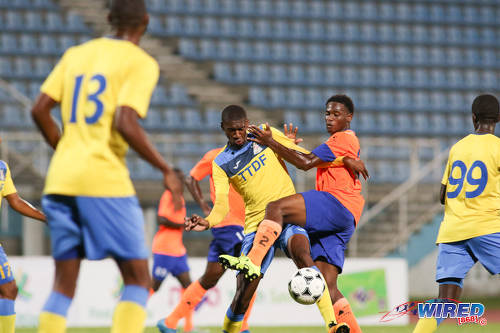 Semifinal Round
(November 22)
Defence Force v Morvant Caledonia Utd, TBD;
Police FC vs Ma Pau Stars, TBD.