Wired868 editor-in-chief and CEO Lasana Liburd is a conman and, if he's not careful, he may end up in jail. Or, if Dame Fortune smiles on him, in the UNC.
I say that because I have been reading the stories that appear here about the Secondary Schools' Football League (SSFL). To hear Liburd and his lieutenants Roneil Walcott and Amiel Mohammed tell it, it's wonderful, exciting, high-quality stuff. So, last week I went myself in person to see if this SSFL is really all these three gentlemen would have us believe it is.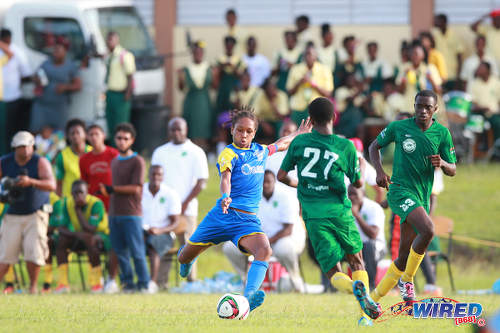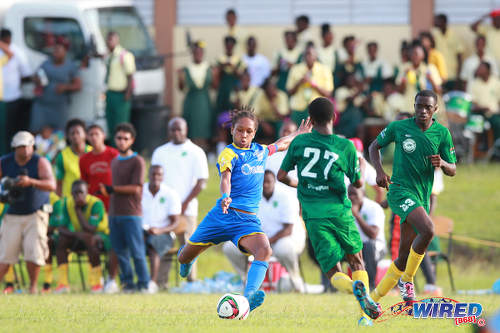 Mistake! The football reporting in Wired868 is twenty times better than the football on the field! Easily.
I think I can say without fear of successful contradiction that I have some idea of the quality of football of which schoolboys are capable. Or were.
In the late 1960s—in the days when the W in the sponsors' name was silent—I played in the SSFL for a few years. After that, for four or five years in the next decade, as "a teacher who coaches" rather than "a coach who teaches," I was in charge of an SSFL team at a college whose Latin motto trumpets that "…the prize is not for all."
(NB: the 2016 Premier League results suggest that they are not uninterested in booby prizes.)
In this latest contest, though, I first attended the North Zone preliminary at Serpentine Road between QRC and Fatima, the two North Zone teams freshly–and, on the evidence I now have, perhaps deservedly–demoted from the Premier Division.
The match reminded me of my own days as a student at QRC. Not of my exploits as a First XI player, mind you, but of my kick-and-run experiences in the PE period in First Form.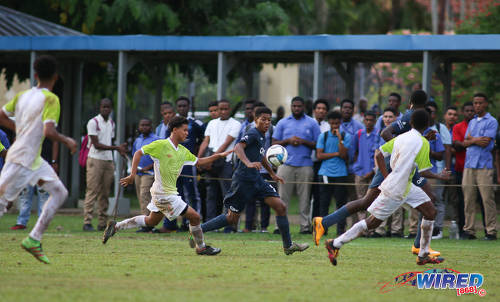 Oh, how the mighty have fallen!
In the early 60s, I was a spectator in front the Grand Stand in the Queen's Park Savannah when Deryck Murray's back-heeled pass set up Victor Gamaldo to send a 30-yard tracer bullet–a "pile-driver" the Guardian called it–screaming into the Fatima goal, leaving Hayden Duprey still pulling agitatedly at the non-existent grass growing on the goal-line.
"A boomalack, a boomalack, a yak, yak, yak."
In the mid-1960s, I was a spectator at the Oval when, standing near the flag waiting to take a corner, Everald Cummings summoned Keith Weekes from the backline to join the attackers. His wish granted, "Gally" then put a pinpoint-precise ball on the tall defender's head from where it flew into the back of the opposition's net.
"No, no, no, Fatima, no! Not a goal!"
It was at the Oval too that I saw Jeff Gellineau put a header against the wooden crossbar with such power that the QRC custodian Ruthven Thompson, father of Olympic 100m silver medallist Richard, had to dust flakes of white paint off his goalkeeper's jersey.
"Ragga ragga ragga hey cumba, Mary's, St Mary's, rah rah rah…"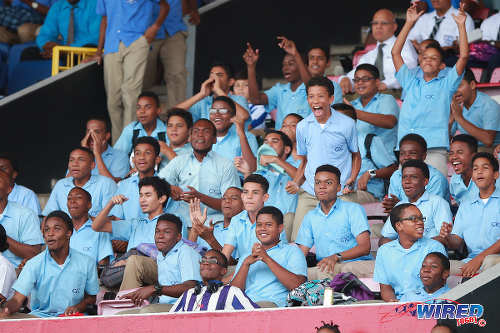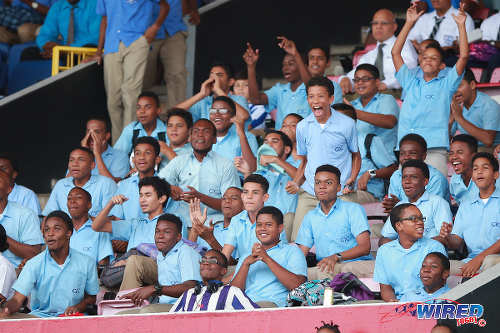 And I was on the field when the prolific Sheldon Gomes scored so often in two games against Naparima and Fyzabad that the score-line ended up reading 21-0 and 18-0 respectively, SSFL records broken relatively recently by a 33-0 massacre of ASJA.
"QRC, we want a goal…"
But I was ordered off the field within minutes of applauding a chest trap by an opposing player from St Benedict's–I think it was the younger of the two Hacketts –so clean that he actually contrived to advance a pace or two with the ball still on his chest.
And as I made my way on foot to the CIC Grounds that afternoon, "Football Fever" was, like Shadow's "Bassman," pounding in mih head:
"Young and old ketch the fever (on) a day yuh bound to remember. Plenty cheering and singing; fuh weeks yuh ears will be ringing.  People drum and come with pan, even girls by the thousands. Excitement fuh so in Port-of-Spain at the annual Intercol game.
(…) Thousands dancing in the street, steelband beating very sweet. Policeman try to stop the noise but they end up jumping up with the boys."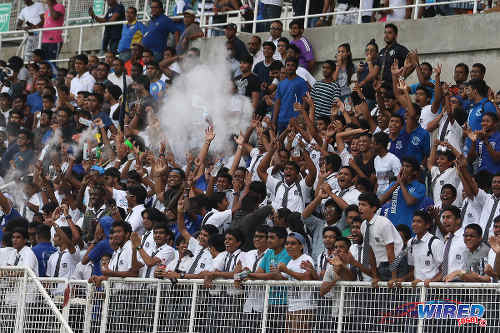 I had no idea who Dion Diaz is but I was at one with him. Here is a slightly edited version of a comment he appended to Christo's "Football Fever" on YouTube five years ago.
"Oh yeahhhh!!! Even though I started watching Intercol in 1985, I remember those Saturday afternoons at the Royalians' home ground with the baddest brass rhythm section I have ever heard in the history of Intercol…
"And who could forget Malick Secondary's two-note drum section at Serpentine Road Ground? This type of rivalry made football matches a joy to savour… Hope we get to relive some of this traditional bliss very [soon] and [an] elevation in the standard of support for local football again."
With this mix of music, memories, messages and images in my mind, I was quite unprepared for the sorry Intercol spectacle that offered itself to me. Let's be generous and say there were 500 spectators.
There was a rhythm section—more generosity—that, to their credit, never let their tempo slacken, irregardless (that lovely Trini word) of what was happening on the field of play.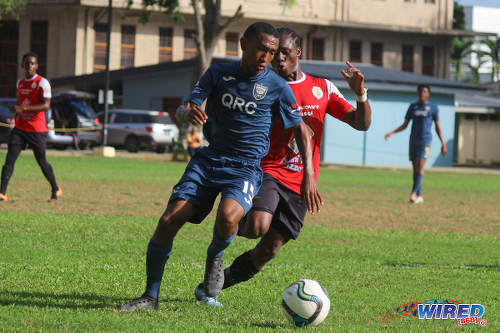 The uniforms were unrecognizable. And I saw nary a banner, nary a flag. Not even when the two regulation time goals went in.
Unwilling to draw too hard a conclusion on the basis of a clearly non-representative sample, this week I went down to Fatima grounds to see Trinity (Moka) up against Tranquillity in the zonal quarter-finals.
I was no longer hoping to see a Jan Steadman or a Leroy De Leon, a Russell Latapy or a Dwight Yorke. Did I think I might glimpse a Bobby Sookram, a Leo Brewster or an Ian Clauzel, a Tom Phillip or a Ron La Forest, an Alvin Henderson or an Iain Bain or a Rolph Clarke or an Ellis Sadaphal in the making? Truth be told, I'd have settled for an Angus Eve, a Jerren Nixon, an Arnold Dwarika or a Stern John.
Come to think of it, I'd have been content with some decent football, mastery of basic skills and evidence of team play.
I got none of that although there were six goals.
I was waiting on the Wired868 match report to be informed of all the great things I had missed. But probably smelling the rat, Liburd had sent his reporter elsewhere.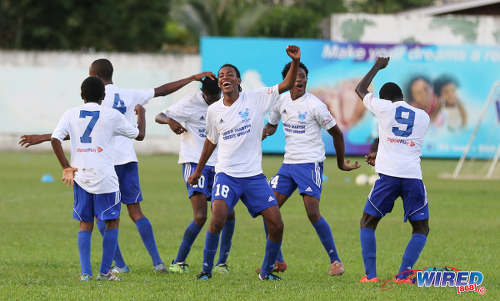 Thanks, eh, Liburd. For your services to schools' football, I propose to nominate you for the Express Individual of the Year Award.
And to send your UNC application form in the mail.