The final scoreline in San Pedro Sula tonight—which read "Honduras 3, Trinidad and Tobago 1"—was barely half the story, as the Soca Warriors succumbed to their second successive defeat of the CONCACAF Hex.
Trinidad and Tobago finished the match with 10 players as midfielder Khaleem Hyland limped off the field with a hamstring injury in the 84th minute after coach Stephen Hart had already used all three substitutes. And there was an cataclysmic feel about the whole affair.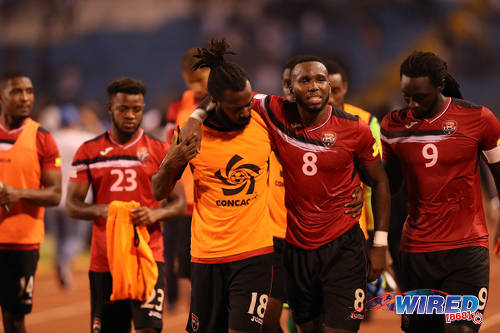 In the closing minutes, Hyland, with an ice-bag strapped to his hamstring, had to be restrained by the technical staff as he tried to reenter the field to help his comrades. Captain and first choice centre forward Kenwyne Jones was slogging it out in his place, as an orthodox midfield anchor.
And, most worryingly of all, there was the state of starting goalkeeper Jan-Michael Williams, who was bodily lifted off the field inside the first 10 minutes of the contest and taken to a nearby hospital after being knocked unconscious in a collision with Honduras striker Alberth Ellis.
TTFA media officer Shaun Fuentes revealed after that a cat scan showed no bleeding in the brain of the concussed Central FC custodian, who is now said to be in stable condition.

Lest we forget, the Warriors were already without marquee playmaker Kevin Molino due to internal disciplinary issues, his stand-in Keron Cummings is yet to fully recover from a gunshot to his leg, team manager William Wallace never made it to Honduras due to his failure to renew his passport in time and their leading scorer of the qualifying series, Joevin Jones, was the first player to be withdrawn midway through the half.
If this was not a disastrous trip, then it was close enough. And, in its wake, Hart would surely have a sleepless night.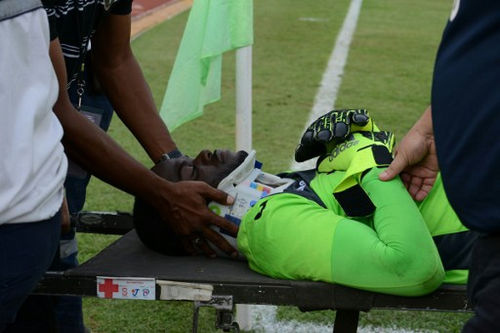 Twice, in his two and a half year stint as head coach, the former Canada boss and St Benedict's College schoolboy was named on CONCACAF's for its Coach of the Year award while he helped lift a team that was struggling regionally to their current spot as FIFA's fifth highest ranked nation in the confederation and first in the Caribbean.
Yet, the poise and resilience that epitomised Hart's Warriors were nowhere to be seen tonight. And, with some football supporters now in open revolt, his future lies in the hands of Trinidad and Tobago Football Association (TTFA) president David John-Williams, who never seemed to fancy him much to begin with.
At present, Hart is the only head coach from the previous Raymond Tim Kee-led administration who still has his job. And maybe one day the Warriors coach might wish he had left with an early bullet and dignity intact like Women Warriors head coach Randy Waldrum.
Instead, this was like Chinese water torture. First, there was an averted players' strike over match fees owed by the TTFA before last year's Copa America Centenario Play Off with Haiti, which Trinidad and Tobago lost.
Then Hart stayed silent as John-Williams allegedly asked his players—in the former's absence—to override the coach's decision to turn down an additional practice game at the end of a three-match tour.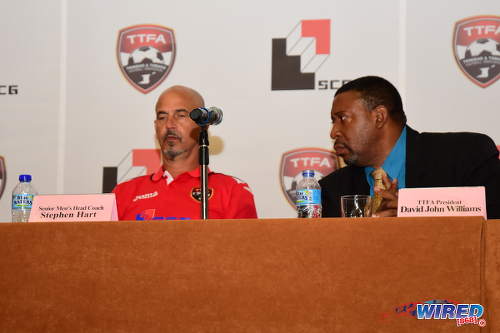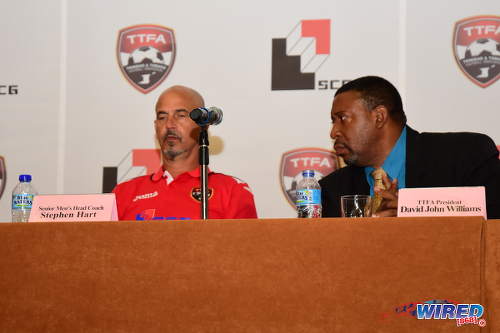 Public criticism, encouraged by the TTFA, of Hart's failure to drop Molino for an indiscretion followed. Next, the TTFA refused to publicly support the coach when he did drop the playmaker for a repeat of his misbehaviour.
A tame 2-0 home defeat to Costa Rica on 11 November was next in the sequence of events before the Warriors headed for Honduras, without their team manager, via a lay-over in Panama.
Hart and his team knew they needed a result in Honduras or, at the least, an encouraging performance. They offered neither.
The Trinidad and Tobago starting team showed just one change from last Friday's defeat with the speedy Trevin Caesar joining Kenwyne upfront in place of Jomal Williams.
The tactic appeared to be press high and take a more positive approach than showed against Costa Rica. But, just six minutes into the contest, the visitors were already reeling as Jan-Michael sprinted off his line to challenge Ellis and was knocked cold by an inadvertent knee to his temple by the Honduras' Mexico-based striker.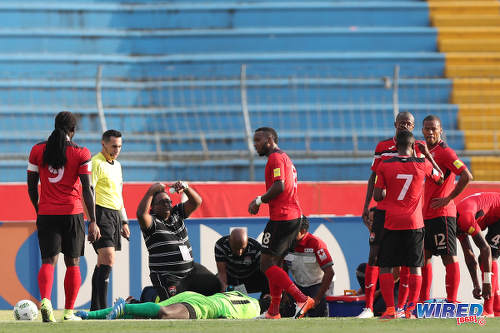 It took three minutes to get the Central FC goalkeeper off the field with Marvin Phillip taking his place.
Phillip, incidentally, was effectively relegated to fourth choice during the Caribbean Cup qualifying tournament just a month ago, after Hart announced that Louisville City custodian Greg Ranjitsingh, who was born in Canada to a Trinidad and Tobago father, would be his new number two with Police FC custodian Adrian Foncette as his deputy.
But, like England-born midfielder John Bostock, Ranjitsingh had availability issues and has not joined the local team since while Phillip was again chosen ahead of Foncette in Honduras. In truth, the real mystery is how Phillip ended below Foncette to begin with.
Yet, within seven minutes of his appearance, Phillip was taking the ball out from the back of his own net.
Much will be made from the fact that the goal came from right back Daneil Cyrus' flank and maybe the defender should have gotten across quicker to put pressure on the shooter.
But Phillip had a good view of the angled effort and got a hand to the ball without effectively changing its trajectory.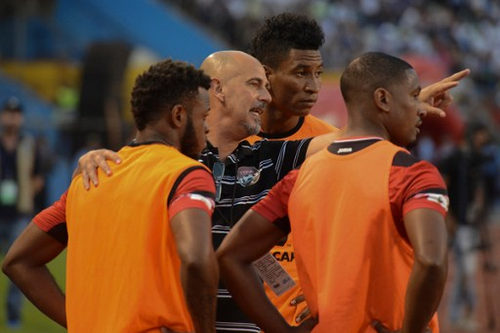 And, in the 19th minute, Honduras doubled their advantage as Trinidad and Tobago defender Carlyle Mitchell became entangled with Ellis and Honduran left back Emilio Izaguirre pounced on the loose ball to beat Phillip with a free shot from inside the box.
Hart's last trip to San Pedro Sula was four years ago as Canada coach. And the result was a freakish 8-1 mauling that ended his tenure with the North American nation.
For a few fleeting moments, even he might have wondered if lightning would strike twice.
But the Warriors clawed themselves back into the game and even had a half chance on the break in the 39th minute, which Caesar hooked wide. The scoreline stood at 2-0 to Honduras at the interval.
There was no immediate evidence of a shake-up after the break. But, in the 50th minute, Trinidad and Tobago finally joined the party.
Honduras goalkeeper Donis Escobar produced a fine save to deny a Kenwyne header, off an inswinging Joevin cross. And, for the next 60 seconds, the Warriors pummelled their hosts into submission.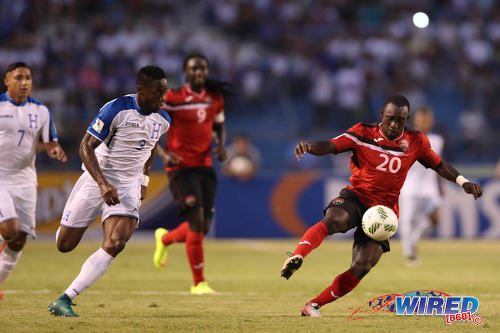 Hyland's subsequent corner kick was flicked over the opposing bar by a panicked Honduran defender while his second set piece was imperiously headed into the far corner by Mitchell to halve the deficit. It was Mitchell's first international goal in his 32nd cap.
It was a flash of what made the Warriors so effective under Hart: fast, aggressive and irrepressible from dead ball situations.
In the 56th minute, Escobar was tested again from an angled Hyland free kick and the goalkeeper required treatment after colliding with Trinidad and Tobago defender Sheldon Bateau, who followed up in the hope of a spill.
But Honduras slowed the game down, as—midfield hard-man Kevan George apart—the Warriors just could not get the ball off their hosts. And, once more, it was the opposing technical staff that seemed to get more from the bench.
In the 68th minute, Honduras substitutes Eddie Hernandez and Carlos Discua replaced the strike pair of Quioto and Mario Martinez. And, within seconds, they nearly combined to restore their nation's two-goal lead as Discua's first time cross—again down Trinidad and Tobago's right side—was headed off the top of the bar by Hernandez from barely six yards out.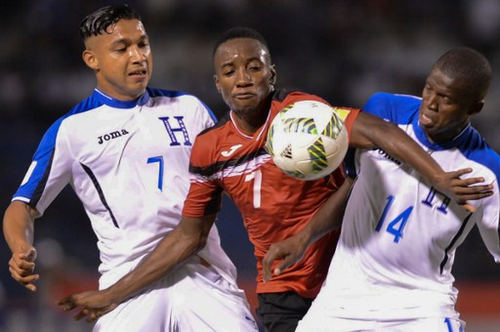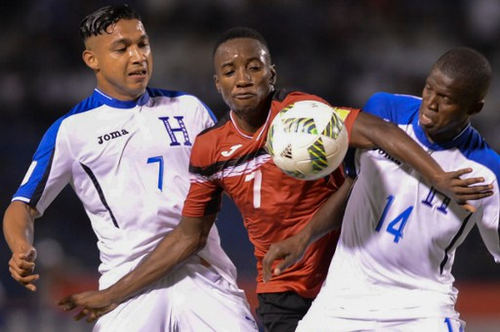 Hart responded with two changes of his own, as teenaged winger Levi Garcia came on for the stone-faced Joevin in the 71st minute before Willis Plaza replaced Caesar upfront in the 75th minute.
They were like-for-like replacements that typified Hart's pragmatic stewardship, which has generally been about minimising risks rather than putting pedal to the floor.
Trinidad and Tobago were trailing by a solitary goal and, in theory, could muster an equaliser through another precise set piece. So, the Warriors coach kept his defensive structure in place—including midfield shield, George—with the hope that his squad could turn the tables on their hosts through sheer willpower.
The problem was the scoresheet at the time was a flaming lie and the disjointed Warriors were only in the contest on paper but not in reality. And midfield organiser Andre Boucaud, Trinidad and Tobago's most creative force as a substitute against Costa Rica, never made it on to the field.
Plaza did get a shot off in the 78th minute, after a give and go with Kenwyne. But, in the 80th minute, the brittleness of Trinidad and Tobago's defence was exposed in a sequence of eight unchallenged passes that carved up the Warriors backline like a slab of ham on Christmas morning.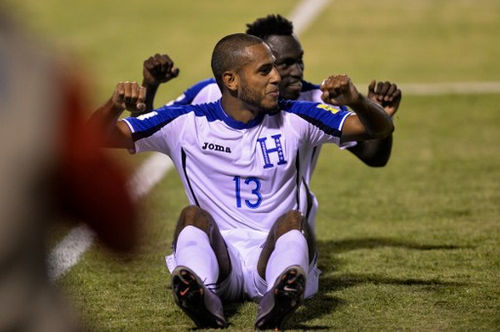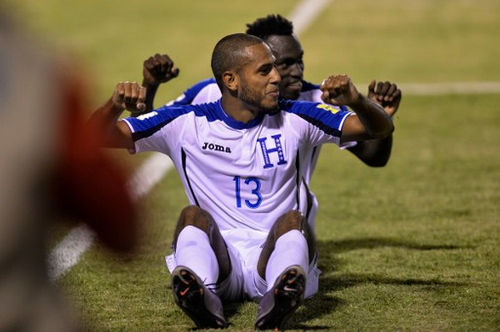 Hernandez made no mistake this time, as he tapped home Boniek Garcia's incisive cross for his first international goal in his 14th appearance before lining up with his teammates to celebrate with a demonstration of synchronised rowing.
Trinidad and Tobago were up the proverbial creek without a paddle at that point.
As Hyland limped off for treatment and then tried to force his way past the team doctor to help out, Plaza could be seen making a defensive clearance from inside his own area while Phillip pulled off a smart close ranged save to deny Ellis in second half stoppage time.
Trinidad and Tobago were well beaten.
The Warriors need in the vicinity of 15 points to get to the Russia World Cup directly or squeeze into the play off round against a team from the Asian Football Confederation. Remarkably, Hart's troops actually climbed off the foot of the table tonight as Costa Rica trounced United States 4-0 in San Jose to send them bottom of the standings.
Four home games remain and with those, at best, the chance of 12 points in Port of Spain. Trinidad and Tobago must then nick at least one result on the road.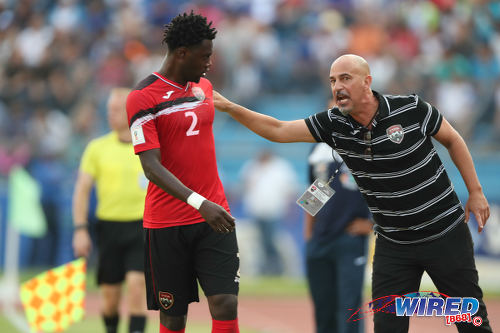 Hart led the Warriors to a 2-1 win in Panama just last year while their loss to Costa Rica was the first competitive home defeat by Trinidad and Tobago in three years. So, in theory, neither task is beyond him.
And, 11 years ago, Trinidad and Tobago also lost their opening two matches—the second was a humiliating 5-1 loss away to Guatemala—and then drew their third game against Costa Rica in Port of Spain. But still recovered to make history by qualifying for the Germany 2006 World Cup.
The caveat is the coach for those initial three games, Bertille St Clair, did not last to see it, as he was replaced by Dutchman Leo Beenhakker.
Can Hart be trusted to restore the order and poise that epitomised his team's showings just last year, when they defeated Guatemala away and managed draws with Mexico (twice) and the United States?
Does he deserve the chance to finish the restoration job that he began with aplomb at the 2013 Gold Cup?
The John-Williams-led football administration will have to answer that question before the Warriors next competitive international assignment in the Gold Cup play off round on 4 January 2017.
(Teams)
Trinidad and Tobago (4-4-2): 21.Jan-Michael Williams (GK) (1.Marvin Phillip (GK) 9); 5.Daneil Cyrus, 4.Sheldon Bateau, 12.Carlyle Mitchell, 2.Aubrey David; 7.Cordell Cato, 19.Kevan George, 8.Khaleem Hyland, 3.Joevin Jones (16.Levi Garcia 71); 20.Trevin Caesar (13.Willis Plaza 75), 9.Kenwyne Jones (captain).
Unused substitutes: 22.Adrian Foncette (GK), 6.Radanfah Abu Bakr, 10.Marcus Joseph, 11.Ataulla Guerra, 14.Andre Boucaud, 15.Neveal Hackshaw, 17.Jelani Peters, 18.Yohance Marshall, 23.Jomal Williams,
Coach: Stephen Hart
Honduras (4-2-2-2): 1.Donis Escobar (GK); 21.Brayan Beckeles, 3.Maynor Figoeroa, 4.Henry Figueroa, 7.Emilio Izaguirre; 15.Roger Espinoza, 20.Jorge Claros; 14.Boniek Garcia, 12.Romell Quioto (13.Eddie Hernandez 68); 10.Mario Martinez (6.Carlos Discua 68), 17.Alberth Ellis,
Unused substitutes: 1.Luis Lopez (GK), 2.Félix Crisanto, 5.Allans Vargas, 8.Alfredo Mejia, 9.Roman Castillo, 11.Diego Reyes, 16.Johnny Leveron, 18.Oscar Salas, 23.César Oseguera.
Coach: Jorge Luis Pinto
Referee: Jair Marrufo (USA)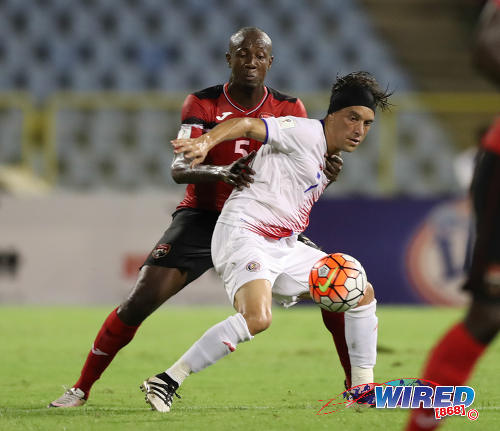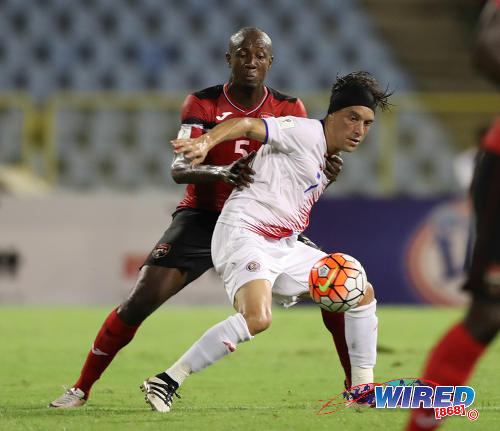 CONCACAF Hex
(Friday 11 November 2016)
Trinidad and Tobago 0, Costa Rica 2 (Christian Bolanos 64, Ronald Matarrita 90+2) at Hasely Crawford Stadium;
Honduras 0, Panama 1 (Fidel Escobar 22) at Estadio Olimpico, San Pedro Sula;
United States 1 (Bobby Wood 49), Mexico 2 (Miguel Layun 20, Rafael Marquez 89) at Columbus;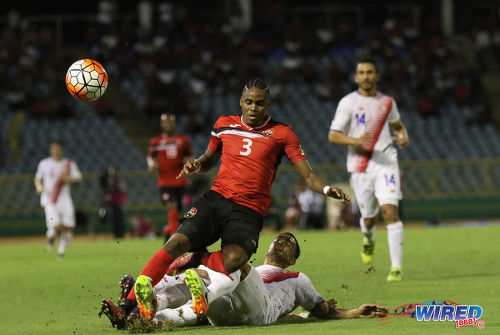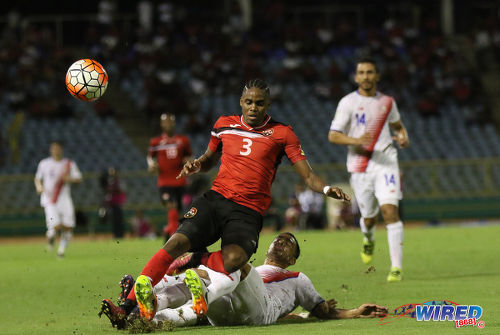 (Tuesday 15 November)
Honduras 3 (Rommel Quioto 16, Emilio Izaguirre 19, Eddie Hernandez 80), Trinidad and Tobago 1 (Carlyle Mitchell 51) at Estadio Olimpico, San Pedro Sula;
Costa Rica 4 (Johan Venegas 43, Christian Bolanos 69, Joel Campbell 74, 77), United States 0 at Estadio Nacional de Costa Rica, San Jose;
Panama 0, Mexico 0 at Estadio Rommel Fernandez, Panama City;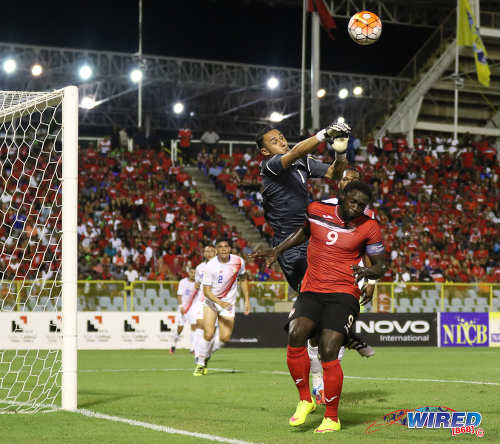 Standings
Costa Rica 2-2-0-0-6-0-6
Mexico       2-1-1-0-2-1-4
Panama     2-1-1-0-1-0-4
Honduras  2-1-0-1-3-2-3
T&T          2-0-0-2-1-5-0 (+1)
USA           2-0-0-2-1-6-0 (-1)