Seventeen, yes 17, that's the number that the boys from Febeau Boys Government Primary School will have a hard time forgetting, as they suffered a mammoth 17-nil loss to Santa Rosa's Under-14 team in Republic Bank National Youth League (RBNYL) action at Constantine Park, Macoya on Sunday.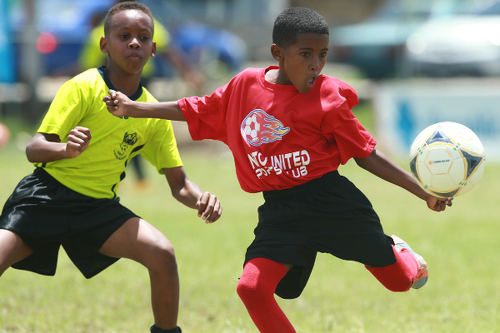 In fairness, many of the Febeau boys looked as though they would qualify for an Under-10 category. But the little "Big Cannons" of Santa Rosa cared little about Febeau's shortcomings as they went to work swiftly after the opening whistle.
The young Santa Rosa players put their math skills to the test as they tried to keep check of their relentless onslaught on the Febeau goal. The Febeau boys were drastically overmatched and they barely mustered three consecutive passes.
Nathaniel James was the chief destroyer and score-keeper in the first half as he knocked in five goals in the midst of a 12-goal barrage from his team. Santa Rosa took things a bit lighter in the second half as they knocked in five goals to maintain their 100% record through three games in the Under-14 category. Febeau sit at the bottom of the group after conceding a whopping 30 goals from two games.
The Big Cannons, who momentarily sit atop the Super League's Premiership Division, also got a victorious showing from their Under-16s who edged Mafeking United FC by a 1-0 margin courtesy a 35th minute item by Rynard Amari Best-Jiminez.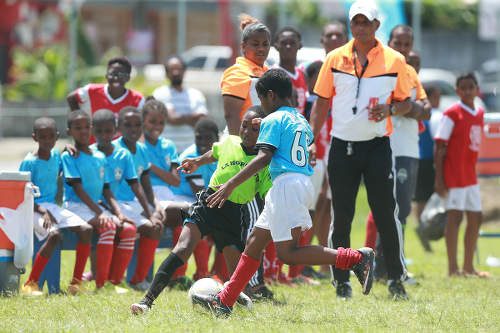 Rosa are three points off of top spot in the Under-16 category though, as Central Zone's Crown Trace FC are perfect after three encounters in Macoya. Crown Trace has been accommodated in the East Zone due to a scarcity of Under-16 teams in Central.
The Crown Trace boys have adjusted seamlessly to life in the East, and they notched consecutive wins on Sunday afternoon to go along with their 3-nil victory over Santa Rosa last month.
With National Under-17 and St Benedict's College attacker always at the heart of the action, the Chaguanas-based outfit edged Malabar Young Stars 2-1 before thumping Mafeking by a 7-nil margin.
Crown Trace looked a cut above Mafeking for much of their second encounter, and they moved the ball around the park with great confidence and style. Jelani Augustus and Dylan Roseman were moving the ball around smartly in midfield, while Humphrey was being a terror down the flanks.
The silky Humphrey was unable to get on the score sheet Sunday, but he did manage to send the Mafeking right-back on a merry-go-round ride before setting up Tyrique Muhammad's first item in the 21st minute.
The left-footed Humphrey sauntered into the box and shaped inside, before spinning back on to his left-foot and darting towards the byline. By the time the defender got wind of Humphrey's change in direction Muhammad was poking into an empty net to give his team a 2-0 lead.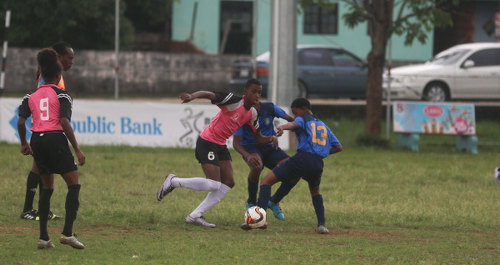 Crown Trace looked the fitter team and they grew increasingly dangerous in the second half as they ripped through the heart of the Mafeking midfield. Augustus and Muhammad both grabbed braces, while Darren McIntosh, Sherwin Williams and Juan Lee helped themselves to a goal each.
The under-12 category drew many attractors as the youngest footballers on display battled it out before their friends and family in the Constantine Park pavilion. Pinto United SC had a double header on the day, and their first game against La Horquetta was a real dog fight.
There was no real cohesion on display from the youngsters in this encounter, but there certainly was a lot of determination for the small crowd to see. The real battle seemed to be brewing on the sidelines as both coaches desperately bellowed out orders. Unfortunately, no goals were given for shouting and La Horquetta and Pinto had to share the spoils with a goalless draw.
Pinto's second encounter was much more artistic, but that was mainly down to the organized play of their Trincity Nationals opponents. Trincity took little time to get settled in the 40-minute affair and they were up by a 2-nil margin thanks to goals by Jeryll Hinkson and Jovonn Gomes inside the first ten minutes.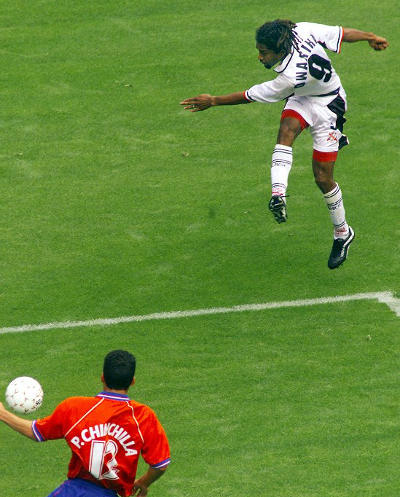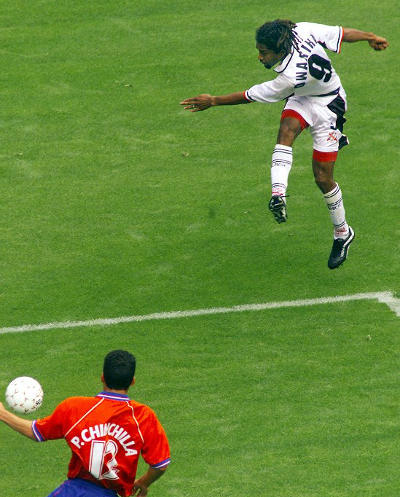 Pinto also had a Dwarika to worry about, as the son of former national playmaker Arnold Dwarika was among the Trincity ranks. Kyle Dwarika and the impressive Gomes worked in tandem in the first period, and the latter showed a penchant for shooting with his left foot; and he had some power too. Gomes possessed a first touch way beyond his years and he looked ominous every time he collected the ball.
"He's talented," Trincity Nationals coach Joel Warrick said of Gomes but some maturing needs to happen. "You always have to be talking to him. He plays left wing, he's on the right side, he's in the centre. You know what, I'll leave him let him play."
Warrick certainly seemed to take away directives from his youngsters in the second half, as the Trincity team pulled out the party tricks after going into the second period with a 3-nil lead. But it would be Pinto who had the last laugh in this encounter as Anthony Samuel struck a free kick into far corner on the stroke of full time.
"It's an improved performance from the opening day. The opening day was actually the first time they played eleven a side," Warrick said. "So each game it's like pointing out little mistakes and the next game you look for improvements."
And while Warrick will be thrilled by a deep RBNYL run by his team, at present his main goal is the growth of his players:
They're learning, we are growing and there are some talented boys out there. So once they understand how to play the positions we'll be good… (Winning) should be everybody's goal and of course that is our ambition, but at the same time we understand that this league is more about development.
Warrick and his Trincity Nationals team have some catching up to do as Malabar Young Stars moved to a maximum nine points after Adrenalin FA failed to show up for their matchup.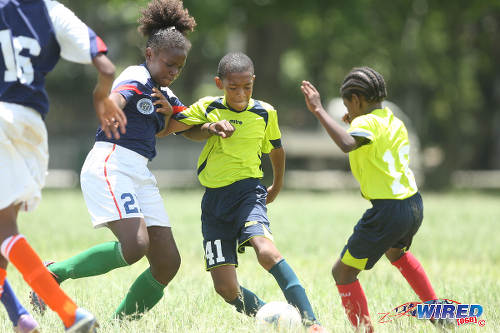 Republic Bank National Youth League
Sunday 3 July
East Zone Under-12
Trincity Nationals 3 (Jeryll Hinkson 6, Jovonn Gomes 10, Jadon Sewart 20), Pinto United SC 1 (Anthony Samuel 39)
Adrenaline FA 0, Malabar Young Stars 3 (Defaulted result)
Pinto United SC 0, La Horquetta XF 0
East Zone Under-14
Pinto United SC 3, Adrenaline FC 0 (Defaulted result)
Febeau Government Primary 0, Santa Rosa FC 17 (Nathaniel James [5], Mekhi Robinson [2], Keyel James [4], Jashawn Thomas [2], Mikel Martin [1], Isaiah Richardson [1], Jared Tinto [1], Jonathan Alleyne [1]
East Zone Under-16
Mafeking United FC 0, Santa Rosa FC 1 (Rynard Amari Best-Jiminez 35)
Crown Trace FC 2 (Sherwin Williams 13, Darren McIntosh 56), Malabar Young Stars 1 (Jahmali Clarke 63)
Crown Trace FC 7 (Darren McIntosh 12, Tyrique Muhammad 21, 55, Jelani Augustus 41, 59, Sherwin Williams 49, Juan Lee 51), Mafeking United FC 0
Central Zone Under-12
New Settlement S&C 1 (Shane Regis 28), Crown Trace FC 1 (Nickel Gormandy 19)
Cap Off Youths 0, Edinburgh 500 S&C 1 (Ethan Trotman 6)
Edinburgh S&C 0, Crown Trace FC 0
Central Zone Under-14
Cap Off Youths 2 (Kern Cedeno 8, Jercole Pierre 15), Crown Trace FC 4 (Anthony Mohammed 6, Naton Ashby 8, 35, Kevin Griffith 29)
Crown Trace FC 4 (Erin Steeple 8, Naton Ashby 11, Malik Robinson 20, Tevin Ashton 37), Edinburgh 500 S&C 0
Edinburgh S&C 0, Cap Off Youths 4 (Delaney Zamore 13, Kern Cedeno 36, 42, [own goal])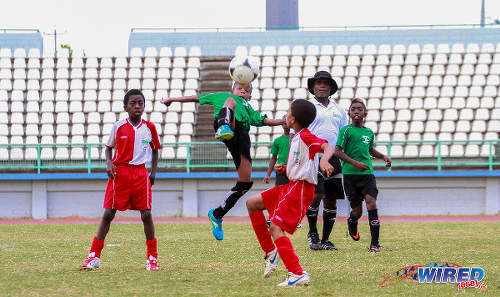 Next weekend's fixtures
Sunday July 10 (Brighton Sports Grd & La Brea Recreation Grd) 
South Under-12
WEZ Pro SAFE vs Gasparillo Youths, 10am
Uprising Youths vs Marabella Family Crisis Centre, 11am
Gasparillo Youths vs Ste Madeleine Strikers FC, noon
South Under-14
Uprising Youths vs Gasparillo Youths, 11am
Club Sando vs WEZ Pro SAFE, noon
South Under-16
Palo Seco FC vs Uprising Youths, 10am
Ste Madeleine Strikers FC vs St Mary's SC, 11:30am
Gasparillo Youths vs Uprising Youths, 1pm.