"It has been a difficult road," Trinidad and Tobago star 400 metre hurdler Jehue Gordon told Wired868. "I would say I have gotten over my surgery but the area just doesn't feel the same since. It is my abdominals [and] that is where I get all the power from, especially my lower core area."
"It definitely hasn't clicked for me as yet. But I'm keeping the faith and I know I will get there."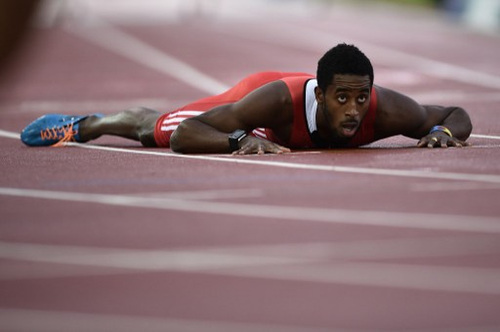 Jehue Gordon, the reigning World Championships winner in the 400 metre hurdles, is going through a lean spell, as he continues his recovery from surgery late in 2015.
The 24-year-old athlete has not run the Olympic standard qualifying time of 49.40 seconds even once in 2016. Instead, Gordon, a former Belmont Boys Secondary student, booked his place the Rio Games courtesy of his time last year, which was within the International Association of Athletics Federation's (IAAF) cut-off period of between 1 May 2015 and 11 June 2016.
At the 2016 National Open Championships of the National Association of Athletics Administrations of Trinidad and Tobago (NAAA), Gordon managed 50.44 and was second to Puerto Rico's Eric Alejandro, who will also compete in Rio. Alejandro ran 50.17 in Port of Spain.

Can Gordon, a likeable fountain of energy and optimism, time his return to form perfectly to mount the podium in Rio?
The Memphis Pioneers star athlete, whose Twitter handle is "Young Prince", took some time off from his preparations to talk to Wired868: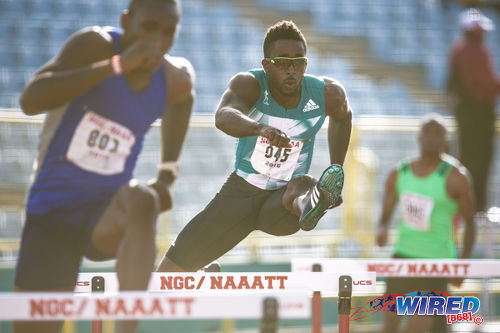 Wired868: Jehue, tell us about how your sport and how you got into hurdling?
Jehue Gordon: I got into the event because of the lack of competition initially. I started in the 400 and 800 metre categories and, with the amount of people who were competing, the probability of me making a national team was a lot harder compared to the 400 metre hurdles. For instance, if there were 40 or 80 people competing in the 400 or the 800, they had just about six or seven [in the 400 metre hurdles]…
I was introduced to hurdles [at Belmont Boys Secondary]. Mr Albert King was my physical education teacher and he had us jumping over some stools and he said I had it naturally. I asked him if he was a mad man.
I was tall and lanky and I used to run the 800 and 1,500 metres. I thought it was all about speed but, to my knowledge now, it is more about technique. The hurdling is a really technical event. It doesn't matter how fast or strong you are, if you cannot clear the hurdle, then you [cannot] put the race together.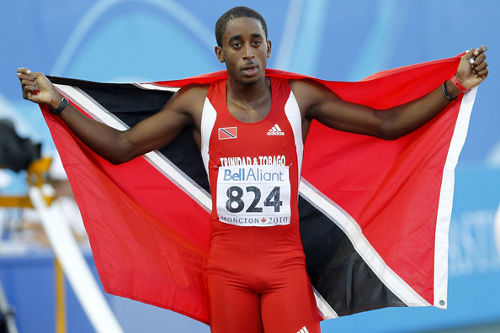 Wired868: What do you think sets you apart from most of your rivals?
Gordon: I think it is just my ability to make the best decisions in life. I've had a great group of people around me who've been there, they've done it. And they are willing to support me and lend their expertise.
I think just my ability to know what is the best decision and to decipher what is the best way of approaching, you know, my life. That was my my best ability really.
Wired868: So you think your mentality has done more for you than your talent?
Gordon: Yes. It is better to listen than to just talk. The more I was able to listen, the more I was able to realize that: okay, this doesn't make sense, or this makes sense. You [will] always find wolves in sheep's clothing but I was able to realize [who were] the sheep.
Rest is very important for an athlete but the mental aspect of the sport is even greater. Now at my stage, I think it is 90 percent mental and 10 percent physical. Everybody here is talented. But now it is about who believes they can actually do it on the day.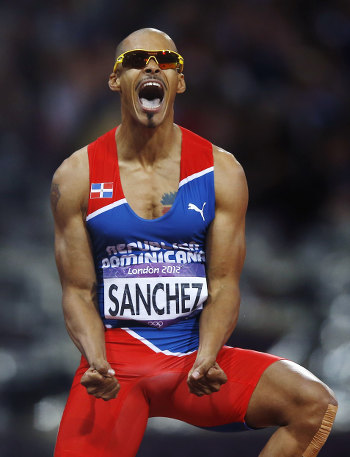 Wired868: Early in your career as a junior, you said [star Dominican Republic hurdler] Felix Sanchez was your hero…
Gordon: Man that guy was really crazy. He always lent out a hand to me when I just came on the professional scene in 2010. He told me to be patient [and] that it would happen. The 400 metre hurdle event is a maturity event. You saw for yourself in [London] 2012, Felix was 34 years old when he won his gold medal. And that was eight years after his first one.
For me, I am just 24 years old right now. A lot of people they have their own expectations but, with the 400 metre hurdles, today somebody could pop up and then they can just drop down just as quickly. It requires a lot of patience and maturity [to have real success] with the 400 metre hurdles.
Wired868: But what was it you admired about Sanchez, even before you met him?
Gordon: It was just the grace that he would go over these hurdles. There are not much people who are as technically sound as Felix Sanchez. He wasn't the fastest guy but he was really technical and graceful.
My strength is also my hurdling ability. As I said, I wasn't the fastest when I was young. But I also had the ability to just graze the hurdles and not use too much energy and expend it all over the place. I was able to centre it down the track and take every hurdle at a time.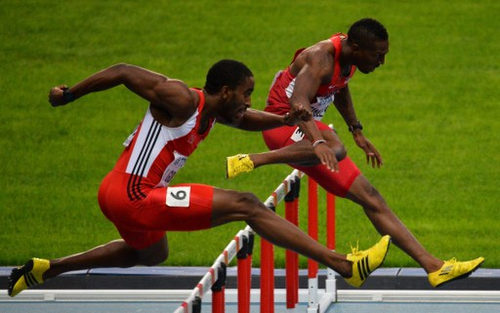 Wired868: Tell us about that scorching London Olympics semifinals… (Gordon's semifinal group was faster than the actual finals. The Trinidad and Tobago athlete, who was the reigning World Junior champion at the time, set a national record of 47.96. It would have been enough for bronze in the final but he could not reproduce his speed.)
Gordon: Man that was heat, heat and more heat! These dudes, they went out and I was not about to give my spot up [in the finals] just like that. They were three World champions and Olympic champions in my race, so I was like "these people are trying to take me out before I reach to my first Olympic [finals]."
It was definitely a scorcher and nobody likes to get the fastest semifinal. I went up against the likes of Felix Sanchez, who went on to win, Dai Green who got fourth, and Keron Clement, who was the 2007 and 2009 World Championships gold medalist. So it was definitely heat!
I ran my heart out but I did not produce when I was supposed to [in the London 2012 Olympic finals].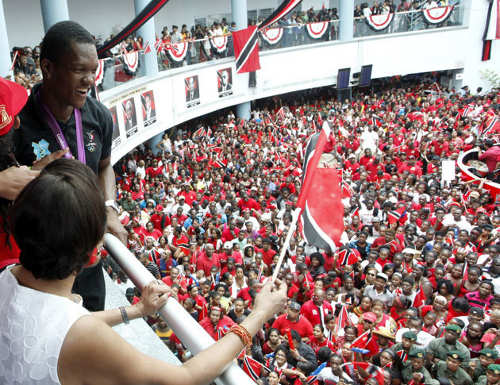 Wired868: What did that semifinal take out of you?
Gordon: It is (slaps hands again) emotionally tiring… Definitely the way how you channel your energy is the way you will distribute it on the track. If for the heats you use up all your energy, then by the finals you would be 'bun'. As you grow, you learn to channel your energy a lot better.
Don't get me wrong, your body could be conditioned. But it is a certain energy, a fire I can't really describe. It is more like a hunger. About how much you really want it. If you full up your stomach in the heats, then you will be satisfied for the finals. I am trying to draw it in layman's terms for you.
But it is really the universal energy that surrounds you and guides you through the rounds. The more you use up early on is the less you will have later down. That's just how it is. And you know that universal energy is a bigger picture and that bigger picture is God.
Wired868: How did you feel after the London 2012 Olympic finals?
Gordon: After the final, I felt as if I wanted to box down somebody. But that is just sport, you win some and lose some. The best of the best lose. Watch Chelsea, if Chelsea can lose then hey. (Shrugs shoulders and laughs) My father always told me growing up:"If Brian Lara can out for a duck, then who is me?" I know in sport there will always be ups and downs and you just have to accept it and move on from that.
Wired868: Did it play on your mind for the next year up in the build-up to the Moscow 2013 World Championships?
Gordon: I was angry and disappointed because I got to realize out here, especially in Trinidad—not Trinidad, in the world of sport itself—the winner is the only person that is celebrated. Nobody remembers the silver medalist or the bronze medalist.
I just find that is sad because we give up so much on a daily basis as athletes to be away from our friends and our families and to not be respected. Respect is not giving us money. Respect is to understand how much we sacrifice and prioritize… to make our country proud. So if we don't even make it out the first round or second round, or even [if we get] in the Olympic final and we come sixth, seventh or eighth, we are among the best in the world. They only take a select group of people to make it to the Olympic Games.
Think about how many millions or even billions of people on this earth and yet still, Trinidadians are in the final or a semifinal. Or just at the Olympic Games.
We're still trying to qualify for the [FIFA 2018] World Cup, right? So think about how difficult it is to make it to the Olympic Games or the finals, or worse yet even medal.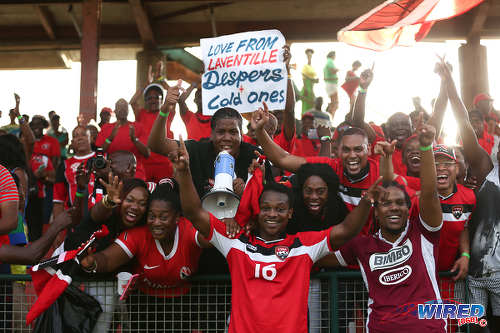 Wired868: Can you tell us more about those sacrifices that athletes make?
Gordon: I give up being [around] the people who care about me the most. We are being criticized by people who think they know more than us while we are out here putting in the hard work. So sometimes they see us place last [or] they see us place first and they always have something to say. But the ones who are close to us [and] who are seeing the injuries, who are seeing the aches, who are seeing us waking up early on a morning, who are seeing us not eating all the fast food every day…
(He jokes about the midsections of the Wired868 crew).
That's just life and I have accepted that is how life is and I just go about my life. I live my life for me and nobody else.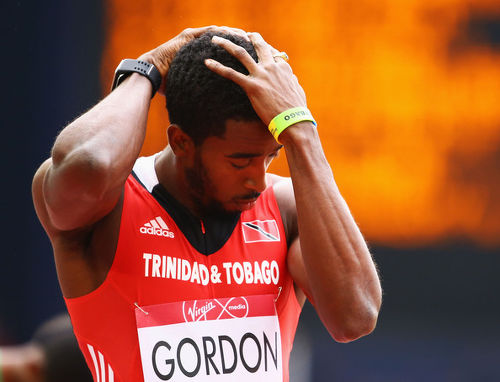 Wired868: What was different in Moscow?
Gordon: What was different was just the energy distribution and keeping a good team around me. I have worked with my psychologist Dr [Margaret] Ottley, who has been very pivotal in terms of helping me channel my energy. And [there is] my coach, my physiotherapist, my massage therapist, my chiropractor… It's a team of people, so I don't really want to leave out anybody. But it is basically a team that was really able to stay there and just my growth and maturity also helped.
I didn't know I could take [the World title] to be honest. I didn't know I could win a medal. I went into the London Olympics and I pressured myself to win after drawing the third fastest time going into the final… Now I just go about life with no expectations, no disappointments. Once your body is in shape and you throw those thoughts out there in the world what you want to achieve; I think if it is supposed to be, it will be.
So I come out here, I work hard. I make sure I do what is necessary and what is required of me. And then I just let everything unfold for itself.
Wired868: And the Moscow final, what was going through your head? (Gordon set a new national record of 47.69 to win gold at the 2015 World Championships.)
Gordon: Wine and jam, wine and jam. (Laughs). When the gun went in Moscow it was definitely an eye opener for me because I didn't expect to win. Michael Tinsley was the favourite going in. He had 47-something going into the finals and he was unbeaten whole year. But with the 400 hurdles, it is so tough on your body and it requires a lot just to go through and run fast every single round. So I was just able to be relaxed every round and just bring my best in the finals.
So in Moscow it was: Fire! Fire! (Laughs).
After [the final], Felix [who finished fifth] was like: "You're not young anymore, you're grown." And I guess I've earned my respect since then. He always knew I had the talent but after I won he was like: "You're ready."
I think, externally, everything has changed since then. The way people greet me and the way they treat me and the expectations. But I am still the same. (Grins).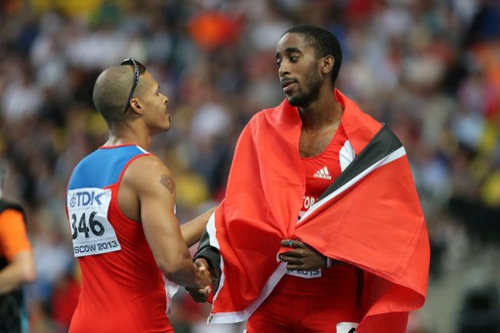 Wired868: No one person has really dominated 400 metre hurdles for a while and the international times have not been as impressive generally over the last six years, is there any reason for that?
Gordon: I have noticed that trend too. But 400 metres is a really tough sport. A lot of people don't really realize how damaging this is to our bodies compared to the other events.
Wired868: And your personal goal…
Gordon: I'm still aiming to achieve an Olympic gold medal in track and field… We all aim to achieve the highest in the sport, which is the Olympic gold medal. But I have already done two surgeries in 2012 and last year in 2015 [and] I've had a couple injuries because of my body composition and the way I am built.
I am always growing which is ridiculous. Every time I see somebody [after a long absence] they say: "But you're growing still!" (Sucks teeth). What I will do again? (Laughs).
It is a competitive advantage for me to do less steps in the 400 metre hurdles but it is just that my body is always growing into new things each year. And it has been [more and more difficult to recover from each injury].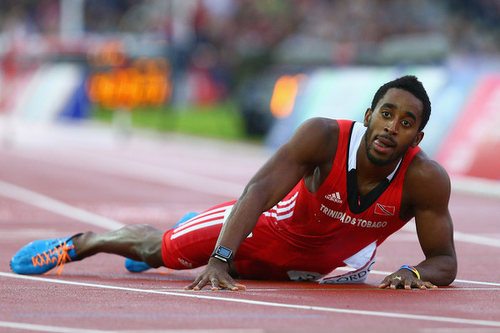 Wired868: How can the public help spur you on?
Gordon: What can the public do for me? I think it might be too late for that now. An Olympics takes four years [of preparation]… For people to try and come on board two months before the Olympics, you can tell them is best they go back in their bed and sleep. (Laughs).
But you know it is always great to see the country rally around you. It helps to throw some weight on your shoulder in a good way. To know, hey, 1.3 million people behind you and have your back. Even though some of those countries have 28 million and 40 million people behind them, it's good when the country is behind you. We definitely feel it and it is an extra push.
Wired868: What can we expect from you in Rio?
Gordon: I am going to give it my best shot. I am not going there to back down or just have an experience. I've been there, I've done it and I definitely will give a good showing.