It was a double coronation for 24 year old Michelle-Lee Ahye with a national record to boot, as the Rebirth athlete underlined her form with an impressive 22.33 finish in the 200 metre final at the 2016 NGC/Sagicor NAAA National Open Championships this evening in the Hasely Crawford Stadium, Port of Spain.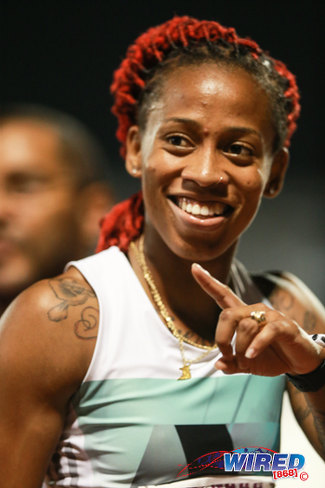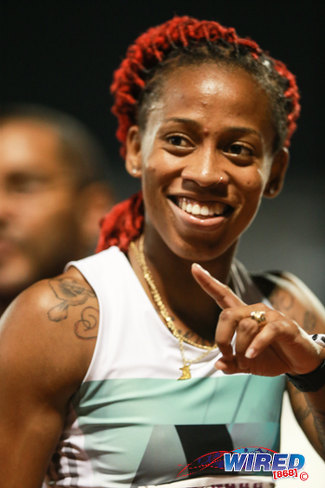 Ahye's record run ends a productive weekend in which the sprinter also copped the 100 metre final in a competitive field.
Zenith's Semoy Hackett, who was Trinidad and Tobago's 200 metre record holder before today's final, finished second with 22.61 to cop the other automatic qualifying spot for the Rio 2016 Olympic Games.
It was Hackett's second silver of the Championships, as she also finished behind Ahye in the 100 metre dash.
Reyare Thomas of Abilene was third in 22.72 followed by Kelly-Ann Baptiste (22.79), Kai Selvon (22.88), Kamaria Durant (23.13) and La Jones-Ferrette (23.19). The NAAA can use its discretion to select two from those four athletes, who have all attained Olympic standard.

In the men's 200 metre final, La Brea's Rondell Sorrillo, who was the only Trinidad and Tobago athlete in this event to make the Olympic standard this year, copped gold with a wind assisted 20.24.
Sorrillo, 30, has now won the NAAA Championship's 200 metre title on five occasions with his last win in 2012.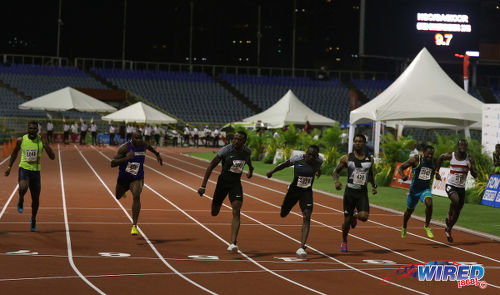 Thompson, the current 100 metre champion, finished second with 20.54 seconds while Guyana's Winston George was third in 20.64. Concorde's Shermund Allsop finished just outside the medals with 20.67.
TTOC's 2015 Athlete of the Year, Machel Cedenio of Simplex, was golden in the 400 metre event with a sizzling 44.444 finish that saw him finish ahead of Nike's Lalonde Gordon (44.69).
It was the 20 year old Cedenio's first local senior 400 metre crown and secured a maiden Olympic berth for the 2014 World Junior Championships winner. Gordon will represent Trinidad and Tobago in Rio too but third placed Deon Lendore of Abilene did not meet the Olympic standard with his time of 45.47.
Zenith's Renny Quow, who was the 400 metre champion in 2014 and 2015, finished fifth.
Rebirth's Cleopatra Borel-Brown also cruised to gold in the women's shot put event with a throw of 17.88 metres, which was comfortably ahead of Toco Tafac's Portious Warren (15.59m) and Falcons' Chelsea James (14.85m).
Borel-Brown, 37, will be Trinidad and Tobago's only representative in the women's shot put at Rio as she is now set for her fourth successive Olympic Games.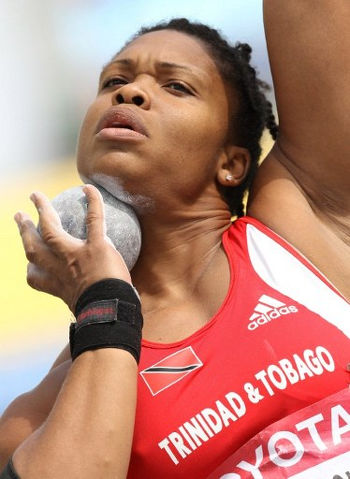 There was an upset in the 400 metre hurdles, though, as Puerto Rico's Eric Alejandro thundered to gold in 50.17 seconds ahead of Trinidad and Tobago's World Championships title holder, Jehue Gordon.
Gordon, who competes for Memphis Pioneers, was second in 50.44. He is yet to meet the Olympic standard of 49.40 in 2016, although he is still eligible to compete in Rio since he met the required time last year.
Rebirth's Emmanuel Mayers was third in 50.49.
In the men's javelin (800 g) final, there was no stopping reigning Olympic champion Keshorn Walcott though, as the 23 year old sensation secured his third national title with a throw of 80.45 metres.