Who says the Trinidad and Tobago Defence Force know nothing about warfare?
Yesterday afternoon in Guayaguayare, the Army/Coast Guard combination successfully navigated their way past a hostile crowd and a home team that refused to recognise their authority.
Or, to put it another way, Defence Force edged Guaya United 3-2 in CNG National Super League (NSL) Premiership Division action.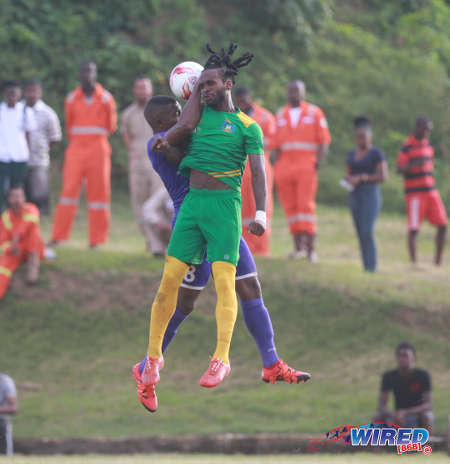 The result saw the "Teteron Boys" leapfrog Guaya to pole position in the competition by a single point, although the latter team does have a game in hand.
But Defence Force coach Kelshall Alexander was happy to smell the roses for now.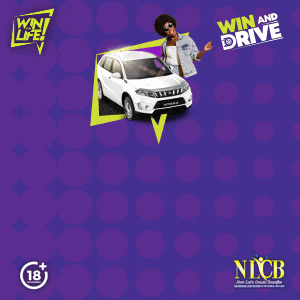 "This is a good result," Alexander told Wired868. "This is a stepping stone towards winning the league.
"I think this result will set the tone in terms of how the rest of the season goes for us."
Guaya coach Akeno Morgan was not in a talkative mood after the match. And it was not difficult to appreciate the cause for his sullenness.
Guaya's inspirational captain Ryan "Fry" Stewart limped off the field in the second half with a calf strain, their top scorer Carlon Hughes was ejected for violent conduct and Morgan felt the wrath of the crowd for much of the second half with the host team three goals down at one point.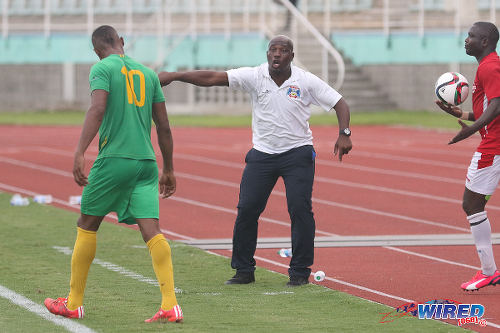 "Up to now you ent make a sub?!" a Guaya spectator screamed at Morgan. "Is the same shit you do (in the 5-0 Toyota Classic Cup defeat) against Jabloteh. We need about three subs!"
Guaya is comfortably the most difficult ground for visiting teams in Trinidad. The uneven playing surface tests your technique, the passionate fanbase—allowed to stand within three feet of the sidelines—tests your nerve and concentration and the pace and aggression of the home team test your physical and mental strength.
They call their team the "Green Army" and they had no intention of bowing to Trinidad and Tobago's legitimate armed forces.
Yesterday was one of those rare occasions when the Defence Force had to plead with the match officials for protection against their opponent's rough tactics.

Defence Force right back Dexter Thornhill won't forget his trip to Trinidad's south east coast in a hurry. But his was one sub-plot in an enthralling evening.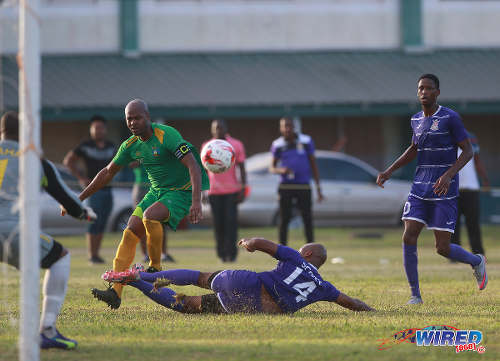 The Teteron Boys came to Guaya with as large a contingent as they could muster—for security purposes, according to one team official—and tried to fight fire with fire.
"The game plan was to put pressure on them from the start and make them uncomfortable," said Alexander. "We know that they had the crowd behind them and (we wanted) to put pressure on them from the word 'go'—especially their skipper (Ryan Stewart).
"We wanted to take him out of the game."
Yet, within the opening eight minutes, Guaya had three efforts on goal and the Defence Force medical staff was already treating Thornhill.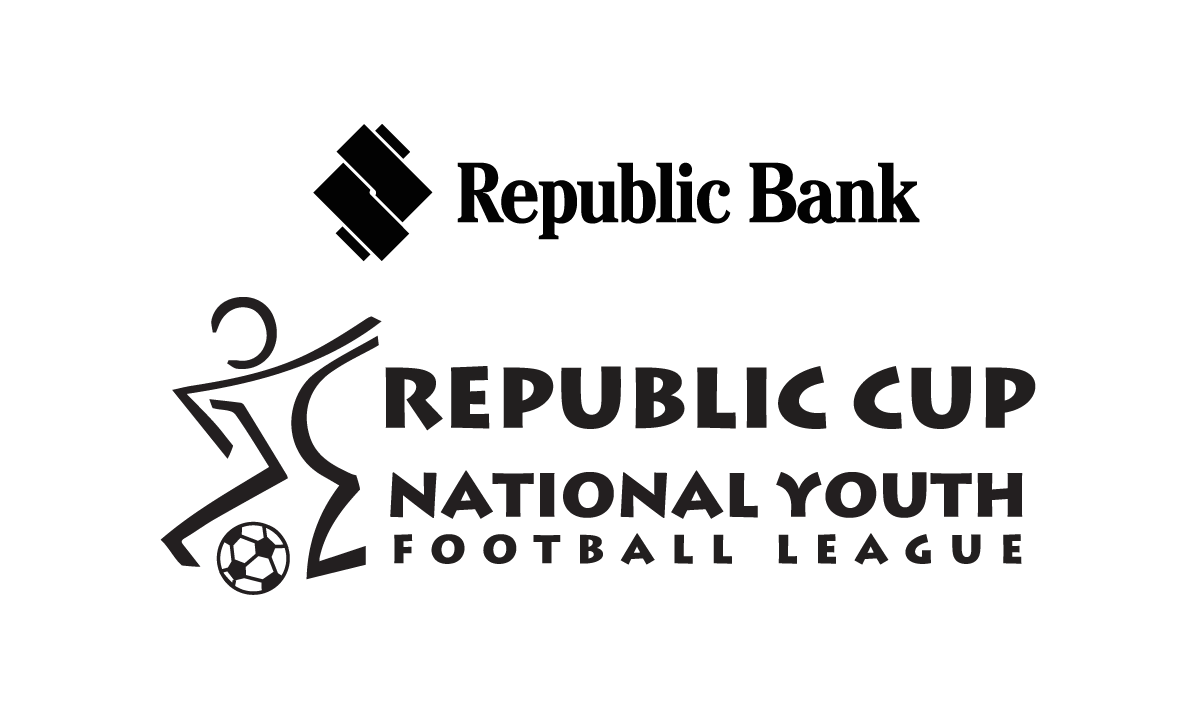 After just 21 seconds, visiting midfield anchor Dexter Pacheco swung and miss at a ball that spun awkwardly off the pitch like a Sunil Narine delivery. But Guaya winger Leroy Jones spliced his subsequent attempt into the clouds.
Remarkably, Jones got an even better attempt within a minute but, this time, was denied by Defence Force custodian Kevin Graham from point blank range after a raking left side cross by Kheelon Mitchell.
And, in the sixth minute, Stewart was just wide with a speculative left footed effort.
Thornhill was struggling with Mitchell's pace and strength and his early attempt to grab the winger caused an uproar in the stands.
There was little sympathy extended to the soldier as he rolled on the ground holding his ankle in pain, after an exuberant challenge from Jones in the eighth minute.
"That is the man who was just pulling?" asked one female Guaya fan. "Let him stay there and pull his cocoa!"
In the tenth minute, Defence Force gave their first flicker of offensive intent as attacking midfielder Josimar Belgrave—once one of the Pro League's finest finishers—slipped a ball into the channel between Guaya's central defenders and right back and striker Michael Edwards dragged his shot wide at the far post.
A pattern had already begun to emerge. Defence Force, marshalled in the midfield by skipper Chris Durity, would rely on Belgrave's ability to find space and Edwards' direct running.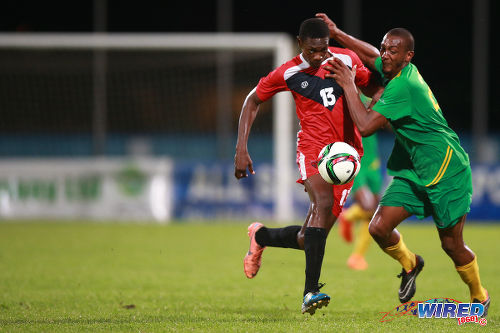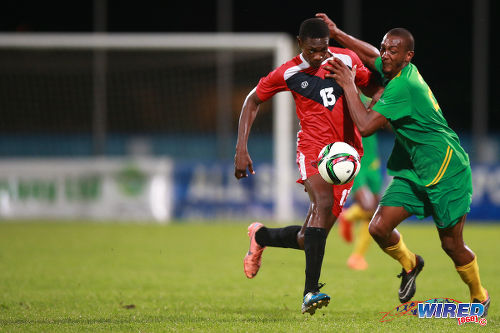 If Guaya were to have any success, it would come through Mitchell's buccaneering wing play as the soldiers stayed close to Stewart in central midfield.
Despite the best laid plans of either team, it was a moment of fortune that created the opening goal.
Guaya central defender Sherlon Campbell, a composed and alert figure, had gone off for treatment and signalled referee Marlon Peruse to be allowed back on to the field, just as Defence Force took a left side throw in the 22nd minute.
Peruse put the whistle to his lips to halt play but then thought better of it and waved Campbell on while Army was allowed to continue their attacking move.
Campbell barely made five steps on to the field before Belgrave whipped in a cross from the left flank and Edwards stooped to head past Guaya goalkeeper Erskine Johnson from close range.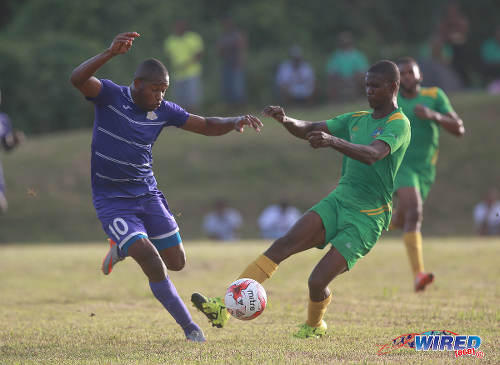 It was, incidentally, the right decision by the referee. But the rowdy atmosphere can be distracting to match officials too and Peruse struggled at times over the 90 minutes.
Edwards' goal gave Defence Force momentum though as Guaya, inexplicably, wilted for the rest of the half.
Durity should have doubled their advantage in the 24th minute, as a ricochet in the defence gave him a clear shooting opportunity. But his snatched effort only gave work for the ball boys.
The Army captain came closer in the 38th minute, as a collision between two Guaya players left him alone with Johnson. Durity went around the opposing custodian and hit towards goal, only to see Johnson make an impressive recovery and slide the ball away with his legs.
The Defence Force pressure told again in the 30th minute, as Peruse spotted a handled ball off a corner kick. And Thornhill converted from the penalty spot.
There should surely have been another penalty to Defence Force in the 34th minute, as Guaya defender Beville Joseph's attempted clearance totally missed the ball and set Edwards three feet into the air.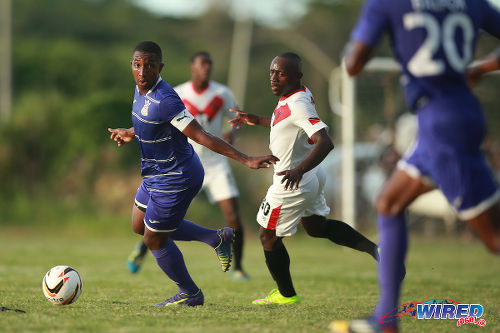 Presumably, Peruse did not believe what he had seen. He gave a spot kick to Guaya.
"Referee, you want to see blood?" asked a stunned Alexander.
No matter. Four minutes later, Defence Force got a third goal, as a loose pass from Guaya left back Kendell Campbell was picked off by Pacheco near the half line. And Pacheco immediately played in Belgrave, who rounded Johnson to score.
"Take off that man, coach!" yelled one Guaya fan, in reference to Campbell (K). "That is damn shit!"
"Ah don't mind the licks," said a female fan, "but it is the way we getting the licks."
Stewart had one 22-yard free kick attempt that was superbly tipped over bar by Graham. Otherwise, there was little for the hosts to cheer besides Mitchell's direct running down the left flank.
And the home crowd was beginning to turn its frustration towards Morgan.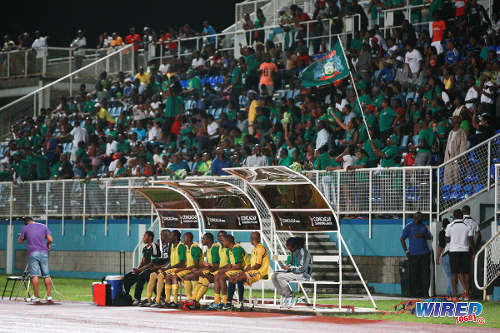 At halftime, Alexander withdrew Thornhill, who was booked for dissent and was clearly being egged towards further indiscretion by the Guaya players.
Right side midfielder Jahvon Neptune was switched to right back while substitute Lorenzo King took over his attacking role.
It provided Guaya with just the chink they were looking for. Neptune was quick enough to match Mitchell's pace but was hopeless against the latter's physicality.
And it was pure desire that gave Guaya a lifeline in the 52nd minute, as Mitchell ran on to a Carlon Hughes pass, flicked the ball around Graham and brushed aside Neptune before knocking it over the line with a lunging tackle.
On the eastern side of the ground, a rasta man rang a cow bell and Guaya smelled blood.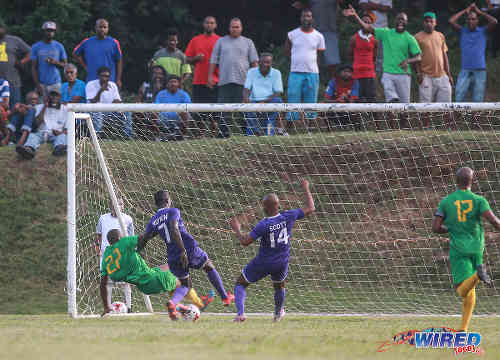 Morgan introduced Kerneal Hagley at left back to protect against King. But the crowd wanted more daring from the bench and let the coach know as much.
Say what you like about the boisterous nature of the Guayaguare football supporters. But it is one of the few grounds where the technical staff can be abused for being slow to give a player water or tend to an injury.
In short, that is what it sounds like when a community takes ownership of a football team.
Morgan relented and introduced slender winger Reon Noel, who looked no older than 21. Noel, who wore the number six shirt, wasted no time in winning over the crowd.
In the 74th minute, Noel tricked an opponent near the half-line and sped away to fashion an opening for Hughes. And it took a tremendous save from Graham to deny a second Guaya goal.
"Well done small man!" shouted one Guaya supporter. "Allyuh shoulda put in that small man long time!"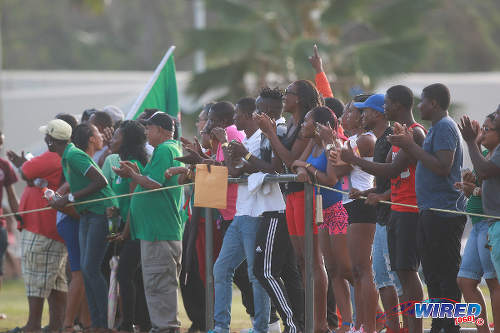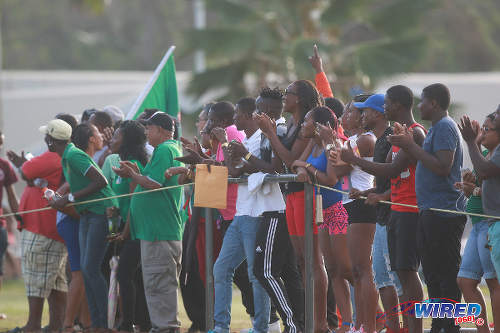 Defence Force were in trouble now. Alexander said his squad lacked fitness, due to the break in their schedule over the Christmas holidays.
"The first half was excellent," said Alexander. "I think the Christmas season probably had an effect on (our performance in) the second half."
Guaya playmaker, Stewart, also could not last. And, after some medical treatment proved ineffective, he signalled to the bench for a change.
"Fry, you have to die out dey man," a supporter unsuccessfully pleaded with his captain.
But a new star flickered in Guayaguare yesterday. Stewart was an observer from the sidelines when Noel motored past opposing midfielder Kurt Williams and danced around left back Tevin Balfour before picking out Hughes inside the penalty box.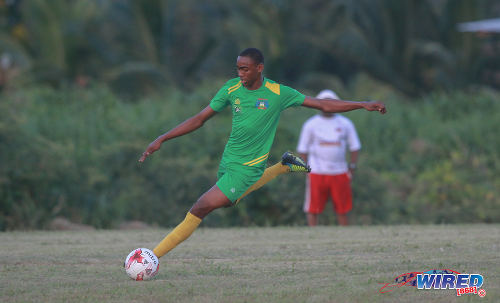 And Kevon Blackman tugged back Hughes for a cast iron penalty, which the latter player dispatched himself in the 76th minute. Defence Force were leading by a solitary goal now.
The rastaman rang the bell again.
"Come, we have 15 minutes," shouted a supporter. "Let's go Gua! Let's go Gua!"
Arguably, Morgan's tactical adjustments in the second half worked superbly. But that was only one way of looking at it.
"Watch that number six nah boy!" yelled Morgan's female protagonist behind the technical area. "You mean to tell me allyuh holding back that number six?! Allyuh wicked boy!"
But Hughes undermined Guaya's attempted recovery, just two minutes after his penalty.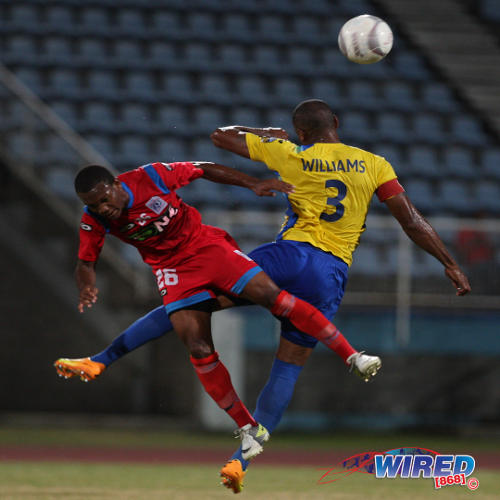 Defence Force substitute Keston Williams ran across the Guaya striker's path and looked as though he threw an elbow in the latter's direction. Peruse only spotted Hughes' retaliation though and flashed the red card.
"Georgie come, we can still draw the game," the Green Army told their star sniper. "You can't go on the bench, Georgie. Come here by us…"
Guaya attacker Jody Allsop did come close with a free kick, which Graham tipped over bar. And Mitchell threatened too.
But Belgrave also squandered a clear scoring opportunity and Defence Force, despite the late expulsion of assistant coach Sterling O'Brien, looked fairly comfortable by the time the final whistle sounded. The result means Defence Force have defeated Guaya in both league fixtures this season.
"The three points are what is most important," said a relieved Alexander, "because that's what we came for."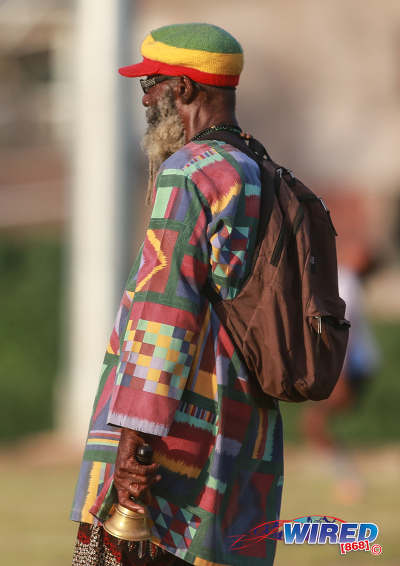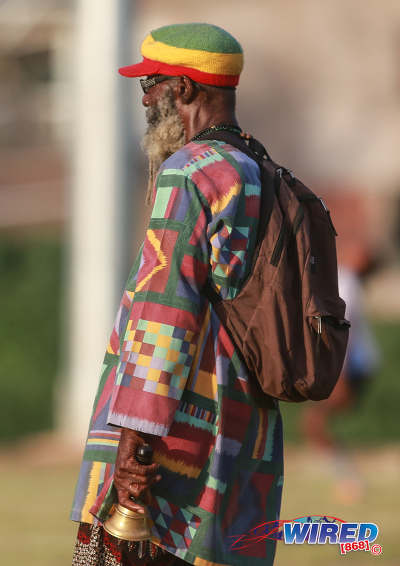 Defence Force have five league games left this season. Guaya have six and trail by just one point.
So, the Green Army still have fate in their own hands.
But Morgan has no margin for error left and could feasibly be without Hughes for two or even three matches while he will also sweat over Stewart's fitness. He will be a brave man to resist giving an extended run out to Noel as well.
If I come a next game and that number six not starting," the outspoken female supporter warned, "allyuh will see trouble here!"
(Teams)
Guaya United (4-1-4-1): 1.Erskine Johnson (GK); 8.Kerdell Alfred (6.Reon Noel 63), 14.Sherlon Campbell, 19.Beville Joseph, 24.Kendell Campbell (20.Kerneal Hagley 60); 25.Keston Jordan; 11.Leroy Jones, 7.Jody Allsop, 17.Ryan Stewart (captain) (18.Keylon Thomas 72), 27.Kheelon Mitchell; 10.Carlon Hughes.
Unused substitutes: 30.Daniel Hagley (GK), 3.Akeel Paul, 23.Cio Morris, 29.Franklyn Romain.
Coach: Akeno Morgan.
Defence Force (S/L) (4-1-4-1): 1.Kevin Graham (GK); 16.Dexter Thornhill (12.Lorenzo King 46), 14.Dwight Scott, 6.Kevon Blackman, 20.Tevin Balfour, 19.Dexter Pacheco (3.Keston Williams 65); 7.Jahvon Neptune, 8.Chris Durity (captain), 17.Kurt Williams (18.Aaron Lester 79), 10.Josimar Belgrave; 9.Michael Edwards.
Unused substitutes: 27.Dillon Prince (GK), 5.Marvin Laidlow, 11.Ronald St Louis, 22.Jamaal Goodridge.
Coach: Kelshall Alexander
Referee: Marlon Peruse
Man of the match: Kevin Graham (Defence Force)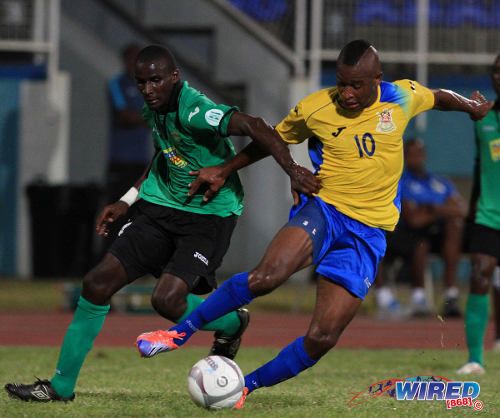 CNG NSL Premiership Division results
(Thursday January 7)
Guaya United 2 (Kheelon Mitchell 52, Carlon Hughes 76 pen), Defence Force (S/L) 3 (Michael Edwards 22, Dexter Thornhill 30 pen, Josimar Belgrave 38) at Guaya Recreation Ground;
Siparia Spurs v La Horquetta SA, Did Not Play, Petrotrin Ground, Fyzabad;
*—Siparia awarded 3-0 win by default;
Police FC 3 (Kwame Hazel 38, Kareem Perry 50, Jason Boodram 64), Marabella Family CC 0 at St James Barrack;
Tobago FC Phoenix 4 (Onasi Forde 48, 60, 90, Andel Browne 87), Club Sando Moruga 1 (Nigel John 15) at Canaan Recreation Ground;
Stokely Vale FC 0, FC Santa Rosa 2 (Gary Bart 32, Jovan Rochford 90) at Plymouth Recreation Ground;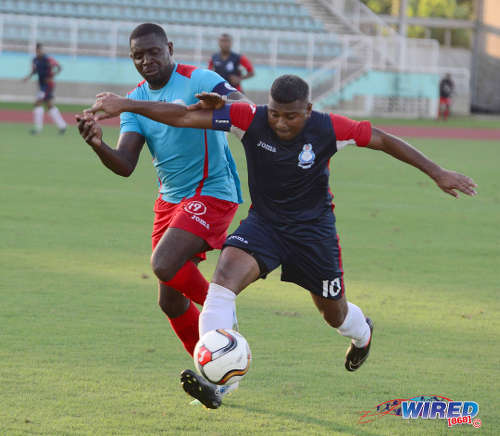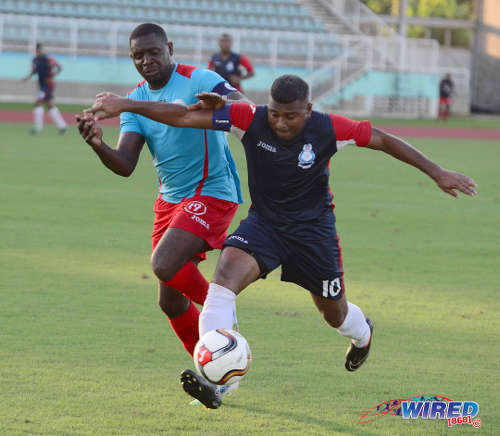 Upcoming fixtures
(Sunday January 10)
Siparia Spurs v Defence Force, 4 pm, Petrotrin Ground, Fyzabad;
Real Maracas FC v Stokely Vale FC, 4 pm, Maracas Recreation Ground;
La Horquetta SA v Marabella Family CC, 4 pm, Larry Gomes Stadium;
Guaya United v FC Santa Rosa, 4 pm, Guaya Recreation Ground;
Matura ReUnited v Police FC, 4 pm, Matura Recreation Ground
Bethel United v Club Sando Moruga, 5 pm, Montgomery Recreation Ground.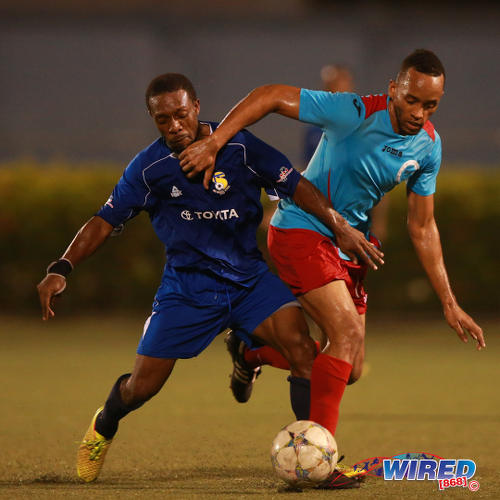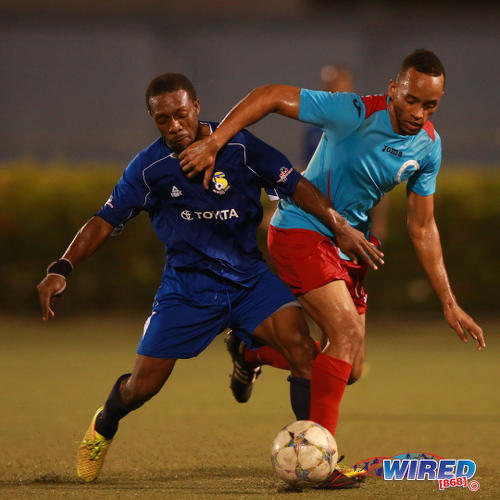 Standings (Played-Won-Drawn-Lost-Goals For-Goals Against-Points)
Defence Force  23-16-3-4-52-26-51
Guaya United  22-16-2-4-60-34-50
T'go Phoenix   23-13-5-6-45-28-43
Santa Rosa       23-10-6-7-37-31-36
Police FC          23-10-5-8-52-38-35
Matura ReUtd 21-10-5-6-40-37-35
WASA FC         23-10-4-9-35-25-34
Siparia Spurs   22-9-7-6-50-51-34
Marabella         23-6-9-8-45-46-27
Petrotrin P/S    21-7-5-9-39-42-26
Sando/Moruga 22-7-5-10-35-42-26
Bethel United   22-6-2-14-27-42-20
La Horquetta   21-5-4-12-35-56-19
Real Maracas   22-4-3-15-23-47-15
Stokely Vale      23-3-6-14-22-52-15