Trinidad and Tobago's dream of rubbing shoulders with the likes of Brazil, Argentina and Chile at the 2016 Copa America Centenario competition ended with barely a whimper this evening, as the "Soca Warriors" fell 1-0 to Haiti in a decisive play off contest at the Estadio Rommel Fernandez in Panama City.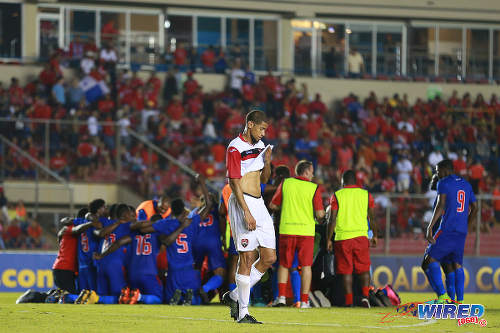 Haiti is ranked 79th in the world by FIFA, some 29 places lower than the Warriors. But there was nothing flukey about the result, as the Haitians were rewarded for their ambition and verve in the second half while Trinidad and Tobago played in spurts and only really came alive once behind.
Haiti's goal, which striker Kervens Belfort claimed in the 85th minute, left the Warriors with little time to recover though. And Trinidad and Tobago's best attempt at goal came off the boot of a Haitian defender, as Jean-Marc Alexandre nearly diverted a Joevin Jones cross past his own goalkeeper.
But, as he was throughout the contest, Steward Ceus was up to the task between Haiti's upright.
The result snapped a five-match unbeaten streak for coach Stephen Hart's men. But, worse, it denies the Warriors the chance of top notch international matches in June against the type of opposition that doesn't usually pick up the phone when the Trinidad and Tobago Football Association (TTFA) rings for a game.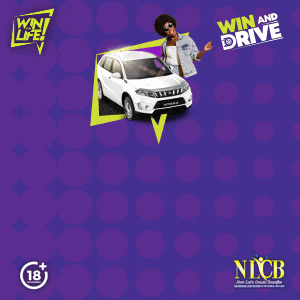 In the political jostling between the squad and the new David John-Williams-led administration, as evidenced in a threatened strike by the players over match fees last month, the Warriors also could not pick a more inappropriate time to lose steam.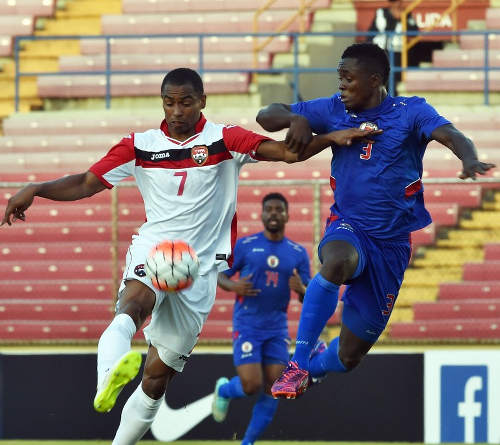 Trinidad and Tobago fans might take solace in the absence of captain and forward Kenwyne Jones, who was unavailable as he prepares his move to United Arab Emirates club, Al Jazira.
Jones has 15 goals in his last 27 appearances for the Warriors and is steadily winning over his earlier critics.
Defenders Sheldon Bateau and Justin Hoyte, striker Willis Plaza and midfielders Keron "Ball Pest" Cummings, Kevin Molino and Hughtun Hector were also absent.
Yet, Haiti were missing nearly half the squad that played in their last 2018 World Cup qualifier in November—seven players in total—while new coach Patrice Neveu has been in charge for just over one week.
Yesterday, Hart described the Copa America play off as Trinidad and Tobago's most important game since their 1-0 win over Bahrain in the 2006 World Cup continental play off.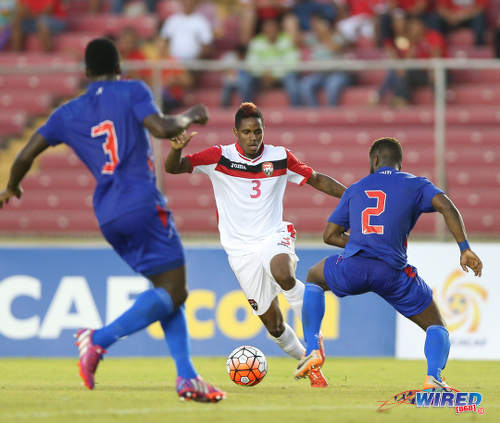 "For us, it is extremely important that we do our best to qualify for the Copa," said Hart, "because it will aid and assist us in our progress towards World Cup qualification.
"I don't think we can pay or put a price on the experience we would get on playing in such a prestigious tournament."
But the Warriors showed little enthusiasm for the contest in the opening 45 minutes, despite playing basically the same team that drew 3-3 with Mexico last September.
Haiti were just as stodgy early on and it meant for a dreadfully dull first half.
It was not until the 47th minute that either team managed a really threatening attempt on goal, as Trinidad and Tobago left back Mekeil Williams forced Ceus into a reflex save to push his attempt for a corner.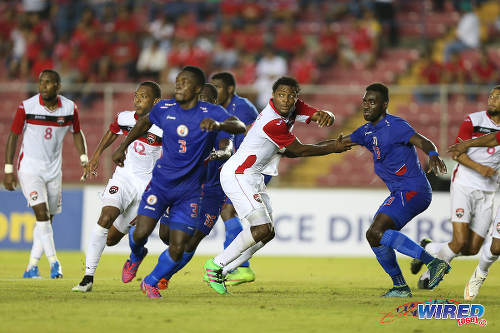 But the tempo of the affair changed dramatically after Neveu sent on dreadlocked maestro Sébastien Thurière and speedy winger Pascal Millien in the 52nd and 56th minutes respectively.
Hart responded by introducing striker Shahdon Winchester for Jonathan Glenn, who was part of an anonymous front pairing with Khaleem Hyland. And Winchester, who celebrated his 24th birthday today, might have been an inspired change.
First, Winchester teed up Hyland in the opposing penalty area, off a Joevin cross, only for the midfielder to hit tamely at the Haitian custodian. Then, Winchester might have been the hero himself but his touch deserted him, as he ran on to a right side Lester Peltier cross.
At the other end, Millien was taking to Mekeil like a dog to a chew toy. And, as the game became increasingly stretched, the Warriors looked surprisingly uncomfortable at the back.
Stand-in captain, Jan-Michael Williams, produced a superb save to deny Belfort in a one on one opportunity in the 78th minute. While, five minutes later, Belfort and Jean Maurice were inches away from meeting a dangerous Millien cross, after the winger danced away from Mekeil.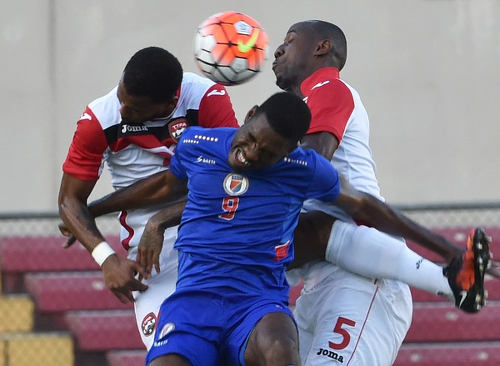 But the Warriors' good fortune would not hold.
In the 85th minute, Millien delivered an angled cross into the penalty area, as Mekeil stood off. Belfort went at it and claimed the decisive touch although replays were inconclusive.
But what mattered most is that Jan-Michael could not stop it, as the ball bounced across the goal line with only five minutes left in regulation time.
Remarkably, the Warriors almost answered within seconds as Joevin's firm cross picked up a wicked deflection off Alexandre's boot, only for Ceus to respond with the save of the match.
Ceus, at 28 years of age, made only his eighth senior international appearance today. But surely it was his most memorable.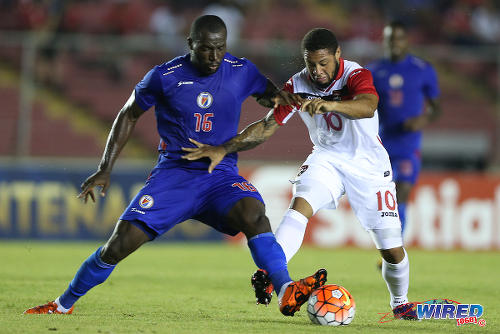 Hart sent lanky defender Radanfah Abu Bakr upfront for the closing minutes, as the Warriors drove long balls into the opposing penalty area. But Neveu responded by swapping a striker for a defender as Haiti held on for a famous result.
The tale of the tape, after the final whistle, showed that both teams completed an almost identical number of passes—a measly 150 to 149—while Haiti's share of the ball was a far from lopsided 56 percent.
But Haiti had 12 shots on target. Trinidad and Tobago mustered just three.
In two and a half years, Hart has led the Warriors into 18 competitive matches and lost just thrice in regulation time. Two of those defeats were to Haiti—a team that possesses the athleticism and aggression to nullify Trinidad and Tobago's pace.
At the moment, Trinidad and Tobago are FIFA's number one ranked team in the Caribbean. But it will feel like a hollow achievement in June when they watch Caribbean champions, Jamaica, and Haiti competing at the 2016 Copa America Centenario competition.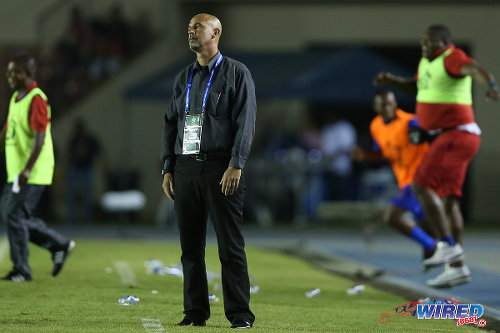 (Teams)
Trinidad and Tobago (4-2-3-1): 21.Jan-Michael Williams (GK), 5.Daneil Cyrus, 6.Radanfah Abu Bakr, 12.Carlyle Mitchell, 17.Mekeil Williams, 19.Kevan George (15.Neveal Hackshaw 81), 14.Andre Boucaud, 23.Lester Peltier, 8.Khaleem Hyland, 3.Joevin Jones; 7.Jonathan Glenn (10.Shahdon Winchester 57).
Unused substitutes: 1.Marvin Phillip (GK), 22.Adrian Foncette (GK), 2.Aubrey David, 20.Trevin Caesar, 9.Rundell Winchester, 11.Ataulla Guerra, 13.Cordell Cato, 18.Yohance Marshall, Jomal Williams.
Coach: Stephen Hart
Haiti (3-5-2): 1.Steward Ceus (GK); 3.Méchack Jérome, 13.Kevin La France (15.Sébastien Thurière 52), 6.Frantz Bertin (captain); 2.Stéphane Lambèse, 16.Jean Marc Alexandre, 19.Max Hilaire, 14.Soni Mustivar (11.Pascal Millien 56), 5.Alex Christian; 9.Kervens Fils Belfort, 10.Jean Eudes Maurice (18.Judlin Aveska 89).
Unused substitutes: 12.Valendi Odelus (GK), 23.Jaafson Origène (GK), 22.Junior Delva, 17.Woodensky Chèrenfant, 4.Kim Jaggy, 21.Constant Monuma, 7.Sony Nordé, 8.Wedson Anselme, 20.Duckens Nazon,
Coach: Patrice Neveu
Referee: David Gantar (Canada)
Man of the match: Pascal Millien (Haiti)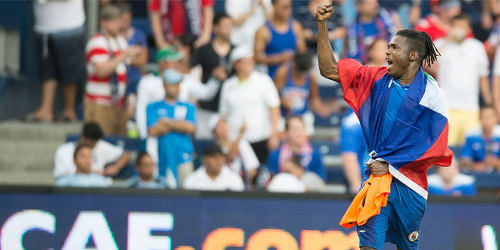 2016 Copa America Centenario
(Friday January 8)
Haiti 1 (Kervens Fils Belfort 85), Trinidad and Tobago 0 in Panama City;
Panama v Cuba, Panama City, 9.30 pm, Panama City.