Plain spoken but quick witted, Trinidad and Tobago Women's National Senior Team attacker Ahkeela Mollon is one of the most dynamic players in red, white and black strip at present.
It hasn't been an easy road for Mollon—both on and off the field—but her resilience and faith in God has seen her through. Wired868 caught up with the 'natural mystic' for a one on one: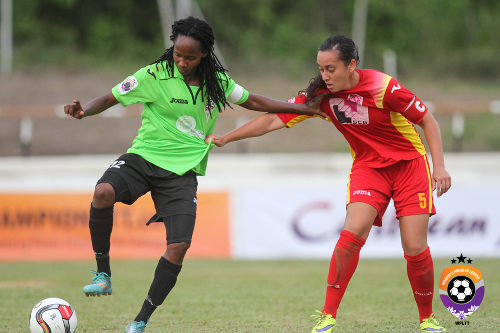 Full Name:  Ahkeela Darcel Mollon
Date of birth:  April 2, 1985
Team Number: Number 12. That was chosen to remember my best friend and cousin, Hazel Ann Charles who died at the hands of a drunken driver at the age of 12.

Position: Right Wing
Height: 5 foot 4 inches
Hometown:  Longdenville, Chaguanas
Schools attended: Couva Private Grammar School; Holy Faith Convent, Couva and Union Claxton Bay Secondary; Young Harris Junior College, USA; University of South Carolina, USA.
Does your first name have a specified meaning? 
Ahkeela means 'honesty' and I try my best to hold true to its meaning. My circle is pretty small. My word is my bond.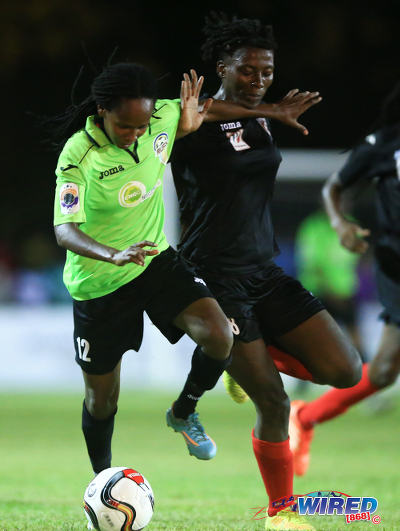 How many siblings do you have and where do you fall in the line-up?
There is my twin brother, Ahkeel and my younger brother, Ericson. Actually, I am second in line by a whole 60 seconds. My parents are Wilma Mollon and Eric Narcis.
What is your favourite dish? 
I like roti but, if I had the choice, any day of the week it would be crab and dumpling.
What is something most people do not know about you?
Before any game I have to go to the bathroom, fall on my knees and say a special prayer.
If you were an animal, which would you be? 
Hmmm…I would have to say a fox.  I know most people might see this as negative but to me it's not. You never know what a fox is going to do; so sly, but for me it is sly in a positive way.
I think a fox is so clever and smart with the speed, agility and knowledge to know just when to strike. I would rock back and let things happen until I (see the) need to intervene.
Favourite team: Chelsea FC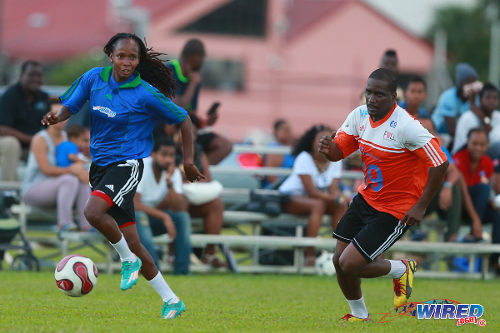 Favourite player: Willian! Because he works hard, he has speed and vision. He would run for 90 plus minutes and never give up. He is just an amazing player. He also inspires my game because I play the same position on the field as he does.
Where did you start playing football?
Started at home in Longdenville with my brother and the boys. They never turned their backs on me because I was a girl. I was always welcomed.
We heard that you played cricket as well as football. What made you decide to drop one and stay with the other?
Well being a twin, my brother and I are always competing against each other. He came up with the idea to let's see how far we could reach in different fields. And having my dad's genes inside of me, wherein he used to play and coach football on a school and professional level, I decided to play football while Ahkeel stayed with cricket. Currently he is captain of the Esmeralda Cricket club, Trinidad.
What pushes you to succeed? 
My faith. Knowing that God blessed me with a talent and he expects me to do good with it. I remember sitting in the streets of Longdenville with them boys and wondering how America looked, how Asia looked, how Africa looked.
When I (took) the Common Entrance exam now called SEA I told my mom, I'm gonna see the world.  To know that God gave me a talent to enable me to see the world, that is what keeps me motivated. God trusted me with a talent and then I was able to fulfill my dreams through that talent.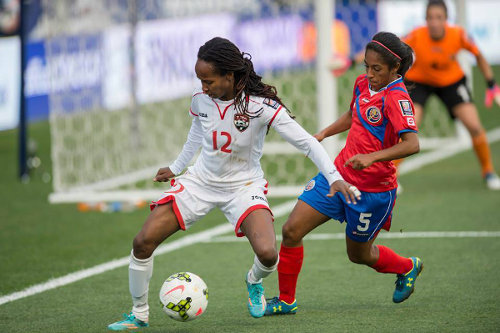 How do you prepare for a football match? 
Down on my knees!
What makes you stand out as a player? 
Without a doubt, my speed. That's my asset and what sets me aside is my ability to run down line, create and set up plays.
Who were your most important coach or coaches and why?
Jamaal Shabazz, Marlon Charles and Arnold Murphy are names that neede to be mentioned here because they nurtured me in the game. But it was Abdul Rasheed (deceased coach for Docs Khelwalaas) who has to stand out. I remember a time when things seemed really hard and I felt like I couldn't push through. He showed up at my house and said, "you can't quit you know, you can't give up you know."
When I was at my lowest it was him, rest in peace, that brought out that extra in me and made me believe. If it wasn't for him, I think I would have given up and gone back to cricket or done something else. The others were influential but (Abdul) really helped me.
What was your best and worst moment in football so far? 
The best was in Sweden (in 1999). I went to Kvarnsveden (loosely pronounced kon-stra-den), a second division team, and my friends in the US told me that Sweden is 'veerrry' cold and that coming from the tropics I wouldn't last one day… Blah blah blah. I top-scored there and the team moved to first division.
I saw a whole community come together for a purpose and when we won it was just amazing to see that they spoke different languages but they were just running and hugging and cheering us on. And to add I played with a hamstring injury but scored 3 goals and had two assists. It was really touching.
Of course without a doubt, the worst would have to be on December 2, 2014, at the Hasely Crawford Stadium where we lost to Ecuador in the final game and (failed to qualify for the 2015 World Cup). A day I would never forget.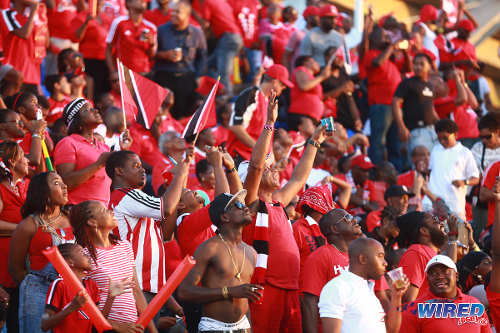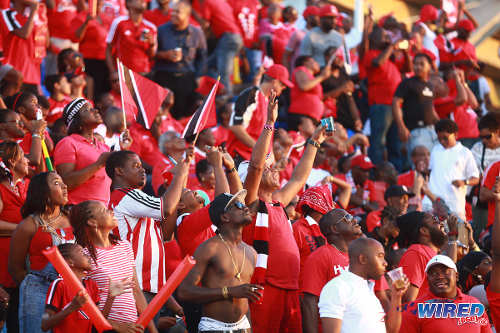 Who is your biggest supporter?
My mom, Wilma. She has been there from day one.  She has supported me no matter what. Without a doubt my mom is my number one fan and I can't picture doing anything without her support or  advice.
How do you deal with disappointment?
On my knees! That's the best way I know how. For me, my greatest strength is my faith regardless of what.  I'm not very religious but I know there is a God and I know what he can do and with him all things are possible. Man's will may fade but none is greater than God's will.
What is your biggest challenge on the field?
Sometimes wanting to go to fast. As I said before, my speed is my asset, but after playing (abroad) for so long, the pace is much higher. So when you come home, sometimes you have to slow it down. For me, it is having the patience… I want to go so fast, so quickly.
What is your biggest challenge off the field?
Being more open. I'm very protected and my family is where I find my comfort. I am unfamiliar in venturing outside my comfort zone. I'm not really sociable outside of football… I need to co-mingle more… I'm working on that.
What's the best and worst advice you were ever given in football?
The best advice was: Don't give up no matter how hard it gets or if things not happening for you right away. Keep your eyes on the prize. And nothing good in life comes easy. That came from Abdul Rasheed.
I try to be a very positive person so I don't really hear that (bad advice). Even if it is said my ears have a way of blocking that out.
What are your thoughts on what is going on with FIFA at present?
I don't concentrate on the external. I focus on the football on the field. Probably if I move on to the administration part of football, I will fight that battle.
If you weren't playing football, what would you be doing?
I love listening, talking, giving advice and I love kids. One day I hope to be a child psychologist.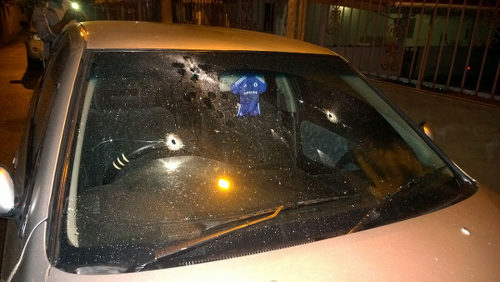 Your vehicle was shot at the night before you had a game. How did you deal with that?
I have had so many challenging situations in my life before that so this was no different. The night it happened I was scared and anxious but by the time of the game (the following day), I was calm and prepared. Why? I had spoken to my Lord!
Do you have any words of inspiration for upcoming footballers?
There will be obstacles, people in your way, people telling you can't, there will be negatives… I remember I used to sell dasheen bush and collect cow manure in order to get my (sport equipment). I promise you that as long as you stay steadfast, God is going to provide in His time for the effort that you put out.
Editor's Note: Click HERE for Part Two as Ahkeela Mollon talks about her Pan Am Games experience and her passion for coaching.