"I have to thank the Man above for helping us with this victory," said San Juan Jabloteh coach Keith Jeffrey, as he toasted his club's Toyota Classic Cup title at the Ato Boldon Stadium last night.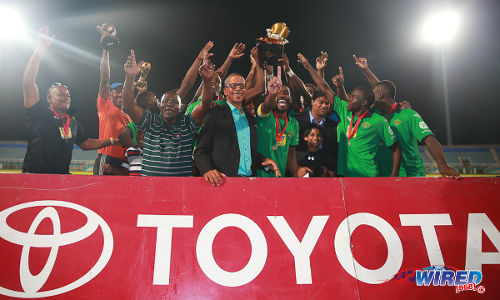 It took penalties to part Jabloteh from Point Fortin Civic in an exciting finale between two Pro League teams not normally associated with trophies. Not anymore, at least.
Jabloteh, under the guidance of English coach Terry Fenwick and bankrolled by CL Financial, was a formidable outfit until the financial squeeze took hold. Eight years have passed since the self-titled "San Juan Kings" last lifted a trophy and club chairman Jerry Hospedales was on the running track last night to enjoy the moment with his technical staff and players.
At the other bench, Civic coach Reynold Carrington and his technical staff discussed the night's events in quiet dignity.
It was cruel that the two teams had to be separated in the end. But football is a cruel game.

Jabloteh goalkeeper Shane Mattis sported a huge smile that seemed to start at one ear and end at the next. Somehow, it got wider still when the Jamaican was awarded the MVP title.
In contrast, Civic captain Andre Ettienne, the tall, battle-axe of a player, buried his face in his shirt and cursed his bad luck.
Their moods not only reflected the story of each camp; but also the role both men played in them.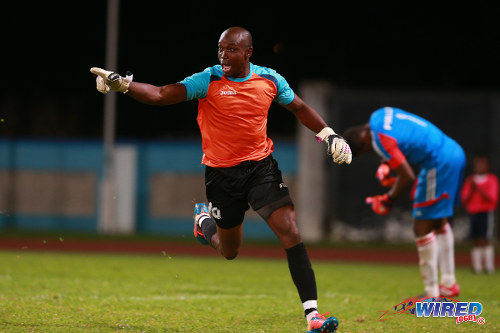 The game was just two minutes old when Ettienne made the first error of the final. The giant defender misread the intention of Jabloteh attacker Andell Noray and was caught in possession on top his own penalty area.
Noray still had some work to do as he approached the opposing goal from a sharp angle to the right of Civic custodian Marvin Phillip. Perhaps Phillip, who has 55 national senior team caps with Trinidad and Tobago, could have done better to protect his near post.
But Noray's rising blast, the first of two violent left footed goals yesterday, brought gasps from the 2,000 or so mostly partisan patrons.
Noray's steal turned out to be a coordinated strategy by Jabloteh in which the front three of Duran Dilworth, Shaquille Betrand and the goal scorer pressed high while veteran Kerry Baptiste and Fabian Reid stuck close to the two opposing flankers in Civic's narrow diamond midfield.
Civic likes to play the ball from the back with short passes and keep possession in central midfield. Jabloteh denied its opponent the freedom to do so.
"We high-pressed and let them go long where we know they have short players," said Jeffrey.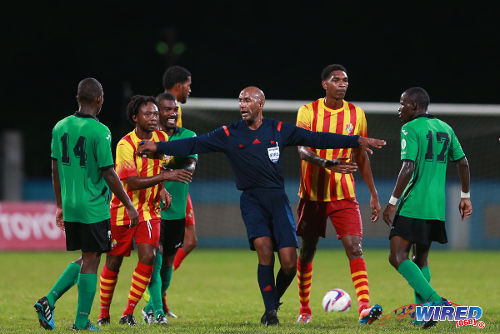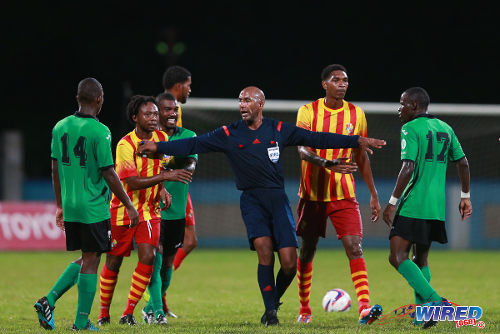 Ettienne held his hand up to his teammates to acknowledge his costly mistake. Five minutes later, his defensive partner Weslie John also offered apologies after his attempted pass was pinched by Reid, whose lobbed effort was a foot too high.
Civic midfielder Andrei Pacheco fizzed one effort just wide on the turn; but, otherwise, the industrious Jabloteh outfit had the better of the first 45 minutes although Noray failed to capitalise on three other decent looks to double the lead.
Jeffrey's position as Jabloteh head coach was considered to be in peril at the end of last season. So, he looked to Caricom for salvation. There were four Jamaicans and one Grenadian in Jabloteh's starting team yesterday with another two Jamaicans, a Dominican and St Kitts and Nevis player in reserve or stand-by.
A policeman by trade, Jeffrey might raise the eyebrows of his National Security Minister, Gary Griffith, with the nationality of his troops. But he insisted that Jabloteh's early season form owes much to higher intensity of the club's training sessions due to the imports.
"It is not really what Jabloteh stands for; Jabloteh stands for local players," Jeffrey told Wired868. "But I took a chance and they have been excellent for us. In training, you see the difference with their aggression and commitment.
"They do the work they come here to do. They are true professionals."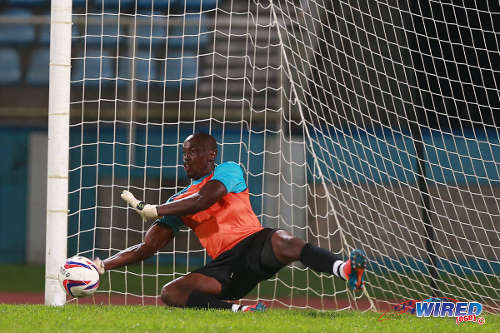 But Jabloteh's inability to build on Noray's opening goal meant Civic was still in the hunt and Carrington adjusted at halftime.
"I think the early goal rattled us a little and we started to stray away from the way we play," said Carrington. "They were a bit flustered."
Veteran attacker Andre Toussaint was instructed to drop deeper to help his midfielders keep the ball while Ettienne and John were asked to lift their heads.
In the 55th minute, Carrington made a further tactical alteration as utility player Kevin Rouse replaced Trent Lougheed. While Lougheed often tried to attack the flanks, Rouse stayed narrow; and Civic began to take advantage of its numerical advantage in central midfield.
Jabloteh's unwillingness to keep possession also meant the men in green were doing more than their share of running and it was bound to tell eventually.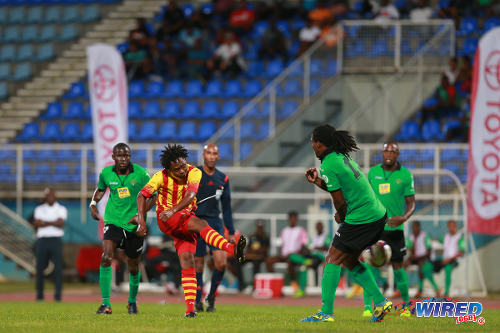 In the 66th minute, Jeffrey replaced Dilworth with the lively Johan Peltier. Although none of the current Jabloteh players helped lift the Toyota Classic in 2008, Peltier's older brother and Slovakia-based winger, Lester Peltier, was with the club at the time. However, Peltier is less enthusiastic than Dilworth about the menial defensive chores and his inclusion further subdued Jabloteh's high press.
As Jabloteh dropped deeper, Civic grew bolder still on the ball. Some cracks started to show now and, in the 70th minute, Civic exploited one.
Toussaint teed up Pacheco on top the opposing penalty area and the 32-year-old Baptiste was a fraction late in his reaction. Civic's number 19 responded with a tremendous left footed cannon that almost uprooted Mattis' bar before bouncing over the goalline.
"Kerry Baptiste is not 18 years old (anymore)," said Jeffrey. "He cannot do the chasing but it was important to keep him on the field in case we reached penalties…
"As the senior player, I trust him."
Civic might have gone ahead, four minutes later, as slick inter-passing led to an opportunity for midfielder Akeem Redhead who pulled his shot wide of the far post.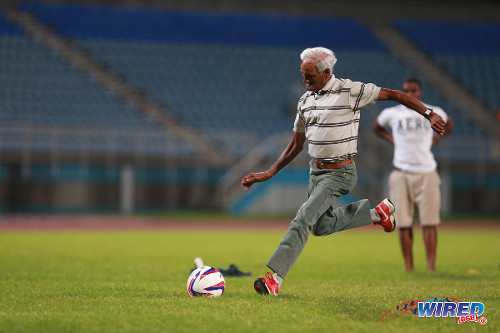 "I think we fought hard to get back in the game," said Carrington. "I thought after Pacheco scored a goal like that we would have won in regulation time. I think the momentum really went us and Jabloteh started to show it in their legs a little.
"But I think we never really capitalised on the opportunities."
In the 81st minute, Jeffrey replaced Noray with the bustling Brendon Figuera as Jabloteh regained its poise and vigour.
Reid tested Phillip from 22 yards in the 88th minute while, on the stroke of regulation time, Bertrand dribbled past three Civic players and into the 18-yard box before squaring for Baptiste. However, Rouse was alert to the danger and charged down Jabloteh's final attempt on goal.
Penalties beckoned and, again, Jabloteh showcased its clinical efficiency. Although Civic had an international goalkeeper between the uprights, Jabloteh did not miss a single attempt as Peltier, Bertrand, Baptiste and Adrian Reid all converted their kicks for the Bourg Mulatrasse-based club while Mattis kept out weak efforts from Ettienne and Steven Reid.
Yes-I. Jabloteh, with its new Jamaican axis, is back in business.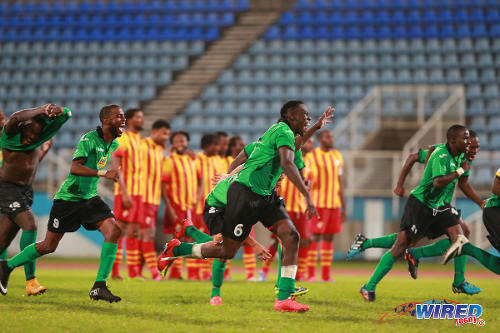 (Teams)
San Juan Jabloteh (4-1-2-3): 30.Shane Mattis (GK); 4.Garth Thomas, 24.Adrian Reid, 6.Dario Holmes, 18.Jevon Morris; 13.Coneal Thomas; 10.Kerry Baptiste (captain), 17.Fabian Reid; 7.Andell Noray (23.Brendon Figuera 81), 15.Duran Dilworth (9.Johan Peltier 66),14.Shaquille Bertrand.
Unused substitutes: 36.Raheem Belgrave (GK), 11.Bryan Bayliss, 19.Dillon Kirton, 22.Caleb Sturge, 25.Troy Moses.
Coach: Keith Jeffrey
Point Fortin Civic (4-3-1-2): 1.Marvin Phillip (GK); 3.Steven Joseph, 4.Weslie John, 5.Andre Ettienne (captain), 2.Garyl Doldron; 18.Trent Lougheed (23.Kevin Rouse 55), 7.Kelvin Modeste, 6.Akeem Redhead; 19.Andrei Pacheco; 11.Andre Toussaint, 20.Jamille Boatswain (21.Andre Alexis 82).
Unused substitutes: 24.Miguel Payne (GK), 13.Tevin Belfour, 15.Ronell Paul, 16.Ancil Wells, 17.Keswin Goolie.
Coach: Reynold Carrington
Referee: Neal Brizan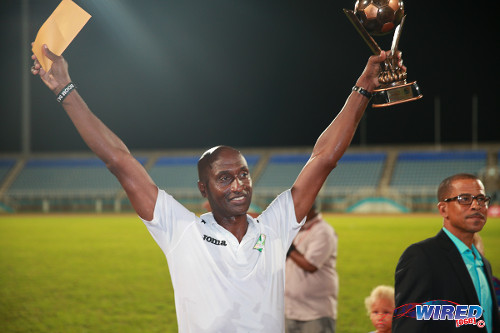 Toyota Classic Cup final
(Fri Dec 12)
San Juan Jabloteh 1 (Andell Noray 3), Point Fortin Civic 1 (Andrei Pacheco 70)
*–Jabloteh won 4-2 on penalties
MVP: Shane Mattis (San Juan Jabloteh)
Most Goals: Jamille Boatswain (Point Fortin Civic)
Best Coach: Keith Jeffrey (San Juan Jabloteh)