If yesterday's 2014 World Cup semi-final was a sumptuous feast—albeit a bit rich for Brazilian football fans—then today's affair was rice and patchoi; unsavoury and forgettable but good enough to take you where you want to go.
And, for Lionel Messi and his band of brothers, the next stop is Rio de Janeiro and Brazil's famous Maracanã Stadium. On Sunday, Germany and Argentina will meet in the World Cup final to decide which has the best international team on the planet.
For Brazilians, that must be like getting to pick your wife's hornerman; and there is no million dollar Robert Redford tip in this affair either.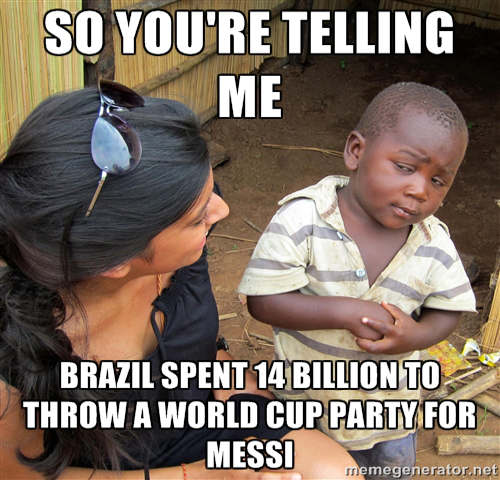 Thank goodness Rio's famous Christ the Reedemer statue was built without a belt and shoe lacings.
For Argentina, it was the second successive 2014 World Cup knock-out match won without a decisive contribution from captain Lionel Messi. But this shave was as close as the Opposition Leader's scalp.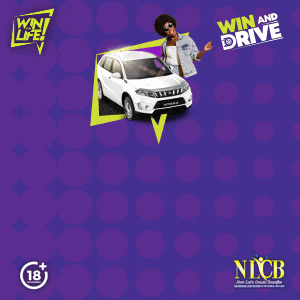 By the final whistle, Argentina right back Pablo Zabaleta's bandaged face looked as if he had bumped into the wrong soca star at Zen while teammates Javier Mascherano and Ezequiel Garay also needed lengthy treatment after coming out worse for collisions with Dutch players.
And Messi's GPS was apparently not getting a signal.
At the other end, Mascherano was watching Netherlands star Arjen Robben closer than pop star Robin Thicke is tracking his estranged wife, Paula, while Robin Van Persie picked the wrong time to show off his Fred impression.
It was football's answer to "J'adoube" in chess; all intriguing contemplation but little action.
Netherlands coach Louis Van Gaal used all his three substitutions long before the final whistle on this occasion—or maybe he just dozed off—while Alejandro Sabella managed to stay on his feet today.
So it was up to the players to create their own drama in the shoot-out.
Inexplicably, Netherlands sent central defender Ron Vlaar to set the tone with the first penalty, which might be like the West Indies cricket team asking fast bowler Ravi Rampaul to open the batting. Argentina captain Sergio Romero saved easily to his left and "La Albiceleste" never looked back.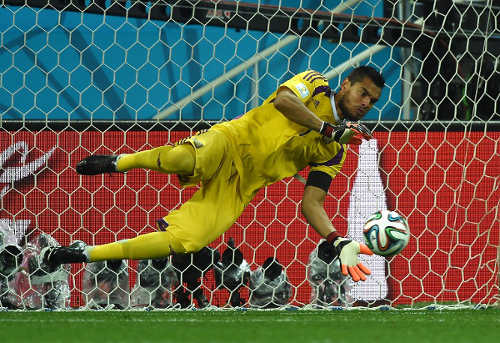 The last time Brazil hosted the World Cup finals, 64 years ago, Uruguay stole the show with a surprise 2-1 win at the Maracanã. Now Brazilians must sit back and observe as two of their bitterest rivals fight for the spotlight at the party they spent US$14 billion to put on.

Mr Live Wire has a sneaking suspicion that the number of Brazilians protesting their staging of the World Cup is set to skyrocket.
Today's 2014 World Cup action
Semifinal round
Argentina 0, Netherlands 0
*–Argentina win 4-2 on penalties
Star of the Day
Argentina midfield terrier Javier Mascherano stayed so close to Netherlands' star Arjen Robben today that surely they are on each other's "My Lime" list by now.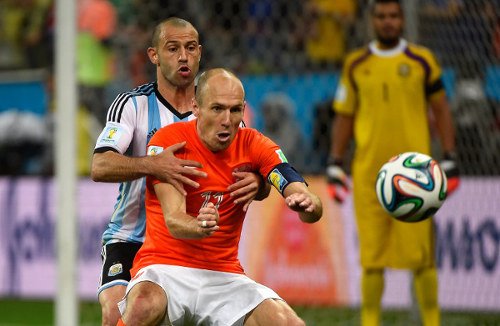 But Argentine goalkeeper Sergio Romero was the hero in the end with a fine save from Ron Vlaar and an even better one to deny Wesley "Papa Smurf" Sneijder.
Villain of the Day
Netherlands captain Robin Van Persie had nine completed passes, lost nine of his 10 duels for the ball and didn't register a single shot in goal in 96 minutes.
In short, he played like a Brazil number nine. And that is no longer a compliment.