David Luiz, the Brazilian defender with the "Sideshow Bob" locks, finally took centre stage today as the host nation produced its most assured performance of the 2014 World Cup thus far to edge Colombia 2-1 today.
But Brazil was battered and bruised by the final whistle. And we don't just mean the protesters on the street.
Talisman Neymar Junior left the playing area on a stretcher after a knee in the small of his back from Colombia right back Juan Zuniga. Brazil team doctor Rodrigo Lasmar confirmed after the match that Neymar suffered a fractured vertebra and will be unavailable for the remainder of the tournament; while captain Thiago Silva was ruled out of the semifinal clash with Germany by a cheap yellow card.
And, once more, Brazil attackers Fred and Hulk were as useful as cassette players in a digital world.
But, most importantly, the "Samba Boys" are still there.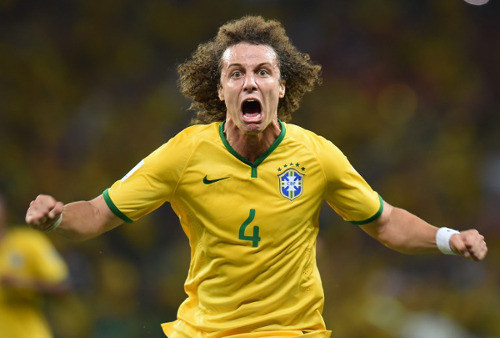 It is 23 years and 25 games since Colombia defeated Brazil in a competitive fixture and the Colombians never looked like causing an upset today.
Brazil got both goals from set pieces. Silva used his knee for the opener after being left criminally unattended by Colombian midfielder Carlos Sanchez while Luiz converted a tremendous free kick in the 68th minute.
Colombian star James Rodriguez pulled a goal back from the penalty spot in the 80th minute but team officials might have already been packing their bags.
It set up an enthralling semi-final clash with European superpower Germany who saw off France 1-0 this afternoon in an underwhelming affair.
Picture Germany coach Joachim Löw sneaking up behind a French rooster with a pillow and a steely look in his eye; it was a match that should be reviewed by forensic pathologists not football purists.
Thirty two years ago, football fans were stunned by a scene of naked violence as West German goalkeeper Harold Schumacher clattered into French substitute Patrick Battiston with such force that he had two teeth knocked out and three broken ribs. The Dutch referee, Charles Corver, did not even award a free kick and Germany went on to win in a penalty shoot-out.
The sense of injustice led to an explosion in France where cars bearing German license plates reportedly had their windows smashed and tyres slashed.
Löw was much more passive aggressive today.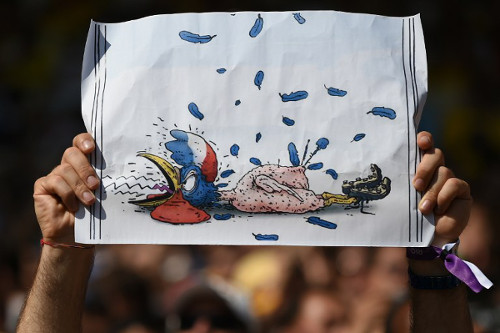 Dynamic France midfielder Paul Pogba found himself in a white, padded cell as German midfielders Sami Khedira, Bastian Schweinsteiger and Toni Kroos took turns pretended to be the young Frenchman's straitjacket. And Löw employed the more muscular, old-school centre forward Miroslav Klose upfront as Germany attempted to outmuscle the French defence.
In the end, powerful German defender Mats Hummels got the decisive goal with a header off an early free kick as 21-year-old Frenchman Raphael Varane tried limply to put him off. It looked like a five-year-old child trying to get a balloon out of his dad's hands.
France coach Didier Deschamps never found a convincing answer to Löw's tactics. Perhaps CSI will.
Brazil coach Luis Scolari must; and he will not have Neymar and  Thiago Silva to help now.
Today's World Cup action
Quarterfinal round
Germany 1 (Mats Hummels 12), France 0
Brazil 2 (Thiago Silva 7, David Luiz 68), Colombia 1 (James Rodriguez 80)
Star of the Day
Much has been made of the individual brilliance of South American wonder-boys like Lionel Messi, James Rodriguez and Neymar at the 2014 World Cup. But sometimes a coach can be just as decisive as the flair players.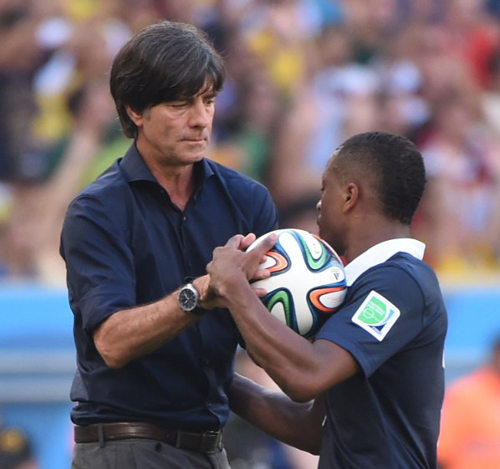 If you find yourself rooting for the bad guys in the movies, you're probably putting Joachim Löw as your Facebook profile picture right now.
Or, to put it another way, would you really be surprised to learn that Löw whispered to Pogba: "I am your father…"
Villain of the Day
What was Colombia midfielder Carlos Sanchez thinking as his team defended a corner in only the seventh minute of the match?
Whether he switched off his television before he left the hotel? What's the name of that song?
He certainly did not have his job in mind as Thiago Silva snuck around his blind side to kick in Colombia's back door.
Maybe they will tie a string on Sanchez's finger next time; or allow him to take cheat notes on to the field.