This evening's Pro League fixture between Central FC and Police FC has been postponed to a date to be determined due to protest outside Parliament in Port of Spain.
Central and Police were due to meet from 6 pm at the Ato Boldon Stadium, Couva in the first game of a double header. The second fixture, which pits league leader DIRECTV W Connection against fourth place Point Fortin Civic, will kick off as scheduled at 8 pm.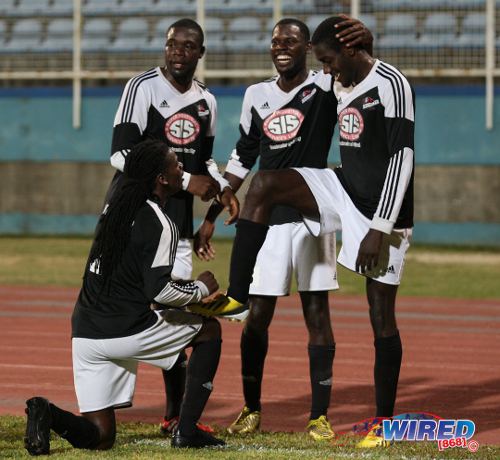 At present, Central is in second place and six points shy of Connection while Police is sixth.
"There are indications that there is going to be a massive protest at Parliament today which requires a large Police presence, particularly from the Guard and Emergency Branch," Police FC head coach Richard Hood told the TT Pro League website, "which incidentally, the majority of players are attached (to).  Additionally, some of our players attached to the Port of Spain Division are also detailed to perform relevant duties.
"Therefore, regrettably, we cannot field a team today."

Police has been Central's bogey team this season. The "Lawmen" whipped the "Couva Sharks" 4-2 last October and then held them goalless in January. And Hood, who is a sergeant with the Guard and Emergency Branch, said his players were looking forward to extending their unbeaten league run against Central this evening.
"We prepared well and were looking forward to the game," said Hood. "I can say that I am disappointed that we can't play today, but this is the nature of the job…
"We enjoy playing against Central and the competition that they bring."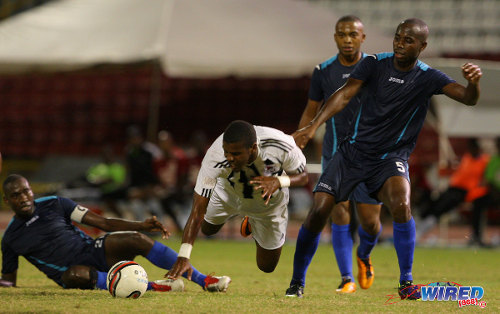 However, Central operations director, Kevin Harrison, told Wired868 that, although he understands the reason for the postponement, he is concerned that the "Couva Sharks" may end up being disadvantaged as they try to overhaul Connection.
"We are concerned because this could lead to a fixture backlog for us at the end of the season," said Harrison. "When we can play this game where it won't disadvantage us? There is a million dollars involved and now we could end up playing two games in a week.
"We understand it is not the (Police) players' fault but we want to be involved in the choosing of the date. But (that decision) will go to the board and we don't know what they will say because the people who decide have a vested interest (in the final league placings)."
Pro League fixtures
(Fri Mar 28)
W Connection vs Point Fortin Civic, 8 pm, Ato Boldon Stadium;
(Sat Mar 29)
North East Stars vs Defence Force, 4 pm, Ato Boldon Stadium;
(Tue Apr 1)
Police FC vs Caledonia AIA, 6 pm, Ato Boldon Stadium;
Defence Force vs Point Fortin Civic, 8 pm, Ato Boldon Stadium.