The Trinidad and Tobago Men's National Senior Team took their biggest scalp to date under head coach Angus Eve tonight, as they defeated the United States 2-1 in the second leg of the Concacaf Nations League quarterfinal round.
But it was not enough to advance to the semifinals of the competition, as the "Stars and Stripes" stumbled into the next stage with a 4-2 triumph on aggregate.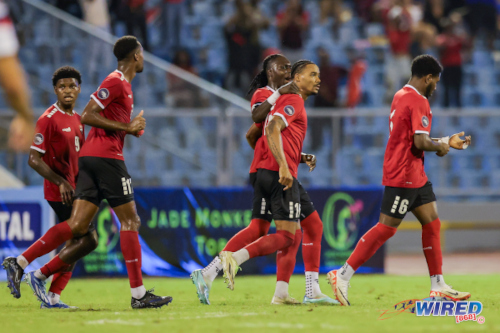 The Soca Warriors can still get to next year's Copa America tournament via a playoff against another quarterfinalist on 23 March 2024, in a match that could have significant importance for Eve.
Eve's current contract expires in March, as does the term of the Robert Hadad-led Fifa-appointed Normalisation Committee. A good showing in the CNL quarterfinal could make his case for an extension nigh irresistible.
In truth, Eve's Warriors have already changed the mood around the team since the Gold Cup with a string of commendable results and gutsy performances. Tonight in Port of Spain, supporters got both—kinda.
There was heart, street smarts and application from the boys in red, white and black. There was a win too; against supposedly the stronger version of a team that mauled Trinidad and Tobago 6-0, just four months ago.
But it was not quite the win that the two-legged match-up needed.
At present, the United States are 11th in the world. Trinidad and Tobago are 99th. But it did not look that way for much of the match, particularly once the visitors lost right back Sergino Dest to a red card.
The Warriors, as Eve promised, were positive from the start. But it was USA that began brighter.
There were barely two minutes on the clock when United States got their first sniff inside the opposing 18-yard box, with flanker Branden Aaronson forcing a relatively straightforward low save from Trinidad and Tobago goalkeeper Denzil Smith.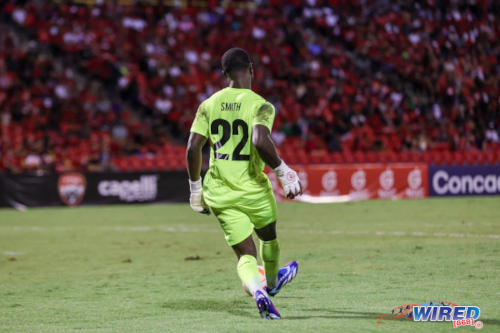 Smith was called into action again in the fourth minute, as he reacted to keep out a left footed strike from USA forward Folarin Balogun.
At this point, it is worth offering context on Warriors' offensive brim. True, Eve started Real Gill, Reon Moore and Nathaniel James—but there were also five defenders on the field and two box-to-box midfielders.
In possession, Eve had Shannon Gomez push forward like a right-side midfielder. On defence, Gomez retreated to create a back five.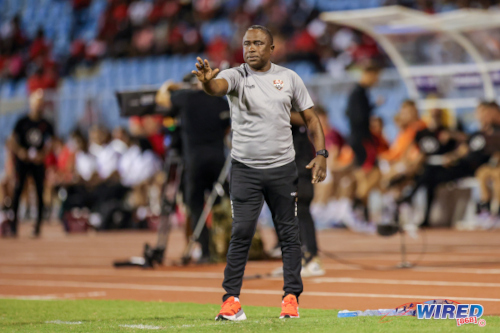 It was as close to gung-ho as you are likely to get from the self-professed Conservative One.
For much of the first half hour, Trinidad and Tobago were neither fish nor foul—too open defensively, while offering more energy than poise offensively.
Left back Andre Raymond got caught dithering on the ball in the 15th minute and Smith had to keep out Aaronson again. And there was little surprise when the visitors finally went ahead in the 25th minute, as an inviting right-side cross by Dest was met by a firm header from adventurous left back Antonee Robinson.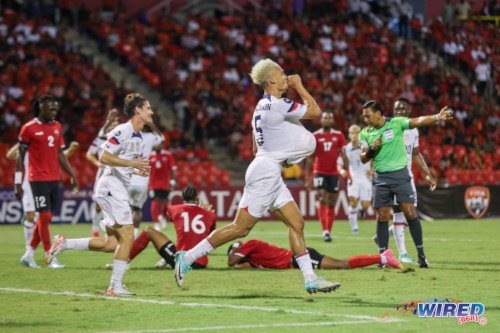 Dest, a former FC Barcelona player, was involved in all of USA's best attacks as he stepped inside to pick out his teammates or go for goal when Trinidad and Tobago opponents got too close, or whipped in testing crosses if they backed off of him.
So it was a double blow to coach Gregg Berhalter when the talented 23-year-old player, now an employee at PSV Eindhoven, got himself sent off for the biggest meltdown on the island since a Siparia East Secondary student's unrequested, foul-mouthed performance appraisal of her school teacher.
Dest fell over in an innocuous challenge and felt he deserved a free kick. Nobody else at the Hasely Crawford Stadium thought so, including, crucially, Guatemalan referee Walter Lopez.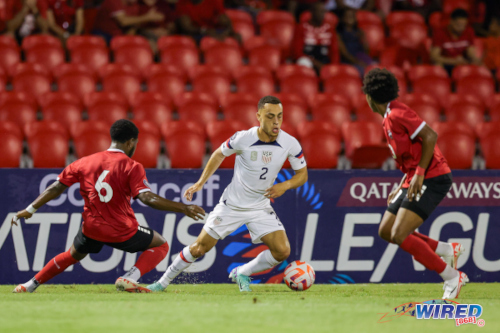 At his next possession, Lopez again, correctly, whistled for a Trinidad and Tobago free kick—and Dest took the ball and booted it into the Hasely Crawford Stadium.
It was a breathtaking display of dissent, but something was still bubbling over in the young man. American players surrounded him, trying in vain to get him to cool down. It was like trying to douse an inferno with a cup of water.
An angry Dest would not stop talking and remonstrating, and Lopez sent him to the showers—and, hopefully, to get counselling.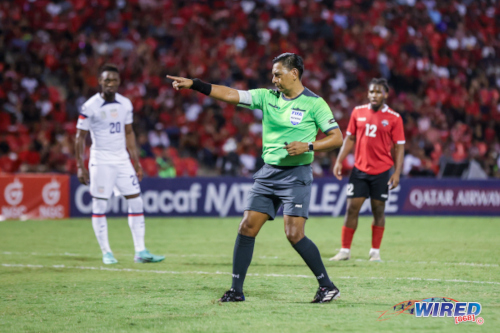 Berhalter blinked immediately, as he replaced playmaker Gio Reyna with deputy right back Joseph Scally—and, just like that, USA went from being the baddest team in the confederation to Pleasantville Secondary.
In the 42nd minute, Moore ran on to an inviting ball into the channel by Alvin Jones and finished with a cracking drive past USA goalkeeper Matthew Turner to equalize.
Last Thursday, Turner did not have a single shot to deal with. Now he was picking the ball out of the back of his net.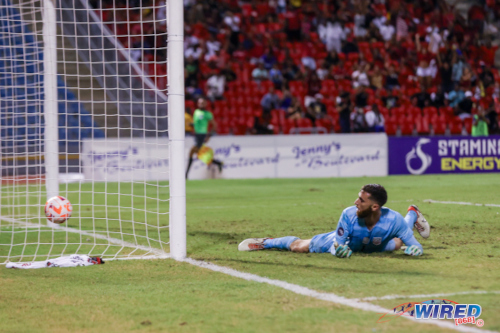 And, in the second half, USA could not get the ball out of their own half. Within the first three minutes of the restart, Nathaniel James had a shot overbar and Gomez and Raymond had collectively pumped three crosses into the opposing box from advanced positions.
Was this the reigning Nations League champions? Or employees from American Stores?
By the 55th minute, Turner waved his defenders away and started simply pumping goal kicks into the opposing half. It is difficult to remember Balogun winning a single one of those punts against the commanding duo of Aubrey David and Justin Garcia.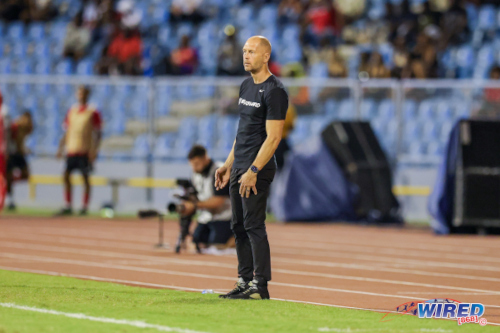 In the 56th minute, Rampersad won a free kick off a foul by Aaronson. It was 30 yards out—but it was Jones behind the ball. Remarkably, Turner asked for a one-man wall.
Hasn't this guy watched the footage from the USA's trip to the Ato Boldon Stadium in Couva, six years ago? Didn't his successor and 2018 World Cup qualifying goalkeeper Tim Howard warn him?
Jones was not about to back down from such a challenge and his searing right footed strike was, predictably, too hot for the American goalkeeper, as it flew into the far corner despite a hand from Turner.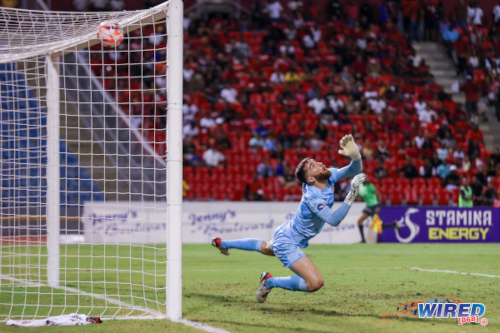 The Warriors were ahead by one goal and a player, and there were 30 more minutes to go. Berhalter's response was to adopt the foetal position, as USA dropped into a low block and turned their attention almost solely to damage limitation.
Trinidad and Tobago should have added another goal in the 59th minute, as Gomez played a superb lofted pass into James' path on the break. But "Natty" did not hit the target.
And in the 64th minute, as the Warriors bullied USA off the ball after a throw by the tourists, Rampersad forced a fine low save by Turner.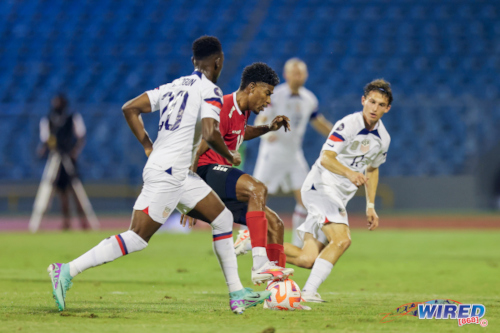 But once the Americans retreated to their bunker, Trinidad and Tobago rarely looked like opening them up again.
Notably, Eve kept the same five defenders on the pitch for the entire 90 minutes, with the only caveat being that both took up advanced positions for much of the second half.
Who knows what panic an additional winger might have induced against an American team totally devoid of ambition or offensive teeth?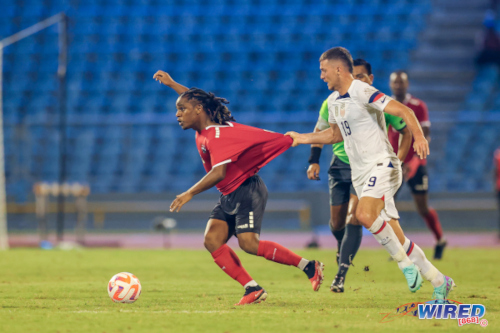 And, even when he finally withdrew Raymond in the 90th minute, it was fellow left back Ross Russell Jr rather than spritely flanker Kaïlé Auvray who replaced him.
At the final whistle, Eve had a huge scalp and an impressive result. But Berhalter's Americans marched on.
(Teams)
Trinidad and Tobago (4-4-2): 22.Denzil Smith (GK); 16.Alvin Jones, 2.Aubrey David (captain), 17.Justin Garcia, 6.Andre Raymond (3.Ross Russell Jr 90); 14.Shannon Gomez, 12.Daniel Phillips (23.Kristian Lee Him 77), 18.Andre Rampersad, 10.Real Gill (7.Ryan Telfer 60); 13.Reon Moore (8.Duane Muckette 77), 9.Nathaniel James (19.Malcolm Shaw 77).
Unused substitutes: 1.Christopher Biggette (GK), 21.Jabari St Hillaire (GK), 4.Jesse Williams, 5.Michel-Poon Angeron, 15.Kevon Goddard, 20.Kaïlé Auvray.
Coach: Angus Eve
United States (4-3-3): 1.Matthew Turner (GK); 2.Sergino Dest [Red card 38], 3.Cameron Carter-Vickers, 13.Tim Ream (captain), 5.Antonee Robinson; 6.Yunus Musah, 14.Luca De La Torre (22.Lenny Maloney 89), 7.Giovanni Reyna (19.Joseph Scally 41); 9.Ricardo Pepi (17.Malik Tillman 64), 20.Folarin Balogun, 11.Brenden Aaronson.
Unused substitutes: 18.Ethan Horvath (GK), 21.Gabriel Slonina (GK), 4.Christopher Richards, 10.Alejandro Zendejas, 12.Miles Robinson, 15.Paxten Aaronson, 16.Kevin Paredes. 23.Kris Lund.
Coach: Gregg Berhalter
Referee: Walter Lopez (Guatemala)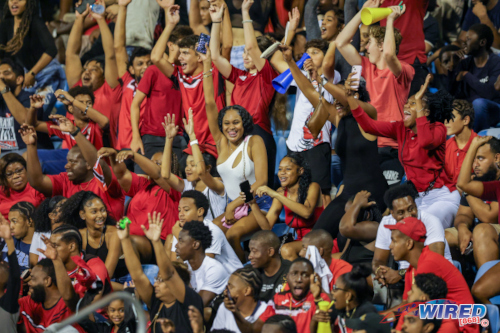 Concacaf Nations League quarterfinal result
(Wed 20 November)
Trinidad and Tobago 2 (Reon Moore 42, Alvin Jones 56), USA 1 (Antonee Robinson 25) at Hasely Crawford Stadium.
*–USA advance 4-2 on goal aggregate.