Defence Force head coach Lloyd Andrews accused his players of being too tentative on their return to Concacaf Caribbean Cup football last night, as the Army/ Coast Guard combination were held to a 1-1 draw by a youthful Jamaican outfit Cavalier FC at the Hasely Crawford Stadium in Port of Spain.
The Trinidad and Tobago Premier Football League (TTPFL) champions scored on virtually their first visit to the opposing penalty box, through an incisive Reon Moore attack.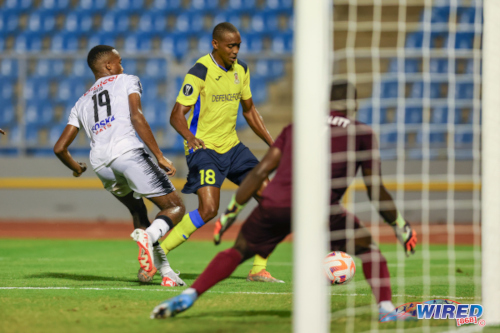 However, Defence Force failed to further capitalise on their early dominance. And once Cavalier punished a defensive error to pull level, Andrews' troops failed to break down the Jamaican outfit a second time.
"It is a disappointment that we didn't come away with three points," said Andrews, in the post-match. "But I think the way we played tells the story: too many backward and square passes."
Cavalier coach Rudolph Speid also mused over the pluses and minuses of his team's showing in Port of Spain.
"I think we were awful [last night]—we are much better than this," said Speid. "[…] But getting a point away from home is still a very good result."
Both the Jamaica and Trinidad and Tobago domestic senior leagues are inactive at present, with clubs in varying stages of transition.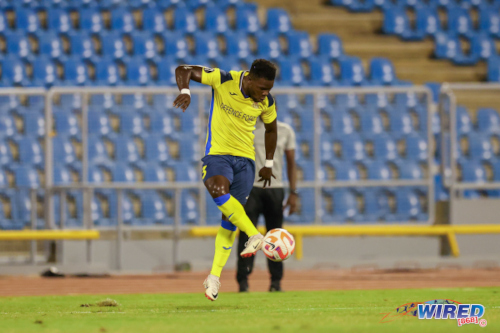 For Cavalier, it meant that Speid turned up at the Hasely Crawford without his breakaway star and the Jamaica Premier League's top goal scorer, Collin Anderson, and talented attacker Dwayne Atkinson.
The duo, according to Speid, was among a half dozen players who used the Jamaica Premier League as a springboard for overseas deals. Anderson and Atkinson are both in Iceland at present while defender Lamont Rochester moved to Chicago Fire and another three players were spread between Macedonia and Latvia.
Another six Cavalier players from their 2022-23 season returned to their high schools in anticipation of Jamaica's schoolboy season, which kicks off next month.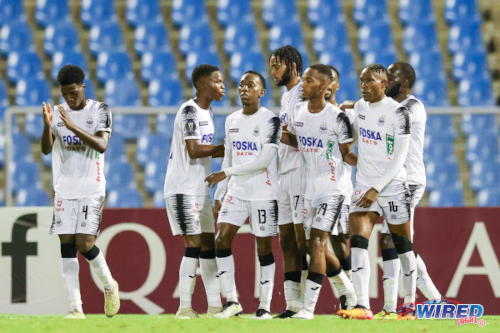 Remarkably, there were five teenagers in the Cavalier team last night including three in their starting squad. Defender Adrian Reid, a 16-year-old schoolboy, was too young to celebrate the point with a Red Stripe beer last night.
"The oldest player [in the Cavalier team] is 24," Speid told Wired868. "It is the youngest professional team in the world—not just in this league, or in Jamaica, or in the Caribbean. It is the youngest professional team in the world!"
Reid and fellow 16-year-old Ronaldo Barrett, an unused substitute last night, will both abandon the Caribbean Cup in a few weeks to rejoin their school teams.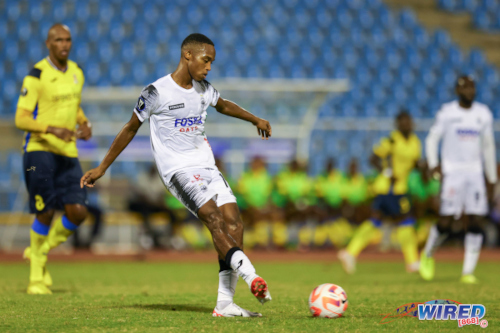 In contrast, Defence Force—whose youngest player last night was 20-year-old midfielder Kaihim Thomas—added to their team that lifted the inaugural TTPFL crown, with full back Isaiah Garcia, midfielder Nathaniel "Spanish" Garcia, defender Darnell Hospedales and goalkeeper Jabari St Hillaire.
Both Garcias played from the start last night, with Kaihim shifted to the right flank to make room for "Spanish".
With roughly 3,000 patrons in the covered stands at kickoff—the stadium announcer gave the final attendance figure as just over 5,000—Defence Force brought the energy from kickoff as they pinned Cavalier back.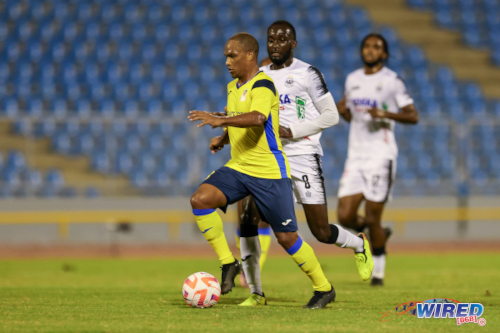 And there were only six minutes on the clock when Moore got the first goal at the renovated venue.
Left back Jelani Felix played a slick pass to Moore, who stepped into the channel between 20-year-old opposing right wing back Dwayne Allen and Reid respectively.
Reid stuck a boot towards the ball but got his sums wrong, as Moore got there first and danced around the young defender before neatly finishing beyond St Lucian goalkeeper Vino Barclett—Cavalier's oldest player at 24.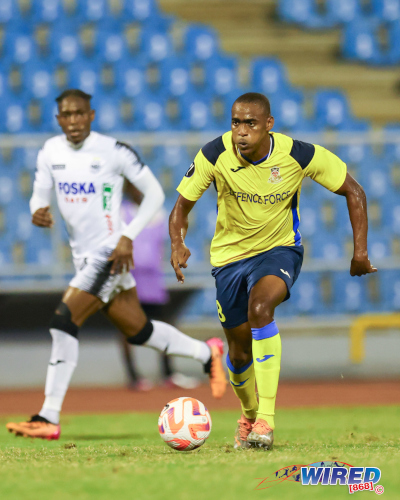 "Our game plan was basically to attack them through the flanks because they (Cavalier) like to attack through the flanks," said Andrews. "What we try to do is match them up and see who wins."
Basically, the Defence Force philosophy seemed to be: my XI is better than your XI, so let's go toe to toe.
Defence Force lined up in their typical 4-2-3-1 formation, with Moore and Kaihim on either flank. Cavalier used a 3-4-3 shape with striker Shaniel Thomas dropped between the lines like a false '9' while their wide attackers narrowed like split-forwards.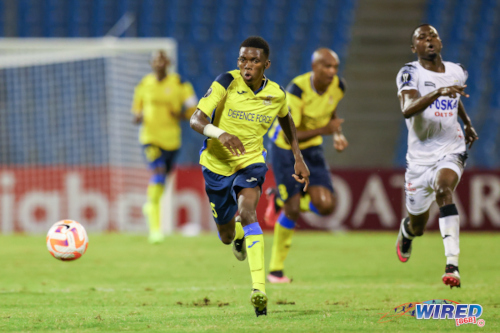 Andrews, supported as always by Hutson "Baba" Charles, played in the same basic shape throughout.
Cavalier first asked their wingbacks to drop off to make a back five; then eventually switched to a 5-3-2 shape for the second half.
Neither team was at their fluent best and it is uncertain whether either set of tactics helped.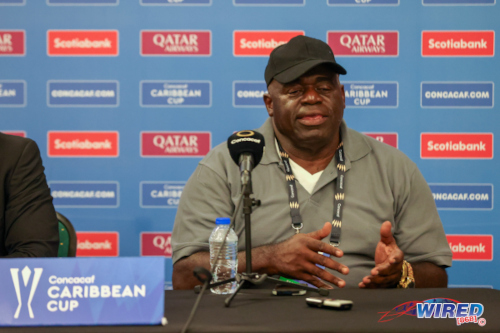 "The game plan was not executed consistently—in patches, you would have seen what we wanted to achieve," said Andrews. "From our first match up, we scored a goal; and then our players started getting that fear to go forward.
"[…] Justin Sadoo was very much guilty of making a lot of the backward passes from in the middle of the park… I call it negative football: square and back."
In fact, as Andrews acknowledged, Cavalier went from a three-man defence to a back five, which offered less space for the Defence Force wingers to operate.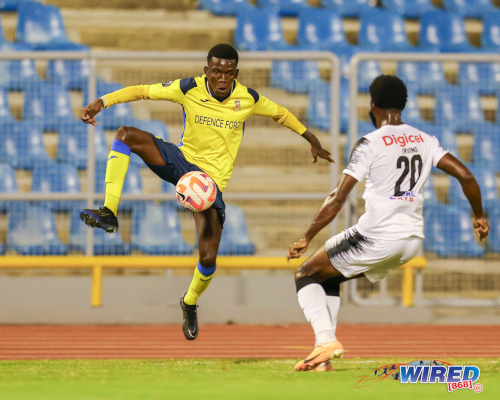 In the 25th minute, Sadoo played a brilliant through pass to Thomas whose angled shot was kept out by Barclett. But by then, Cavalier had lessened such passing options.
So, instead, Sadoo tried to cajole Felix and Isaiah forward from their respective full back positions to join the attack.
Arguably, the "negativity" that Andrews pointed to stemmed from Defence Force's unwillingness to attack the flanks with full back and winger operating in tandem, rather than Sadoo's reluctance to force passes into closed channels.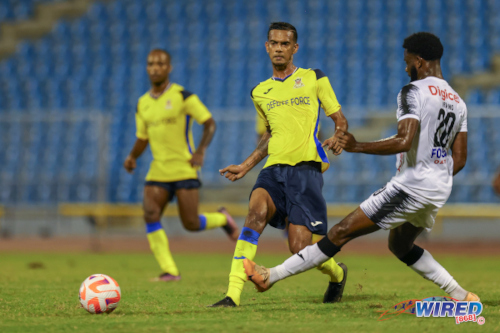 Ironically, Isaiah did have a hand in the game's second goal. But it was not at the right end.
Inexplicably, the former Point Fortin Civic captain—midway in his own half—played a lofted, square pass across his own defence to his left side centre back, Justin "Shiggy" Garcia in the 38th minute.
And Cavalier's splendid false "9", Shaniel Thomas, did not need a second invitation, as he made a beeline for the opposing goal and was upended by Defence Force custodian Christopher Biggette for a penalty.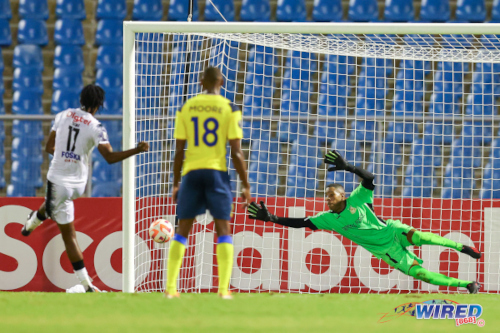 The resulting penalty from the 21-year-old forward, which arrowed low into the side netting, was as emphatic as they come.
"We just didn't click [last night] and it was always difficult," said Speid. "But because of one flash of brilliance from our nine, Shaniel Thomas, we were able to equalize."
Ironically, Cavalier might have created as many shooting opportunities in the opening 45 minutes as did the host team.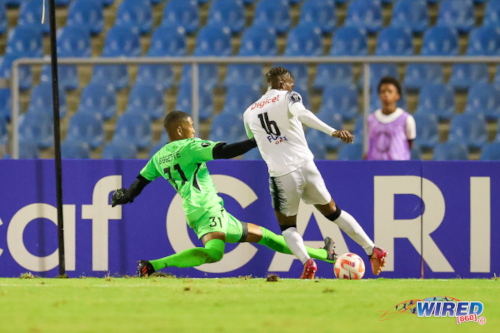 And Thomas (S) was invariably involved in all of their best moments, as he ghosted in the pocket of space between Defence Force stoppers Jamali Garcia (the fourth Garcia in the starting line-up—although none are related) and Shiggy and the midfield pair of Kevon Goddard and Sadoo.
"What we tried to do is ensure the stopper would fall back (once Thomas drifted into midfield) so one [of the midfielders] could take him and the next one cover," said Andrews. "It didn't happen most times because the mobility in the Jamaican team, especially in the first half, was much better than ours."
And yet Speid was uneasy at conceding numerical advantage to the Defence Force midfield trio of Goddard, Sadoo and Nathaniel—even though it left the Jamaicans with a great threat on the break.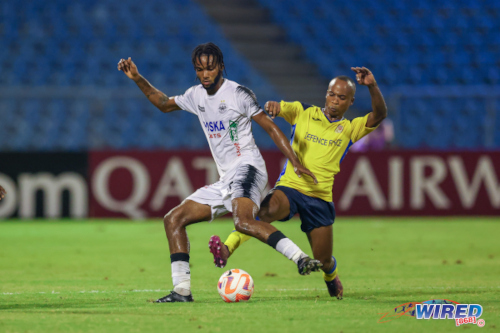 "I think I probably made a mistake at the start, playing two strikers instead of one," said Speid. "[…] It gave [Defence Force] territorial advantage."
So, at the expense of neutering his own attacker, Speid sacrificed an attacker for a defender after the interval. Cavalier were struggling to keep up physically too and, the longer the game went on, the host's dominance grew.
Yet, Defence Force rarely looked capable of scoring a goal while Guyanese referee Shavin Greene did not look remotely interested in bailing out the hosts, as they pleaded in vain for fouls.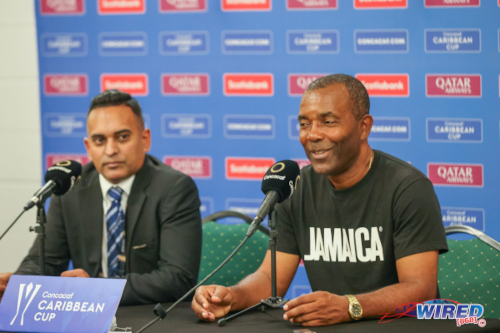 "Nowadays, playing without the ball is actually a skill," said a smiling Speid, as he revelled in Cavalier's second half resistance.
Andrews lamented his wingers' inability to break the shackles, supposedly through movement on and off the ball.
"I expected to get a greater impact coming down the flank and crossing into the danger zone," said the Defence Force coach. "[…] In the last 20 minutes, our mobility was much better than theirs as they started to get cramped and so on, but we didn't capitalise. It was square, backwards, square."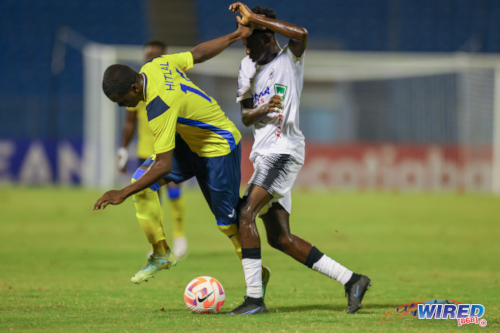 Andrews replaced Sadoo, Kaihim and Sam with Rivaldo Coryat, Kendall Hitlal and Dwight Quintero respectively. But it did not produce dividends.
"Even though we wanted to win, I am satisfied with the point," said Andrews. "At least we have something in the drawer."
It was more than TTPFL runners-up AC Port of Spain could say. They fell 1-0 to Moca FC in the Dominican Republic today, as Manuel Vidal broke the deadlock in the 55th minute.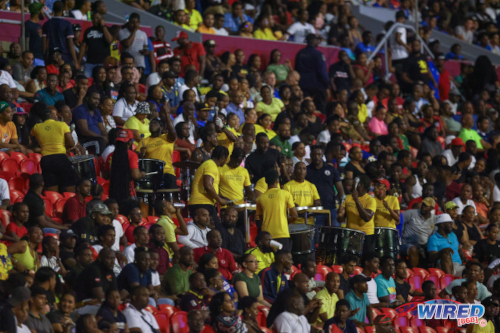 At present, Moca head Group A with three points followed by Defence Force and Cavalier on one point apiece. The top two teams advance to the semifinals, where four outfits will compete for three places to the Concacaf Champions Cup.
Defence Force travel to Martinique next to face Golden Lion on Wednesday. Lion eliminated Club Sando in the Caribbean Club Shield competition earlier this month.
AC Port of Spain are away to the fresh-faced Cavalier team in Kingston next Thursday.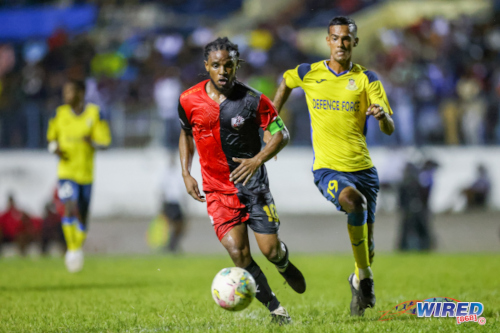 Based on the evidence so far, the TTPFL's two remaining clubs have a tough task ahead.
(Teams)
Defence Force (4-2-3-1): 31.Christopher Biggette (GK); 3.Isaiah Garcia, 26.Justin Garcia, 23.Jamali Garcia (captain), 7.Jelani Felix; 66.Kevon Goddard, 21.Justin Sadoo (13.Rivaldo Coryat 75); 45.Kaihim Thomas (14.Kendell Hitlal 75), 28.Nathaniel Garcia, 18.Reon Moore; 8.Brent Sam (11.Dwight Quintero 85).
Unused substitutes: 80.Jabari St Hillaire (GK), 6.Rodell Elcock, 15.Shaquille Bertrand, 17.Curtis Gonzales, 24.Shaquille Holder, 25.Darnell Hospedales, 34.Keilon Burnett-Acevaro, 37.Cassim Kellar.
Coach: Lloyd Andrews
Cavalier FC (3-4-3): 1.Vino Barclett (GK); 19.Adrian Reid, 15.Kyle Ming (captain), 20.Gadail Irving; 13.Dwayne Allen, 4.Shamar Watson, 18.Ronaldo Robinson (25.Jalmaro Calvin 83), 11.Christopher Ainsworth (21.Kymani Silvera 76); 8.Nickache Murray, 17.Shaniel Thomas, 16.Orlando Russell (27.Jerome McLeary 59).
Unused substitutes: 31.Jeadine White (GK), 3.Makenson Cadet, 12.Ronaldo Barrett, 22.Brian Joshua Elshot, 24.Mario Smith.
Coach: Rudolph Speid
Referee: Shavin Greene (Guyana)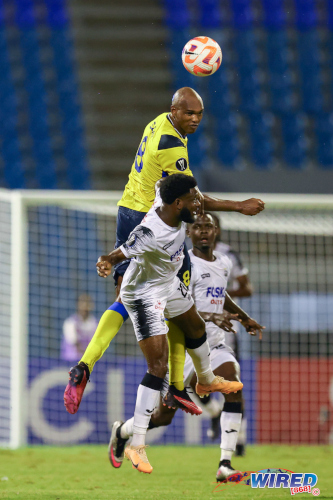 Concacaf Caribbean Cup
Group A results
(Thursday 24 August)
Defence Force 1 (Reon Moore 6), Cavalier FC 1 (Shaniel Thomas 39 pen) at Hasely Crawford Stadium in Trinidad and Tobago
(Friday 25 August)
Moca FC 1 (Manuel Vidal 55), AC Port of Spain 0 at Estadio Complejo Deportivo Moca 86 in Dominican Republic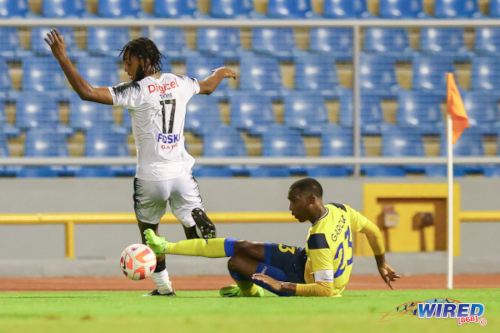 Upcoming fixtures
(Wednesday 30 August)
Golden Lion vs Defence Force at Stade Pierre-Aliker in Martinique;
(Thuesday 31 August)
Cavalier FC vs AC Port of Spain at Independence Park in Jamaica.