Trinidad and Tobago Men's National Under-17 Team head coach Shawn Cooper defended right back Rio Cardines over his expulsion in yesterday's Concacaf Under-17 Championship match against Canada, which forced his teammates to play for 70 minutes with 10 players.
There were barely 19 minutes on the clock at the Estadio Pensativo in Antigua, Guatemala when referee José Fuentes flashed the red card at Cardines for a perceived handled ball in the penalty area.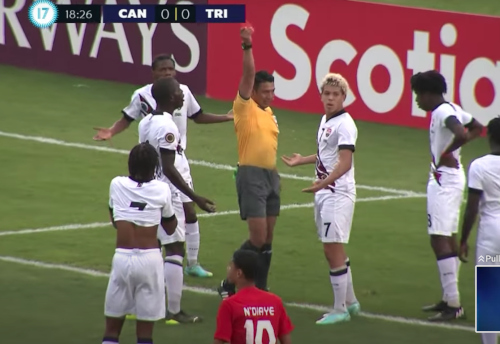 Fuentes' decision was a huge blow to Trinidad and Tobago's chances of getting a result in the contest, as they succumbed to a 3-2 defeat. It also means Cardines, a Crystal Palace Under-18 player, will miss tomorrow's fixture against United States.
But was it the right call?
From a right side Antoine N'diaye corner kick, Trinidad and Tobago goalkeeper Ailan Panton left his goal line before realizing that he would not be able to gather the cross.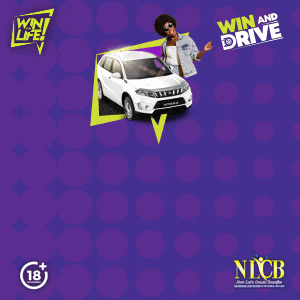 Canada defender Chimere Omeze sent a looping header towards the Trinidad and Tobago goal and a furiously backpedalling Panton appeared to recover and execute an athletic save. Or did he?
Replays showed that Cardines lifted his hand high above his own head in an attempt to reach the ball. Fuentes ruled that the Palace defender handled it and flashed a red card before also awarding Canada a penalty kick.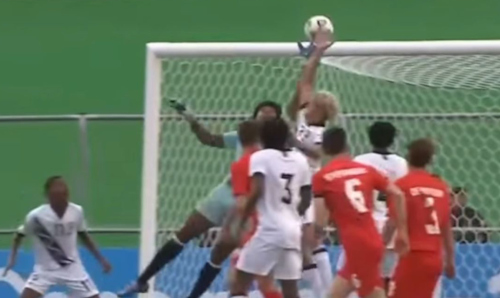 Cooper retorted that his defender never touched the ball.
"Even the Concacaf officials couldn't see a clear penalty, including the Canada coach (Andrew Olivieri)," Cooper told Wired868. "Yes, Rio's hand was in the air—but when we took the still picture it had already passed his hand and Panton pushed the ball over the bar.
"[…] But you know the Caribbean teams don't get anything!"
Cooper argued that Fuentes compounded his initial "error" by awarding a penalty and a red card—rather than one or the other.
"You don't double penalize a team by giving a penalty and sending off the man," said Cooper. "And it wasn't clear what had happened. Even in real time, it was very close. A penalty decision is something you have to be clear on. I think he erred there."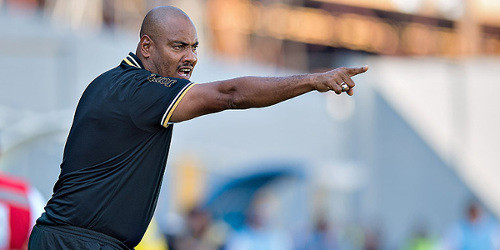 Still, Cooper credited his boys for their character under pressure—against one of the confederation's top teams and at 5,069 feet above sea level.
"The boys fought well [and] they did their best," he said. "They represented the country with honours as far as I am concerned and they came off the field with their heads held high.
"The last time we played Canada, we received six. From being down to 10 men and two goals and being able to come back twice, it showed the fighting spirit of the boys.
"Normally I would blow my top after a defeat but yesterday I commended them. It did not feel like a loss."
Trinidad and Tobago's preparation for the Concacaf competition was limited to two friendly internationals against Jamaica. And, even then, Cooper was without Cardines and winger Dominic Wilson due to passport issues while midfielder Jeremiah Cateau was injured.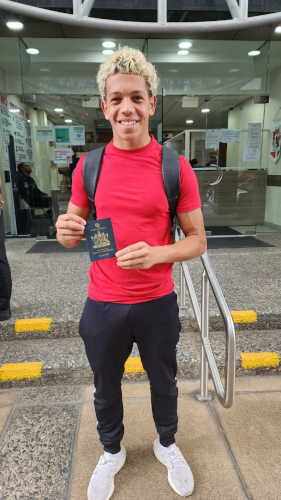 Cardines eventually arrived in Guatemala just before midday on Saturday—less than five hours from kick off.
Cooper and his travelling party soon discovered that high altitude was not their only problem either, as the temperature dipped to a cool 13 degrees Celsius at night.
"I didn't expect a Central American country to be this cold—it is freezing!" Cooper said. "[…] I am sleeping in two tracksuits, a warm blanket, comforter and socks. But we are weathering the storm and not complaining."
The combination of thin air and cool temperatures provoked some breathing issues for the Trinidad and Tobago players and Cooper said captain Josiah Ochoa—who was diagnosed with slight pneumonia—and left back Lyshaun Morris suffered more than most.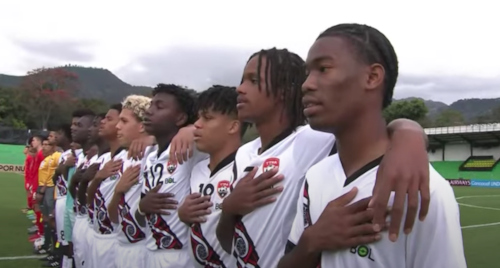 Notably, Ochoa and Morris both made it to the 90-minute mark on Saturday while the latter was still on the pitch for the four minutes of stoppage time as well.
The Trinidad and Tobago players and staff were determined to be resolute. Cooper conceded that the young Soca Warriors started slowly. But he felt the refereeing was an issue.
"There was a two-footed tackle on Wilson right in front of our technical area within the first 15 minutes," said Cooper, "and the referee didn't even warn the player!
"If it was one of our players who made that tackle, I am sure it would have been a straight red!"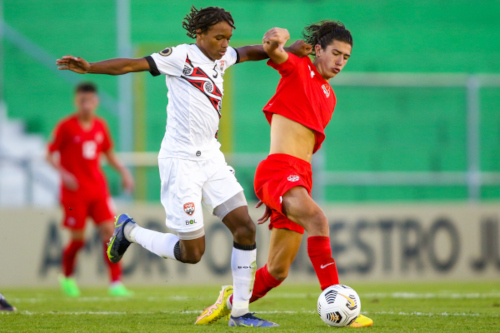 Things got worse pretty quickly when Fuentes pointed Cardines towards the dressing room.
"Rio was in a real bad state after the game," said Cooper. "He said he didn't touch the ball and the goalkeeper said he was the one who touched the ball. Yes, his hand was not in a natural position but then attempted murder and murder are two different charges.
"All the Concacaf people [I spoke with] said it was a harsh decision."
Cooper defended his decision to start Cardines, who is a regular starter for Palace in the Premier League Under-18 division.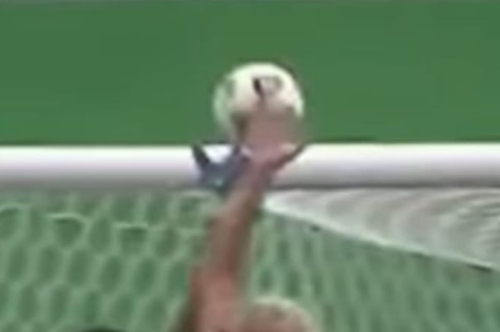 "Rio had the experience [of playing at the elite level], which is why we wanted to start with him," he said. "We had a staff meeting and we thought it was best to start him. He wanted to start and all 19 players embraced him when he came.
"[…] I thought he should have started to get a little playing time under his legs and planned to take him out in the second half. Unfortunately, the boy has been having hell—after the passport issue to then be sent off.
"All we can do is support him."
Instead of feeling sorry for themselves, the Warriors regrouped quickly—starting with a penalty save by Panton, who is the son of former Miss Universe Wendy Fitzwilliam.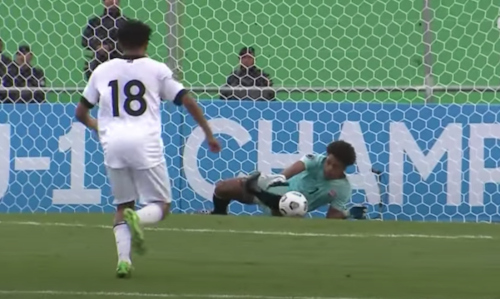 "After a shaky start and going a man down," said Cooper, "we played with a low block and tried to absorb the pressure and play on the transition."
Trinidad and Tobago struggled to play through Canada though and were hemmed into their own half. Trailing by one goal at the interval, Cooper opted for a tactical tweak.
San Juan North Secondary attacker Lindell Sween leads the Warriors' offense with slippery feints and thunderous shots. But they were unable to get the ball to Sween in the right areas of the field.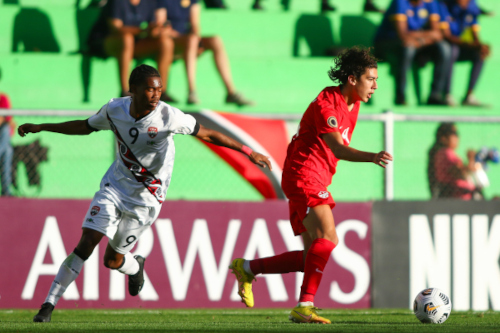 So Cooper moved Sween to midfield and introduced speedy St Benedict's College attacker Malachi Webb to play upfront.
"Webb has a little more pace than the other strikers," said Cooper, "so if you put him one against one against [the Canada defenders] with Sween threading the ball, it could hurt them."
Sween and Webb combined for Trinidad and Tobago's opening goal in the 67th minute, which temporarily halved what was a two-goal deficit.
Canada restored their two-goal lead, through talented forward Kyler Vojvodic, within seconds.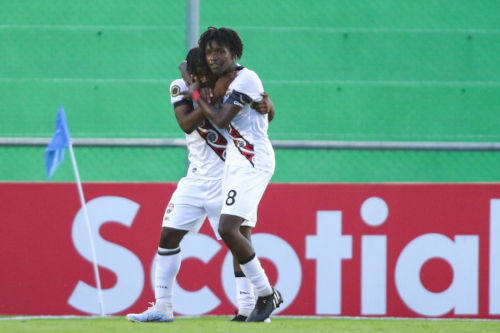 "You are most vulnerable after you just have scored," said Cooper. "Having played for so long with a man down, when we scored we got a bit carried away and mentally they were still celebrating when Canada scored again. We were a bit naïve."
Cooper had another trick up his sleeve though. Presentation College (San Fernando) attacker Vaughn Clement was introduced for Derrel Garcia on the right flank in the 68th minute and was soon involved in Trinidad and Tobago's second item.
Clement dribbled an opponent and found Webb who relayed the ball to Sween in a dangerous position. And Sween outfoxed Canada defender Chimere Omeze to win the free kick that he emphatically bent beyond opposing goalkeeper Nathaniel Abraham.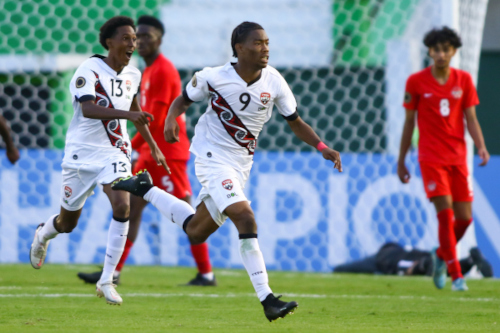 "Clement immediately had an effect on the game [and] he brought another dimension from the side of the field," said Cooper, who also doubles as Presentation coach. "[…] Then Sween did what he normally does with free kicks. We just had to calm him down.
"We have been speaking to him about not trying to hit it too hard because his technique is so good that he only has to place it… It was a wonder goal!"
It was, eventually, not enough for a point. Cooper described the game as "a hard fought loss".
"The Canada coach said to play 70 minutes with 10 men at altitude and score twice—[that is a] great job," said Cooper. "In football, when you win it is because of the players, and when you lose it is always the coach's fault. But that is okay. I will take the blame off the players."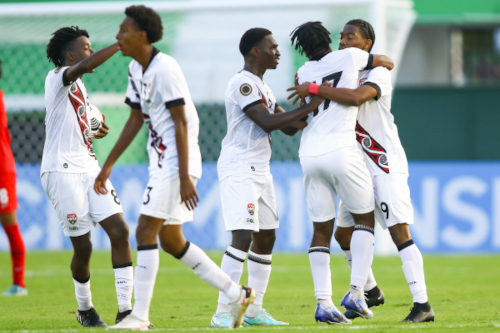 The Trinidad and Tobago players started their physical recovery immediately after the final whistle, with a combination of bananas and a bath in the chilly swimming pool.
Meanwhile, Cooper, assistant coach Devin Elcock and manager Christo Gouveia watched the United States of America's 5-0 win over Barbados.
He warned that USA would be far more challenging than Canada.
"America have a really nice playing team," said Cooper. "Barbados have a nice, tight defensive structure but America wore them down… Barbados also have some quality players but America are so much better prepared.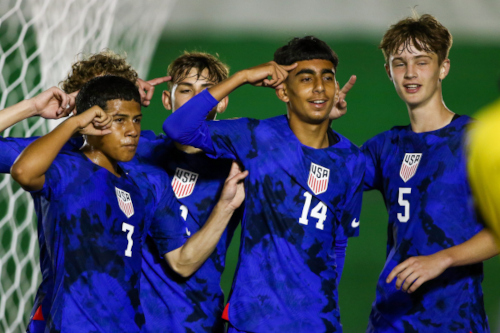 "[…] You can see the organisation in their players. Everyone is very calm on the ball and tactically aware of each other's position.
"As I've said before, teams like America prepare for World Cups whereas we prepare for Concacaf. But we are here to represent the red, white and black and we will do the best we can."
With Cardines suspended, central defender Jaden Williams hobbling with a knee strain and Ochoa battling to shake off illness, a date with USA in 24 hours is quite the challenge.
Can Trinidad and Tobago's teenagers hold their nerve again?