Rio Cardines has got his Trinidad and Tobago passport and will join the National Under-17 Team in Guatemala tomorrow, just hours before their opening Concacaf Under-17 Championship match against Canada.
Almost certainly, Cardines will not be named in coach Shawn Cooper's starting team and is unlikely to feature at all. However, the 17-year old England-born full back, who represents Crystal Palace in the Premier League Under-18 division, is free to play against the United States on Monday 13 February and then in a crucial fixture against Barbados, two days later.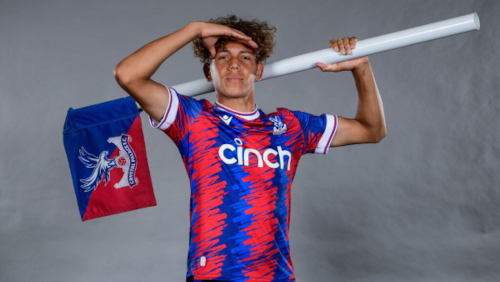 And, perhaps just as crucially, the versatile flanker is now a long-term member of Trinidad and Tobago's football pool—and Soca Warriors head coach Angus Eve would have taken notice.
Yesterday, Cardines and his father Colin Cardines waited for a signature from Minister of National Security Fitzgerald Hinds that would allow his passport to be issued, but went home empty-handed.
It did not happen by the close of the day. However, at some time yesterday evening or last night, Hinds signed off on the necessary paperwork.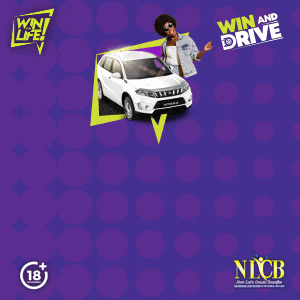 Wired868 wrote on the missing approval at 8.47pm yesterday. It is uncertain whether Hinds gave Cardines the green light just before or after the story.
But, before the office was opened today, the talented teenager and the national team got the news it was hoping for from the Ministry of National Security. And, just after 11.30am, Cardines had his passport.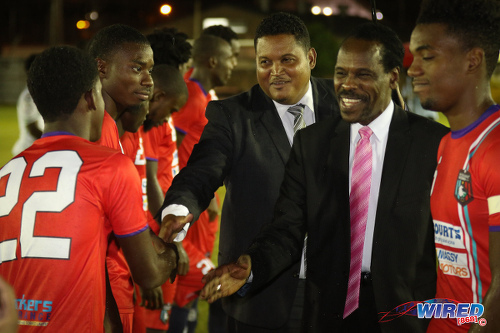 The ramifications of the young man's trip to the Immigration Division this morning could feasibly go well beyond the National Under-17 Team though.
Up until last month, Cardines' grandfather, Patrick Cardines—who grew up on what is now called Oliver Street in Morvant—was a Trinidad and Tobago citizen by birth. But his father, Colin, had only a British passport.
Now, all three men are citizens of the two-island republic.
It was believed to be impossible for Cardines to get a Trinidad and Tobago passport before—as, last month, Eve lamented the absence of a provision to allow persons to receive passports through citizenship held by grandparents.
The Trinidad and Tobago Constitution reads:
17(1) Subject to subsection (2), every person born in Trinidad and Tobago after the commencement of this Constitution shall become a citizen of Trinidad and Tobago at the date of his birth.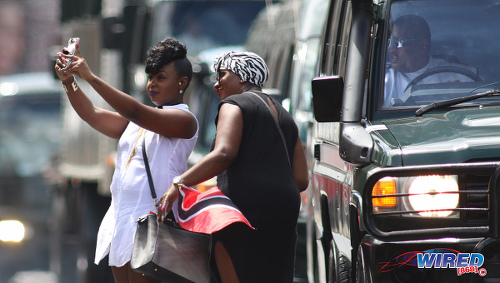 (2) A person shall not become a citizen of Trinidad and Tobago by virtue of subsection (1), if at the time of his birth—

(a) neither of his parents is a citizen of Trinidad and Tobago and either of them possesses such immunity from suit and legal process as is accorded to an envoy of a foreign sovereign power accredited to Trinidad and Tobago.
However, Cardines' cousin, Jennifer Martin, is a Trinidad and Tobago attorney with former work experience at both the Immigration Division and the Ministry of National Security.
And she pointed her relatives to the Citizenship of the Republic of Trinidad and Tobago Act, which states:
5.1 The minister shall cause a child born outside of Trinidad and Tobago of a citizen of Trinidad and Tobago by descent to be granted a certificate of citizenship of Trinidad and Tobago upon receipt of the prescribed application made: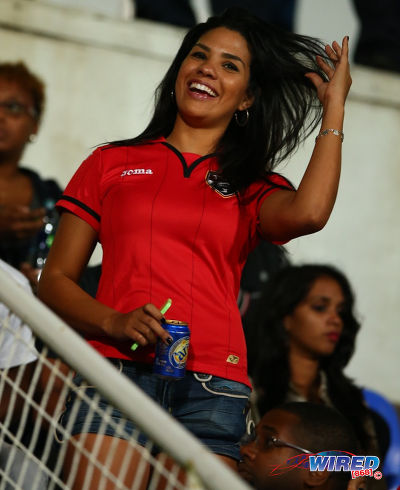 (a) by the responsible parent or the guardian of such child before the child attains full age; or

(b) by the child within one year of his attaining his majority according to the law of the country of which he is a citizen or on his attaining full age.
The phrase "the minister shall" means Hinds was not using discretionary powers. So long as someone proves he or she is a citizen by descent, then the Trinidad and Tobago government must grant their child citizenship.
So, over the past two and a half weeks, Cardines (C) began the steps to acquire "citizenship by descent".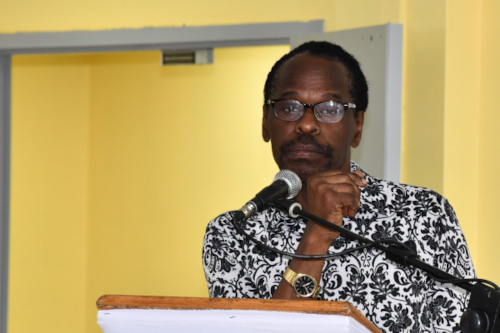 Initially, an Immigration officer warned him that it would take at least three weeks. Martin, as a former employee, knew better. She countered that it could be done within hours.
Eventually, it took nearly two weeks—with one hurdle being that Immigration insisted Cardines (C) have a certificate of citizenship before he could be issued a passport.
In the case of United States-born winger Dominic Wilson, his mother, who is a citizen by descent, had a passport even before her son tried out for the National Under-17 Team. However, she was obliged to also get a certificate of citizenship before Dominic could apply for his passport.
So the notion that someone cannot get a Trinidad and Tobago passport based on a grandparent needs to be revisited. Maybe it will be called the "Cardines Clause".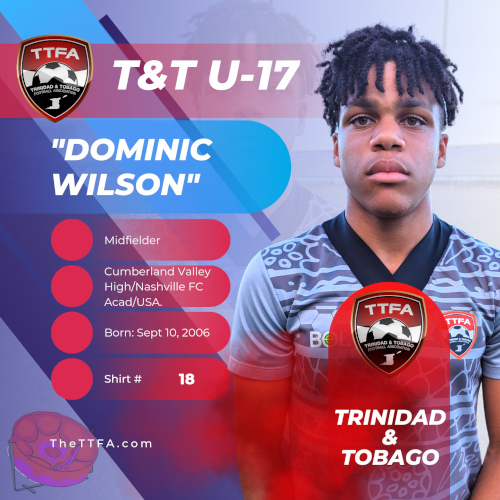 But there are limitations. As stated in 5.1 above, the applicant must be a minor or no more than a year into adulthood.
As such, 27-year-old Charlton Athletic defender Ryan Inniss, who expressed interest in wearing red, black and white, does not qualify for a Trinidad and Tobago passport. Inniss' grandparent was born in the two-island republic but, even if his father applies for citizenship by descent now, the footballer is now too old to benefit.
There is another catch.
Article 5.2 of the Citizenship Act states: "A person to whom a certificate of citizenship of Trinidad and Tobago is granted under subsection (1) is a citizen of Trinidad and Tobago by descent for all the purposes of the law relating to citizenship, save that nothing in subsection (1) applies to a child of a person who became a citizen of Trinidad and Tobago by reason of that subsection."
It means, Martin explained, there is no open loophole that will allow Trinidad and Tobago citizenship to be passed on in perpetuity. Although Cardines qualifies through his father's new citizenship status, should the young man eventually have children they will be unable to get a Trinidad and Tobago passport.
"The buck stops right there with Rio," Martin told Wired868.
Time will tell what impact Cardines' late inclusion has on Trinidad and Tobago's showing at the Concacaf Championship, as they chase one of four possible berths for the Peru 2023 Fifa Under-17 World Cup.
However, his inclusion—and Martin's use of the Citizenship Act—appears to create a precedent that will allow the talented overseas-born grand-children of Trinidad and Tobago citizens to wear the red, white and black strip, so long as they decide to do so before their 19th birthday.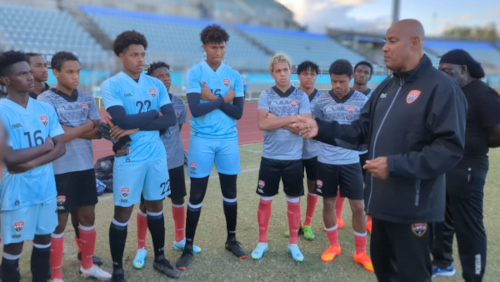 Hinds' signature last night meant that the efforts of the Cardines family and National Under-17 Team manager Christo Gouveia were not in vain.
Sometime in the last millennium, Patrick Cardines left Morvant in search of a more financially stable life in London. Over the next week—and hopefully beyond—his grandson, Rio, will try to give something back to Trinidad and Tobago.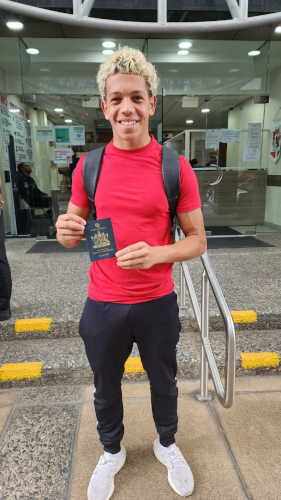 Wired868 has provided readers with solid, independent journalism since 2012. And we still need your support! If you appreciate our work, please contribute to our efforts.
Support Independent Journalism