After two weeks in Trinidad waiting for the green light to join his soon-to-be international teammates, 17-year-old England-born footballer Rio Cardines thought he finally got the breakthrough to represent the country of his grandfather, Patrick Cardines.
All he needed was a signature from Minister of National Security Fitzgerald Hinds that he could take to the Immigration Department, in exchange for a Trinidad and Tobago passport.
Does anybody know where Minister Hinds is?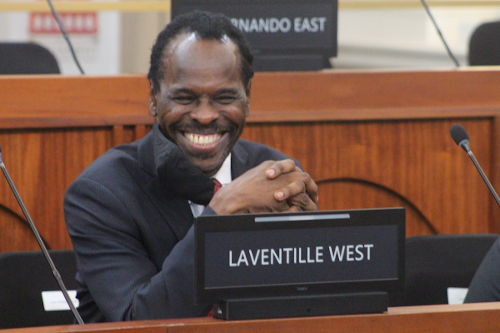 Wired868 understands Cardines (R) and his dad, Colin Cardines, spent the entire day at the Ministry of National Security's office on Abercromby Street in Port of Spain. It was time wasted. The only thing the player was told is that: "the Minister is unavailable right now".
The delay means Trinidad and Tobago Men's National Under-17 Team head coach Shawn Cooper will almost certainly start the 2023 Concacaf Under-17 Championship with a player short.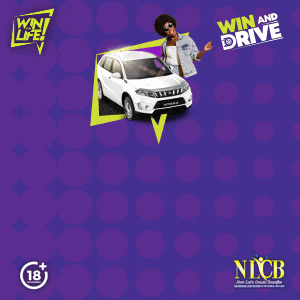 The young Soca Warriors open their Concacaf campaign against Canada at 6pm on Saturday at the Estadio Pensativo in Antigua, Guatemala, which is 1,545 metres (5,069 feet) above sea level. It is the first step in Trinidad and Tobago's qualifying series for the 2023 Peru Fifa Under-17 World Cup.
At best, Cardines (R) will get there less than 24 hours before kick off—and that is only if Hinds makes himself available before noon on Friday. Almost certainly, it would be too late to feature in the fixture.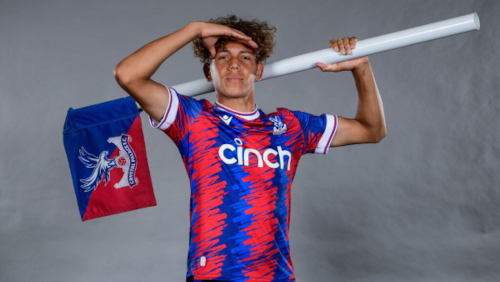 Cardines' absence from Cooper's camp is a blow on multiple levels. First, the versatile full back is arguably the only National Under-17 player who is regularly exposed to elite youth football. He is a regular starter for Crystal Palace in the Premier League Under-18 competition—where the London club are second on the standings.
There is also a ripple effect as a result of Concacaf's decision to cap the roster of the participating nations at 20 players, which means coaches cannot travel with a back-up for each position.
In two friendly fixtures earlier this week against Jamaica, Cooper used Queen's Royal College central midfielder Aydon Caruth to deputise for Cardines at right back.
However, Caruth usually starts alongside team captain Josiah Ochoa in the centre of the field.
The redeployment of Caruth puts Trinidad and Tobago in danger of weakening two positions to cover for one absence. But it might be unavoidable in the current scenario.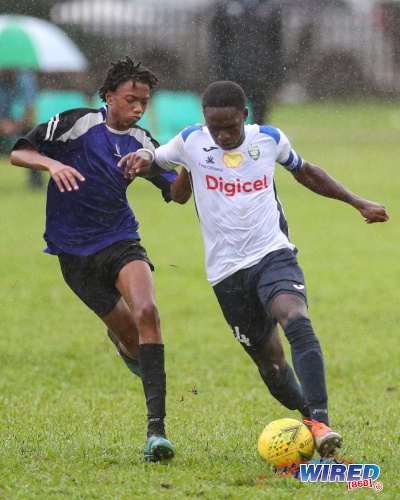 Cooper started Caruth's QRC teammate Tau Lamsee in midfield against Jamaica on the weekend and then gave US-based player Armani Rowe the chance to audition for the spot in their return game on Tuesday.
Cardines' lingering absence leaves Cooper with a tactical dilemma between the two positions.
Another player who missed the two friendlies against Jamaica due to issues with his travel documents is United States-born flanker Dominic Wilson, who is a Nashville FC Academy player.
However, Wilson has already linked up with the team and is available to face Canada.
Cooper used the St Benedict's College pair of Derrel Garcia and Jeremiah Niles on both flanks in Trinidad and Tobago's two outings in Jamaica, which they both lost by successive 1-0 margins.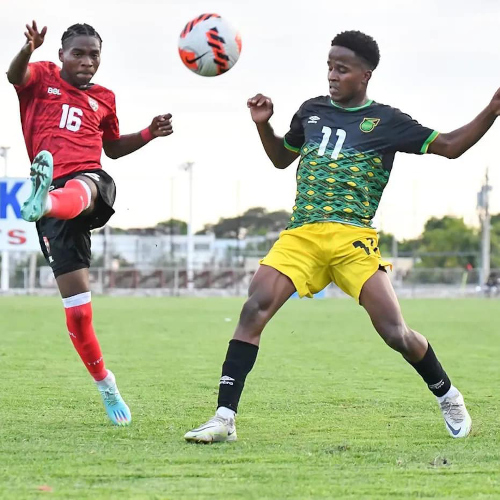 He also has Presentation College (San Fernando) attacker Vaughn Clement among his reserves, who can also be utilised on the wing.
Cardines is not easily replaced though.
Fast, workmanlike and technically sound, the Londoner looked to be a rare catch for the Trinidad and Tobago Football Association (TTFA)—a potential top-flight footballer at one of Europe's biggest leagues who is ready to commit his future to a country he had only heard about.
Cardines' grandfather, Patrick, is a Trinidad and Tobago citizen by birth. His father, Colin, is a citizen by descent.
It presented complications for Rio, as he tried to get a passport for the two-island republic.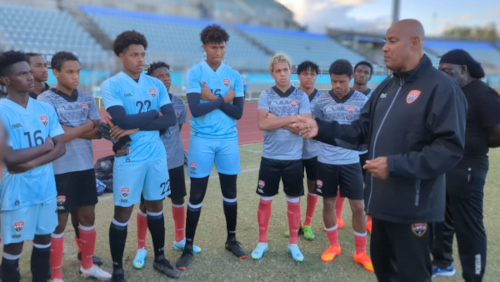 As the days ticked by, he moved out of the far from luxurious quarters at the TTFA's Home of Football to join his father at the Trinidad Hilton. Colin Cardines has been in Trinidad for the past two and a half weeks, while his son has been here for two weeks.
Almost daily, Wired868 understands that the pair joined team manager Christo Gouveia in trying to navigate the bureaucracy of the local public sector.
It was a tedious process but they met staff who were willing to help and push the paperwork along. And then it was time for Minister Hinds to do his part.
Wired868 reached out to the Minister of National Security for an explanation as to why he did not help Cardines (R) today and whether he intends to make himself available tomorrow.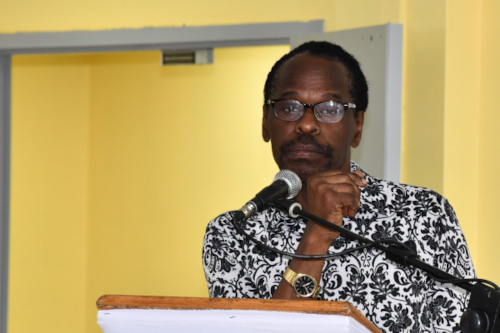 However, efforts to get a response from Hinds directly and through his communications officer both proved futile.
The National Under-17 team will hope the Minister makes the time for their cause tomorrow.
(Trinidad and Tobago National Under-17 Team)
Goalkeepers: 20.Jaden Ottley (Fatima College/ QPCC), 1.Ailan Panton (Darlington School/ Darlington Soccer Academy—USA),
Defenders: 7.Rio Cardines (Crystal Palace—England), 4.Lyshaun Morris (St Benedict's College/ Point Fortin Academy), 5.Samuel Duncan (Charlotte FC—USA), 3.Joshua Figaro (Trinity College East/ Trendsetter Hawks), 2.Jaden Williams (Fatima College/ QPCC),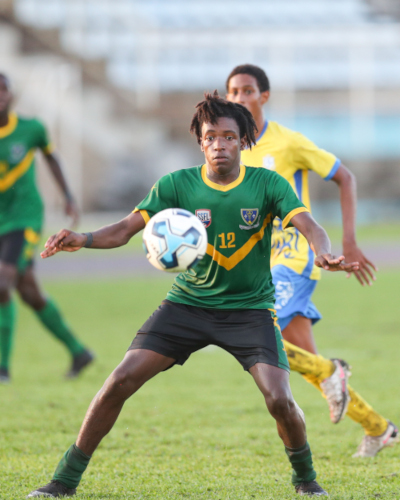 Midfielders: 14.Tau Lamsee (QRC/ Pro Series), 15.Armani Rowe (St Benedict's Prep/ Cedar Stars—USA), 6.Aydon Caruth (QRC/ Police FC), 8.Josiah Ochoa (St Benedict's College/ Point Fortin Academy), 12.Jeremiah Cateau (Hillgrove High School/ Concorde Fire—USA),
Attacking midfielders: 11.Derrel Garcia (St Benedict's College/ Cox FA), 13.Vaughn Clement (Presentation College, San F'do/ Cox FA), 10.Michael Chaves (Fatima College/ QPCC), 16.Jeremiah Niles (St Benedict's College/ Point Fortin Academy), 18.Dominic Wilson (Nashville FC Academy—USA),
Forwards: 17.Malachi Webb (St Benedict's College/ Premier FC), 9.Lindell Sween (San Juan North Secondary), 19.Tyrell Moore (McEachern High School/ Nashville FC—USA).
Editor's Note: Minister of National Security Fitzgerald Hinds granted approval for Crystal Palace U-18 full back Rio Cardines to get his Trinidad and Tobago passport on the night of Thursday 9 February.
In the process, Cardines—along with Dominic Wilson—become the first men's national team players to be selected based on the citizenship of their grandparents. Click HERE to read more details.
Wired868 has provided readers with solid, independent journalism since 2012. And we still need your support! If you appreciate our work, please contribute to our efforts.
Support Independent Journalism