St Mary's College made light of a dodgy surface in Siparia to motor their way back into the Secondary Schools Football League (SSFL) Premier Division competition in 2023 today.
The "Saints" whipped Siparia West Secondary 5-2 in a Big 5 game played "under protest" at the Siparia Sporting Complex or Irwin Park Sporting Complex. It was their third straight win of the competition and enough for the North Zone Championship Division winners to earn promotion with a game to spare.
"Mission accomplished under trying circumstances," St Mary's College head coach Michael Grayson told Wired868. "With the state of that ground, the boys couldn't play any real football there. It was just about getting the ball forward and starting from there."
The match was officiated by referee Dennis Changiah, who ruled that the venue was fit for football. Despite their reservations, the Saints got a double from forward Kyle Phillip while Elijah Wong, Josiah Connell and Harrison Parks got one item apiece.
Israel Pascal and Kamali Peters scored for Siparia who arguably had the better of much of the game but were let down by goalkeeping errors.

In three matches, St Mary's scored 12 times with their goals coming from six different scorers.
A former Queen's Royal College standout and an iconic coach for Arima Senior Comprehensive and St Augustine Senior Secondary, Grayson raised a few eyebrows when he accepted the job at the Frederick Street institution. But he could scarcely have done any better in his maiden season.
St Mary's have one outstanding fixture left, which is away to Arima North Secondary (formerly Comprehensive).
Arima were on a bye today and Bishop's High School took advantage of their inactivity to climb to second with a 2-0 win over Miracle Ministries Pentecostal High School at the Larry Gomes Stadium in Malabar.
Miracle Ministries, the Central Zone champs, needed a win to stay alive—after successive defeats to CIC and Arima North. And a goalless score at the interval suggested that they were in the contest.
However, flanker Malik Wilson broke the deadlock with a strike from the edge of the area in the 51st minute while defender Brendon Allum got the insurance goal in second half stoppage time with a precise free kick.
Bishop's now have six points from three games and host Arima in Tobago on Sunday, for their final outing. The Tobago champs might already have enough points to return to the Premier Division, although just one more digit would make sure.
Arima North have not participated in the SSFL top flight since the maiden Premier Division season in 2014 and they will have to do things the hard way, with trips away to Bishop's and Siparia West over the next week.
Grayson gave an inkling of what might be in store for Arima at the Siparia Regional Complex.
"That game was played under protest," said Grayson. "We got in contact with our principal and (SSFL general secretary) Azaad Khan and sent them pictures… I know Dexter Francis is trying but that ground was deplorable.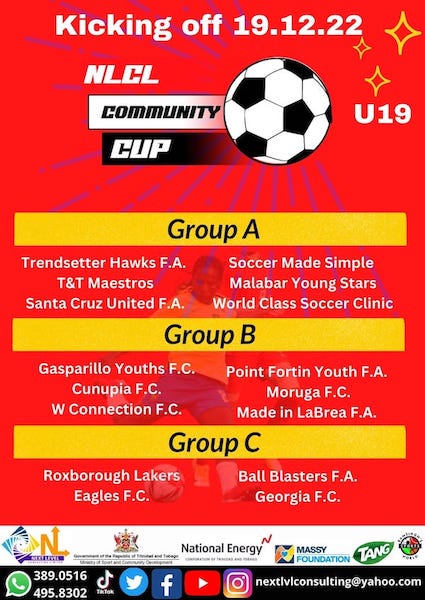 "I think the ground is under the control of the Siparia Regional Corporation. It is a pity the politics thing hambugging the young players."
Grayson suggested that the varying standard of school grounds is the most challenging aspect of life in the SSFL's lower divisions. He noted though that schools like Blanchisseuse Secondary and Diego Martin Central Secondary have facilities that could be beautiful with the right maintenance.
A former national youth team coach and Trinidad and Tobago Football Association (TTFA) technical committee member, Grayson had something else to say. The twin island republic still has talent.
"Being able to move around the country—as I am from the east—I must say we are blessed with some footballing talent in the outlying areas [like Blanchisseuse]," said Grayson. "It is just about working with them and creating a programme to really get the best out of them.
"[…] There were one or two players in Siparia too who are clearly talented, although with the type of ground they are playing on it is hard to blossom."
Grayson also warned that there seems to have an obvious deficiency that technical director Anton Corneal should be mindful of too.
"It looks like the goalkeepers suffered more during the pandemic than the outfield players," he said. "The goalkeeping department is fairly weak across the board—even in the Premier Division. So some extra work has to be done there."
Today, Grayson said his own custodian, Tyrese Henry, was in inspired form as the Saints came out on the right side of a high-scoring affair.
"We are very happy to be back in the big leagues and we move forward from there," said Grayson.
St Mary's College have one hand on the Big 5 trophy, though, and he warned that they will not go easy on his former school.
"We don't want Arima to hambug our unbeaten record," said Grayson, with a laugh.
Big 5 results
(Wed 30 Nov)
Miracle Ministries High 0, Bishop's High 2 (Malik Wilson 52, Brendon Allum 90+2) at Larry Gomes Stadium;
Siparia West Secondary 2 (Israel Mascall, Kamali Peters), St Mary's College 5 (Kyle Phillip [2], Elijah Wong, Josiah Connell pen, Harrison Parks) at Siparia Sporting Complex.
Upcoming fixtures
(Sun 4 Dec)
Miracle Ministries vs Siparia West Secondary, 3.30pm, TBA;
Bishop's High vs Arima North Secondary, 3pm, Bishop's;
St Mary's College are on a bye
(Thu 8 Dec)
Siparia West Secondary vs Arima North Secondary, 3pm, Siparia Sporting Complex;
(TBD)
Arima North Secondary vs St Mary's College, 3.30pm, Arima Old Road.
Standings (Tabulated as Played-Won-Drawn-Lost-Goals For-Goals Against-Points)
St Mary's College 3-3-0-0-12-4-9
Bishop's High      3-2-0-1-6-4-6
Arima North         1-1-0-0-4-0-3
Siparia West         2-0-0-2-4-8-0
Miracle Ministries 3-0-0-3-1–11-0