Secondary Schools Football League (SSFL) Premier Division champions St Benedict's College marched into Saturday's National Intercol semi-finals after thumping Chaguanas North Secondary 6-0 at Fatima Grounds on Mucurapo Road today.
The National Intercol quarterfinal was an exercise in patience though, as the "Golden Lions" were defied for long stretches by a determined Chaguanas unit that sat deep and tried to limit space for the opposing attackers.
St Benedict's captain Tarik Lee opened the scoring in just the eighth minute, but the South Zone Intercol champions had to wait until the 52nd minute to celebrate for a second time.
Once substitute Jaden Grant gave St Benedict's breathing space, the favourites quickly put the contest beyond doubt with a flurry of second half goals.
"We have to be patient and wait for our moments [and] when we get our chances, we have to take them," St Benedict's coach Randolph Boyce told his players, during an impassioned halftime talk. "At some point in time, when [Chaguanas North] feel as though they have nothing to lose, what do you think they'll do? They must go for it!"

Not that Chaguanas North—who replaced Carapichaima East Secondary due to a successful protest against the eligibility of goalkeeper Nicholai Rivers—were totally without ambition.
In winger Nathan George, they possessed an attacker with electric pace and he fashioned the few moments of quality the Central Zone champions displayed in the final third.
George caught the attention of Boyce too. The Benedict's coach took off right back Keanu Morean before the half-hour mark and moved left back Joshua Phillip to that flank with strict instructions.
"Listen to me, the winger [George] have some pace," Boyce told Phillip. "Don't get too tight on him."
In the 23rd minute, George dug out a beautiful cross from the left that Chaguanas striker Hezekiah John fired over bar from close range. George also shot marginally too high with a speculative effort in the 42nd minute.
Boyce explained that his three early substitutions were made out of caution, as Morean, Rayshawn Crichlow and 15 year-old starlet Derrel "Zoom Zoom" Garcia had all picked up knocks during Benedict's enthralling penalty shootout win over outgoing National Intercol champions Presentation College (San Fernando) last Friday.
With one eye on this Saturday's National Intercol semifinal versus Tobago Intercol champs Signal Hill Secondary, Boyce felt as though his charges had enough in reserve to grind out the result against Chaguanas.
"We give you the opportunity to play once the physio says you can play [but] if you know you could hurt the team by being on the field while injured, we ask them to give a thumbs up and we would replace them," Boyce told Wired868. "The team must not be weakened by you trying to be selfish while on the field.
"When Zoom Zoom got that knock, it made no sense to continue with him and we have a semifinal coming up. We chose to rest him and then we go forward from there."
Garcia's halftime replacement, Grant, wasn't too shabby as he scored a pair of headed goals to show Chaguanas the door in the National Intercol competition. Presumably, at least one Central school would have been pleased with that door being firmly shut by a former Carapichaima East Secondary coach.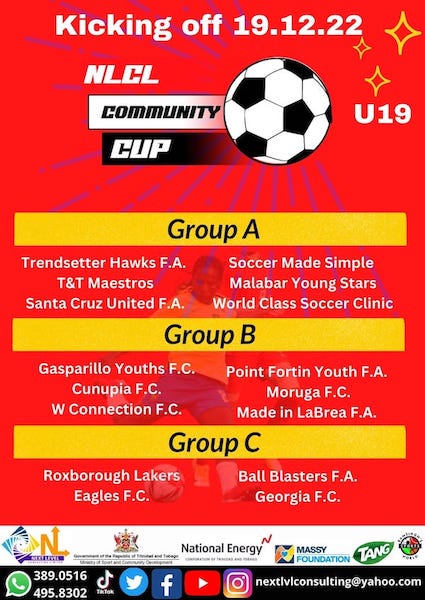 "We definitely felt as though we had enough to put away the game—our bench is very deep," said Boyce. "Each player coming off our bench could have been a starter on our team […] we know we have the quality on the bench.
"The way how Chaguanas was playing, at this stage of the tournament, if you have to win 1-0 that's okay. We would have been comfortable winning 1-0 here today and seeing out the game, because we know that once you win 1-0 you move on [to the next round]."
By the second half, St Benedict's own star flanker, Jeremiah Niles, came to the fore though. And the nippy 16 year-old effectively put the game to bed with a moment of brilliance early in the second half.
Niles won a tussle with Chaguanas right back Michael Hemlee near half-line, sprinted the length of the left flank and put a dangerous cross into the six-yard box.
St Benedict's right-side flanker Nicholas Bobcombe got on the end of Niles' cross and centered for the lanky Grant, who beat Chaguanas goalkeeper Aidan Raymond with a neat glancing header.
Chaguanas coach Anson Raymond lamented that his team invited St Benedict's to a shooting range thereafter, as they failed to close down the opposition attackers around the penalty area.
"Our plan coming into the game was to keep a nice, tight compact team and play with a line of engagement at the halfline," Anson said. "We had some issues with people playing with discipline and following the instructions. [St Benedict's players] were collecting the ball on top of the box and nobody was stepping to them.
"It was like open season—target practice. Nobody was stepping to the ball. That's where I think my boys lacked maturity and lacked the will to hold that kinda discipline under pressure.
"It's hard with a young team to teach them that kinda will in such a short space of time."
With George increasingly isolated up top, Chaguanas could not absorb the pressure from the St Benedict's team which never really kicked into top gear.
Niles created their third in the 69th minute with another display of pace and trickery that was too much for Hemlee before another substitute, Ephraim Brown, slammed in Niles' cross from point blank range.
And the southerners went on to score three goals in a four-minute span in the latter stages, as Grant, Malacai Webb and captain Lee put extra gloss on another dominant performance.
Following a tense tactical battle in the South Inercol finale where boh teams cancelled each other out with similar styles of play, Boyce was intrigued by the challenge posed by Chaguanas.
"[Presentation College] had a higher confrontational line and then a deep, low-lying block," said Boyce. "Today, Chaguanas had a different approach where they left us to bring out the ball then they confronted us at the halfline stage. As I told the guys yesterday in training, many teams will come with different approaches to try to stop us or slow us down.
"I liked how the game was developing in the first half because it causes me to learn and grow as a coach as well. When I see these things I can then pinpoint the type of sessions I need to run and the type of drills I need to do."
For Chaguanas, it is the end of a trying season. But they finish with their Premier Division status confirmed for 2023 and the Central Zone Intercol trophy in the bag.
"We were training on certain little grassy areas in the school so the preparation wasn't where I wanted it to be," said Anson. "Since the shooting, the African Grounds in Enterprise has been closed off. At present, we are speaking with a couple of people to try and revitalize something at African Grounds—but people are generally scared to send their children out to play [as] there is no end to the war and the shootings in Enterprise.
"It is what it is. We have to work with what we have and I look forward to next season."
For St Benedict's, they move closer towards a 2022 SSFL double as they tackle Signal Hill Secondary in the National semifinals on Saturday.
Signal Hill should be warned that the Golden Lions of St Benedict's aren't easily tamed.
(Teams)
Chaguanas North Secondary (4-2-3-1): 1.Aidan Raymond (GK); 17.Michael Hemlee (2.Jahiem Sollayman 79), 4.Lee-Vann David (captain), 5.Alex Thomas, 10.Jakwan Benjamin; 14.Darius Bruce (13.Tyrique Joseph 72), 6.Christian Richards; 15.Nikosi Foncette, 8.Hezekiah John (9.Justin Lewis), 11.Nathan George; 7.Arron Raymond (12.Zaiden James 76).
Unused substitutes: 3.Issiah Howard, 16.Marcus Lee Kim, 18.Amari Johnson.
Coach: Anson Raymond
St Benedict's College (4-3-3): 1.Ja-ir Buckmire (GK); 4.Keanu Morean (3.Anthony Williams 33), 6.Nesean Alexander (21.Malacai Webb 72), 5.Joshua Demas, 2.Joshua Phillip; 8.Derrel Garcia (9.Jaden Grant halftime), 20.Rayshawn Crichlow (15.Ephraim Brown 28), 12.Josiah Ochoa; 10.Nicholas Bobcombe (18.Tyrique Lucas 72), 7.Tarik Lee (captain), 11.Jeremiah Niles.
Unused substitutes: 22.Thane Devenish (GK), 19.Lyshawn Morris.
Coach: Randolph Boyce
Referee: Gyasi McDonald
Wired868 Man of the Match: Jeremiah Niles (St Benedict's College)
National Quarterfinal result
(Wed 30 Nov)
Chaguanas North Secondary 0, St Benedict's College 6 (Tarik Lee 8, 80, Jaden Grant 52, 76, Ephraim Brown 67, Malacai Webb 77) at Ato Boldon Stadium;
National Semifinals
(Sat 3 Dec)
St Benedict's College vs Signal Hill Secondary, 3pm, Hasely Crawford Stadium;
Fatima College vs Trinity College East, 5pm, Hasely Crawford Stadium.
National Final
(Wed 7 Dec)
3pm, TBA