Carapichaima East Secondary are out of the 2022 National Intercol competition, after the Secondary School Football League (SSFL) Disciplinary Committee upheld a protest by Chaguanas North Secondary against their use of goalkeeper Nicholai Rivers.
Rivers saved a penalty in Carapichaima East's 7-6 win over Chaguanas North via kicks from the penalty mark in the Central Zone Intercol final on Monday 21 November. However, Chaguanas North protested that the goalkeeper should not have been eligible to play at all.
Rivers, a lower sixth form student at Carapichaima East, sat the SEA exam in 2015 and passed for Chaguanas North, where he attended school up until the 2020/21 academic year.
He was a lower sixth form student in 2020/21 and, according to correspondence from Chaguanas, he was marked absent for all of his end-of-year exams.
Rivers did not attend school at all in the 2021/22 academic year. However, in September 2022, he popped up on the roster of Carapichaima East's Premier Division team.

SSFL regulations require students to have "one 'A' Level pass […] for a form six transfer repeat". Rivers has none.
Carapichaima East schoolteacher Maria Busby-Montenegro suggested that Rivers was not a repeat student.
"He is a legitimate student of Caps," she told Wired868. "[…] He is a new student because he was out of the school system for a year."
However, the Disciplinary Committee did not share her view, as Rivers began lower sixth form at Chaguanas North before dropping out during the Covid-19 pandemic.
The SSFL, via assistant secretary – administration Gerald Elliot, quoted from its rulebook, which notes that the penalty for infringement of that rule is "suspension of school from further competition in the division for the remainder of the season".
As such, the Central Zone Intercol final was "awarded to Chaguanas North Secondary with three points and three goals". And Chaguanas North replace "Caps" for the National Intercol quarterfinals, where they will face St Benedict's College on Monday 28 November from 3.30pm at the Ato Boldon Stadium.
Carapichaima East have 72 hours to appeal the decision.
Elliot stated that: "the registration of the student did not reflect that the boy was a lower six transfer and therefore the committee was not able to pick it up".
However, it remains unclear whether the Disciplinary Committee ruled similarly in favour of the Pleasantville and St Augustine Secondary schools, which also lodged protests.
Carapichaima East got four points from six games this season—as they managed a 5-2 win over St Augustine Secondary and a 2-2 draw with Pleasantville Secondary.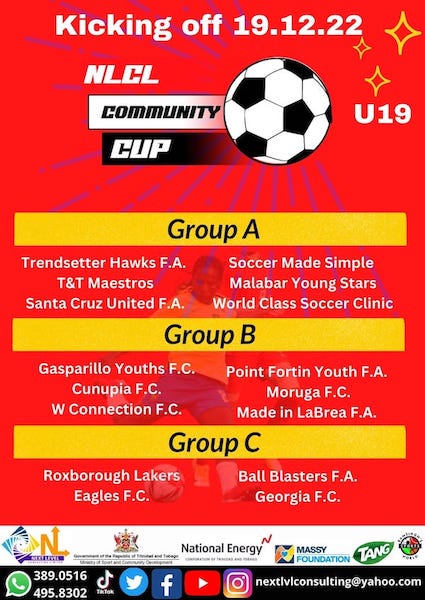 At present, St Augustine are bottom of the table with zero points, while Pleasantville and Carapichaima are second from bottom with four points each—although the former school has a superior goal difference.
The bottom team at the end of the season is automatically relegated to the Championship Division while the second from bottom schools in each group have a playoff against each other to scrap for one survival spot.
If the Disciplinary Committee is consistent in its ruling, Carapichaima East will finish with zero points and be relegated while St Augustine, now with three points, will enter into a playoff with East Mucurapo Secondary.
The "Green Machine", despite not winning a single point on the field of play during the Premier Division season, are 90 minutes from potential survival.
Up to the time of publication, there was still no date set by the SSFL Fixtures Committee—which comprises chairman Azaad Khan, Gerald Elliot and Laurence Seepersad—for the 2022 Premier Division Playoff, though.
Traditionally, the SSFL season is closed every year by the National Intercol final, which is the last fixture on the calendar.
However, two controversial postponements of Arima North Secondary's Big 5 trip to Siparia West Secondary have already created a scenario where the promotion competition could finish after the conclusion of the prestigious knockout tournament.
St Augustine and East Mucurapo are also on ice, depending on the Disciplinary Committee's ruling.
It is unlikely now that Carapichaima East will be stripped of points yet allowed to play their final Premier Division fixture against St Anthony's College.
However, if the Disciplinary Committee finds issue with the protests by Pleasantville and St Augustine, Carapichaima would survive the drop while St Augustine would go down and Pleasantville could head for a playoff.
The answer should be in the mailbox of the respective schools before the weekend is out.
Earlier this month, Manzanilla Secondary were relegated from the East Championship Division after fielding a non-student, Keshawn Diaz, while Malick Secondary were deducted points for failing to register players in time for their first outing against Chaguanas North Secondary.
Carapichaima East narrowly avoided relegation in the 2018 SSFL season too, after a protest was lodged against their registration of seven players.
In the end, Caps were penalised for the improper use of attacker Theophilus Bourne and goalkeepers Aaron Best and Andre St Clair—who all represented the school in a 2-0 win over Fatima College, despite only being transferred to the school on that same day.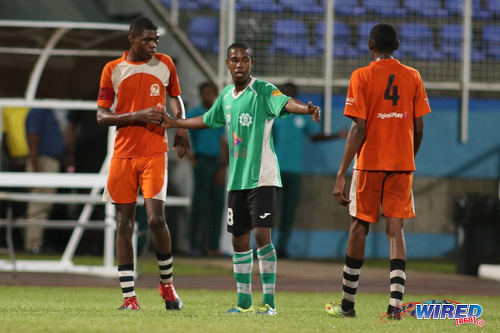 At the time, Seepersad was simultaneously a Carapichaima East staff member, chair of the SSFL Credentials Committee and assistant secretary operations for the schools body. He has since relinquished the first position.
Wired868 has provided readers with solid, independent journalism since 2012. If you appreciate our work, please contribute to our efforts.
Support Independent Journalism