Morvant Caledonia United co-founder Jamaal Shabazz will lead the Guyana Men's National Senior Team for a record fourth time, as the Trinbagonian was unveiled as the country's national coach this morning by the Guyana Football Association.
Shabazz, who is 57 years old, was awarded a four-year contract that should see him steer the 'Golden Jaguars' through the 2022 Concacaf Nations League, as well as the qualifying series for the 2026 Fifa World Cup—which is to be co-hosted by Mexico, Canada and the United States.
"It is no secret that I am a Guyanese; born in Trinidad and Tobago to Grenadian parentage," Shabazz quipped. "It is a great honour again that the Guyana people and nation could entrust me with the national programme for the next four years.
"[…] For now, we want to develop a programme that will build on the platforms set by the coaches before me, of being competitive in Concacaf. And I will reserve the rest of our goals because we have to sit and talk as a staff to finalise the way [forward]."
At present, Guyana are ranked 174th in the world by Fifa and 24th among Concacaf's 35 full member associations. Trinidad and Tobago are 101st and 11th respectively.

Trinidad and Tobago and Guyana were both eliminated in the preliminary round of the Qatar 2022 World Cup qualifying series, although the Soca Warriors defeated the Jaguars 3-0 in their meeting in the Dominican Republic.
The Trinidad and Tobago Football Association (TTFA) fired head coach Terry Fenwick immediately after the failed World Cup campaign in June, while the Guyana FA waited for the contract of its own head coach, Brazilian Marcio Máximo, to expire in August.
As Máximo's contract neared its end, Shabazz resigned as head coach of St Lucia on 25 August 2021. St Lucia did not participate in the 2022 series, after its FA president Lyndon Cooper controversially cited Covid-19 issues as the reason for their withdrawal.
Fenwick, an Englishman who has lived in Trinidad for the past two decades, is believed to have inquired about the vacant Guyana job.
Shabazz suggested that his hiring is a boon for Caribbean coaches. At present, apart from Angus Eve at the helm of the Soca Warriors, compatriots Russell Latapy (Barbados), Rajesh Latchoo (Dominica), Stern John (Anguilla men) and Ahkeela Mollon (Anguilla women) all lead regional teams.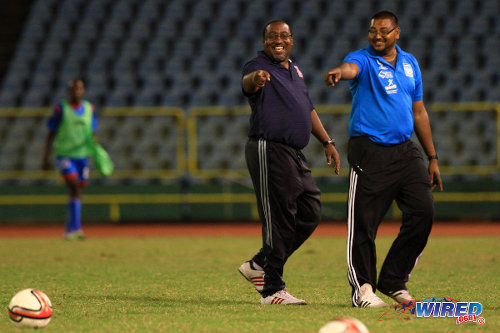 "For me, it is a feeling that is very difficult to describe and one that comes with great responsibility as a representative of the Caribbean coaching [fraternity]," Shabazz told Wired868. "When we see what is happening in the world today and how few the opportunities are for our people to become head coaches outside of the Caribbean and Africa, when we get these jobs in the Caribbean, we have got to work overtime to produce the results. 
"The administrators in the region have always marked us hard and some observations made by Khaleem Hyland and Sheldon Bateau some months ago show that we as Caribbean coaches have got to up our game in our work on and off the field. 
"It is one thing to cry foul and you cannot step up to take the resultant free kick. So I look forward to this opportunity to work and I look forward to the results, with all praise due to Allah."
Bateau, in an interview with Wired868, expressed disappointment with the failure of Fenwick's technical staff—and most local coaches he had worked with, outside of Stephen Hart—to harness technology in their team's preparation.
However, Shabazz credited the Guyana FA for its use of GPS and other aids, as well as the country's improved training facilities.
"Fifteen years ago when I first went to Guyana, I had to go and find a ground on the morning of training for the evening's session," he said. "Now they have proper fields and a lot of things that will assist in preparing a team in the modern way. Most important is, having shown that trust in me and the staff that we will put together, I think it will be critical for us to continue to modernise the operations—to give us the best possible chance of success."
In Shabazz's first stint with the Jaguars, they were recognised as Fifa's biggest movers as they climbed 87 places to 100th in Fifa and 11th in Concacaf in 2006. On his second try, Guyana did better still, as they beat Trinidad and Tobago to an unprecedented place in the Concacaf semi-final round of the 2012 World Cup qualifying series.
His third spell was not as illustrious, as Guyana's Russia 2018 World Cup qualifying campaign lasted just two matches before they were eliminated by St Vincent and the Grenadines on goal difference, after successive draws in their two-legged tie.
Shabazz, who also had spells coaching the Trinidad and Tobago men's and women's national teams, suggested he is still improving at his craft.
"In all of my time with Guyana, we excited the population with the football we tried to play on the field—but sometimes the results did not come," he said. "As a younger coach, I had this romantic feeling about 'looking nice' and was not too focused on results. Now I have become more experienced and I understand better. (Chuckles)
"Guyana may be Caribbean because of colonisation but they are very much South American because of geography. In going forward, we have got to be able to marry playing well in an attractive way that will excite the population, but understanding that results are vital."
Shabazz had a word too for his supporters in Trinidad and Tobago.
"Everybody has their role and my role is regional in nature and it in no way diminishes the sense of nationalism that I have for Trinidad and Tobago," he said. "Ever since I heard Black Stalin's song, The Caribbean Man, and given what I see in the world globally, I have always felt a sense of Caribbean first. 
"I think this must be understood [when you look at] all the places that I have worked and will work in the future. Allah knows best."
Trinidad and Tobago and Guyana are both in the second tier of the Concacaf Nations League, Group B, and could feasibly be grouped together for the competition, which kicks off in May 2022. Only the group winner is promoted to Group A.
Under then head coach Dennis Lawrence in 2019, the Soca Warriors were demoted from Group A after finishing bottom of a table that included Honduras and Martinique.