"[…] Business is slow [as] not much people want to come here to buy alcohol or beer to go. They would prefer to go to the grocery and the groceries are now open on a 24 hours basis.
"[…] One thing that could have probably been given a try is to limit the time the groceries are allowed to sell alcohol…"
Wired868 highlights the day-to-day lives of everyday people in Trinidad and Tobago in our ongoing series 'A day in the life…' Today, we talk to a 42-year-old first-time bar owner from Talparo:
How has Covid-19 affected you professionally?
Covid-19 definitely stalled my success as a business owner. This is my first year as a bar owner and I hoped that the money that was invested would have definitely brought in returns and more. But that did not happen.
The beginning of the year seemed very hopeful, but as the virus became more dominant in the country, progress started to go downhill. Of course, due to that, improvements for my family life have not been very successful because of the lack of finances.
How would you explain your experience as a bar owner during the pandemic?
Well, sales have been cut, the gambling machines are off as they cannot be used, so that is definitely a loss of income. I have cut down my opening hours in an effort to lessen some expenses as the flow of customers has cut down. So when I would usually open at 10am, I now open at 1pm.
The main thing is that business is slow; not much people want to come here to buy alcohol or beer to go. They would prefer to go to the grocery and the groceries are now open on a 24 hours basis. So most people are buying and going home from the grocery, as this way they are also saving money.
Since bars were allowed to reopen after the first shut down, where there was a minimum capacity of 50%, things were not that bad. People started back coming to lime as they were frustrated during the shut-down, so I was seeing a bit of progress, especially coming out of a situation of total shut down.
Most people that came in were understanding and tried to conform to the protocols. But now, as drinking and eating have been restricted on the premises, progress sort of dwindled. As a bar owner, it is not very encouraging at most times. But we are still getting some sales so that is what we are holding on too, hoping that the restrictions lessen a little at some point.
How do you feel about the protocols for bars?
I think the protocols for bars are fair enough. The biggest issue that I incur is enforcing them and making sure persons take the necessary precautions. Also, it can be a task dealing with persons who may be intoxicated, when it comes to trying to get them to follow the protocols.
Can you think of any other Covid-19 measures that could have helped you operate safely?
The measures are more or less clear cut, so I think once they are adhered to, there shouldn't be too many problems.
One thing that could have probably been given a try is to limit the time the groceries are allowed to sell alcohol. That could have possibly helped stimulate some sales in bars, as the alcohol [would not be] available in the groceries.
What safety measures do you use?
Well, we have the no mask no service rule, sneeze guards, hand sanitisers, soap and water and we have the 6 feet apart social distancing demarcations on the floor. I am always vigilant as anyone enters the bar to ensure that they take the necessary precautions.
Is it difficult to source products to sell?
Generally, I would say no. Sometimes the Carib products were not available from the wholesaler but in the event of this, I purchased those products from the grocery.
What advice would you give to other bar owners about coping in these times?
Well, a lot of the coping is not very severe for me because my business is located at my home, I live to the back of my establishment. Even though I pay rent, I am always here so the manipulation is easy for me. I have the ability to be with my family and run my business at the same time, so it doesn't really put me at any inconvenience.
Where other bar owners may have to leave their home to go to their establishment and sit there basically doing nothing, waiting on customers, I have the ability where I can also get things done in my home while my business is running. So I don't think that I am in a position to advise other business owners, other than to find some sort of coping mechanism that would work for their situation and apply it.
If the restrictions were to be lifted right now, would you feel safe?
It would be a little harder to negotiate, but my establishment is located in a rural area and from my experience thus far, most people comply. They understand the need and the risks, so in this area there are not much people going against the law. So if they do lift the restrictions, I am probably 90% confident that we could still follow the protocols and maintain safety while conducting business.
What are your hopes for 2021?
Well, I am hoping that the restrictions are lessened safely so that I could get some sought of proper sales going in an effort to make back some of the money that was invested.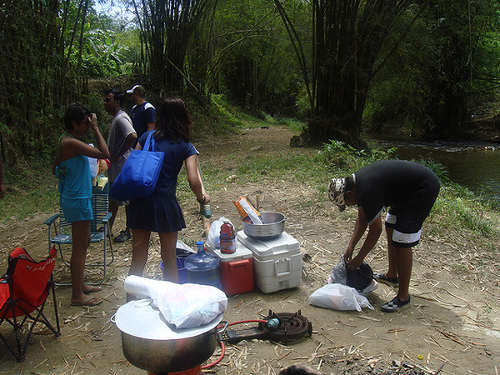 How has Covid 19 affected your personal life?
Well, I am a very social person, I love interacting and due to the pandemic interacting has definitely been limited. My usual day to day activities has also been limited as staying home has become the norm. My methods of communicating have changed to a more online basis because I try my best to limit face to face interaction as much as I could.
What adjustments have you had to make to your daily life?
Being home has been one of the biggest adjustments I had to make. Going out to do my personal business has been lessened. I try to do most things online like banking and paying bills etc. The activities that my family and I would do has also been very limited as one of the things that we usually spend time doing together was sports. Religious activities have also had to be limited as I am a person who is very involved in my church.
The biggest adjustment I made to keep safe was staying away from my elderly family members and high-risk persons. The wearing of the mask, and also remembering it, was also a challenge as this was not something I was accustomed to. I tried my best to ensure that I followed all the protocols that were put in place like washing hands etc.
Do you worry about possibly being exposed to the virus?
Basically, I don't really feel like I am exposed because I don't really leave home or my community, and whenever I do, I ensure that I follow all protocols. At my workplace, persons are not allowed to stay on the premises, and we also have a lot of sanitising methods in place. So this definitely gives me peace of mind when it comes to that.
Has Covid-19 affected any major plans you might have had for this year both personally and professionally?
It has affected travelling. I had plans to travel to at least two destinations this year and that was definitely put on hold. Professionally, yes, as a small business owner I wanted to do a few courses to help enhance my skills in the area of running a small business. Due to the pandemic, the courses were put online and you now had to pay via the bank and that was an experience in itself and I did not want to go through all that trouble so I did not get to do the courses.
What frustrates you the most about the Covid-19 pandemic?
The limit of social interaction is my biggest frustration, I enjoy liming and socialising and the pandemic does not permit any of that as being safe is a priority. Being unable to conduct many of my usual activities and basically adjusting to being at home at all times can be frustrating.
Have you experienced anything positive from life during the Covid-19 pandemic?
Life in Covid-19 has slowed me down; it makes me appreciate the little things more. I enjoyed that my family is able to be home more, so we get to enjoy more time together. However, nothing really motivates me.