Carnival pores now raising up. Driven in part by the regret of pockets not filling, there are calls to do something to mark the spot normally occupied by the Carnival season.
But Sekon Sta is smarter than all of those who are belatedly rushing into the headlines. In the words of Sparrow: 'Ah wish, I coulda go and shake he han'. 
I might invite him to change his name to 'First Sta', in recognition of being the first to re-jig a carnival product for pandemic times.
My carnival pores are raised and carnival runs in my blood year round because I have always seen the wider perspective of the performing arts—of which Carnival is one important annual artistic expression of music, dance, theatre and design over a six week period.  
During those preceding weeks, Carnival contains artistic expression, at least equal to that of the Mardi Gras days that Carnival Monday and Tuesday have become.
Regular readers will know that I have been calling for a re-engineered and re-branded Carnival season, recognising it for what it is: a first quarter of the year festival.  
Readers will recall that I also have a bigger dream to solidify multi-seasonal performing arts bases with events at their respective cores, like the jazz arts, African and Indian sub-continent heritage, culinary and fashion month tours, as well as Divali and Hosay expressions—provided that in the case of the religious based festivals we consult the pundits and imams, so as not to make the sacred profane.
For example, in May 2016, I repeated 'my recommendation that the Carnival season be expanded and marketed as a first quarter festival running from January to March into which 200 events, not necessarily directly related to the current and now unsatisfactory Carnival product, can be inserted to comprise an attractive tourism product'.
That's what Sekon Sta did. He could not have his Sekon Sunday event, so he produced a show in a concert hall instead. That's precisely the kind of show that should be running regularly during a first quarter festival—rebranded to attract event tourism beyond the Mardi Gras market.
I heard commentators saying on morning television, that Sekon Sta was 'iconic' and Carnival is not only wine and jam. If they mean what they say, where are the ideas, like some of us have, to better highlight the other aspects of Carnival rather than squeezing those aspects out of the band routes and other public spaces, and drowning them out with DJ music?
Like well-known promoter Randy Glasgow and others don't hear me. I refer to the lament last week that the call to do something to mark the Carnival spot came too late. Glasgow reportedly said that, had the call been made two months ago, a way could have been found to reasonably execute it, working with the authorities.
Ten months ago, in April 2020, I wrote: 'Covid 19 will force us to re-build our economy. We should place our vibrant performing arts at the core of the recovery agenda, not merely with the disproportionate focus on one transitory Carnival season, which we may not even have in 2021.  
'Its possible absence clears the way for re-consideration of diversification of the economy through the creative sector, and to do so on a varied multi-seasonal basis.'
That column was entitled: Contemplating the road to recovery. It advocated that, particularly 'on the road to recovery, a decision should be made to invest in music and theatre enterprises to be operated by the performing groups themselves'.  
For best results, I recommended that such investment should be free of manipulative political hands.
That column concluded: 'Large scale international tourism will probably not recover for several years, but we must become ready and work meanwhile with discrete markets towards making Trinidad and Tobago a unique and authentic performing arts destination, full of well-organised, varied, multi-seasonal events, facilitating the rediscovery of exciting cultural event travel.'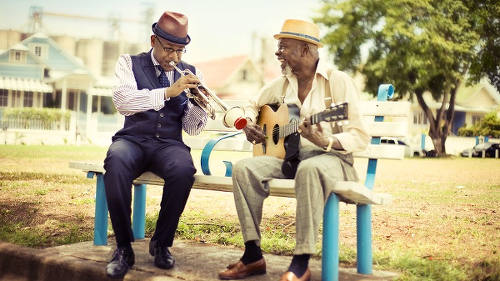 Meanwhile the blinkered authorities want no dancing during 2021 concerts, but there was no dancing ban in their Covid, risk-laden, election motorcades in 2020 and none now in Tobago.