Former Trinidad and Tobago Men's National Senior Team stand-out and Terminix La Horquetta Rangers goalkeeper coach Ross Russell was voted as president of the Northern Football Association (NFA) on Boxing Day by 11 from the zone's 19 full member clubs.
But that is unlikely to be the end of the matter as Russell's coronation occurred in an extraordinary general meeting that was not properly convened under the constitution.
So Russell, who gave an acceptance speech at the Cascadia Hotel, might have to do the entire thing again tomorrow at an AGM called by the NFA Board.
"Yesterday I was hearing congratulations for the whole day and now I am hearing there might be another election," said Russell. "I don't want to mamaguy Trinidad and Tobago and the people who love me, so I won't say any more on it until after that. But I think [yesterday's] election was done fairly."
NFA general secretary Raeshawn Mars confirmed that tomorrow's AGM will proceed 'as normal' from 5.30pm at the St James Youth Centre with all of its agenda items, including an election. And he suggested that the playing conditions might be slightly different for Russell tomorrow.
"I understand there were representatives from teams who voted yesterday who are not the designated signatories," said Mars.
In any case—yep, it gets stickier!—Russell's nomination is in danger of being invalidated, since the forms of six from his seven slate members were improperly completed, with second vice-president Rodney Stowe being the sole exception.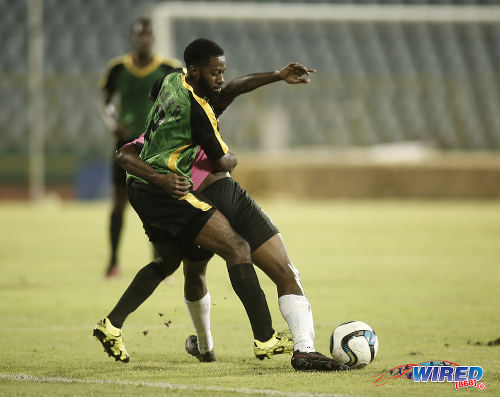 So, whether he has the support of the majority of the NFA clubs or not, Russell's reign at the helm of the zone could potentially last just two days—and, even then, it would have existed only in the minds of his supporters and the member clubs who voted on Saturday.
And the final twist?
Russell's presidential candidate, Richard Piper, who could be declared as running unopposed tomorrow, withdrew from the race today, after being unnerved by votes cast at yesterday's illegal meeting.
"I withdraw my candidacy for president today," Piper told Wired868. "I guess the clubs have spoken yesterday. I said from day one that I am not going to get in any of the semantics [about whether or not yesterday's meeting was constitutional]. As far as I am concerned, the clubs have spoken; and I failed in my attempt to unite the clubs, and I am fine with that. 
"From the bottom of my heart, I wish Ross and their executive all the best for the duration of their tenure." 
If the constitution is strictly followed, tomorrow's AGM could see current president Anthony Harford confirm his departure, his would-be successor Russell's candidacy would be deemed invalid, and his opponent, Piper, would be nowhere to be found.
In such circumstances and with only person seeming to be interested in the job, it is more a matter of when and not if Russell will be elected president.
Trinidad and Tobago Football Referee Association (TTFRA) vice-president Osmond Downer, one of the framers of the Trinidad and Tobago Football Association (TTFA) constitution, will attend tomorrow's AGM—having been invited by the NFA Board to offer constitutional advice.
"An illegal meeting is an illegal meeting; so anything that comes out of [yesterday's meeting] is null and void," said Downer. "There are so many things that were wrong with that meeting, but I won't say anything until tomorrow.
"[…] If Russell's slate has support from 11 of the 19 clubs, then they can just vote him in tomorrow. Very simple."
Wired868 asked Downer about any potential issue with the nomination forms for the election?
Downer laughed.
"I will say more tomorrow," he said.
The issues with the NFA's attempt to elect Harford's successor appear to have gone well beyond the constitution, though.
The problems for Harford and the current NFA Board began in late September when Anthony 'Dada' Wickham, the Trendsetter Hawks coach, took a contingent to see the zonal president and declared a lack of confidence in his leadership.
Wickham and other member clubs felt the NFA should have done more to distance itself from former TTFA president William Wallace's fight with Fifa, and were unhappy with Harford's financial stewardship and its supposed tardiness in calling zonal elections. (Harford was a member of the United TTFA slate that propelled Wallace into power.)
Wickham is running as Russell's first vice-president.
Harford declared that he will step down immediately, although he subsequently 'clarified' his position to be that he would not run for re-election. The NFA since showed documentation to confirm that they delayed their election on the advice of Fifa-appointed normalisation committee chairman Robert Hadad.
Wickham refused to wait, and tried to call an election independent of the NFA Board—only to make a series of constitutional blunders.
First, his request for an EGM was improperly dated, with all of the signatures from member clubs coming after the 'submission date' of the document.
Then, Wickham gave just two weeks' notice for the EGM, after deducing that the 27 September petition was interchangeable with the actual convening of the elections. 
Article 29.5 of the NFA Constitution states:
'If one of the items in the agenda of the extraordinary general meeting includes the election of members of the [board of management], the BoM shall notify the members at least 21 days before the date of the extraordinary general meeting about the upcoming elections.'
Downer tried to explain where Wickham went wrong.
"Suppose the board waited until the 29th day after receipt of the letter from the clubs and then decided to hold an EGM—could they hold it the next day?" asked Downer, rhetorically. "No, not at all! They would have to give 21 days notice. You have to distinguish between the request for the meeting, and the notice convening the meeting. Those are two different things.
"That letter [on 27 September] cannot count as a notice for a meeting, that is a letter requesting the board to call a meeting. The board did not call a meeting within the 30 days, so now you are now calling your own meeting and you have to give 21 days. Simple!"
Things got murkier still when Mars accused Eastern Football Association (EFATT) president Kieron Edwards of violating the TTFA's constitution by 'interfering' with the NFA's electoral process.
Edwards is a director of the Ascension Tournament, alongside Terminix La Horquetta Rangers managing director Richard Ferguson. And Ascension is a sponsor of the NFA.
A leaked email showed that Edwards—and not Wickham—contacted Hadad and his assistant Amiel Mohammed to request observers for the NFA's election.
"We are seeing third party interference here without a doubt," said Mars. "[Edwards] is a sitting president of anther zone, and even if he was acting as a sponsor, a sponsor should not be this involved in the elections of a zone."
Only six clubs with voting rights attended Wickham's first meeting on 12 December. However, remarkably, the figure almost doubled on Boxing Day.
If enough people support the 'wrong thing', does it then become 'right'? Wickham replied in the affirmative.
Tomorrow, he hopes to force the NFA Board to accept the Boxing Day result by a majority vote of member clubs. He dismissed the botched nomination forms as irrelevant.
"[The nomination forms for the 28 December AGM] was just Plan B, in case they convinced the clubs to wait until the 28th [to have the elections]," said Wickham. "So we sent in nomination forms just in case, but in the hustling a little oversight happened and some names were left out.
"[…] If they feel that is a technicality they can use, then a simple majority will overturn that [objection]. At this stage we have the majority and hopefully everyone turns up tomorrow.
"[…] If everything goes to what we planned, we are not going into any election tomorrow. The constitution says, on the day, a simple majority can decide [what is law]. 
"The majority of the clubs decided that they want this and I don't think anybody should stand in the way."
A NFA Board member, speaking on condition of anonymity, claimed last month that Piper was supported by at least 12 of the zone's 19 full member clubs. Yesterday's turnout at Cascadia suggested otherwise.
The 11 clubs that voted for Russell on Boxing Day were: Trendsetter Hawks, Morvant Elements FC, Frontline FC, Patna River Estate, Seekers FC, Harvard Sports Club, Petit Valley Diego Martin United, Miscellaneous Laventille United, RSSR FC, Combined Forces FC, and Belmont FC.
Mars suggested that an unauthorised representative voted on behalf of PVDMU yesterday.
PVDMU director Derek Edwards is on Piper's slate as his prospective second vice-president. Did another PVDMU official vote for Edwards' opponent without his knowledge?
Wired868 called Edwards (D) to clarify. He did not respond or return the call.
Piper, who is the TTFA's director of football and worked alongside Russell on the previous Men's National Senior Team coaching staff, opted to end his campaign immediately. He said he will not attend tomorrow's AGM.
"I wish my good friend Ross congratulations," he said, "and wish them all the best in their endeavours for the duration of their stewardship."
The NFA's election of its new president would be considered bizarre in any other calendar year. But after Wallace's removal by normalisation committee and Clayton Morris' triumph against an unorthodox campaign by Trinidad and Tobago Super League (TTSL) first vice-president Jameson Rigues, it might well be the 'new normal' for football.
Russell was voted president on Boxing Day—he already declared that Akel Baig will serve as his general secretary—only he is not yet in charge today and his candidacy is likely to be deemed flawed tomorrow.
But, almost certainly, Russell will be NFA president regardless, when the dust has settled.
Team Russell: Ross Russell (president), Anthony Wickham (first vice-president), Rodney Stowe (second vice-president), Michael Thomas (assistant secretary admin), Nevick Denoon (assistant secretary operations), Kareem Paul (ordinary member one), Dexter Harris (ordinary member two).
Team Piper: Richard Martin Piper (president), Tristan Charles (first vice-president), Derek Edwards (second vice-president), Hellwyn Junior Maxwell (assistant secretary admin), Marvin Small (assistant secretary operations), Mark Benny (ordinary member one), Russell Bristol (ordinary member two).
Outgoing NFA Board: Anthony Harford (president), second vice-president Glenford 'Beetle' Waines (St Francois Nationals), Marvin Small (Police), and Peter Rampersad (Malvern). (First vice-president Ruthven Charles (RSSR FC) passed away last year.)