The Chamber of Commerce spoke out this week as the nation grapples with the crime situation, defining it as a 'crisis' for which we do not have 'the luxury of time'. The Chamber advanced possible solutions, including the need for foreign help since the TTPS appeared not to have the capacity to deal with the crime situation.
This intervention followed on the heels of an editorial in a daily newspaper that pointedly questioned whether Afro-Trinidadians had 'the innate desire for a better life'.
The present situation, as evidenced by the two triple murders and the 'kidnapping' incident is grave and concerning. The random shooting in crowded public areas is fear-inducing. But does this represent a deterioration of our situation? Or are we victims of 'fear-mongering' by 'spin doctors', given the proximity of the general elections?
Fear of crime is our emotional response to the possibility that we may be victims and is reflected in how we will feel in various locations—say Charlotte Street. Generalised fear does not reflect the neighbourhood conditions, how you would in your hometown, say Cunupia, but is a social construction: an interpretation of how the threatening conditions in Charlotte Street would mean for you who live in Cunupia.
In a politically charged environment, the game is to move on from a 'fear of crime' to a 'generalised fear'.
Minister of National Security Stuart Young very unwisely stepped into the fray, lacking the requisite empathy in the delicate situation. Lost in the ensuing 'lacaray' was Mark Bassant reporting that an intelligence source said that 'they were still piecing together information about certain people approaching specific gang leaders and offering them hefty sums of cash to rain mayhem on people in public spaces' (Trinidad Guardian, 19 January).
What to make of that will be twisted according to one's sympathies.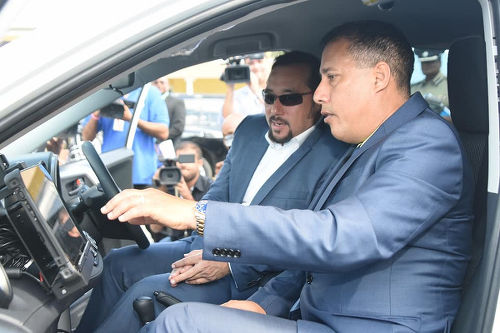 Arguably, is the Senior Counsel Dana Seetahal's June 2014 killing, described by US Assistant Secretary of State, William Brownfield, as a 'murder by a trans-national drug organisation' not more chilling? Do we imagine that this organisation packed up shop and left town?
What about the brazen September 2014 shooting up of the Besson Street Police Station described by the Express as 'reminiscent of a modern war movie, with the ringing of periodic gunfire in-between the sounds of helicopters'? From all reports, this was linked to men being killed by unidentified persons, allegedly police or soldiers. This, in effect, was a declaration of war between the police and the criminal elements.
Do we recall the associated 'fake bomb' threat by the Regiment at the Guardian building, a stunning betrayal by our armed services? They wanted to get the suspect who allegedly killed one of their peers, heard that the person was at the Guardian newspaper and called in a bomb threat so that the building would be evacuated.
When your protection goes rogue, who will be safe?
Have we repented for the politically-driven 2012 dismissals of Commissioner of Police Dwayne Gibbs and his deputy Jack Ewatski, whom the Chamber praised in April 2011 for introducing the template for the reform of the TTPS?
Do we recall that one of the things that was used against Gibbs was the renting of a Surveillance Aircraft, as an anti-crime measure, and there was a furore over who would be responsible for firing him for breaching the Tenders Board rules? After all these years now we wish to employ drones (the technology has evolved).
These acts shaped today's mess. We also forget the then responsible figures and who kept silent. To their eternal credit, the MSJ did not keep quiet.
Wishing to emulate Rudy Giuliani and the NYPD approach, persons, associated with the Chamber, imported a former FBI agent for the higher Police echelon within the last few months. Now we are told more are needed.
Harcourt (2009) is required reading to debunk this 'Giuliani theory of effectiveness'. It concludes that there is little, if any, evidence that order-maintenance policing techniques are effective. It points out that there is need for both a moral and legal understanding in this context.
With apparent disregard for our privacy on the streets and on Facebook, the Chamber suggests the use of facial recognition software. While it may help identify criminals, do we just give over our privacy? Who will guard the guards in their use of this data?
What did Jamaica learn in 2019? If detection rates remain stubbornly low, nothing changes. In two months last year, they arrested 906 persons under the State of Emergency powers but only 19 were detained. In September last, their Assistant Commissioner Richard Bailey concluded, 'gaining the trust of residents and creating organisational structures are key to maintaining peace'.
Mark Shields, their British-born former Deputy Commissioner, added, 'State(s) of Emergency will fail if long-term plans are not implemented to improve education, employment and effective enforcement of the law supported by an efficient justice system'.
Re: the 'black boys' theory, read Professor Rhoda Reddock's recent contribution (Express, 20 January). Dr Rowley's 2016 questions in Laventille: 'when do these little angels turn into demons' and 'when do they become people who do not think they are valuable and valued?' still require answers.
Professor Michael Porter, much beloved by our business community, identified two myths about business in the inner-city: that the inner-city residents do not wish to work and that they do not repay loans (HBR,1995).
The business community should focus on creating economically viable businesses. Fernandes Industrial Compound, in Laventille, is a prime example of how a cluster of businesses can be housed and the security costs minimised. NGOs and churches can act as employment screening agents, as is done in Kingston.
The Chamber can develop a 'Junior Achievement' style effort to help small entrepreneurs in such areas. They can create programmes that help in the school-work transition.
The Government needs to re-imagine the physical area, combining properties and putting in infrastructure, as was done in the Fernandes Industrial Compound. They should subsidise the loan transaction costs so that business loans can be created or replicate BPTT's Mayaro Initiative for Private Enterprise Development (MIPED) programme.
Remember this effort started with a seed capital of US$1.2 million, ten years after they report that they have disbursed $40 million in loans. Why can this not be done in Laventille?
We need to begin imagining a brighter shared future.