St Anthony's College will meet East Mucurapo Secondary in the SSFL Coca-Cola Intercol North Zone final after slipping past Malick Secondary 4-3 on penalties in their semi-final at CIC ground on Serpentine Road.
St Anthony's coach Ronald Daniel counted his lucky stars after the match.
"The game was balanced because both teams had opportunities, it came down to penalty kicks, which could go any way. Fortunately it went in our favour, and I'm grateful that we're in the final."
Meanwhile, Malick coach Anthony Bartholomew was left to rue the one that got away.
"We were supposed to finish this by goals, not by losing here on penalties, because we had enough opportunities to call it a day at the end of 90 minutes.
"I was expecting to go further today because I know the guys caught form late, and we are now beginning to see [their capabilities]. It's a bunch of young guys, but their minds are ready."
His assessment was accurate. Despite going down early, Malick's players never stopped running; injured players even fought to remain on the pitch.
St Anthony's shot into the lead after 10 minutes, Malick custodian Jaydon Taylor spilled a routine save, and Kai Phillip's accepted the gift to make it 1-0. That was their brightest moment of the first-half and maybe even the 90 minutes of regulation.
[sports-match template="logos" match="57657″]
Malick came into their own soon after. In the 20th minute, Malick's tricky lone striker, Nickelle Alexander, lost his man only for St Anthony's keeper Josiah Perez to race off the goal line and deny him. The rebound fell to Malick captain Nathaniel Barbour, who blasted his effort just over the bar.
Now St Anthony's had a bit more defending to do against their hardy opponents, who were always spoiling for a scrap. With Alexander at the tip of the spear, Barbour, John-Mark Ellis, Tirrel Ramsahai and Zion Carpette swarmed St Anthony's three-man defence, comprising Omari Wiltshire, Ian Cowie and Randy Antoine, pushing the defensive mids even deeper into their own area.
The St Anthony's midfield didn't look their sharpest but sought to restore the natural order, though not without staunch opposition from the well-supported Malick squad.
The boys in blue could feel encouraged about the way they ended the half. The teams went into the break with the score at 1-nil, but the game was very much in the balance.
After the interval, it was more of the same; St Anthony's appeared shell-shocked by Malick's audacity and struggled to carve out any real opportunities. Malick had more of the ball but needed a bit more quality in the final third to make it count.
"I and all found they were sluggish," Daniel said after the match. "Not fatigued, but I don't know what it was."
After sustained pressure, Malick finally got it right in the 71st minute.
Carpette tested the fresh legs of second-half sub Brandel Timothy, dropped his shoulder, rounded the marker and squared for Alexander, who took a touch among four St Anthony's defenders before smacking in the equaliser past a frozen Perez.
The goal set off pandemonium on the sidelines and in the stands, as Malick fans of all ages celebrated their team reaping their just rewards for an afternoon of focused application.
The goal would be the last of regulation time. Malick now managed the game, seemingly satisfied with relying on Taylor's shot-stopping proficiency between the sticks.
As the teams ended regulation tied 1-1, the Malick rhythm section made their way to the back of their team's technical area for the penalty shoot-out, where Bartholomew stood shouting encouragement to his charges.
It began well for Malick; Barbour scored the first kick of the shootout, and Taylor saved Ian Cowie's first kick for the 'Tigers'.
Kiron Manswell, Jean-Heim McFee and Phillip buried theirs, while Ellis missed Malick's second. Joshua Stewart put his wide, and Real Gill slotted in the Tiger's fifth and decisive kick with the confidence of a veteran, setting off a St Anthony's pitch invasion.
Bartholomew said he was satisfied despite the loss.
"I'm comfortable with my players performance for today. Those young guys worked hard; they tried their best and that's what's important."
Looking toward the 2020 SSFL season, he said:  "We finished 12th this season. Next season, if we don't win, I think we're supposed to be in the top four."
Daniel was pragmatic about the possible outcome of St Anthony's upcoming finals matchup against East Mucurapo Secondary.
"A final is a final," he said. "It can go any way to the better team on the day."
Teams:

St Anthony's College: 1.Josiah Perez (GK); 17.Omari Wiltshire,  4.Ian Cowie, 14.Randy Antoine; 13.Quinn Frederick, 8.Jean-Heim McFee,12.Sowande Prieto, 5.Trent Weekes; 20.Real Gill, 19.Kai Phillip, 9.Zion Williams.
Subs: 24.Tariq Mulraine, 21.Kaiel George, 6.Shurland Augustine, 11.Kiron Manswell, 2.Brandel Timothy, 18.Jelani King.
Head Coach: Ronald Daniel
Malick Secondary: 1.Jaydon Taylor (GK); 6.Johnathan Clement, 3.Jahdell Aguillera, 5.Joshua Stewart, 23.Shaqim Gooding; 7.Jabari Williams, 9.Tirrel Ramsahai, 12.Nathaniel Barbour (Captain), 16.John-Mark Ellis, 19.Zion Carpette; 10.Nickell Alexander.
Subs: 22.Tristan Perez (GK); 14.Isiah Haywood, 18.Matthew Constantine, 25.Donte Murrien, 17.Haile Farrell, 20.Kellon Lewis
Head Coach: Anthony Bartholomew
Wired868 Man of the Match: Zion Carpette (Malick)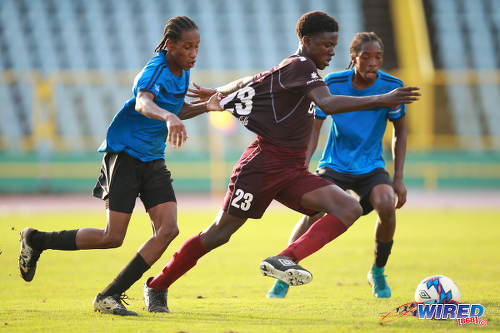 Intercol Results
Thursday 14 November
(East Semifinals)
San Juan North 3 (Isaiah Chase, Jerry Moe, Renaldo Boyce), Manzanilla Secondary 0 at Larry Gomes Stadium;
St Augustine Secondary 2 (Tyrese Spicer, Jardel John), Trinity College East 0 at Larry Gomes Stadium;
(Girls South Semifinals)
Fyzabad Secondary 0, Fyzabad Anglican Secondary 4 at Mannie Ramjohn Stadium;
Pleasantville Secondary 3, Point Fortin East 0 at Mannie Ramjohn Stadium;
*—Pleasantville won by default
Friday 15 November
(North Semifinals)
St Anthony's College 1 (Kai Phillip 10), Malick Secondary 1 (Nickell Alexander 71) at Serpentine Road;
*—St Anthony's College won 4-3 on kicks from the penalty mark
East Mucurapo Secondary 1, St Mary's College 1 at Mucurapo Road;
*—East Mucurapo won on kicks from the penalty mark.