Trinidad and Tobago Men's National Senior Team head coach Dennis Lawrence has described his squad for Sunday's vital Concacaf Nations League fixture away to Honduras as 'depleted' and suggested the United States Major League Soccer (MLS) pair of Kevin Molino and Joevin Jones did not make their services available to the Soca Warriors.
Molino's MLS season finished on 20 October and the Minnesota United ace returned to Trinidad since then but did not join up with the Soca Warriors. Jones helped Seattle Sounders to the MLS Cup on 10 November but also apparently rejected a call-up to travel to Ecuador and play against Honduras.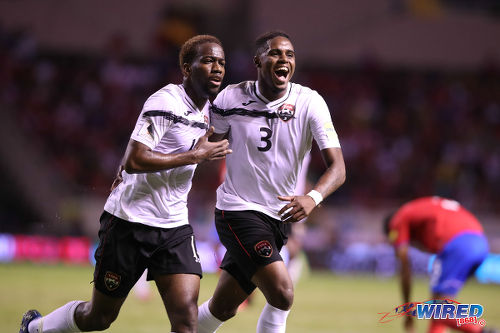 At present, Trinidad and Tobago are bottom of their Nations League group behind Honduras and Martinique and will be relegated to the Concacaf second tier and miss out on an automatic place at the 2021 Gold Cup if they do not win this weekend.
Lawrence must face the task without injured captain Khaleem Hyland as well as overseas-based utility player Neveal Hackshaw and forward Rundell Winchester. Flanker Aikim Andrews was also said to be doubtful due to a hamstring injury.
However, according to the TTFA Media, Lawrence was apparently aggrieved not to have the services of Molino and Jones. A TTFA release stated that the 'US-based duo Kevin Molino and Joevin Jones chose to make themselves unavailable for both matches [against Ecuador and Honduras] after being called up, according to Lawrence'.

Lawrence did not address the pair directly in his post-game comments on video. Molino declined comment on Lawrence's assertion while Wired868 did not get a response from Jones up until the time of publication.
Ironically, Jones has rarely enjoyed first team status under Lawrence. Thus far, the gifted, versatile flanker started one of three 2019 Nations League fixtures while he has a total of 12 starts and six substitute appearances in almost three years with the current head coach.
In contrast, Jones made 29 starts and two substitute appearances during a similar timeframe under Hart. His career record for country reads: 67 starts, 10 substitute appearances and eight goals.
Neither Hackshaw nor Winchester were used in any of Trinidad and Tobago's Nation League fixtures to date. Hackshaw has eight caps under Lawrence while Winchester has never played for the lanky coach. So, Molino apart, Hyland is the only ever-present who will be unavailable this weekend.
Molino has five goals from 15 appearances under Lawrence and 21 goals in 50 career outings for his country. Hyland, an imposing, combative midfielder, has played 86 times for Trinidad and Tobago with four goals.
Lawrence was relatively pleased with his team's performance yesterday in Manta, despite the game ending in a 3-0 loss. The Warriors tallied a solitary effort at goal, through left back Mekeil Williams, while Ecuador had 67 per cent possession and 14 shots with six on target.
"I thought we came up against a very good team," Lawrence told the TTFA Media. "They moved the ball well—technically [Ecuador are] a very, very good team. I was pleased with the way tactically we managed the game.
"I wasn't pleased with the way we conceded the three goals. I thought they were three very cheap goals, especially the third one… We need to improve on that."
Lawrence hinted at issues with the team's travel arrangements to Ecuador but did not elaborate.
"It was difficult to get here; the journey wasn't easy, so I thought physically we struggled," he said. "[…] But all in all I think we got something out of the game, which was a workout for some of the boys who needed to get some minutes under their belt. And now we just try to recover to get over in Honduras."
Lawrence, whose coaching record reads six wins, eight draws and 20 losses, bemoaned the squad injuries but vowed that the Warriors will try their best.
"When you've got moments like this you have to dig deep and use all your resources," he said. "[…] We tried as best as possible to use the players wisely because I didn't want to take the risk in some of them getting on the pitch. Very very disappointed with the Khaleem [Hyland injury because] he was only meant to play 45 minutes [but only managed 22].
"[Hyland's injury meant substitute] Ataulla [Guerra] had to play longer than we wanted him to play. From the injury front, it is a difficult one but what we need to do is roll [up] our sleeves […] and find a way.
"We have to face it and go out and give it our best."
Editor's Note: Click HERE to read Joevin Jones' explanation as to why he snubbed Trinidad and Tobago Men's National Senior Team head coach Dennis Lawrence's invitation to join up with the Soca Warriors.