San Juan North Secondary and Trinity College East (TCE) booked their tickets to next week's East Intercol final after contrasting victories against Valencia Secondary and St Augustine Secondary respectively at the Marvin Lee Stadium, Macoya today.
San Juan, who are two-time reigning East Intercol champs, thumped Valencia—who were relegated in the just-concluded Secondary Schools Football League (SSFL) Premier Division season—by a 5-0 margin, while TCE overcame St Augustine 3-1 in a nervy, end-to-end encounter.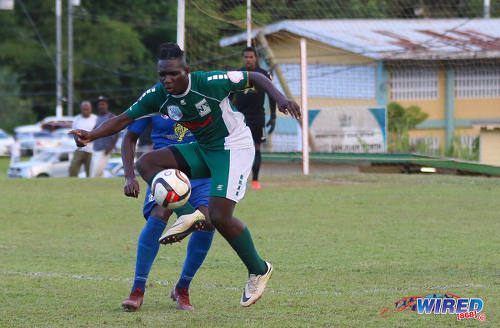 The San Juan team and coach Jerry Moe are trying to get to their third straight National Intercol final, and today the boys from Bourg Mulatresse made light work of a disjointed Valencia outfit. And although the score line flattered San Juan in the end, Moe was far from pleased with his team's overall display, as he felt his players' attitude did not suit the occasion.
"Today, we played better defensively than offensively. We didn't get a good rhythm and that's mostly because of a poor effort by the players," Moe told Wired868. "And that effort was based on the attitude we came to the game with. We just have to get that attitude back; working collectively and working hard."
A first half effort by defender Jordan Britto, coupled with an own goal by Valencia captain Nick Guy, propelled San Juan to a 2-0 halftime lead. In the second half, with an interesting change from a 4-4-1-1 to a 5-3-2 formation, Moe's charges stifled their opposition and clinically killed them off on the other end.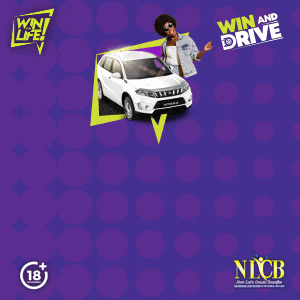 In the 66th minute, San Juan's bulldozing skipper Renaldo Boyce tucked away a neat volley from the edge of the area, while workmanlike winger Isaiah Chase helped himself to a late double to put an end to Valencia's rough campaign in the top flight.
"Yeah we won 5-nil but I now have to go home and dissect the game and look into the game and see what we can improve on," said Moe. "And then we could take it from there."
Coach Roland Clarke and his Valencia team must be sick at the sight of the San Juan outfit by now.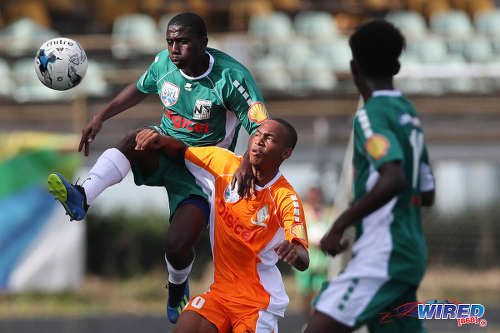 Last year, Valencia battled grimly but fell to San Juan in the East Intercol final. And earlier this year, Valencia started their Premier Division campaign with a 3-0 defeat at the hands of the Bourg outfit.
Today, Moe and his troops put Valencia totally out of their misery.
Next Wednesday, San Juan will be sure to get stiffer opposition from coach Michael Grayson's plucky Trinity East team.
Today, the "Trinity Blue Hawks" came out smelling like roses after a healthy tussle with St Augustine, as goals by Stephan Hoyte, Jaden McKree and National Under-20 player Kerdell Sween took them closer to Intercol's promised land.
For Grayson, it was a triumph against the coach, Adrian Romain, who replaced him—under controversial circumstances—at the helm of the "Green Machine".
St Augustine started the brighter of the two teams but they were unable to reap any early rewards, as midfielder Rivaldo Patron and the Premier Division's top scorer Kesean St Rose struggled to find their footing when faced with one-on-one opportunities with goalie Khalil Oliver.
TCE soon found their footing in the game, though, and the set piece route was the one which they took.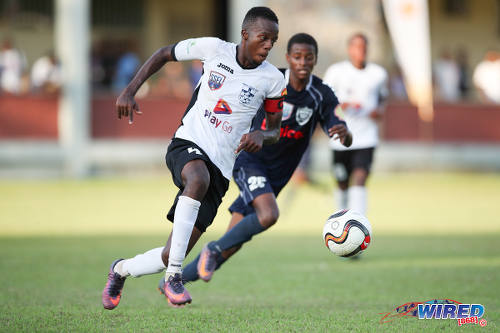 Twice, TCE worked short corners from the left side in the first half. And on both occasions goalkeeper Ajhari Murrien was left pulling the ball out of his net.
In the 25th minute, Hoyte tapped in from close range in a mad scramble after the defence failed to deal with a devious, low cross from Sween, who operated in a three-man midfield alongside Jarvid Elcock and Christian Ransome. And 12 minutes later, the lanky frontman McKree benefited from the same trick as he headed in from close quarters after Murrien and his defence made a meal of another cross.
St Augustine were without playmaker Rivaldo Coryat, who was serving yet another suspension. And although National Under-20 midfielder Ethan Bonaparte filled the creative gap adequately, St Augustine seemed to be missing some poise in front of goal.
St Augustine's lanky wide man Dorian Sampson was the guilty party on the evening, as he wasted a host of opportunities in the second half. In the 63rd minute, Sampson shot straight at Oliver after sweet link-up play with St Rose just outside the area. And nine minutes later, the TCE goalkeeper parried a Sampson effort on to the base of the post after Bonaparte split a sea of defenders with a lovely through pass.
And Sampson probably put himself into acting principal Nechole Seemongal's bad books when he whisked off his shirt in disgust—while on the field of play—after being substituted in the 80th minute.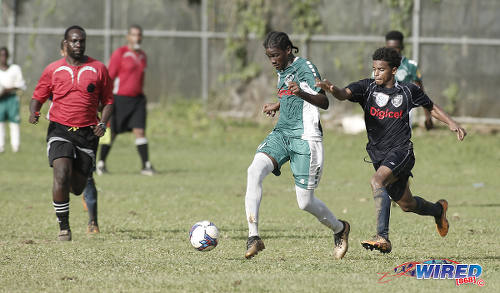 Seconds before Sampson's petulant act, defender Daniel Rahaman gave the Green Machine some hope as he prodded in at the back stick after a left side cross went unattended by Oliver and company.
TCE put all hands to the pump in the closing stages, with the dangerous front trio of Tyrike Sutherland, Terrell Wiley and McKree now watching on from the bench. Still, TCE had their chances to exploit a now desperate St Augustine outfit, and both Elcock and substitute Jaheim Faustin—son of former National player Marvin Faustin—squandered opportunities to lob a sweeping Murrien.
But in the last minute of regulation time, Sween showed his more attack-minded teammates how it was done. Usually a fixture at the back for TCE, Sween led a three versus one counter attack and calmly dinked the ball over the advancing Murrien.
Game, set and match!
Draw specialists in the League, TCE now have the opportunity to rise to the occasion and stop San Juan from claiming a third straight East Intercol crown.
"In terms of the East Zone final, it's a trophy that's dear to us as we have the last two years. And we want to make history," Moe said. "We want to win it three times in a row; that's our motivation. Fortunately, we have a few boys in the team who haven't won that title yet so we're trying to use that as motivation.
"At least we have hungry players. And once you have that it could rub off on the rest of players."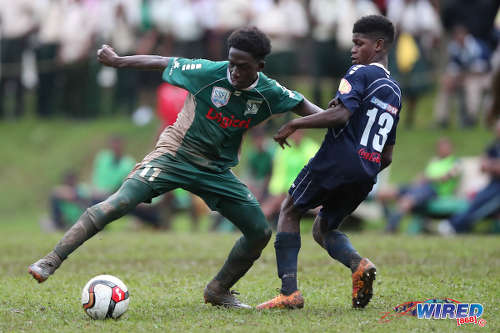 On 21 November, we will see how hungry Moe's charges really are. The Blue Hawks will hope to soar away with the East Intercol trophy though.
(Teams)
St Augustine Secondary (4-2-3-1): 1.Ajhari Murrien (GK); 16.Tyrique Trotman, 18.Jamal Meloney, 5.Daniel Rahaman, 4.Kiel Lopez; 2.Jabari Anthony, 10.Ethan Bonaparte (captain); 7.Nickel Alexander, 23.Rivaldo Patron (24.Dwight Jordan 64), 9.Dorian Sampson (15.Jirel Meloney 80); 13.Kesean St Rose.
Unused Substitutes: 11.Oba Merritte, 12.Andre Williams, 17.Kenan Whylie, 20.Derrel Springer, 22.Triston Edwards.
Coach: Adrian Romain
Trinity College East (4-3-3): 1.Khalil Oliver (GK); 4.Randy Jackson (captain), 23.Kishaun Charles, 2.Stephan Hoyte, 5.Daniel Lake; 11.Jarvid Elcock, 17.Christian Ransome, 19.Kerdell Sween; 10.Terrell Wiley (3.Jeremiah Williams 81), 9.Jaden McKree (6.Jaheim Faustin 75), 7.Tyrique Sutherland (21.Matthias Hinkson 70).
Unused Substitutes: 22.Nicholas Thomas (GK), 8.Isaiah Williams, 12.Daejean Windsor, 18.Jovonn Gomes.
Referee: Rashby McPhee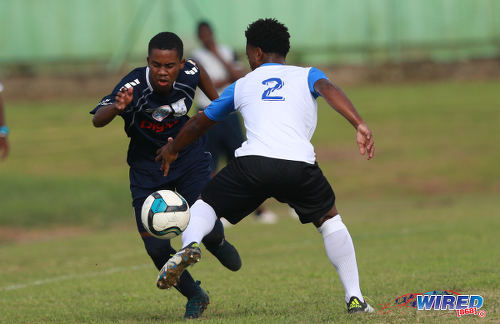 (Teams)
San Juan North Secondary (4-4-1-1): 1.Emmanuel John (GK); 19.Adrian Duncan (10.Jerry Morris 59), 4.Elisha Garcia, 22.Kyle Thomas, 17.Kareem John; 2.Tyrell Cameron (16.Obadele Dickson halftime), 18.Malik Farrier, 6.Jordan Britto, 11.Isaiah Chase; 3.Elair Brewster; 9.Renaldo Boyce (captain) (13.Christon Mitchell 73).
Unused Substitutes: 30.Jushwar Wong (GK), 7.Josia Phillip, 8.Jeremiah Rodriguez, 12.Kendo Matthias.
Coach: Jerry Moe
Valencia Secondary (4-1-4-1): 1.Nathaniel De Silva (GK); 5.Jerome Arrindel, 6.Terron Luke, 12.Nick Guy (captain), 3.Giovanni Lewis (8.Ansil Elcock 68); 2.Zidan Liverpool; 19.Jeromy Adolphus (7.Emmanuel Cumberbatch), 10.Keegan Farria, 25.Jardel Carter, 9.Andre Robinson; 11.Dwight Yorke (18.Devonte Felix halftime).
Unused Substitutes: 14.Akil Skeete, 15.Mikhail Mollino, 17.Jaylen Moses.
Coach: Roland Clarke
Referee: Kwinsi Williams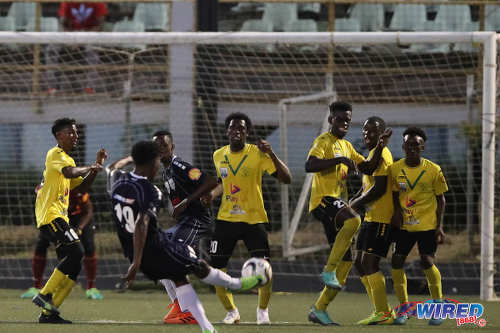 National Intercol results
(16 November 2018)
St Augustine 1 (Daniel Rahaman 80), Trinity College East 3 (Stephan Hoyte 25, Jaden McKree 37, Kerdell Sween 90); at Marvin Lee Stadium;
San Juan North Secondary 5 (Nick Guy own goal 7, Jordan Britto 31, Renaldo Boyce 66, Isaiah Chase 70, 82), Valencia Secondary 0 at Marvin Lee Stadium;