Make way for the juggernauts! Naparima College are the new Secondary Schools Football League (SSFL) Premier Division champions after they took advantage of a stumble by defending champions, Presentation College (San Fernando), on the dramatic final day of the 2018 league season.
The 'Pres Lions' led the 15-team standings after the last 12 rounds of the 14 game season. San Juan North Secondary were on top after the first match day.
And 'Naps'? They had not been on top of the 2018 Premier Division standings before this evening. But coach Angus Eve would say that they timed their ascent to perfection.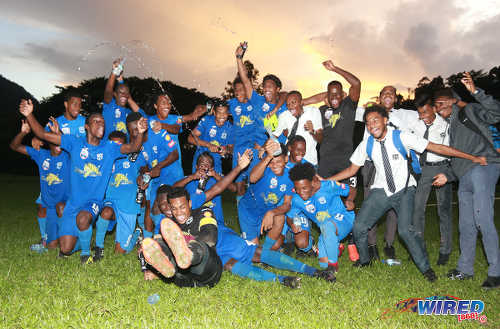 Away to Trinity College (Moka), Naparima prevailed 2-0—their fourth successive win—while Presentation College could only muster a 1-1 draw against San Juan North at Bourg Mulatresse.
The results meant that Naparima finished with 34 points while Presentation and San Juan North had 33 and 29 points respectively.

"To use the old adage, the race is never finished until the Fat Lady sings," Eve told Wired868. "We were taking it one game at a time. This is just reward for all the hard work and sacrifice these boys have put in. Yesterday was the chance to enjoy a holiday for many. These boys were out on the training field putting in those extra hours."
At the end of the table, St Mary's College avoided relegation as they whipped Trinity College East 4-2 at Serpentine Road in St Clair. It was bad news for Valencia Secondary, who ended their maiden Premier Division campaign on a losing note, as they were edged 3-2 by Fatima College at the Larry Gomes Stadium in Malabar.
Valencia, Fatima and Bishop's High School are all relegated. Malick Secondary have confirmed their Premier Division status for the 2019 season while Pleasantville Secondary, Holy Cross College, Chaguanas North Secondary and Speyside High School are still in battle for the two remaining promotion spots.
Coming into today's proceedings, the Pres Lions had their fate in their own hands but they could not shake off a determined San Juan North in front a mammoth crowd at Bourg Mulatresse.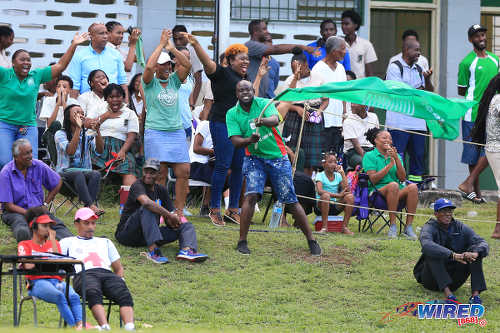 Trailing to a 58th minute volley by San Juan's tireless winger Isaiah Chase, the southern visitors got back on level terms through a close range item from substitute Jardel Sinclair in the 83rd minute.
However, try as they might, Presentation could not find a winner as opposing goalkeeper Emmanuel John—and the crossbar—denied them precious mettle.
John, a former Trinity College (East) student, was playing in only his second Premier Division game this season and he was immense, as he dealt brilliantly with almost everything the Lions threw his way, including a point blank save to deny opposing forward Jaiye Sheppard in the 88th minute.
And just a few seconds later, John—and Naparima—had the crossbar to thank when Presentation midfielder Aleem Barclay uncorked an absolute rocket from long range. Barclay, arguably his team's best performer on the day, could not have struck the ball any sweeter, and Cooper, Williams and the Presentation brigade were left thinking what could have been.
"[John] came trumps for San Juan; everything we tried against him he saved," Presentation assistant coach Dunstan Williams told Wired868. "Obviously, he's part of the national setup and it showed today. It was always going to be a difficult one but we were prepared for it today.
"I just think we didn't get the luck of the draw with a couple of our chances and we hit the bar as well."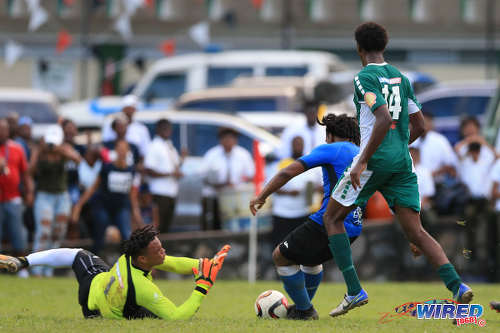 Even in the fifth minute of injury time, Presentation thought they had a strong case for a penalty when John went shoulder to shoulder with opposing winger Jordan Riley in the penalty area. However, referee Joel Cox waved play while his next act was to blow the final whistle, which signalled the end to Presentation's dream of defending their crown.
"Very early in the game there was a handled ball in the San Juan penalty area which we didn't get," Williams said. "I think our players were a bit disappointed with some of the calls that didn't go for us in the area. But that's how it goes in the football game."
Presentation's loss was Naparima's gain.
"Of course we had people monitoring the game as it was on TV but I didn't want to know the score during the game and I didn't want the players on the bench to know either," Eve said. "Regardless of what went on in the Presentation game we had a job to do […] I always thought San Juan had the potential to get a draw or win against Presentation because that's a very difficult place to go and play. The fans are really close to the pitch and they get behind their team and act as that 12th man."
Although Naparima beat Presentation 3-1 in an enthralling southern derby last week, Williams believed the real turning point was their 2-2 draw with the relegated Fatima College on 27 October.
"We hit a little snag there [against Fatima]," said Williams. "Yes, we lost to Naparima but those two points we lost against Fatima was key."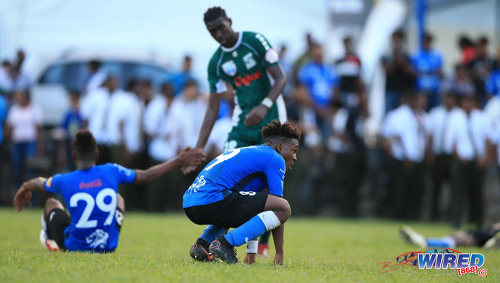 Meanwhile, Eve credited a bonding exercise in the lead up to their 3-2 victory in Bourg Mulatresse on that very afternoon for reviving his team's title aspirations.
In Maraval today, former San Juan midfielder Nathaniel Perouse proved to be the man for the big occasion for Naparima as he notched a first half item, while defender Jeron Pantor converted a second half penalty for good measure.
Perouse, a workmanlike central midfielder, started off the season at right back before slotting into his more familiar midfield role by the end of the Premier Division season. Using players like Perouse, Pantor and Kodel Frontin as examples, Eve said the flexibility and innovation within his team allowed them to adapt to the various styles they encountered.
"I just want to congratulate the entire technical staff for the tremendous work they  have done this season," Eve said.
But what makes the Naparima team such a juggernaut?
"First and foremost I think discipline is the key," Eve said. "There is a lot of hard work that goes on behind the scenes and we have good togetherness as well. Yes there are a lot of talented players but the man management still has to be done. I think the technical staff deserves a lot of credit for that."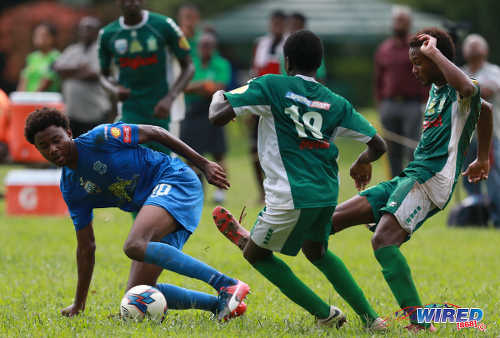 Naparima got the ball rolling with Premier Division titles in 2014 and 2015, before Shiva Boys' Hindu College and Presentation did the honours in 2016 and 2017 respectively. And while the Premier Division crown stays in south, Naps would tell you it's at its rightful home once more.
(Teams)
San Juan North Secondary (4-4-1-1): Emmanuel John (GK); 19.Adrian Duncan (10.Jerry Morris 51), 4.Elisha Garcia (6.Jordan Britto 89), 22.Kyle Thomas, 17.Kareem John; 11.Isaiah Chase, 14.Darion Warner, 18.Malik Farrier, 2.Tyrell Cameron; 3.Elair Brewster; 9.Renaldo Boyce (captain) (13.Christon Mitchell 80).
Unused Substitutes: 30.Jushwar Wong (GK), 7.Josiah Phillip, 8.Jeremiah Rodriguez, 12.Kendo Matthias.
Coach: Jerry Moe
Presentation College (San F'do) (4-2-3-1): 28.Jabari Gray (captain); 3.Juaval Roberts, 5.Justin Cornwall, 27.Darnell Hospedales, 2.Zion Allen (24.Adica Ash 82) 15.Aleem Barclay, 6.Ackeel Jacob; 10.Jordan Riley, 9.Jaiye Sheppard, 18.Nkosi Charles (29.Jardel Sinclair 58); 7.Omri Baird.
Unused Substitutes: 1.Isaiah Williams (GK), 13.Markus Mason, 14.Tylon Roseman, 19.Terrell Noel, 20.Shakeem Julien.
Coach: Shawn Cooper
Referee: Joel Cox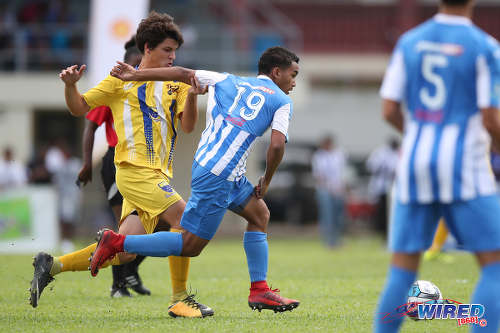 SSFL Premier Division results
(Wednesday 7 November)
San Juan North 1 (Isaiah Chase 58), Presentation College (San F'do) 1 (Jardel Sinclair 83) at San Juan;
Trinity College (Moka) 0, Naparima College 2 (Nathaniel Perouse, Jeron Pantor pen) at Moka;
St Mary's College 4 (Michel Poon-Angeron 7, Kyle Carrington 50, 59, Tyrese Spicer 86 pen), Trinity College East 2 (Jadon McKree 9, 20) at Serpentine Road;
East Mucurapo 2 (Daniel David 4, Malachi Celestine 61), St Anthony's College 0 at Mucurapo Road;
QRC 1 (Darius Dickson), Carapichaima East 1 (Kevon Williams) at QRC;
Valencia Secondary 2 (Dwight Yorke [2]), Fatima College 3 (Mikhail McComie, Luke Darwent [2]) at Larry Gomes Stadium, Malabar.
2018 SSFL Premier Division
| Pos | Club | P | W | D | L | F | A | GD | Pts |
| --- | --- | --- | --- | --- | --- | --- | --- | --- | --- |
| 1 | Naparima | 14 | 10 | 4 | 0 | 27 | 9 | 18 | 34 |
| 2 | Presentation | 14 | 10 | 3 | 1 | 30 | 12 | 18 | 33 |
| 3 | San Juan | 14 | 9 | 3 | 2 | 25 | 15 | 10 | 30 |
| 4 | Carapichaima | 14 | 7 | 3 | 4 | 25 | 22 | 3 | 24 |
| 5 | St Benedict's | 14 | 6 | 3 | 5 | 22 | 21 | 1 | 21 |
| 6 | QRC | 14 | 5 | 5 | 4 | 19 | 12 | 7 | 20 |