Defending Trinidad and Tobago Super League (TTSL) champions Guaya United failed to make ground on table toppers Queen's Park Cricket Club (QPCC) as they played to an intriguing 1-1 draw with RSSR at the Hasely Crawford Stadium last evening.
Five points separates Guaya from QPCC (21 points), who themselves played to a 1-1 draw with Police FC yesterday. And although Guaya coach Calvin Hughes vowed that the "Parkites" would be "dead meat" when the two square off in Guayaguayare tomorrow afternoon, the reigning champs had their hands full with the newly promoted RSSR in Port of Spain last night.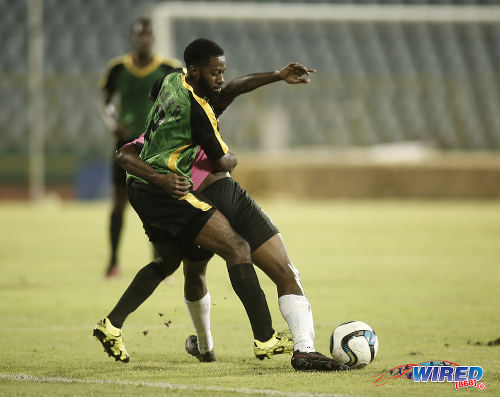 Following a dramatic comeback victory in a restarted game against Santa Rosa recently, Keith Look Loy, the Rosa owner and current TTSL president, allegedly told his players that they were beaten by a "savannah" team.
Well, last evening, coach Anthony Streete's RSSR charges again showed that their ability to cope in the second tier of the domestic game, as they gave Guaya as good as they got. And, if anything, it was the Laventille-based team that might feel they let two points slip away.
RSSR, named after four former national players from the East Port of Spain and environs district in Russell Tesheira, Sammy Llewellyn, Selris Figaro and Reynold George, moved the ball smartly in the final third and seemed to outfox the opposition at times with their triangle passing.

[dfp-ad]
It was a pity then, that the game left the players and the modest crowd with a bitter taste in their mouths, as RSSR substitute Kareem Brathwaite, who was only on the field for a matter of seven minutes, had to be taken away in an ambulance with a suspected broken leg.
While vying for a loose ball with burly Guaya substitute Kerdell Alfred in the 87th minute, Brathwaite felt the weight off a meaty tackle which echoed around the stadium. The RSSR midfielder yelled in anguish while some of his teammates and coach Streete could not even bare to watch.
Referee Dennis Changiah swiftly gave marching orders to Alfred.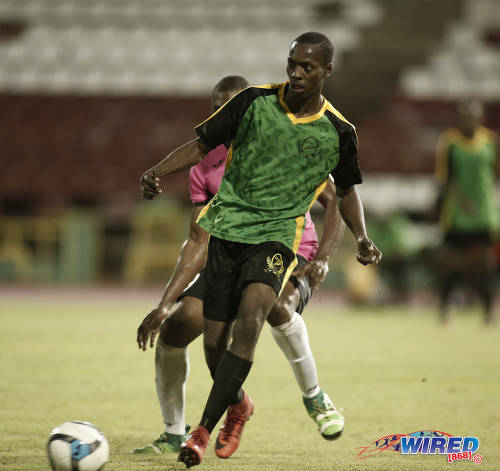 The action which preceded that horrific incident was worth watching though, with RSSR usually trying to penetrate through the middle with interplay by the midfield duo of Anthony George and Corey Isaac or forwards Hakim Gulston and Ishmael Sawyer. Meanwhile, Guaya were more direct and looked to utilise the pace of flankers Shaquille Ferrier and Garvin Samaroo on the counter, coupled with the brute strength of Beville Joseph up top.
Without their suspended hitman Carlon "Judgment" Hughes, an undermanned Guaya—they had only 13 players yesterday—tried their utmost to exploit a dangerously high RSSR back line, but found goalkeeper Kwame Farrell an alert customer when they did do such.
On two occasions in the first half, Farrell saved brilliantly with his feet as Guaya looked destined to get on the score sheet. First, in the 28th minute, the agile custodian stopped a Keston Jordan effort from point blank range before successfully tackling the Guaya midfielder near the byline for good measure. And then in the 36th, he scrambled to the edge of his penalty area to stop a goal bound effort by Ferrier.
One Guaya supporter chastised Ferrier for not lobbing Farrell, but the RSSR keeper was in such confident mood that he must have seemed as tall as the Eiffel Tower.
Farrell's timely first half interventions were as valuable as a goal for RSSR, and for the TTSL newcomers, that item came in the 13th minute, as Sawyer nodded in from close range after a beautiful buildup that involved George and Gulston.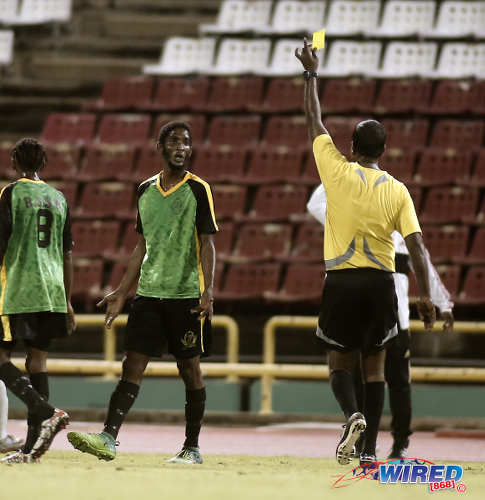 Sawyer could be a synonym for 'Energiser Bunny', as the RSSR forward was full of tireless running and also displayed some admirable hold up play against Guaya central defenders Joseph Brown and skipper Glenton Wolffe.
In the 55th minute, Sawyer's hold up play almost paid dividends as he linked up with Gulston, only for the latter's stiff shot to be well saved by veteran Jamaican shot-stopper Shane Mattis.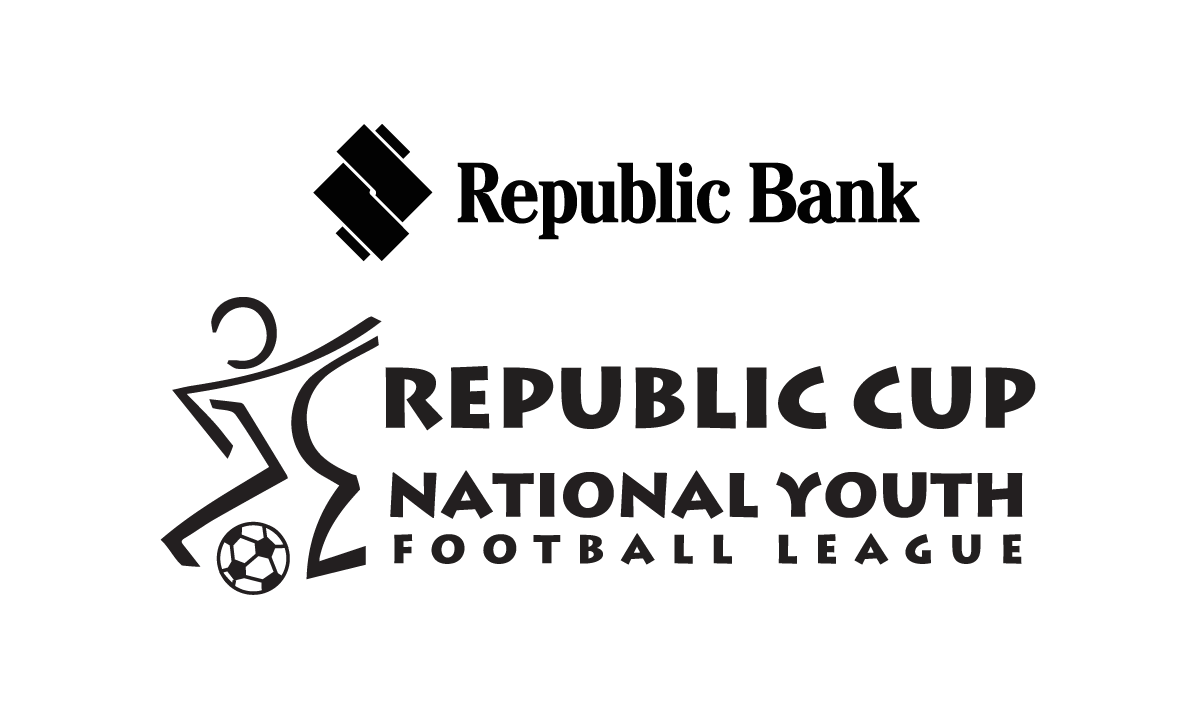 Guaya were finding cracks in the RSSR defence though, and Joseph sprayed a volley wide in the 61st minute after playmaker Jody Allsop cleverly chested down a Ferrier cross. And with anxiety growing in the RSSR box, Joseph was credited with the equalising item, six minutes later, after Farrell and his defence failed to deal with a regulation cross from the right in a congested area.
The item might be one for the dubious goals' panel to review, as it looked suspiciously like an own goal. But Streete felt it should not have counted in the first place.
"The goal Guaya scored, the youth man pushed the keeper from below so he lost his balance," Streete told Wired868.
Streete, who goes by the alias "Prowler", stated his team is coming to grips with the intricacies of the TTSL. But he believes that the discipline shown in their play over the past few weeks can only augur well for their development.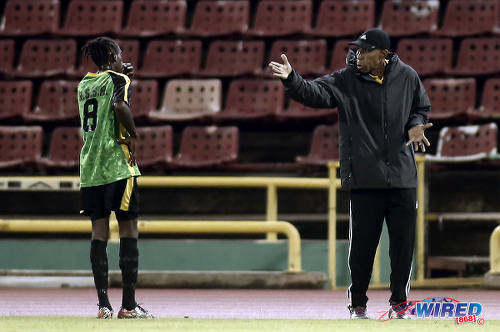 "As a young team now coming out they still need to understand the tactical awareness of the game and there is still room for improvement but I'm not giving up," Streete said.
Ultimately, Streete wants his charges who conquered "savannah" football to show that they could be just as deadly in the TTSL too.
"When we beat Santa Rosa, the president of the League [and Santa Rosa founder Keith Look Loy] told the players that this is a savannah team," Streete said. "I want to prove that this savannah team could come and convert into the Super League and be a side to be reckoned with."
The hosts nearly added the scalp of the defending champs to their list of victims but Mattis rescued a point for Guaya, as he saved impressively from point blank range to deny Gulston in the 85th minute—after Isaac dummied a low corner by winger Keron Alexander.
Hughes, who made the step up from the assistant coach role after Guaya parted ways with Ron La Forest in the off season, was happy to head back south with a share of the spoils.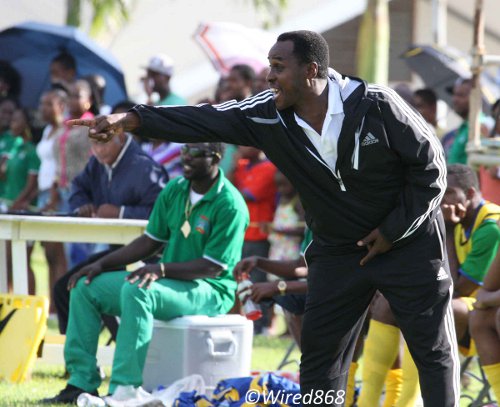 It's been a tough few months for Guaya and the financial woes which engulfs the country's club football at present hasn't escaped them. Not only did Guaya lose the services of La Forest, but the 2017 TTSL champions also said goodbye to its sponsor, HydroTech Ltd.
Hughes, who revealed that Guaya were only able to complete one week of preseason training, said the players are now starting to feel the strain.
"Last year we had a sponsor so everything was properly organised," said Hughes, who is Judgment's cousin said. "Now, we don't have a sponsor so we have to manage everything however it rock. […] I'm kinda managing my players and telling them hold on the sponsorship is close.
"It is tough. How much longer can you tell them to hold on? These fellahs have their kids, they have their lives to live."
Due to a number of players working offshore jobs, Hughes pointed out that it's been a challenge to get large numbers consistently at training or to away games, as evidenced by yesterday's squad size.
However, Hughes hopes to give Guaya's passionate supporters something to hold on to as they host title aspirants, QPCC, on the south east coast tomorrow.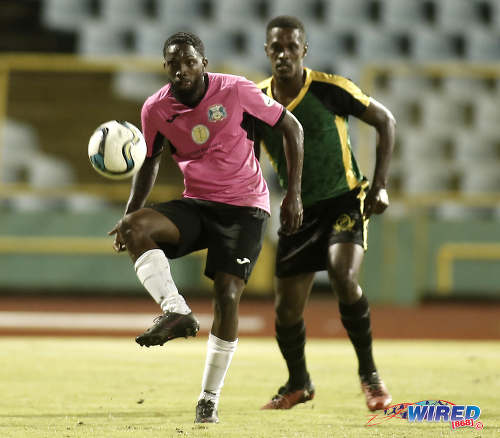 "We are only five points away from Queen's Park but we are playing them Saturday please God," Hughes said. "They will be in our den, so God spare life they are supposed to die there."
It's safe to say coach Shawn Cooper and his charges will want to say something about that.
(Teams)
RSSR (4-3-3): Kwame Farrell (GK); 28.Tyrell Wilson, 5.Keron Lawrence (captain), 6.Nathan Cadore, 4.Darren Nandoo; 8.Anthony George, 9.Jeremiah Goddard (18.Kareem Brathwaite 80 (7.Kevlon Drayton 90+2), 11.Corey Isaac; 2.Keron Alexander, 29.Ishmael Sawyer, 10.Hakim Gulston.
Unused Substitutes: 12.Kerron Cordner, 15.Dornell Harewood, 17.Perez Popwell, 20.Dalelon King, 25.Jeron Melville.
Coach: Anthony Streete
Guaya United (4-2-3-1): 13.Shane Mattis (GK); 77.Leroy Jones (2.Keston Frontin 35), 5.Joseph Brown, 24.Glenton Wolffe (captain), 6.Keryn Navarro; 28.Keston Jordan, 8.Kion Joseph (20.Kerdell Alfred 75 [red card 87]): 9.Shaquille Ferrier, 7.Jody Allsop, 11.Garvin Samaroo; 19.Beville Joseph.
Coach: Calvin Hughes
Referee: Dennis Changiah
Wired868 Man of the Match: Ishmael Sawyer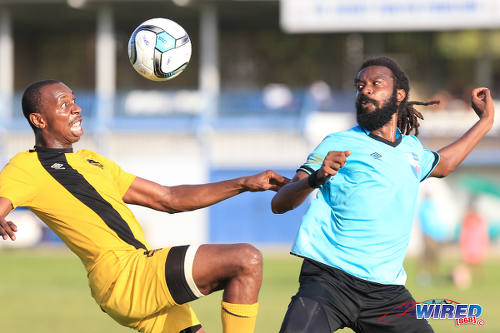 TTSL results
(Wednesday 1 August)
Petit Valley/D'go Martin Utd 1 (Kazim Donald 4), FC Santa Rosa 4 (Ryan Stewart 9, Kheelon Mitchell 11, Alfie James 29, Noel Williams 74) at St Anthony's College.
(Thursday 2 August)
Prisons FC vs Metal X Erin FC at YTC, Arouca, DNP;
QPCC 1  (Kevaughn John 65), Police FC 1 (Dwayne Salazar 77) at St Mary's College;
Matura ReUnited FC 3 (Isaiah Lee 52, Stevon Stoute 59, Kerin Vincent 86), Cunupia FC, 3 (Michael Darko 21, 90+3 'p', Kevon Woodley 49 at Valencia Secondary;
Club Sando FC 2 (Keeron Benito 22, Kearn Noel 85), Bethel Utd 1 (Akeilon Murphy 11) at Dibe Recreation Grd, Long Circular;
UTT 4 (Tristan Perrotte 37, 66, Michel Holder 58, Shaquille Nesbitt 62), San F'do Giants, 2 (Tristan Khan 5, 56) at UTT, O'Meara Campus;
RSSR FC 1 (Ishmael Sawyer 13), Guaya United 1 (Beville Joseph 67) at Hasely Crawford Stadium.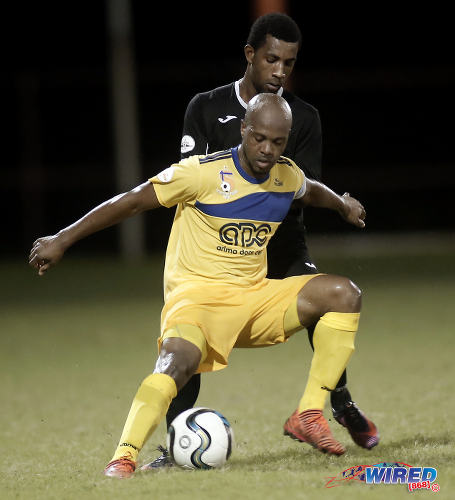 Upcoming Fixtures 
(Saturday 4 August)
Guaya United vs QPCC, 5pm, Guaya Recreation Grd;
San F'do Giants vs Petit Valley/Diego Martin United, 4pm, St Margaret's Recreation Grd;
(Sunday 5 August)
Prisons FC vs FC Santa Rosa, 3:30pm, YTC, Arouca;
Police FC vs Club Sando FC, 4pm, St James Barracks;
Cunupia FC vs UTT, 4pm, Larry Gomes Stadium;
Bethel United vs Matura ReUnited FC, 6pm, Mt Pleasant Recreation Grd;
Metal X Erin FC vs RSSR FC, 6pm, Erin Recreation Grd.