Pre-tournament favourites, Brazil, secured their first win of the Russia 2018 World Cup this afternoon and there was a goal for gifted talisman, Neymar, too, as the South American giants shot down Costa Rica 2-0 in St Petersburg.
The result left the "Samba Boys" requiring only a draw against Serbia in Moscow to advance from Group E next Wednesday. But it was not a vintage performance from Brazil or Neymar.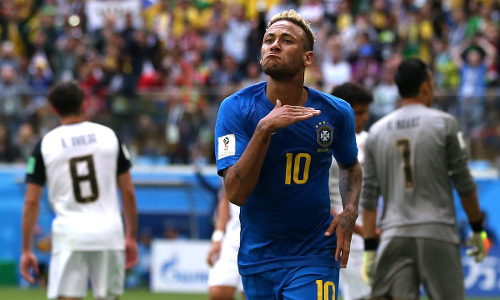 Brazilian fans have prayed for a Captain Incredible performance from their magical number 10. Today, Neymar closer resembled tempestuous toddler, "Jack-Jack", as he flopped, fussed and pouted before coach, Tite, sent substitute Douglas Costa on with a pacifier.
Tite said beforehand that the PSG star would probably need until the final group match to regain his best form, after a lengthy injury-enforced lay off. Brazil fans would hope the coach is right, with the group heading for cagey showdown.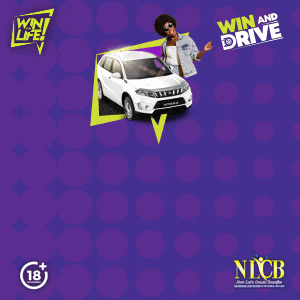 Switzerland put themselves in a great position to advance from Group E with a 2-1 win over Serbia at Kalinigrad—in the first come from behind triumph of the tournament. The Swiss need only a draw against the already eliminated Costa Rica to advance to the knockout stages now. Serbia, in contrast, are in a must-win scenario against Brazil.
The contest between Switzerland and Serbia was played in a politically charged atmosphere due to a third party, Kosovo, which declared its independence from Serbia in 2008 and remains disputed territory.
Switzerland is home to over 300,000 Kosovan expats including Swiss midfielders Valon Behrami and Xherdan Shaqiri while Granit Xhaka's parents were born in Kosovo.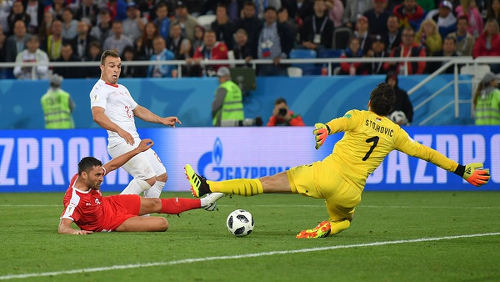 In the build-up to the Russia World Cup, Shaqiri—unflatteringly coined the "Magic Dwarf" in his adopted homeland—displayed an image of the Kosovo and Switzerland flags stitched into his boots on Instagram. Serbia forward Aleksandar Mitrovic was unimpressed.
"If he loves Kosovo so much and decides to flaunt the flag, why did he refuse a chance to play for their team?" asked Mitrovic, who over-simplified Shaqiri's choice of national team.
Mitrovic got the first word in today, as he opened the scoring with a majestic header off a Dusan Tadic cross in the fifth minute. But Xhaka and Shaqiri had the final say with stunning second half strikes, which would have been celebrated across two countries.
And speaking of two countries being invested in a result, if Argentine fans looked a bit green today, it had more to do with their newfound appreciation for Nigeria's "Super Eagles" than the unsettling performances of their own heroes.
And Nigeria did not disappoint, as they melted Iceland's resolve with a 2-0 win in Volgograd that blew Group E wide open. Spritely forward Ahmed Musa did the damage with a classy double, which automatically made him Argentina's best player of the World Cup so far.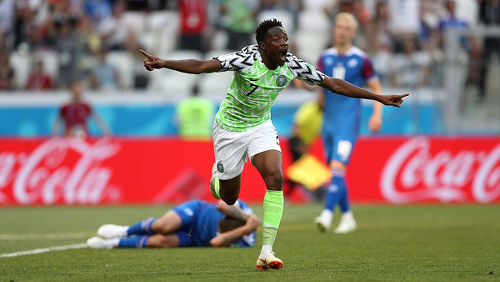 The result gives the Africans a great chance of advancing to the Round of 16. Or, in an alternative storyline, sets Messi back on a magical path to fulfil his destiny in a World Cup.
In Lord of the Rings, Frodo's mission was to destroy the One Ring. Presumably, Messi's quest is to get the legend of Diego Maradona from off his back.
Musa, mind you, scored twice when Nigeria and Argentina met four years ago. And chances are he is looking forward to next week's contest as much as anyone on the opposing side. God knows Musa's face must have lit up when he caught sight of Argentina's silly, shaven Willy yesterday.
Musa, who is on loan from England's Leicester City to Russia's CSKA Moscow, was one of four changes in Nigeria's starting team today, as German coach Rohr Gernot rejigged their tactical shape and urged captain John Obi Mikel and attacker Victor Moses to fill in as a holding midfielder and right wing back respectively—roles that they play for their respective clubs.
"It was not easy to convince them but in the end they did it well," said Gernot.
If there were some creative tensions in the Nigeria dressing room, it is like an episode of "Survivor" in the Argentine camp.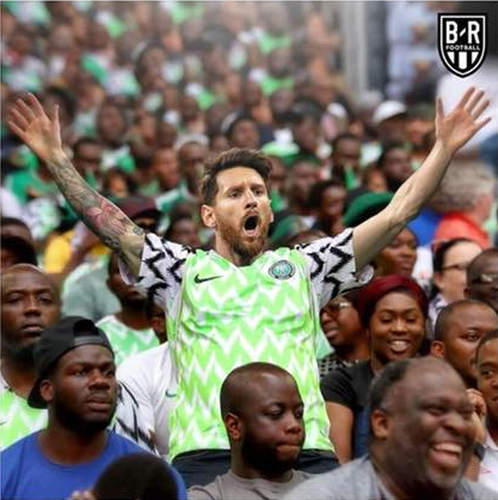 After their humiliating 3-0 loss to Croatia, Argentine star forward Sergio Aguero was dismissive of coach Jorge Sampaoli while media reports suggest their players would quite like their coach to check out of the team camp and find lodgings in Serbia instead.
Be honest, if someone said beforehand that Tuesday's showdown featured one team with loads of ability but bereft of defensive organisation, full of underperforming stars, cursed with a corrupt, incompetent FA and led by a coach who did not grasp the squad's culture. And the other side was tactically disciplined, well-balanced and inspired by a skilful, decisive forward who could settle a match in a flash.
Well, which description would you assume better suited either of Argentina and Nigeria?
Brazil have had a serene time in comparison. Yet their own number 10, Neymar, continues to lie somewhere between the two extreme examples of red-hot Cristiano Ronaldo and the misfiring Messi.
If Neymar did not embarrass himself with his theatrics—Mr Live Wire thinks that boat left the port long ago—he surely prompted millions in yellow shirts to momentarily lower their heads, after Dutch referee Bjorn Kuipers reversed a decision to award the attacker a penalty following VAR's evidence of a con job.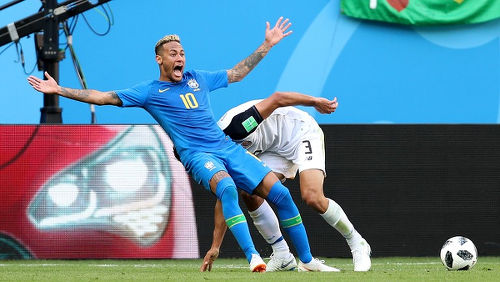 Far from chastened, Neymar spent the next 10 minutes or so insulting opponents and screaming at the match official, who finally booked him for one petulant outburst too far. At 26, Neymar, the Brazilian wonder boy who would not grow up, is in danger of becoming the new Peter Pan rather than the next Pelé.
No matter. For the second straight match, midfield ace Philippe Coutinho deputised admirably, as he finished off a flowing move involving forwards Firminho and Jesus in the 91st minute. And lively substitute, Costa, teed up Neymar for an insurance item in the 97th minute, which put the match to rest.
It was a touch unconvincing but the Samba Boys are in second gear now. Germany, who also forgot to check in their baggage before arriving in Russia, would hope to follow suit tomorrow.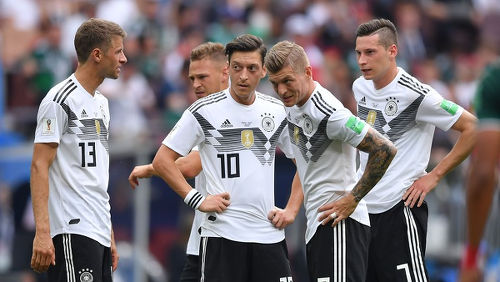 2018 World Cup
Group Stage
Today's results
(Friday 22 June)
Brazil 2 (Philippe Coutinho 91, Neymar 97), Costa Rica 0, Group E, St Petersburg;
Nigeria 2 (Ahmed Musa 49, 75), Iceland 0, Group D, Volgograd;
*—Gylfi Sigurdsson skied penalty in 80th minute
Serbia 1 (Aleksandar Mitrovic 5), Switzerland 2 (Granit Xhaka 53, Xherdan Shaqiri 89), Group E, Kalinigrad.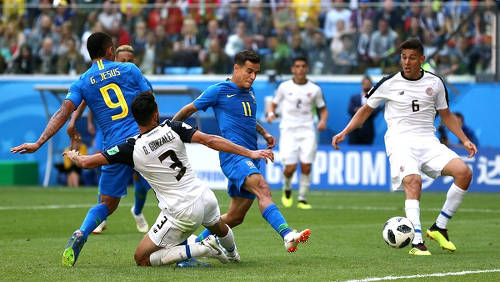 Tomorrow's fixtures
(Saturday 23 June)
Belgium v Tunisia, 8am, Group G, Moscow;
Korea Rep v Mexico, 11am, Group F, Rostov-On-Don;
Germany v Sweden, 2pm, Group F, Sochi.