Corporal punishment, evidently, is not illegal in Russia.
Lionel Messi's Argentina endured a hell of a caning in Nizhny Nivgorod this evening, as Croatia dismantled the South American hopefuls 3-0 in La Albiceleste's worst World Cup group stage loss in 60 years.
How bad was it? Mr Live Wire thinks the highlights for that Group D contest should come with a parental guidance warning.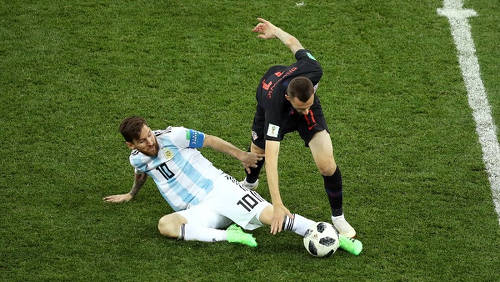 For Croatia, it meant safe passage through to the knockout stage and they will almost certainly top the group as well, which means a clash with either Denmark or Australia in the Round of 16.
The Group D runner up spot can be wrapped up by lunchtime tomorrow if Iceland pull off a win against Nigeria. A draw or Nigeria win would leave both teams as well as Argentina still in the hunt to progress, when they kick off their final group matches next Tuesday.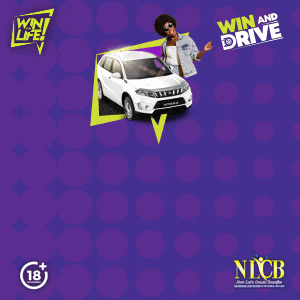 Australia, led by the majestically-bearded Mile Jedinak, are still in the running to emerge from Group C but it is a tall order, after they clawed back to hold Denmark 1-1 in Samara.
The 'Aussies' must now defeat Peru next Tuesday and hope that France beat Denmark by more than a solitary goal. They can afford to take neither outcome for granted.
A gem of a left footed strike by Danish maestro Christian Eriksen put the Aussies on the back foot after just seven minutes. However, a controversial VAR decision gave the men from 'Down Under' a second life—opposing midfielder Yussuf Poulsen was punished for not leaving his arms in the dressing room as an effort cannoned into him.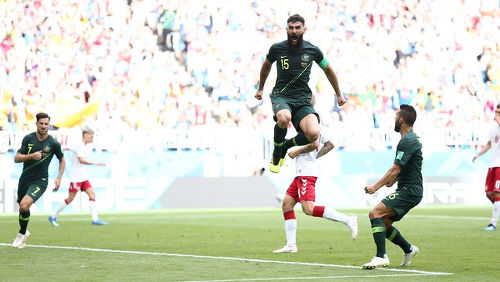 Jedinak has never missed a penalty in an organised football match and he was not about to break that habit today, as he coolly stroked home what was  his 15th goal from the spot for club and country.
In the second Group C fixture, France purred into second gear with an improved showing against Peru, as they emerged 1-0 winners in Ekaterinburg. Nineteen year old PSG attacker Kylian Mbappe capped a confident showing with an opportunistic finish in the 34th minute; and, in the process, became his country's youngest ever goal scorer—as he shaved a year off the previous mark set by former star, David Trezeguet.
Mbappe, whose father is from Cameroon and mother is Algerian, joined a select group of teenaged World Cup goal scorers, which also includes iconic Brazilian, Pelé, and Argentine jewel, Messi.
Boy, could Messi have done with that goal today.
Four years ago, then Argentina coach Alejandro Sabella realised that the talent within his camp was not as impressive as many thought and opted for a solid backline that relied on an often isolated Messi to pull rabbits out of his hat.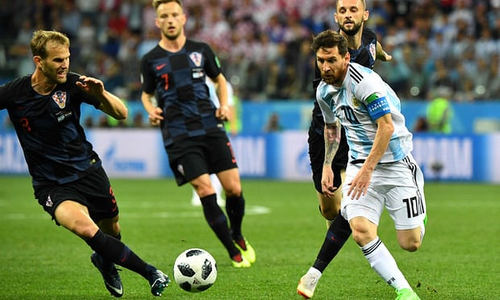 Current boss Jorge Sampaoli choose the opposite approach, as he encouraged as many players as possible to join the Barcelona crack at the opposite end, with the hope of getting on the right side of open contests.
And, well, let's just say that Argentina fans might not have to worry about losing at another tournament final in Russia.
Before kick off, Argentina idol Diego Maradona warned Sampaoli that he could not return home if they lost again. And Sampaoli, who stalked the touchline constantly, looked a bundle of nerves throughout.
And who wouldn't be nervous when the lynchpin of your defence is just a red nose away from being a circus act?
It was an even contest—with Argentina enjoying more of the ball—until calamitous custodian Willy Caballero inexplicably tried to chip a pass over the head of Croatia midfielder Ante Rebic and, instead, presented him with a gift in the 53rd minute. And Rebic responded with a smashing volley.
It was the 24 year old Croat's second ever international goal with his last coming five years ago in a friendly against Liechtenstein—ranked 180 in the world. He must be crossing his fingers that he won't have to wait another five years to meet Liechtenstein. Or Willy.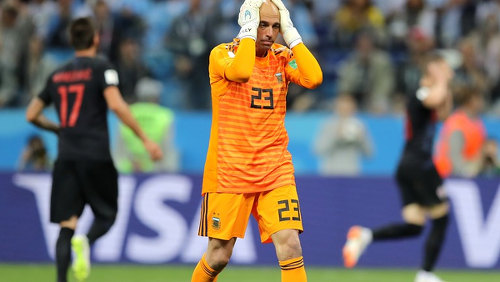 Caballero put his head in his hands. Presumably, he dropped that too.
Messi—who seemed to spend the first hour walking around the field pondering the likelihood of life in Mars, the widening economic gap facing the world's working class and whether his ten butlers needed an Uber to get him the ball—finally came alive and had one effort blocked at the goal line by opposing midfielder Ivan Rakitic.
To be fair, "came alive" might be generous—even a corpse twitches. Easy to forget that Argentina would not be in Russia at all but for a last gasp Messi hattrick that defied the altitude of Quito in Ecuador.
Croatia were in control now, as Argentina lost composure and looked increasingly like a side promoted to their level of incompetence.
Sampaoli, who had stripped off his jacket by then, sent on Gonzalo Higuain for Sergio Aguero, which posed the inevitable riddle: if Higuain is then answer, then what exactly is the question?
Modric, a man who could presumably keep his balance in an earthquake, doubled Croatia's advantage in the 81st minute with a beautiful effort from distance that again showed up Caballero's lack of athleticism. And Rakitic made it three in stoppage time, after the Argentine custodian spilled his initial shot.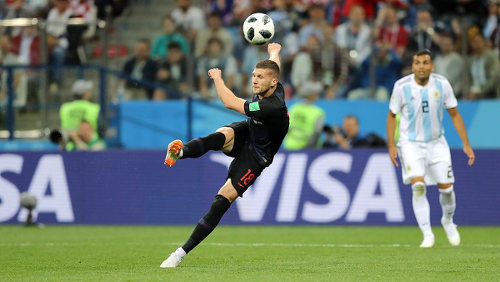 The camera did not pan to Sampaoli and Mr Live Wire can only assume he was down to his underwear by then.
Willy dead. And, presumably, so is Argentina's chance of getting to the knockout stage, as the Russia World Cup is on the verge of its first high profile exit.
Colombia defender Carlos Sanchez received death threats after receiving a red card for a ridiculous handled ball in his country's opening 2-1 Group H loss to Japan on Tuesday. Messi will not come off as badly, although he can expect to be memed within an inch of his life.
Thus far, Russia has belonged to his Portuguese and Real Madrid rival, Cristiano Ronaldo.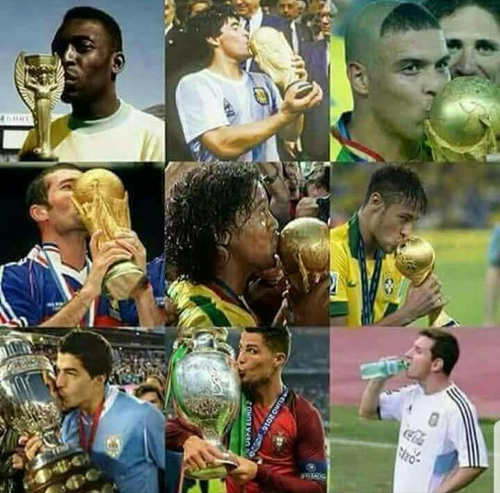 2018 World Cup
Group Stage
Today's results
(Thursday 21 June)
Denmark 1 (Christian Eriksen 7), Australia 1 (Mile Jedinak 39 pen), Group C, Samara;
France 1 (Kylian Mbappe 34), Peru 0, Group C, Ekaterinburg;
Argentina 0, Croatia 3 (Ante Rebic 53, Luka Modric 81, Rakitic 91), Group D, Nizhny Nivgorod.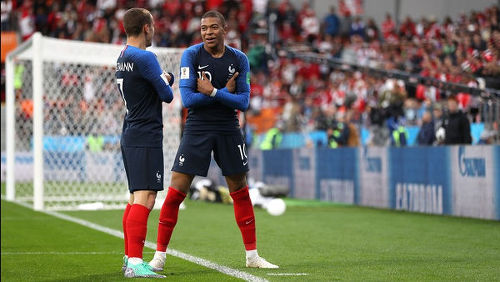 Tomorrow's fixtures
(Friday 22 June)
Brazil v Costa Rica, 8am, Group E, St Petersburg;
Nigeria v Iceland, 11am, Group D, Volgograd;
Serbia v Switzerland, 2pm, Group E, Kalinigrad.