Stay in yuh lane, hoss!
England sprinter Zharnel Hughes' flailing paw became the most controversial outstretched hand in the country since former Sport Minister Darryl Smith used then communication specialist Kate Balthazar's "bam bam" for an arm's rest.
But even a hand to his face could not stop "The Dream", as Point Fortin sprinter Jereem Richards kept his composure to take gold in the 200 metre final today at the Carrara Stadium in the Gold Coast 2018 Commonwealth Games.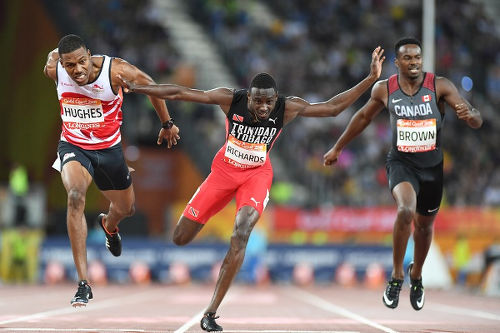 After a video review of the controversial incident led to Hughes' disqualification—the Englishman was initially adjudged the winner, although both finished in a time of 20.12—Richards held up a handwritten note, which read: "I can do all things through Christ who gives me strength!!!"
And it is just as well that Jesus knows his way around video technology. But if Denise Belfon was running in lane four and Destra had tried a similar piece of bacchanal "normal normal"…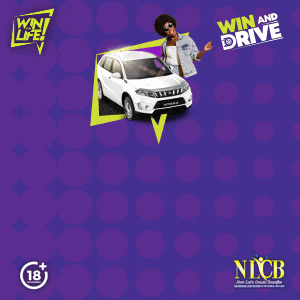 Well, let's just say track officials might have had to do that gold medal in presentation in "Saucy Wow's" cell block.
And speaking of feisty ladies, track sources confirmed tonight that recently minted 100 metre women's champion, Michelle-Lee Ahye, will not compete in Saturday morning's 4×100 final—a decision likely to severely dent our medal hopes, after the euphoria of managing three finalists in the individual event.
Ahye claimed, belatedly, that her American coach advised her to skip the relays; but her snide swipe at 20 year old teammate, Khalifa St Fort, earlier this week, spoke volumes.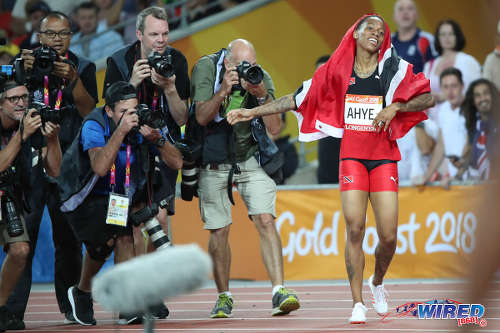 "I definitely won't be running the relay since 'home girl' is future of female track, my main focus for the commonwealth games is my individual event," Ahye told Trinidad Express reporter Kwame Laurence, earlier this week.
Ahye's decision to go 'full Kunti' in the middle of the Commonwealth Games is unlikely to go down well back in her homeland. But then isn't it quintessentially Trini? Like a public servant stepping out for lunch on Friday afternoon and returning to work on Monday morning?
To be fair, Ahye's stance did owe much to provocation, following an unseemly, passive-aggressive pre-Games exchange with former track star-turned-coach Ato Boldon.
Boldon had let rip at the NAAA for its bizarre omission of his athlete, St Fort, from the competition—a decision that seems even sillier now that the young sprinter was Trinidad and Tobago's second fastest women's runner in Australia.
While Boldon had a strong case to suggest that 'Whiz Khalifa' is the future of track, there was definitely a lane violation when he went on to say that she was left out for some "lane fillers."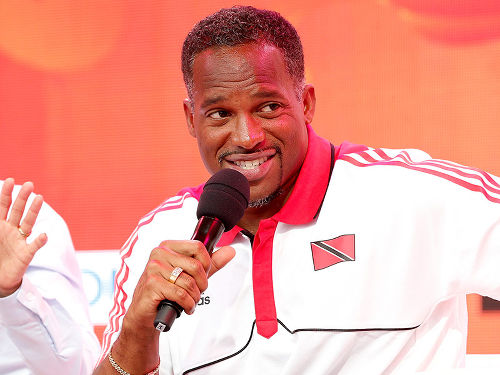 Boldon later insisted that he was not referring to Ahye but, once the 25 year old athlete took him on, the 44 year old four-time Olympic medalist retorted with: "If you worried as much about podiums as much as you do about unprovoked shots at younger teammates, you MIGHT actually win something in this lifetime."
It might take Boldon some time to get the taste of his Adidas footwear from his mouth. Ahye has her gold medal now. And she won't help St Fort get one.
Forget 'Billions' and give the 'Speed Sisters of T&T' their own Netflix series!
Elsewhere in table tennis, the immediate future looks far brighter, as 19 year old Aaron Wilson was the only player to advance to the Round of 32 while he teamed up with Yuvraaj Dookram to get as far as the Round of 16 in the men's doubles.
Trinidad and Tobago Table Tennis Association (TTTTA) president Ian Joseph and general secretary Aleena Edwards would probably see Wilson's relative success as justification for pushing so hard to send him—although the process was about as dodgy as the Ocean Flower tender.
It took a TTOC intervention to ensure that Wilson and Dookram got to Australia at all, after the High Court and Court of Appeal ruled that the table tennis body had transgressed against iconic players, Dexter St Louis and Rheann Chung, who were, initially, unceremoniously dumped for the competition.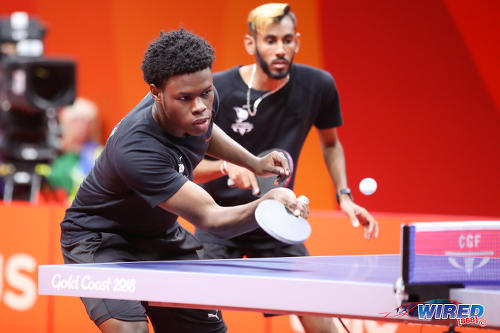 St Louis, 50, and Chung, 32, both tallied victories in the Gold Coast too. But they did not get as far in the individual or mixed doubles event.
At least Joseph will have fond memories of the Commonwealth Games to hold on to when the TTTTA's ill-advised case against the star duo leads the NSO to the brink of bankruptcy in a month or two.
Elsewhere in the women's 400m hurdles and 200m sprint respectively, Sparkle McKnight and Semoy Hackett did well enough to earn their places among the top eight athletes in the commonwealth. But, once in the final, both had to settle for seventh spot.
Kyle Greaux was sixth in the men's 200 metres final as well and would take consolation in beating Jamaica's only finalist, Warren Weir, to the finish line.
Has Jamaica run out of yam and dumplings? Or has the rest of the world has lost its fear of the "Black, Gold and Green" since a certain Usain Bolt called it a day?
There will be a familiar face in the women's shot put final from 6:40am tomorrow, as 39 year old Cleopatra Borel aims to remind the world of what she can do with a iron ball in grip.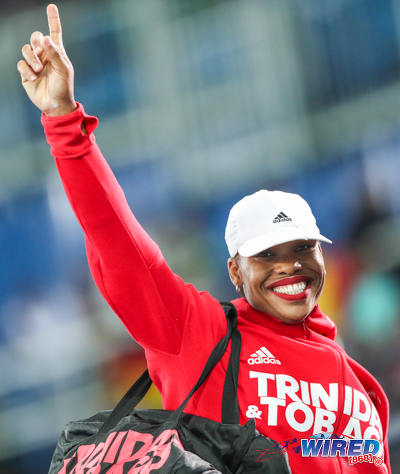 Two years ago, couch critics who could barely toss the remote suggested that Borel, a two-time Commonwealth Games medalist, ought to be put out to pasture. Yet 16 years after her first appearance in this prestigious event—she was fourth at the Manchester 2002 Games—here comes that ballsy lady again; with enough metal to exchange grunts with the very best in her field.
In years to come, Cleo's resilience, longevity and sustained success will see her hailed as one of Trinidad and Tobago's greatest female athletes of all time. And maybe she would share her secret in ignoring the indifference and flippant disdain from compatriots who will fight over each other to get to her bandwagon, if she succeeds tomorrow.
Too bad she could not convince Ahye to borrow a page from her book and limit her battles to on the field of play.
Say what. At least sport fans got to spend the day in "Dreamland", courtesy of a battling performance—190 metres of running and 10 metres of judo—by our new King of the Track, Jereem Richards.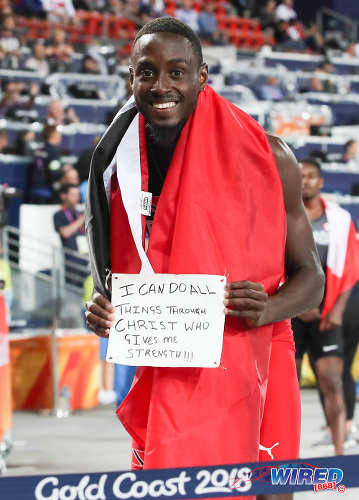 Editor's Note: Trinidad and Tobago will compete in the men's 4×400 metre finals on Saturday but not in the 4×100 men's final, after the relay quartet was disqualified in the shorter event.