W Connection captured their fifth Trinidad and Tobago Football Association (TTFA) FA Trophy title last night when they defeated Police FC by a 3-1 margin at the Ato Boldon Stadium in Couva.
A predatory double strike by veteran skipper Hughtun Hector was enough to get the job done for Connection, runners-up in the recently concluded TT Pro League behind a revamped North East Stars outfit, and earn them the TT$100,000 prize.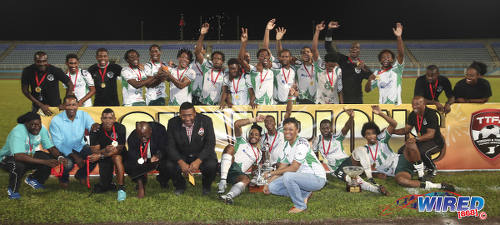 The wily Hector operated as a "false 9" for the "Savonetta Boys" and, although he wasn't slugging it out in aerial duels with Police defenders Ryan O'Neil and Jibri McDavid, the Connection skipper sparkled with his movement and his ability to dictate the terms of the game.
Constantly interchanging and connecting seamlessly with the attacking trio of Dimitrie Apai, Neil Benjamin, Jr and Marcus "Lobo" Joseph, Hector made it very difficult all evening for the Lawmen to keep tabs on him. Fittingly, Hector capped off the game in second-half stoppage time with a header at the back post after Benjamin, Jr tore down the right wing and delivered an inch-perfect cross.
On Wednesday, Connection assistant coach Earl Jean had warned the Lawmen that the relationship changes once the players are on the field. And although, in the 76th minute, Police substitute Kareem Perry nearly took things into his own hands when he swung a retaliatory kick—he missed—at defender Triston Hodge, for the most of the affair Connection were the ones laying down the law.

"I'm just happy because they have sacrificed so much for the season," Jean told Wired868. "They wanted this one and we wanted them to win it because we had not won it for a while. […] When they cross the white lines, that's when the battle starts and that's what I'm happy about."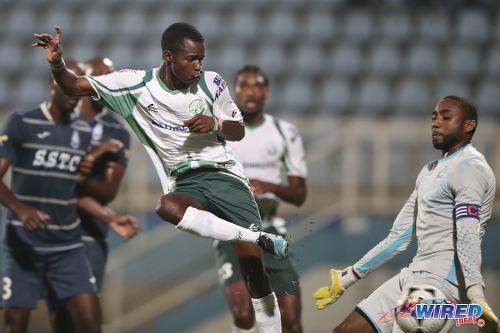 Although Connection went into the half with a 2-0 lead, courtesy goals from Hector and nippy Suriname attacker Apai, they had had to keep their wits about them early on owing to some probing attacking by Police. The Lawmen's early raids on the Connection goal didn't quite match the scale or the degree of force used in the lockdown on Beetham Gardens two weeks ago, but midfielder Kaashif Thomas and attackers Kareem Freitas and Keion Wilson were repeatedly knocking on goalkeeper Julani Archibald's door.
In the fifth minute, Freitas sent an instinctive right-footed effort overbars from inside the area and, in the 21st, Thomas headed just wide after receiving a Clevon McFee sent in a lovely cross from the right.
"I thought we started off pretty well and we were putting them under pressure," said Richard Hood, Police's coach. "I think the game swung when they scored the first goal."
Before the diminutive Apai contrived to tap in a corner kick from right under goalkeeper Adrian Foncette's nose in the 32nd minute, the Savonetta Boys needed to do make a kit adjustment. There was no wardrobe malfunction but Connection opted to switch to white tops during the first half since their dark green kit somehow created confusion with Police's blue.
It might have had nothing to do with the kit stop but Connection were definitely a different unit afterwards.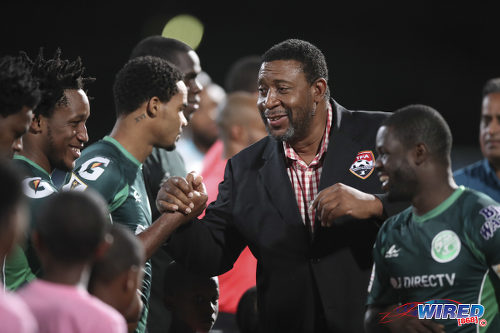 Foncette and his defenders seemed to be on another planet or at least not on duty when Apai opened the scoring, turning in a Joseph corner from no more than two yards out.
"We had a lapse in concentration for the first goal and the people at the first post didn't do their jobs," said a perplexed Hood. "I think that's the first goal we conceded from a corner for the year because we are usually very organised there."
In the 41st minute, Police nearly conceded from another Lobo corner and only an acrobatic goal-line clearance by O'Neil spared Foncette's the blushes after the shot-stopper somehow spilled the set piece.
Perhaps still mystified by their failure to deal with Lobo's in-swinging corners or anticipating referee Crystal Sobers' whistle, Police conceded in first-half stoppage time. Lobo was again the provider, the former Point Fortin Civic stand-out using his left boot to devastating effect to drill a cross in along the carpet for the gleeful Hector to slide home at the back post.
Having won the First Citizens Cup earlier in the season, the Savonetta Boys were sensing the capture of their second piece of 2017 silverware—and their first FA Trophy triumph since the 2013/14 campaign.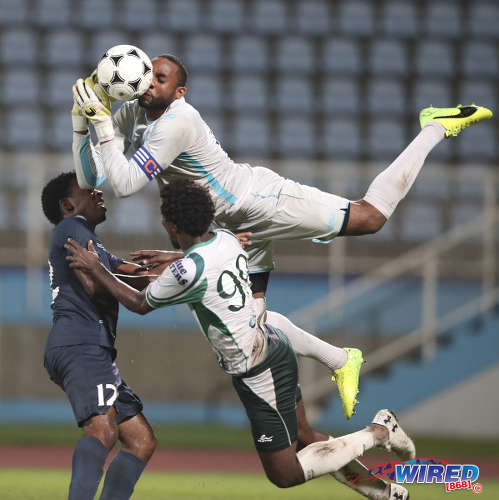 "They have won two trophies [this season] and we wanted to win the League," Jean said. "We came second in the League and it was disappointing but we have to keep working with the young squad we have and we will just try to maintain what we are doing, our consistency."
Despite their 2-0 lead and being able to call on Hector's creativity, Joseph's guile and the pace of Apai and Benjamin Jr, Jean was wary of the never-say-die Police.
"We played two games against them in the League and we lost one and won one," Jean told Wired868. "They were very difficult games when we played them so we didn't want to take them for granted. […] They came back in the game because that's how policemen are; they have that fight in them."
That Police fightback was led by the Perry brothers—albeit with different approaches.
The talented duo started on the bench, Kareem entering the field of play in the 58th minute and the lanky Jameel strolling on in the 66th.
Within moments of his entry, Jameel had scored. Holding off his marker, he buried a low left-footer in the net from just outside the area in the 68th minute. Meanwhile, Kareem lasted all of 18 minutes on the pitch, swinging wildly in the direction of Hodge after being fouled by the "Soca Warriors" defender near the halfway line. And almost comically, both players dropped to the ground in a heap.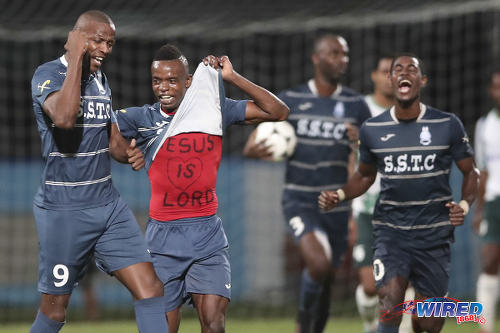 Sobers awarded a free kick to Police and Kareem saw red. It gave him ample time to think about his total policing tactics while he made his solemn way along the Ato Boldon track before heading to face his teammates.
"Even at 2-o down, I thought we were capable of getting back into the game," Hood said. "Änd we did get back into the game through Jameel. But the red card killed it and that was it basically. We were always chasing the game from there and we left ourselves exposed."
In the 90th minute, with the trophy seemingly headed irreversibly Connection's way, another Police substitute in Joshua Leach forced a point-blank save from Archibald, conjuring up a brilliant scissors-kick attempt.
Jean explained that there were no jitters in the Connection camp, explaining that the main thing was for the players to remain focused and compact.
They did and they even contrived to bounce back from the Leach scare to put the game to bed.
Thomas surrendered possession near the halfway line and Benjamin, Jr was off to the races. The Connection speedster, who made his Trinidad and Tobago Senior Team debut last month, blew past left wing-back Nequan Caruth and took Foncette out of the game with a dinked cross; Hector did the rest with a simple headed finish.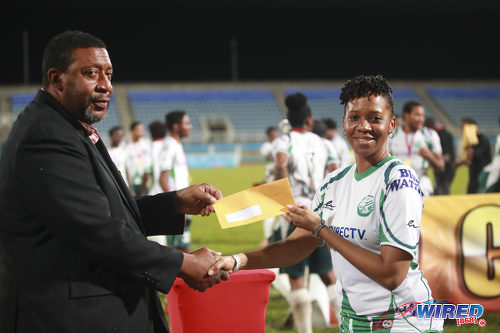 That meant TT$10,000 worth of icing on the Connection cake. But mindful that the Pro League has endured a rough year financially, Connection may not be too eager to blow out the candles on that cake.
"Now, we can go home and get some rest and decide on contracts for next year," Jean said. "It's a tough time now with the finances. We have to make sure we keep the players we want and that we are ready for January."
Police too have some work to do between now and January, still awaiting as they are their first FA Trophy triumph since 1994.
(Teams)
W Connection (4-2-3-1): 18.Julani Archibald (GK); 16.Alvin Jones, 3.Gerard Williams, 4.Maurice Ford, 5.Triston Hodge; 23.Weslie John, 19.Briel Thomas; 7.Neil Benjamin Jr, 99.Marcus Joseph (11.Malik St Prix 85), 10.Dimitrie Apai; 13.Hughtun Hector (captain) (24.Jameel Antoine 90+4).
Unused Substitutes: 1.Terrence Lewis (GK), Euller Silva Couto, 21.Ronnell Paul, 26.Isaiah Garcia, 30.Shaquille John, 37.Cephas St Rose.
Coach: Stuart Charles-Fevrier
Police FC (3-4-3): 18.Adrian Foncette [captain] (GK); 6.Jibri McDavid, 3.Ryan O'Neil, 17.Dexter Alleyne; 29.Clevon McFee (7.Kareem Perry 58 [red card 76]), 25.Kaashif Thomas, 21.Todd Ryan (9.Jameel Perry 66), 12.Nequan Caruth; 10.Kareem Freitas, 32.Keion Wilson (16.Joshua Leach 87), 20.Elijah Belgrave.
Unused Substitutes: 22.Theon Browne (GK), 2.Jasimar Ashers, 4.Kadeem Boyce, 8.Kurdell Brathwaite, 13.Dillon Kirton, 23.Shakuile Williams.
Coach: Richard Hood
Referee: Crystal Sobers
FA Trophy Final MVP: Hughtun Hector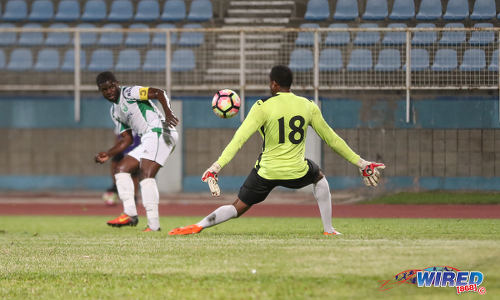 FA Trophy Final
W Connection 3 (Dimitrie Apai 32, Hughtun Hector 45+1, 90+1), Police FC 1 (Jameel Perry 68) at Ato Boldon Stadium.