Dead ball specialists Judah St Louis of Naparima College and Che Benny of St Anthony's College are among the Secondary Schools Football League (SSFL) stand-outs expected to show off their skills on 9 and 10 December respectively.
However, it remains uncertain whether it will be at the Marvin Lee Stadium in Tunapuna or the Mannie Ramjohn Stadium in Marabella, as two competing entities are both advertising All-Star schoolboy matches this weekend.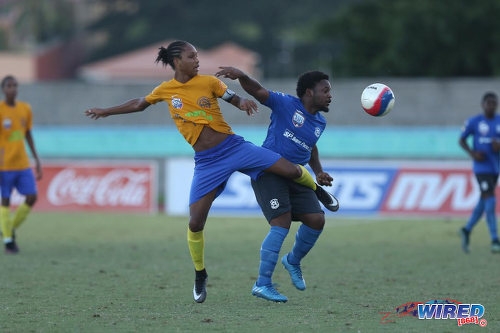 Former Trinidad and Tobago international stand-out and "Field of Dreams" television show host and director Steve David will kick off a  three year partnership with the SSFL on Saturday, which begins with a skills competition for the League's top players.
The climax is a 3pm showdown at Marabella on Sunday between a North team—which also includes the talent from the East and Tobago Zones—and a South squad that also draws talent from the Central Zone. St Anthony's coach Ronald Daniel will lead the North team while Presentation College (San Fernando) coach Shawn Cooper is in charge of the South squad.
However, the Unveil Magazine has a similar schedule with small-sided events on Saturday and an All-Star game—dubbed the "Footy Fest"—from 4pm on Saturday in Macoya.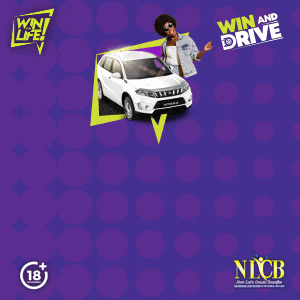 And both entities picked teams that were almost replicas of each other with players such as St Louis, Benny, Levi Fernandez, Judah Garcia, Matthaeus Granger and Derron John featuring on the lists for both events.
So far, Garcia, who skippered Shiva Boys' Hindu College to their maiden National Intercol title on Monday, and Granger, a St Mary's College utility player and North Zone Intercol winner, confirmed their commitment to the SSFL/Field of Dreams event at a press conference on Thursday.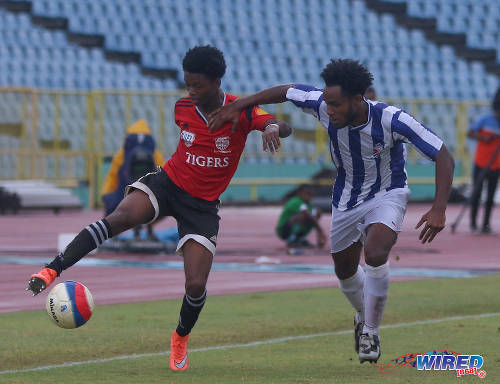 At the other end, Unveil released a promotional video which featured St Louis alongside Queen's Royal College playmaker John-Paul Rochford, Trinity College Moka captain Saleem Henry and St Mary's College holding midfielder Justin Keith.
And, although the St Anthony's coach will be in Marabella, an Unveil source suggested that "Westmoorings Tigers" stars such as Benny, Haile Beckles, Jesse Williams and captain Derron John will all feature in Macoya alongside St Benedict's College left back Mickel Ravello and San Juan North Secondary attacker Brandon Semper.
"Our event is an end of season entertainment event," said the Unveil representative, who spoke on condition of anonymity. "We have this event to assist in the promotion of the SSFL. It's just unfortunate that they decided to partner with somebody else when we had proposed this event to them [before]."
Unveil, according to the source, began promoting their own event three months ago. They declared that their teams—an Unveil 11 and Trump 11—will be coached by recently retired Trinidad and Tobago international football captain Kenwyne Jones and current "Soca Warriors" full back Aubrey David.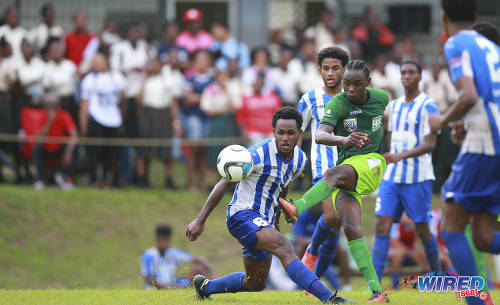 Field of Dreams producer George "Scoreboard" Mathison suggested that their own event would come off with no more than teething problems.
"When we heard about the other event, we left it up to the secondary schools to do what they have to do," Mathison told Wired868. "Indications are that [the SSFL] sent letters to the school endorsing the Field of Dreams event and we just left it there.
"Maybe next year all the parties can come together and maybe take different dates, because in the end the bottom line is all about football. […] We didn't come here to fight anybody or anything. If all sides could help the young footballers, it's welcomed."
SSFL president William Wallace expressed a desire to work with Unveil and Field of Dreams going forward.
"When we learned of the date for Unveil's event, Field of Dreams had already proposed the 9 and 10 December dates to us," said Wallace.
The SSFL president explained that a bevy of foreign coaches invited to scout players at the event had already committed to the date set by Field of Dreams and David did not want to reschedule.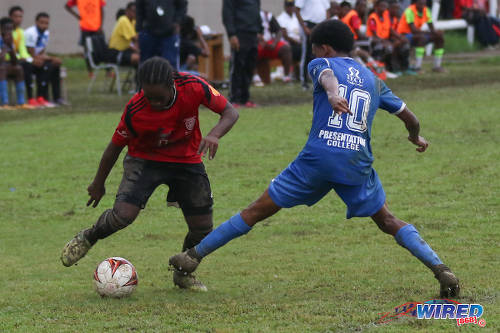 "We are not competing with the boys," said Wallace. "Unveil is willing to work with us and we are all working towards the same goal."
David, a former North American Soccer League (NASL) star, believes the All-Star event could help to revitalise youth football in Trinidad and Tobago and expects their venture to grow from strength to strength.
"We have no big financial sponsors for this event but Field of Dreams took it head on and we decided that we would do the best we can," said David. "We got the opportunity to host the event kinda late […] a couple months late, and so we couldn't go out and find the sponsors we needed to make it happen [like we would have liked]."
At present, Coca-Cola, KFC and the Sport Company of Trinidad and Tobago (SporTT) have already been announced as partners for the Field of Dreams event. The match will be broadcasted delayed on ACTN (Acts 25 TV) at an unspecified time next week.
David said US collegiate coaches will appreciate seeing the SSFL players in a combine-like environment. On Saturday, the day's schedule features a 60-metre dash, a juggling competition and one-on-one sequences against goalkeepers.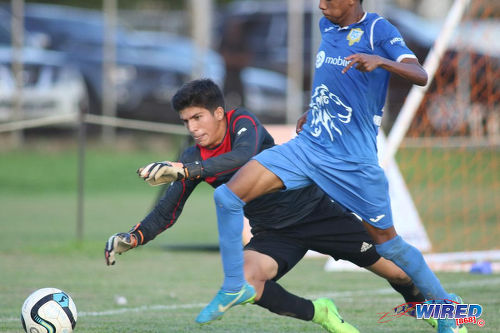 Gilbert Bateau, North's assistant coach in Sunday's showdown, is optimistic about the venture.
"This is what the football fraternity needs," said Bateau.
It is uncertain what the "Sister Isle" makes of the affair, though, as both Tobago players selected for the All-Star game—Signal Hill's Akil Frank and Speyside High's Kerri McDonald—were subsequently ruled out, owing to what Bateau dubbed "financial constraints."
Speyside coach Kerry Lynch told Wired868 that neither he nor McDonald was contacted to take part. Lynch insisted that McDonald was very interested in participating but only learned of his All-Star selection through the press.
Lynch urged SSFL administrators or the North All-Star coaches to contact him urgently if they do want McDonald—who resides in Charlotteville, Tobago—to be a part of Sunday's proceedings in Marabella.
There seemed to be some uncertainty as to who was responsible for handling the travel for the Tobago players.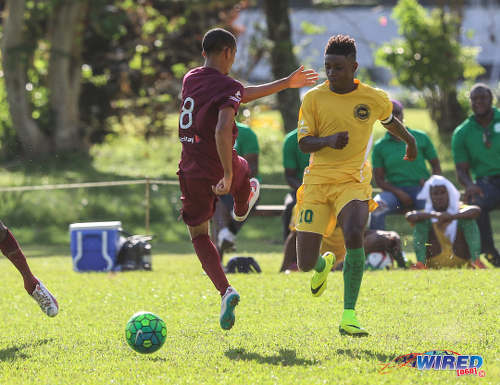 Wallace suggested that the inclusion of the Tobago players was entirely up to the North All-Star team's coaching staff while Daniel, the North head coach, said the SSFL administrators or Field of Dreams personnel should have made proper arrangements for McDonald and Frank beforehand.
In the confusion, Unveil booked Frank for their event and the talented Signal Hill captain will spend the weekend by relatives in Trinidad.
"Nobody from the SSFL contacted me," said Frank. "Unveil contacted me and purchased [my] plane tickets."
Bateau admitted that they had some issues with training sessions as several players from their initial shortlist expressed a desire to play in the Footy Fest instead.
As a result, North summoned San Juan North midfielder Lukeman Brooks, St Augustine Secondary midfielder Rivaldo Coryot, Trinity College East attacker Nickel Orr and St Anthony's College forward Jaydon Prowell to boost their numbers.
Daniel confirmed that San Juan North forward Renaldo Boyce, St Mary's midfielder Gabriel Nanton, Trinity College East goalkeeper Emmanuel John and Fatima's Araujo-Wilson brothers—Justin and Joshua—should also feature for North.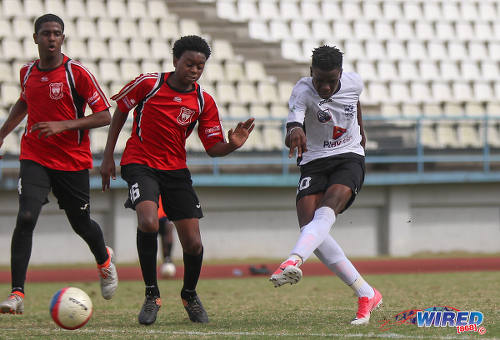 The South squad will have a strong spine from Shiva Boys' Hindu College with a whopping 10 players from the 2017 National Intercol champions. It outnumbered even the Presentation College contingent, which boosted seven players from the Premier Division champions.
And, with the likes of Presentation winger Jordan Riley and the Shiva Boys duo of Tyrel "Pappy" Emmanuel and Garcia expected to feature in Marabella, Mathison is confident that their event will be a success. Admission is free on both days in Marabella.
"We are going to sit down after this tournament and see what's going to change," said Mathison, who hinted that a Girls All-Star Game is already under consideration. "But next year we know it will be bigger and brighter because we are going full out next year…"
Unveil are optimistic about the Footy Fest as well and their two-day event received endorsements from the Soca Warriors trio of Sheldon Bateau, Mekeil Williams and Jan-Michael Williams on social media.
Between Macoya and Marabella, there will be a lot of schoolboy talent on show this weekend.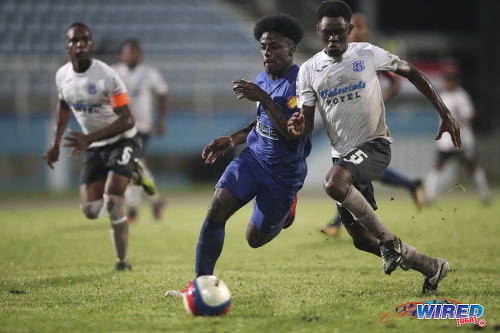 South All-Star team (Final)
Goalkeepers: Levi Fernandez (Naparima College) Denzil Smith (Shiva Boys' Hindu College);
Defenders: Mylz Barrington, Shirwin Noel (both Presentation College, San Fernando), Matthew Beal, Jabari Graham, Yohannes Richardson (all Shiva Boys' Hindu College);
Midfielders: Darnell Hospedales, Jerrin Jackie, Jordan Riley (all Presentation College, San Fernando), Tyrel Emmanuel, Judah Garcia, Kierron Mason, Quinn Rodney (all Shiva Boys' Hindu College), Josiah King (Carapichaima East Secondary);
Forwards: Keon Boney (St Benedict's College), Junior Asson, Tyrell Baptiste (both Shiva Boys' Hindu College).
Reserves: Theophilus Bourne (Carapichaima East Secondary), Ackeel Jacob (Presentation College, San Fernando).
Coach: Shawn Cooper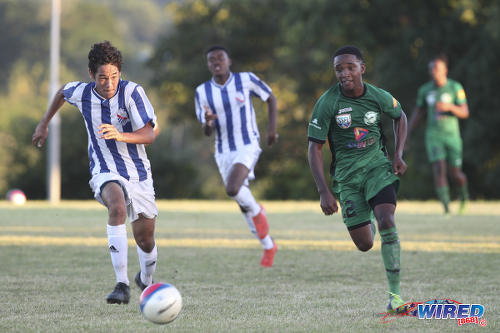 North All-Star Team (Provisional)
Goalkeepers: Hezron D'Abreau (Valencia Secondary), Regaleo Holder (St Mary's College), Emmanuel John (Trinity College East);
Defenders: Joshua Araujo-Wilson (Fatima College), Matthaeus Granger (St Mary's College), Derron John, Jesse Williams (both St Anthony's College), Giovanni Lewis (Valencia Secondary), Anfernee Stokes (QRC), Kyle Thomas (San Juan North Secondary);
Midfielders: Tyrese Bailey, Haile Beckles, Che Benny (all St Anthony's College), Lukeman Brooks, Nathaniel Perouse (both San Juan North Secondary), Rivaldo Coryot (St Augustine Secondary), Saleem Henry (Trinity College Moka), Gabriel Nanton, Tyrese Spicer (both St Mary's College), Nickel Orr (Trinity College East);
Forwards: Justin Wilson-Araujo (Fatima College), Renaldo Boyce, Brandon Semper (both San Juan North Secondary) Devon Charles (St Mary's College), Kishon Hackshaw (Trinity College East), Jaydon Prowell (St Anthony's College), Anthony Samuel (St Augustine Secondary).
Coach: Ronald Daniel