Defending champions Shiva Boys Hindu College will be relegated from the Secondary Schools Football League (SSFL) Premier Division at the end of the 2017 season, after their latest alleged administrative failing left the "Penal Princes" adrift at the bottom of the 15 team standings.
After hearings at Carapichaima East Secondary yesterday, the SSFL's Disciplinary and Appeals Committees ruled that Shiva Boys be docked a combined total of 14 points for failing to properly register two players, central midfielder Kierron Mason and left-back Matthew Beal.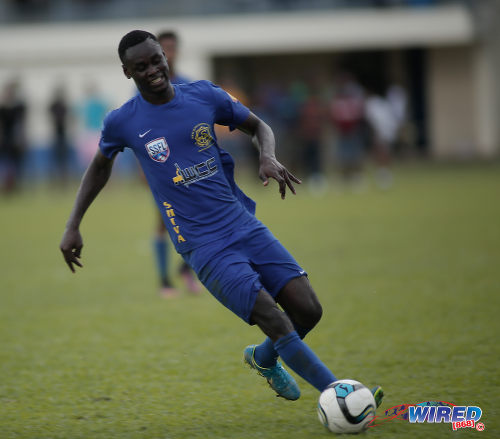 The ruling means Shiva Boys plunge from fourth place to last with a total of just nine points; and they have no chance of avoiding relegation on the closing day of the season tomorrow.
The beneficiaries near the foot of the table are Trinity College Moka and St Benedict's College, who will both avoid the drop now. At the top of the table, meanwhile, Presentation College (San Fernando) go two points clear after their 3-0 on-the-field loss to Shiva Boys on 14 October became a 3-0 triumph in the boardroom.
Ironically, all three teams with a chance to clinch the title on Saturday—Presentation, St Anthony's College and Naparima College—all benefitted from protests against Shiva Boys. The defending champions had defeated "Naps" and "Pres" and drawn 2-2 with the "Westmoorings Tigers."

Today's boardroom ruling centred on a Trinidad and Tobago Super League (TTSL) outing by Mason for Marabella Family Crisis Centre on Saturday 2 September; and a Southern Football Association (SFA) match played by Beal for Siparia Angels on the same day, which was 48 hours after the deadline for SSFL players to stop participating in Trinidad and Tobago Football Association (TTFA)-affiliated competitions.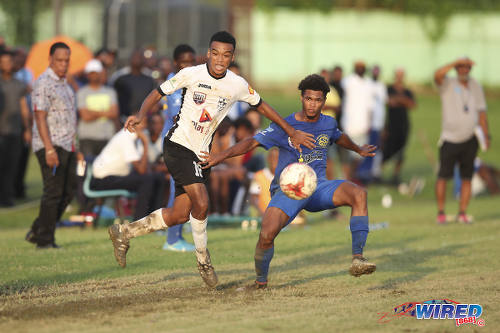 The SSFL Constitution allows for schoolboys who played outside of the deadline to still be registered for its competition. However, schools must request clearance for such players, complete with the relevant paperwork from the league in question.
According to Article 16 of the SSFL Constitution, failure to do so is punishable by "Loss of points or even suspension from further participation in the League for the remainder of the season, as the Disciplinary Committee may decide."
The Penal-based school had already lost six points this season after successful protests by Naparima College and St Anthony's College for the improper use of Mason.
Shiva Boys principal Dexter Sakal, who handles the team's administrative duties alongside manager Sheldon Maharaj, accepted responsibility for the Mason cock-up—which he said was an honest oversight rather than a deliberate attempt to get an advantage over the rest of the field.
His defence of Beal's name appearing on a Siparia Angels team sheet on 2 September was far more interesting.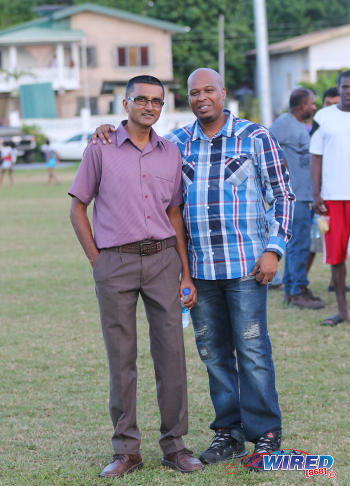 Sakal told the Disciplinary Committee that it was a case of identity theft. In an effort to strengthen Shiva Boys' case, he produced another Siparia team sheet, on 23 September, which suggested that Beal had again represented the SFA team during the schoolboys' season.
On that same day, though, Beal played for Shiva Boys in Moka where they defeated Trinity College Moka 2-0. And Sakal said the left-back was with the school team from about 11am until 9pm when they got back to Penal.
He said it proved the club was in the wrong.
"When we investigated, we realised that [Siparia Angels] had used another player under his name," Sakal told Wired868. "The boy told us he didn't play but we were worried until we saw that team list on 23 September. That proved what the club was doing…"
However, the Disciplinary Committee was not convinced that Sakal's second team sheet was sufficient evidence to invalidate the first document, which suggested that Beal played for Siparia on 2 September.
There was also the matter of Shiva Boys application for Beal's clearance from the SFA, which was made on 24 October and suggested that he had not been properly registered prior to that. Or does it?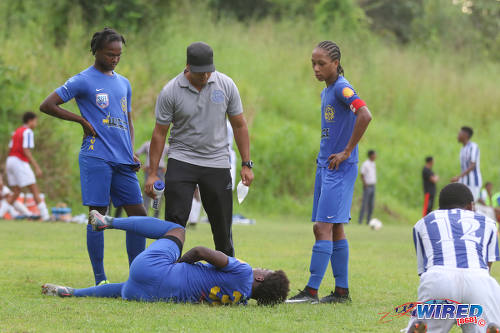 "When we thought he had played, we got [the clearance]," said Sakal. "But then we realised there was an error and we didn't need clearance. The boy always said that he didn't play but we didn't know what to think until we saw the second team list."
It is uncertain whether Sakal will challenge the Disciplinary Committee's verdict.
Yesterday, he refused to attend the Appeals Committee's meeting on Mason on the grounds that it was illegal.
On 17 October, a two-man Disciplinary Committee panel, comprising SSFL general secretary Azaad Khan and North Zone secretary Roger Martin, pardoned Shiva Boys for their improper use of Mason throughout September. The decision was not communicated to the general membership.
The SSFL's letter to Sakal gave its reasons for not deducting points as the Shiva Boys' apology and acknowledgement that it had flouted the rules as well as the school's "attempt to immediately procure the transfer certificate."
Fatima College and Queen's Royal College (QRC) subsequently protested the decision not to deduct points from Shiva Boys. But Sakal pointed out that the appeal was lodged more than 72 hours after the verdict and contended that, as a result, it should not have been heard.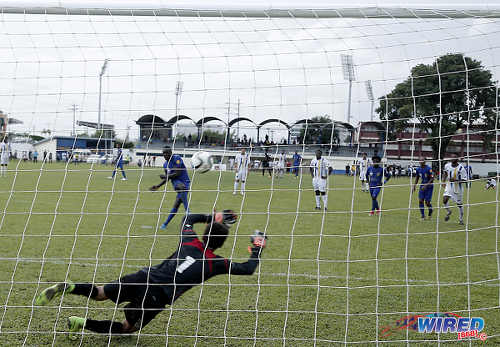 "There is […] no justification for considering an appeal that is 72 hours late," said Sakal. "I have written to the League asking that they provide an explanation but none has been provided.
"Given this situation, I feel that the Executive of the League are acting unlawfully and I will not be coerced into attending any appeal (hearing) that is unconstitutionally convened."
However, Fatima and QRC countered that the timing of their appeal was no fault of theirs as they were not officially informed of the decision until a week after the fact.
SSFL president William Wallace admitted as much in an interview with Wired868 last month.
"Normally, a protest would come from a school and so when the matter is dealt with both schools—the protesting school and the one facing the protest—would be informed after the hearing,"  Wallace said on 25 October. "In this case, no school protested the matter; it was information that was picked up and dealt with directly by the Committee. So they just informed the school that was involved.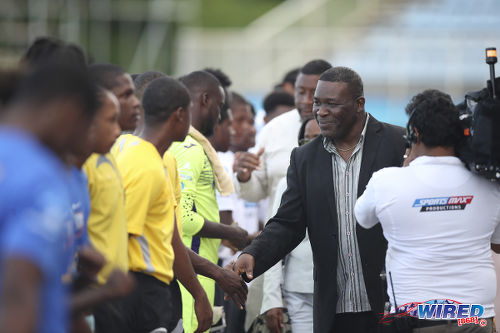 "But now that we have a third party interest, we asked [the Disciplinary Committee] to send [its decision] to everybody, especially the two schools who (had) enquired about the status of the matter."
Whether or not the Disciplinary Committee's decision was valid in the first place is also open to debate. There are allegations that, to start with, Martin was not a member of the committee while the question has been asked about whether two persons can legally constitute a quorum.
Arguably, Sakal's position that he would not appeal the Mason decision could spare the SSFL Executive many blushes.
"I don't feel I should commit my school to that kind of torture for football," said Sakal. "Whatever happens, I will leave it there. This is a school and not a football club.
"At some point, I have to say enough is enough with the football and the distractions."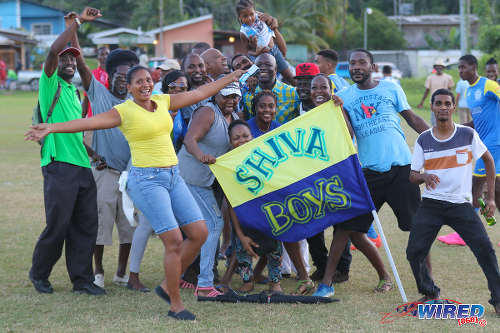 Yet, in the end, it was the Beal case that proved to be the last nail in Shiva Boys' coffin.
Even if the SSFL had ruled on behalf of Shiva Boys in all three challenges against Mason, Sakal and Maharaj's failure to prove the whereabouts of their left-back on 2 September would have sunk them anyway since he played—supposedly without proper clearance—in 10 league matches.
Today's boardroom decision capped off a bizarre season off the field for the schoolboys league and, unquestionably, the most disastrous title defence in the history of the competition.
Things went awry from Shiva Boys first match as 'they used Mason off the bench in their 2-1 opening win over Naparima College although he had been registered as a student for barely 48 hours before kick-off.
SSFL rules state that players must be registered for at least 72 hours before they can properly compete.
The bigger problem, though, was that Mason's TTSL outing for Marabella meant he was still unqualified as a player since proper clearance had not been sought by his school.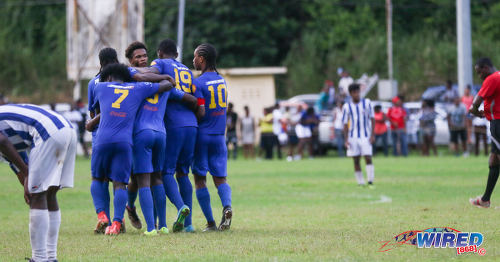 By the time Sakal and Maharaj caught on and submitted the appropriate paperwork, Shiva Boys had already played eight matches. So the school was forced to continue from there with zero points and just six matches remaining.
There was still opportunity for coach Hayden Ryan's team to rescue their Premier Division status for the 2018 season by winning their remaining fixtures.
But then, like a thief in the night, came word of Beal's registration issues. And Shiva Boys were deep in trouble.
Whispers about Beal's eligibility, Wired868 is aware, had been making the rounds as far back as Monday 1 October. Somehow, it took the rumours three more weeks to get to Penal.
And, by the time Shiva Boys management team sprang into action and cleared the player on 24 October, there were just four games left, that proved to be insufficient time for the Penal Princes to save themselves from the drop.
Belatedly, Sakal argued that Beal didn't need clearance at all and was the victim of some devious behaviour by his club, Siparia Angels. But he could not convince the SSFL Disciplinary Committee of the truth of his story.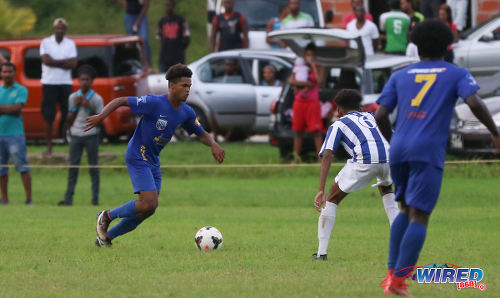 There is, though, one sliver of hope.
Last season, San Juan North Secondary were set for demotion—based on the standings—but successfully petitioned their fellow teams to ignore the table and vote for them to stay up; they argued that they had been unfairly penalised owing to post-season boardroom decisions against East Mucurapo Secondary and Presentation which negatively affected their final placing.
Sakal and company can follow suit. They might appeal for the sympathy of their colleagues on the grounds that Shiva Boys never sought to cheat but had simply made a mess of the registration process.
If the first school to get wind of the Beal issue had shared the information with Sakal, the Penal school would be in mid-table today. But this does not change the fact that it was Shiva Boys' error to begin with.
"This season started really well but then it didn't go well," Sakal told Wired868 on Monday 30 October. "We really stumbled this season [with] our off-field challenges which were more than our on-field challenges…
"At the beginning of the season, I said we have such a good team that the only ones who can beat us is ourselves and it turned out so true—not for the boys but the management, who made a couple of errors [that] cost us dearly."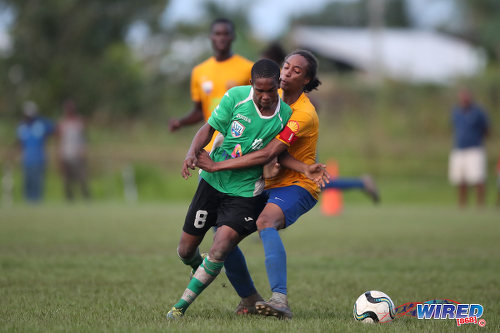 Should the current table reflect nothing but results on the field of play, Shiva Boys would today be tied with Presentation at the top of the standings and seeking their second successive title with an emphatic win over St Benedict's on Saturday.
Had they managed it, they would have become only the second school to successfully defend the Premier Division crown, following Naparima's back-to-back league trophies in 2014 and 2015.
Instead, owing to shoddy administrative work and a controversial team list, Shiva Boys are set to play in the lower division next season.
SSFL Standings (IF the League were decided ONLY on on-the-field results)
(Played-Won-Drew-Lost-Goals For-Goals Against-Points)
Presentation         13-9-2-2-34-14-29
Shiva Boys HC     13-9-2-2-34-15-29
St Anthony's        13-8-4-1-41-22-25
San Juan N          14-6-6-2-35-16-24
Naparima            13-8-3-2-28-15-24
Fatima                 13-7-1-5-19-18-22
Carapichaima E  14-5-3-6-23-21-18
Trinity East          14-5-3-6-22-21-18
St Mary's             13-4-4-5-27-27-16
St Augustine       14-5-1-8-26-32-16
QRC                     14-4-3-8-23-30-15
St Benedict's       13-3-4-6-19-27-13
Trinity Moka         13-3-2-8-15-32-11
Signal Hill             14-2-3-9-13-28-9
Speyside High      14-2-1-11-8–49–7
Current Updated SSFL Standings
(Played-Won-Drew-Lost-Goals For-Goals Against-Points)
Presentation       13-10-2-1-37-11–32
St Anthony's       13-9-3-1-42-20-30
Naparima            13-9-3-1-30-13-30
San Juan N          14-7-5-2-38-16-26
Fatima                 13-8-1-4-21-14-25
Trinity East          14-5-3-6-22-20-18
Carapichaima E   14-5-3-6-23-21-18
QRC                     14-5-3-6-25-25-18
St Mary's             13-4-4-5-26-27-16
St Augustine       14-5-1-8-26-32-16
Trinity Moka       13-4-2-7-18-30-14
St Benedict's       13-3-4-6-19-27-13
Speyside High    14-3-1-10-11-44–10
Signal Hill           14-2-3-9-13-28-9
Shiva Boys HC    13-3-0-10-10-34-9