Extraordinary scenes involving high fives and general jubilation among players and supporters of both camps marked the end of today's SSFL Championship Division play-off at the Larry Gomes Stadium in Arima. You would have sworn that Valencia Secondary had put five or six goals past Bishop's High School. Or vice-versa.
In fact, the two teams had battled to a hard-fought 1-1 draw.
Meanwhile, at the Ato Boldon Stadium in Couva, East Mucurapo Secondary beat Chaguanas North Secondary 2-1. And as that result trickled through to the players and fans in Arima, it set off the wild celebrations, with everyone jumping and screaming in celebration.
The three teams, Valencia, Bishop's and Mucurapo will play in the Premier Division of the secondary Schools Football League next year.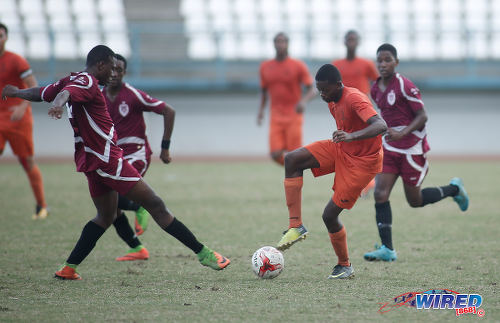 It might have been the second-last round in the play-off group but everything was set up for the contest to be a sort of unofficial final.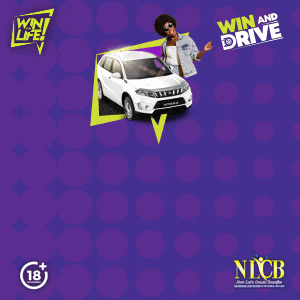 Both sides were locked on four points before kick-off, with Bishop's enjoying a +2 goal advantage on goal difference, one more than their rivals on the day. As long as Mucurapo won at the Ato Boldon, a draw would be enough for the two teams.
But neither team was prepared to leave its fate in other hands and both teams went for the win from the first whistle.
In the early stages, Valencia looked the more threatening outfit and only three minutes had passed on the clock when Keegan Faria stung the fingertips of Couran Roberts in the Bishop's goal. Roberts wouldn't be safe for long. A mere two minutes later, Akil Skeete picked out Andre Robinson with a through-ball from the edge of the area. Ghosting behind Ranaldo Johnson to control the ball, Robinson buried his shot in the back of the net.
One-nil to "Val-ee!"
As the first half wore on, however, Bishop's began to settle and the Valencia midfield, a sea of orange moving forward in waves, seemed to stop pressing as much.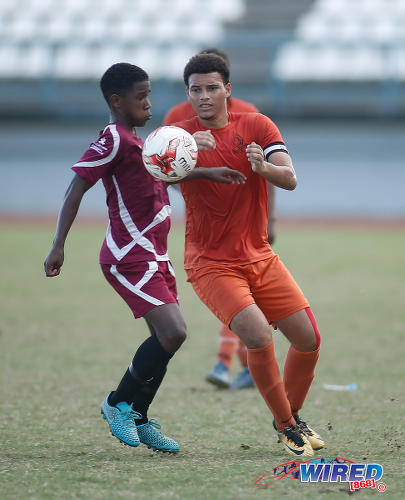 "I think both teams were a bit jaded," Valencia head coach Roland Clarke told Wired868 after the match. "The SSFL is very strenuous on the young players because it is not a senior team or a professional team that is up to the task, it's schoolboys. And the last four games back-to-back took a little toll.
"However, what we planned, I played a 4-3-3 to go at them from the beginning to get the goal which came early and, after that, you saw the tiredness step in with both teams. And well [Bishop's] Tobago, we have to give credit to them, they made a [tactical] change, it worked for them and they got to come back into the game."
Like Valencia, Bishop's played a 4-3-3 formation, albeit a looser version, which saw players alternating roles and looking at times, particularly in counter-attack, as if they had reverted to a 4-4-2 set-up or a 4-5-1 shape.
In the first half, Collin Sargeant was Bishop's main target. But Gabriel Baird and his midfielders seemed unafraid to play searching long-range passes in his general direction. Still, it wasn't until the 36th minute that Richard Goddard's troops almost equalised.
Valencia skipper Daniel La Croix conceded a cheap free kick 30 metres from goal and Baird's free kick should have created the equaliser. However, with D'Abreau at his mercy, Johnson failed to get a touch at the near post and a certain goal went a-begging. He beat the ground in frustration.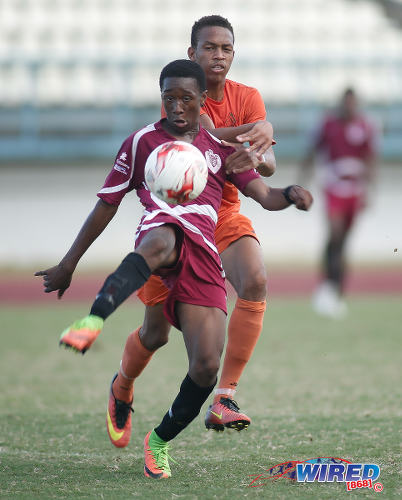 But after the interval, Bishop's wouldn't have to wait long to get back on terms, finally getting the reward for their dangerous set-pieces. Captain and centre-back Dominique Lyons had been busy in the Bishop's defence throughout the first half and that would continue throughout the afternoon.
As Adriel George stood over the ball for a 48th minute free kick, Lyons ran up into the opposing penalty area for the umpteenth time, hoping that George might pick him out. He did. And rising imperiously over his markers to sink his powerful header in the Valencia net. Lyons pumped his fist in celebration as ecstatic celebrations broke out in the stands át the visitors' end.
"In the dressing room we had to talk about the fact that we've made it this far," Richard Goddard told Wired868. "We've earned the right to be here and, after all of that, in order to get over the next hump, it's not a case of style or flair or the back heels or the spanners and them kinda thing. It's a case of who wants it and that header is kind of a symbol of who we became this year."
After that, the match ebbed and flowed, with Goddard almost rewarded for his substitution in the 68th minute when Atiba Roberts, subbed on, nearly capitalised on a lapse in the Valencia defence. They recovered in time to block the shot.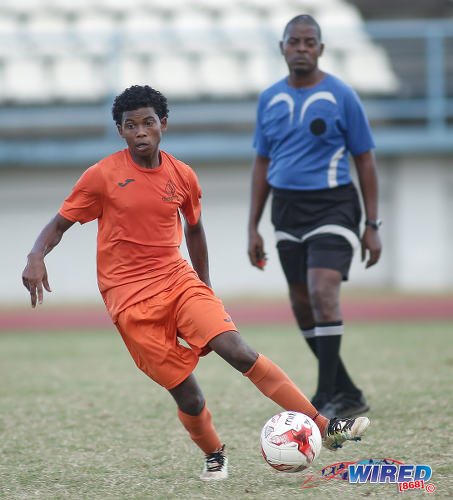 With ten minutes to go, Valencia's Faria bent a free kick from the left-wing that needed an intervention from Roberts to steer it over the bar.
"Come on, 'Val-ee,' keep it going, come on!!" shouted a fan from the stands. The men in orange almost obliged. Putting everything into a loose ball from ten metres outside of the area, La Croix saw his drive from distance just whizz frustratingly past the near post.
The endless running from both sides continued until deep into injury time but neither side could find the winner before the final blast of the referee's whistle.
"We have one more game against East Mucurapo," Goddard explained after the match, "and we'd like to make that match as competitive as possible."
Then there is InterCol," he continued. "We'd love to take it all the way and see how far we go in the rest of the competition. But as of right now, we're going to celebrate and, maybe in a couple days, we'll get ourselves back onto the field and back to work."
On Friday, Mucurapo will face Bishop's High School in Black Rock, Tobago while Moruga Secondary and Chaguanas North will play for nothing but pride in Moruga at the same time. Having played four matches in the past week, Valencia will have a well-deserved rest.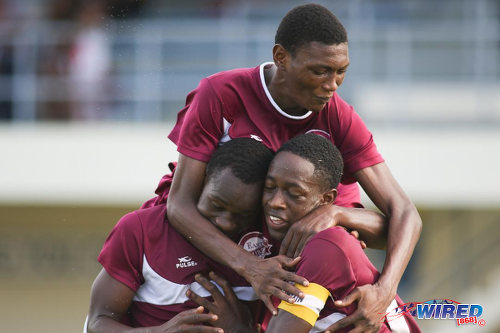 (Teams)
Valencia Secondary (4-3-3): 1.Hezron D'Abreau (GK); 9.Kerron Kelly, 6.Jerome Arrindell, 4.Jacob Wilson, 3.Giovanni Lewis; 8.Daniel La Croix (captain), 19.Akil Skeete(14.Remy Butler 76'), 11.Kerdel Deverteuil; 7.Andre Robinson, 17.Jeremy Adolphus, 10.Keegan Faria.
Unused Substitutes: 15.Nathaniel Da Silva, 22.Keiyon Henry, 2.Arkim Phillip, 16.Jaylon Mark, 12.Andre Gabriel, 13.Kerywn Deverteuil
Coach: Roland Clarke
Bishop's High School (4-3-3): 1.Couran Roberts (GK); 11.Kaleem Spencer, 15.Dominique Lyons, 12.Gabriel Baird, 19.Temitayo Frederick; 17.Juvani Thomas, 6.Kishon Huyghew, 10.Adriel George; 5.Shain Cadiz, 9.Collin Sargeant (21.Che Rochford 53'), 7.Ranaldo Johnson (2.Atiba Roberts 68').
Unused Substitutes: 22.Ireal Daly, 4.Javier King,16.Christian Baumgartner, 13.Cameron Groome, 3.Kassidy Davidson.
Coach: Richard Goddard
Wired868 Man-of-the-Match: Andre Robinson (Valencia Secondary)
Championship Big 5 Results
(Tuesday 31 October)
Valencia Secondary 1 (Andre Robinson 7'), Bishop's High School 1 (Dominique Lyons) at Larry Gomes Stadium;
Chaguanas North Secondary 1, East Mucurapo 2 at Ato Boldon Stadium
Moruga on a bye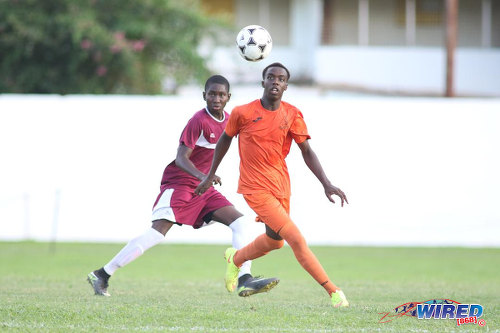 Upcoming fixtures
(Friday 3 November)
Moruga Secondary v Chaguanas North, 3.30pm, Moruga;
Bishop's High School vs East Mucurapo Secondary, 3.30pm, Black Rock;
Valencia Secondary on a bye
Big 5 Standings
(Played-Won-Drew-Lost-Goals For-Goals Against-Points)
East Mucurapo           3-3-0-0-5-1-9
Bishop's High School 3-1-2-0-4-2-5
Valencia Secondary    4-1-2-1-6-5-5
Chaguanas North       3-0-1-2-2-5-1
Moruga Secondary     3-0-1-2-3-7-1