On a rainy afternoon in Malabar, Secondary Schools Football League (SSFL) Premier Division leaders Naparima College stormed to a 5-0 win over bottom team Speyside High at the Larry Gomes Stadium.
The result saw Naparima keep their two-point lead over second-placed St Anthony's College and, with their two games remaining in this season being against Queen's Royal College and Trinity College Moka, it would be a shock if they were denied a record third Premier Division title in four years.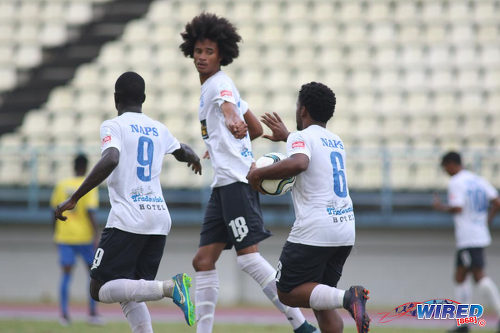 If the modest crowd that turned out at the Larry Gomes Stadium today expected a pretty display from the two-time Premier Division champions, 'Naps', then they would have been left slightly disappointed—as the football match was never a beautiful game.
However, former Trinidad and Tobago standout and Naps coach Angus Eve certainly was not complaining about the result as his team put a sound licking on their Tobago opponents.
"I think it was the worst game we played all season," Eve told Wired868, "and I felt we didn't move properly at all. The second half didn't help with the water on the park and the fellas never really adjusted to it."

"Saying that," he went on, "it's the most goals we have scored in the Premier Division this year. I would take that—take the goals and take the clean sheet."
Elsewhere, St Anthony's did what they could to keep the pressure on, the "Westmoorings Tigers" getting the better of St Augustine Secondary 4-2 at St Augustine. But, once more, Naparima's southern rivals failed to avoid another weather-enforced postponement, defending champions Shiva Boys Hindu College and title contenders Presentation College (San Fernando) now each with two matches to make up.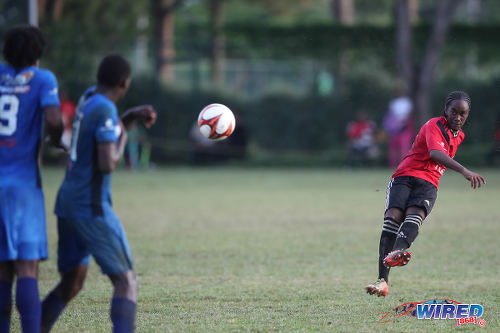 They can expect a late, exhausting flood of fixtures at some point.
Still, the recent performance of QRC, who host Naps on Wednesday, suggests that they will be no pushovers, the Nigel Grosvenor-coached team easing further away from the relegation zone today with a 2-1 win on the road against Carapichaima East.
It was the Royalians' third straight win, the three points taking them six points clear of the bottom three.
Fatima College rounded off today's results with a cheeky case of vandalism at Serpentine Road in St Clair where they ran away 5-1 winners against their northern rivals, St Mary's College.
The score-line was more emphatic at Malabar although it was not exactly electric stuff.
Naparima were as sluggish as their lowly opponents for most of the first half and went into the break with a 1-nil lead thanks to a 17th minute penalty by their midfield powerhouse Judah St Louis.
But, as the heavens powerfully opened up in the second half, Naps flooded goalkeeper Kelliss Coker with goals as speedy substitutes Nikel Rawlins and Isa Bramble grabbed an item each each while dangerman Ronaldo McIntosh and defender Tyrike Andrews also got on the score sheet.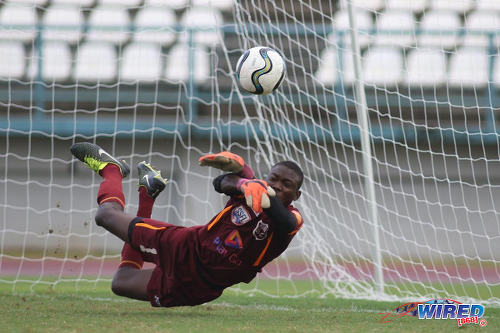 With Naps two games away from the title, Eve just wants his charges to maintain their consistency.
"We have two more games and we just have to keep pressing on," Eve said. "We will take it one [game] at a time and the title is ours […] but consistency is the goal to winning any title."
The most capped player in Trinidad and Tobago's footballing history would certainly know a thing or two about consistency, and it may take a near miracle to wrestle away a Premier Division title from his team's grasp now.
Today, Eve was busy trying to guard against complacency within his Naps ranks as they did not train for the last three days.
"We came and we just played [without training] and I think that contributed to us not being as cohesive as we normally are," Eve said. "But as I said, again, the important thing was the victory."
To lift the intensity of his team for the second half, Eve sent on the rapid Rawlins for right-back Shadeon Arthur and reverted to a back three.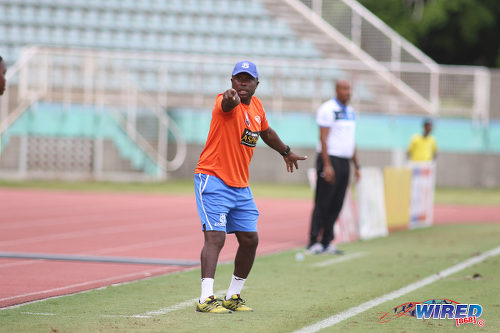 It did not take long for Rawlins to turn on the afterburners up top, and the diminutive attacker made it 2-nil in the 49th minute after winger Mark Ramdeen fed him on a platter when Coker collided with one of his own defenders.
Two was quickly turned to three as the lanky McIntosh, who operated as a lone striker, neatly headed in a right side cross from Naps midfield workhorse Rushawn Murphy.
The versatile Murphy, who is a former National Under-20 player, provides the steel and brawn in the Naps midfield together with St Louis. And today, the duo adjusted to the sluggish conditions better than most as they dictated proceedings.
On 14 October, Speyside grabbed a late draw in the Tobago derby against Signal Hill as substitute Stephon Antoine scored a dramatic injury time winner. The Speyside fight back moved coach Kerry Lynch to predict that his team will avoid the drop. However, the "Country Boys" have shipped eight goals since then and Lynch was not even present on the sidelines today.
While Naps were looking to drive home their advantage in the swirling rain, the Country Boys were trying to finish the game with 11 fit players. Antoine and defender Jonathan Thomas took an early leave from proceedings after pulling up lame with injuries and a few Naps supporters questioned the diets of the Speyside boys.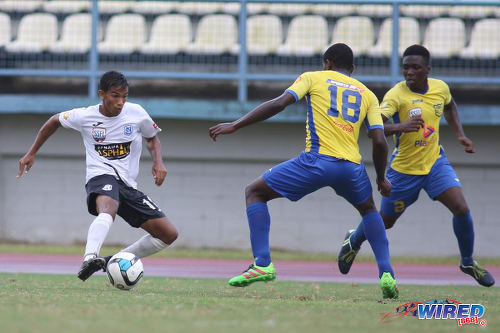 "Allyuh eating too much KFC," a mischievous Naps fan shouted. "Don't buy any KFC in the airport when yuh going back."
"We from the countryside so we don't use that," a female Speyside spectator snapped back. "Is only provision we eat."
If only the exchange on the field was that competitive.
If anything of substance was to come from the Speyside team, it looked likely to come from attacker Kerri McDonald. In the 70th minute, the tricky McDonald nearly capped off a beautiful team move down Speyside's right, however, Naps goalkeeper Levi Fernandez was wise to his right-footed stab.
McDonald appeared to be more fascinated with dribbling past Naps left-back Andre Raymond, and he had the crowd and the visiting substitutes' bench in an uproar with a sequence of moves in the dying moments.
However, Raymond and his teammates were not too concerned about flair today, and the southerners added gloss to the scoreline with late strikes by Andrews and Bramble.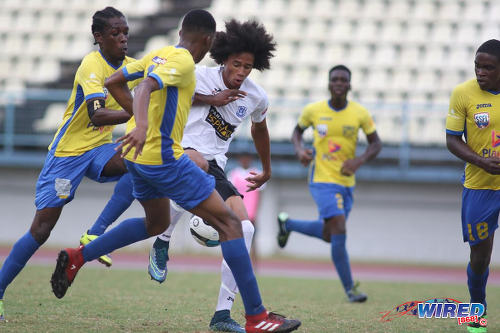 Andrews slammed in from a suspicious position in the 84th minute after a feed by Rawlins while Bramble arguably notched the goal of the game in stoppage time after shaking off opposing skipper Shaffie McKenzie and rifling a powerful shot past Coker and into the top corner.
Eve and his youngsters can almost taste Premier Division success now.
(Teams)
Naparima College (4-2-3-1): 1.Levi Fernandez (GK); 15.Shadeon Arthur (11.Nikel Rawlins), 5.Rondell Payne (captain), 2.Tyrike Andrews, 19.Andre Raymond; 9.Rushawn Murphy, 13.Jeron Pantor; 16.Decklan Marcelle, 6.Judah St Louis (7.Isa Bramble 72), 10.Mark Ramdeen; 18.Ronaldo McIntosh (23.Kern Cedeno 82).
Unused Substitutes: 30.Enrique Changiah (GK), 3.Akil Johnson, 4.Asukile Christopher, 14.Ezekiel Kesar.
Coach: Angus Eve
Speyside High (4-4-1-1): 1.Kellis Coker (GK); 2.Renaldo Alleyne, 18.Dario Melville, 24.Jonathan Thomas (17.Da-quon Guy 64), 13.Jaden Henry; 9.Stephon Antoine (23.Ammaniki Richards 66), 14.Tyreek Mahabal, 15.Julien Thomas (16.Deandre St Hillaire 78), 20.C'el Toppin; 11.Shaffie McKenzie (captain); 10.Kerri McDonald.
Unused Substitutes: 25.Prince Sobers (GK), 19.Darion James.
Referee: Quincy Williams
Wired868 Man-of-the-Match: Judah St Louis (Naparima College)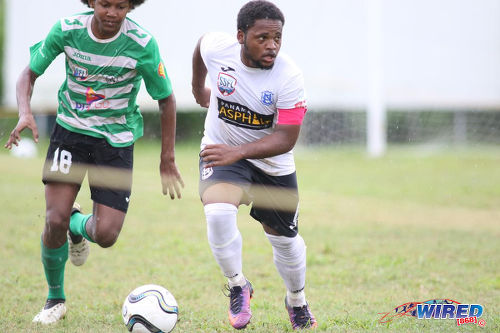 SSFL Results
(Saturday 21 October)
Naparima College 5 (Judah St Louis 17 pen, Nikel Rawlins 49, Ronaldo McIntosh 59, Tyrike Andrews 84, Isa Bramble 90+2), Speyside High 0 at Larry Gomes Stadium;
St Mary's College 1 (Trey La Motte 72 pen), Fatima College 5 (Joshua Araujo-Wilson 60, 69, Jean-Heim McFee 70, 75, Zachary Welch 90) at St Mary's;
St Augustine Secondary 2 (Nykoaba James 24, Jirel Maloney 24), St Anthony's College 4 (Jaydon Prowell 12, Che Benny 16, Kishorn Alexander 65, Haile Beckles 77) at St Augustine;
Carapichaima East 1, QRC 2 (John-Paul Rochford [2 FK & pen]) at Carapichaima.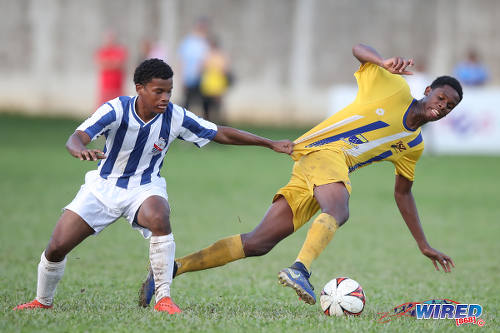 Upcoming fixtures
(Wednesday 25 October)
St Anthony's College v Presentation College, 3.40pm, St Anthony's;
QRC v Naparima College, 3.40pm, QRC;
Trinity College Moka v Carapichaima East, 3.40pm, Moka;
Fatima College v St Benedict's College, 3.40pm, Fatima;
Shiva Boys HC v Signal Hill, 3.40pm, Morne Diablo;
Trinity College East v St Mary's College, 3.40pm, Trincity;
San Juan North v St Augustine Secondary, 3.40pm, San Juan.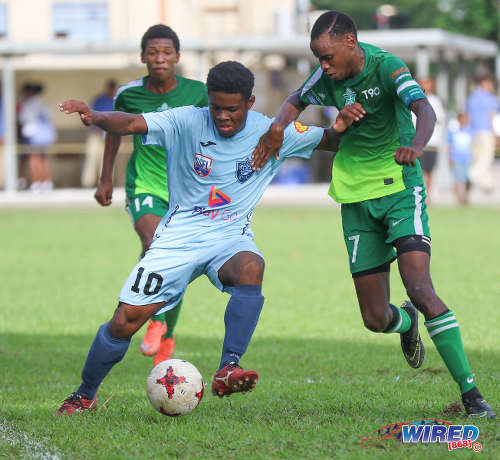 SSFL Standings
(Played-Won-Drew-Lost-Goals For-Goals Against-Points)
Naparima            12-9-2-1-28-11-29
St Anthony's       12-8-3-1-39-20-27
Presentation       10-7-1-2-22-11-22
Shiva Boys HC    10-6-2-2-26-13-20
San Juan N         12-4-6-2-25-13–18
Fatima                10-6-0-4-14-13-18
Trinity East         10-5-1-4-19-11-16
St Mary's            11-4-3-4-26-25-15
Carapichaima E  12-4-2-5-19-20-14
QRC                     13-4-2-7-21-28-14
St Augustine       11-4-1-6-22-24-13
St Benedict's       11-2-3-6-16-25-9
Signal Hill           11-2-2-7-11-21-8
Trinity Moka       10-2-1-7-13-30-7
Speyside High     13-2-1-10-7–43–7