A sublime 75th minute free kick by former National Under-17 midfielder Che Benny earned a share of the spoils for St Anthony's College, who clawed back at home to hold Naparima College 2-2 in 2017 Secondary Schools Football League (SSFL) Premier Division action in Westmoorings today.
The affair was often a bruising and physical one and the game was effectively turned on its head early in the second period when 'Naps' captain Rondell Payne was sent off for a second yellow with the visiting team up 2-0.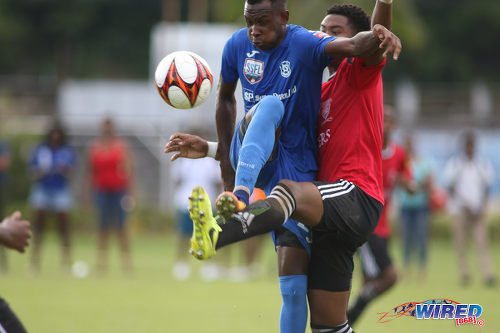 Payne had only just returned from a one-match suspension, which was served in Naparima's shock 1-2 weekend loss to Fatima College. But referee Nicholas Murray's decision to eject the talented defender was controversial to say the least as a "Westmoorings Tigers" player appeared to have tripped himself up in the penalty area.
And another former National Under-17 player, Jodel Brown, rubbed salt in Naparima's wounds by successfully dispatching the resulting 52nd minute penalty to halve St Anthony's deficit.
By the time Benny tucked his superb free kick past custodian Levi Fernandez, Naps were already under the pump as their ten men seemed to be running on empty, looking as if their legs were ready to buckle under them.

Fernandez, who appeared to be struggling with an injury, saved the visitors from further disaster in stoppage time, stopping a point-blank effort by St Anthony's defender Nkosi Salandy.
St Anthony's coach Ronald Daniel was not at all amused by his team's unsatisfactory first half performance but his fierce halftime pep talk—plus, of course, Payne's ejection—worked wonders.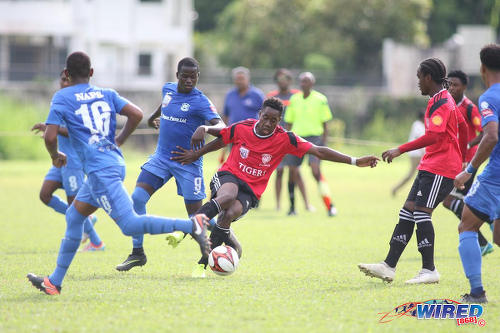 "My team went to sleep in the first half and I think they started with a low spirit," Daniel told Wired868. "In the second half, the guys realised and they stepped up their game a little more."
"They have to come and work harder," he warned, "because they can't react to teams; they have to act first and not react."
Although the battle for midfield supremacy was almost a scrappy one in the early moments with Naps' Judah St Louis and Rushawn Murphy staking their claim alongside the hosts' trio of Brown, Benny and Sowande Prieto, the visitors showed that theirs was a superior reaction time coming out of the starting blocks.
In the third minute, Naps' lanky midfielder Renaldo McIntosh glanced a header wide—an error he would correct in the second period—while attacker Kareem Blake-Williams was only just thwarted by a late Salandy challenge after he robbed St Anthony's skipper Derron John of the ball in the 20th minute.
Benny, now clearly an overwhelming favourite among the Tigers' faithful, was tightly marked all game by the combative Murphy, who played a deep midfield role today. The silky left-footer did manage to free himself from the shackles in the 25th minute and he contrived to play in winger Quinn Frederick who saw his shot sharply charged down by Fernandez.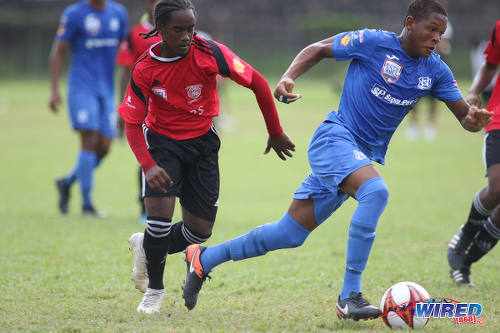 Benny was not the only one to earn close attention from Naparima coach Angus Eve as former St Benedict's player Jeron Pantor attached himself like a shadow to Brown.
When they catch the Westmoorings highlights reel, the St Benedict's coaching staff may feel a bit aggrieved. Beaten finalists in the 2014 National Intercol competition, the boys from La Romaine are simply not having things their way these days; and, after four games, they sit at the foot of the SSFL table.
But it was two former Benedict's students, St Louis and Payne, who contrived to give Naparima a 34th minute lead. St Louis' right-side free kick was inviting and Payne duly obliged with a thumping header, which hit Oba Augustin's bar on its way in.
Payne could not hide his elation with the opening item and a roar of approval escaped him. The visiting captain was soon shouting for other reasons, having picked up his first yellow in the 42nd minute after coming out on the wrong end—he, at least, thought so—of a battle with a Tigers player.
"What the hell going on here, boy?" Payne inquired in exasperation as he sought to come to terms with his booking.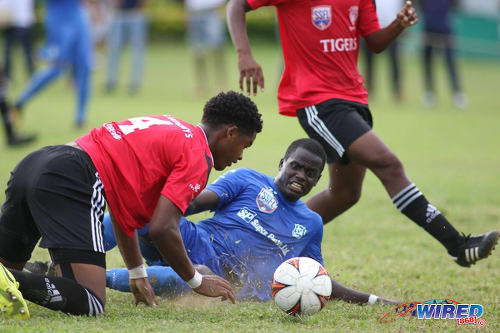 Former international players Charles Pollard, Clayton Ince and Eve were having a hard time dealing with the calls made by Murray and his assistants Odell Carrington and Warren Skeete. And the Naps technical staff passed on a few pleasantries to Carrington as he trotted along the sideline.
"Allyuh spoiling the children football," said Ince, shaking his head.
"Linesman give them a penalty and done nah," Pollard sarcastically chimed in.
Daniel also had his bit to say at halftime, as the usually soft-spoken coach berated his players in the dressing room.
Was Daniel mimicking Sir Alex Ferguson's hairdryer treatment? Or was it therapy a la "Grovie"?
Either way, the St Anthony's coach would not have been pleased with what happened in the 49th minute when McIntosh headed home with authority after another lovely cross from the right flank by the bullish St Louis.
In the 51st minute, though, sorrow turned to joy for Daniel and the home supporters; the Naps staff, however, might have felt they were experiencing a nightmare in broad daylight.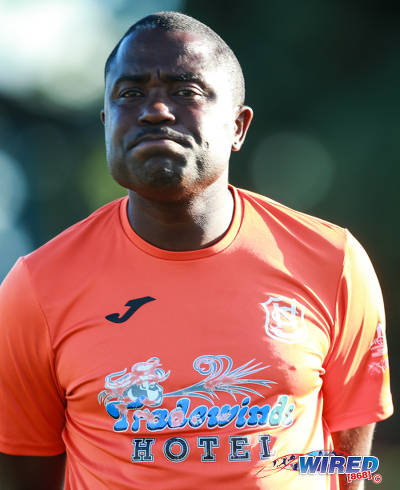 An almost inconsolable Payne was sent off for an early shower, received his marching orders from Murray after a St Anthony's player went down in the area. Even before Brown put away the ensuing penalty with some aplomb, Pollard might have been wishing he had kept his mouth shut.
"How much they pay allyuh, boy?" one frustrated Naps supporter asked Carrington, who was not short on comebacks.
But it was the much more important on-the-field comeback that was now under way and, with the insertion of speedy attacker Haile Beckles, the Tigers looked a more dangerous proposition.
Beckles brought the speed, flanker Tyrese Bailey provided the trickery and Benny contributed the soft touch.
After Beckles was impeded in the 54th minute, Benny agonisingly curled a left-footed free kick against Fernandez's bar. But that was merely the rehearsal; the best was yet to come from the playmaker.
After former National Under-17 player Tyrike Andrews committed an ill-advised foul, the crowd waited with bated breath as Benny again stood over a dead ball just outside the area.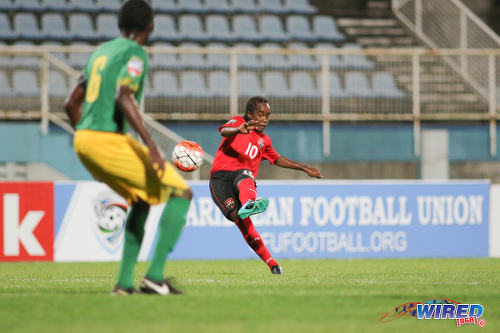 "Take out allyuh phones and start recording!" a confident St Anthony's student on the sideline advised. How right he was! Benny stepped up and deposited his left-footed gem into the top right corner.
The rejuvenated Tigers were now eyeing three points and they would have claimed them were it not not for a brilliant reflex save by Fernandez in the fourth minute of stoppage time. The Naps custodian parried an initial shot into Salandy's path and then dived low to stop the defender's bullet on the rebound.
In the end, the two SSFL giants shared the spoils. The reaction of the Naps coach, however, suggested that justice had not been done.
"I need a copy of the tape when the game done," Eve shot in the direction of the assembled media in the course of the second half. "I will pay any amount."
Wired868 had to make do with that in lieu of post-game interview, the coach insisting that he could not be expected to speak after witnessing such a game.
(Teams) 
St Anthony's College (4-3-3): 22.Oba Augustin (GK); 16.Jordan Barclay, 4, Nkosi Salandy, 27.Derron John (captain), 6.Khiesa Granger; 23.Sowande Prieto (21.Jameiq Pierre 80), 8.Jodel Brown, 9.Che Benny; 13.Quinn Frederick (11.Haile Beckles 46), 7.Krishon Alexander (12.Mikail Prescod 83), 10.Tyrese Bailey.
Unused Substitutes: 25.Elijah Shade (GK), 3.Kirvon Flatts, 15.Jamai George, 17.Omari Wiltshire.
Coach: Ronald Daniel
Naparima College (4-2-3-1): 1.Levi Fernandez (GK); 15.Shadeon Arthur, 5.Rondell Payne (captain), 2.Tyrike Andrews, 8.Kodel Frontin; 9.Rushawn Murphy, 13.Jeron Pantor; 16.Decklan Marcelle (7.Isa Bramble 80), 6.Judah St Louis (19.Andre Raymond 67), 18.Renaldo McIntosh (10.Mark Ramdeen 83); 20.Kareem Blake-Williams.
Unused Substitutes: 30.Enrique Changiah (GK), 14.Ezekiel Kesar, 23.Kern Cedeno, 27.Chakim Guy.
Coach: Angus Eve
Referee: Nicholas Murray
Wired868 Man-of-the-Match: Judah St Louis (Naparima College)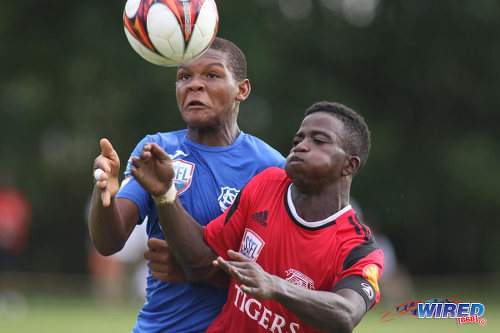 SSFL Results
(Wednesday 20 September)
St Anthony's College 2 (Jodel Brown 52 pen, Che Benny 75), Naparima College 2 (Rondell Payne 34, Renaldo McIntosh 49) at Westmoorings;
Trinity College East 1 (Josiah Lord 87), Fyzabad Secondary 2 (Sharkeel Louison 7, 55) at Trincity;
St Mary's College 1 (Nathaniel Williams 47), St Benedict's College 1 (Jaycee Paras 83) at St Mary's;
Shiva Boys HC 5 (Junior Asson 8, Quinn Rodney 30, Tyrell Baptiste 50, Jude Phillip 54, Yohannes Richardson 63), QRC 1 (Marquis Lewis) at Penal;
Presentation College 3 (Omri Baird 19, 40, Akeil Jacob 34), Signal Hill 0 at Guaracara Park;
St Augustine Secondary 1 (Zion Holder 65), Carapichaima East 1 (Theophilus Bourne 2) at St Augustine;
Fatima College 1 (Andrew Peter-Abraham), Speyside High 0 at Fatima;
San Juan North 7 (Brandon Semper 1, 40, 43, Kareem John 6, Renaldo Boyce 16, Kyle Thomas 82, Jordan Britto 90), Trinity College Moka 0 at San Juan.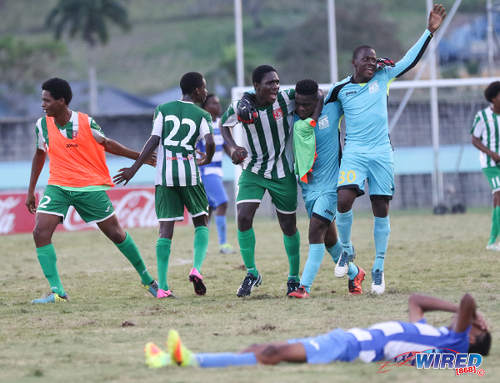 SSFL Standings
(Played-Won-Drew-Lost-Goals For-Goals Against-Points)
Shiva Boys HC     4-4-0-0-14-2-12 
Presentation        4-3-1-0-11-3-10 
Fyzabad Sec        4-3-0-1-6-4-9
St Augustine        3-2-1-0-6-3-7
St Anthony's        4-2-1-1-8-6-7
Carapichaima E  4-2-1-1-6-5-7
San Juan N          4-1-3-0-12-5-6 
Fatima                  4-2-0-2-3-4-6 
Naparima             4-1-1-2-6-6-4
Trinity East           4-1-1-2-5-5-4
QRC                     4-1-1-2-4-8-4
Speyside High     4-1-0-3-3-8-3
Trinity Moka        4-1-0-3-4-14-3
St Mary's             3-0-2-1-5-8-2 
Signal Hill            4-0-1-3-1-6-1
St Benedict's       4-0-1-3-4-11-1