The Trinidad and Tobago National Senior Team slumped to their lowest international ranking in seven years today, as FIFA listed the Soca Warriors as 99th in the world, joint 10th in CONCACAF and fourth in the Caribbean.
To put that in context, the last time the Warriors were ranked this low was in 2010 when then head coach Russell Latapy's team was eliminated by Grenada in the group stage of the Caribbean Cup. Trinidad and Tobago were subsequently ranked 106th in the world.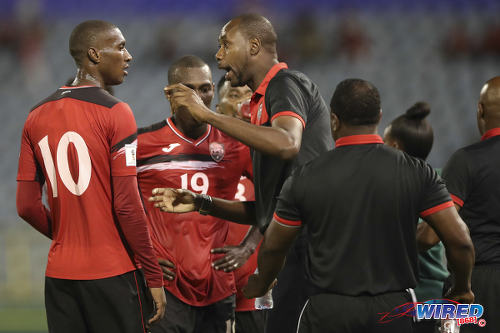 Today's FIFA rankings mean the Warriors have fallen a remarkable 50 places since David John-Williams was elected as Trinidad and Tobago Football Association (TTFA) president in November 2015.
At present, Trinidad and Tobago are on a seven-game losing streak while current head coach Dennis Lawrence has won just two of 10 outings—against Panama and Barbados—since his appointment in February.
John-Williams recently told the media that Lawrence, a former assistant coach at Everton but now on his first assignment as head coach, will be given time to rebuild the national team. But the figures do not suggest that the Warriors have improved under the current coach or president and, arguably, again put the president's sacking of former coach Stephen Hart into focus.

Trinidad and Tobago were ranked 87th in the world by FIFA when then TTFA president Raymond Tim Kee announced the hiring of Hart as head coach.
And by the time John-Williams replaced Tim Kee at the helm, three years later, the Warriors—under Hart—had soared to 49th in the world and were fourth in CONCACAF and first in the Caribbean.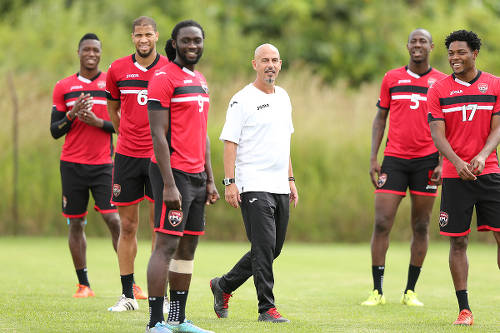 Had Trinidad and Tobago retained that average FIFA ranking, it would have meant that local footballers would be eligible for work permits in Britain for the first time since 2006.
Instead, the Warriors' fortunes went in the opposite direction.
The decline was gradual at first. Hart lost 10 of his first 30 internationals—three of those defeats were on kicks from the penalty mark—as head coach. But, once teamed up with John-Williams, he lost eight of his next 13 matches.
There were several on-field factors. After a one-year absence with a broken leg, ace midfielder Kevin Molino returned to the national team in March 2016 but, despite a hattrick against the Dominican Republic, the MLS player did not inspire in the big matches. Worse, Molino was involved in two distracting incidents when he broke team curfews to party before competitive fixtures.
He was fined for the first indiscretion and given a temporary ban for the second.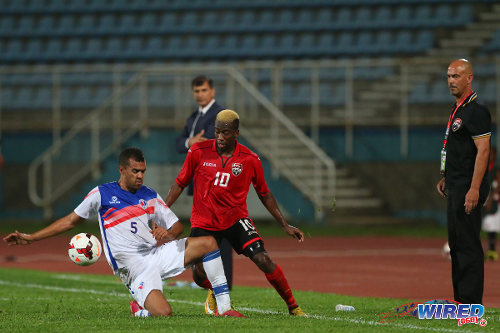 Perhaps just as significant was the form of team captain and forward Kenwyne Jones, who swapped the England Premier League for the United Arab Emirates in January 2016 and then, six months later, moved to Central FC in the local Pro League.
In 2015, Jones scored four times—including competitive goals against Mexico, Panama and Guatemala. But in 2016, with his professional career in flux and struggling with injury, the giant forward's only international goal came in a 6-0 rout of St Vincent and the Grenadines.
Off the field, there were early signs that the president and head coach Hart were not singing from the same hymn sheet.
The John-Williams-led TTFA's first act was to tell the players that they would be paid match fees when the football body was good and ready to pay up—a stance exacerbated by a media statement in which the FA told the public that the players "were not out of pocket."
Hart moaned then that the stand-off between players and administrators was not helpful and had basically destroyed their preparation for a Copa America Centenario Play-off against Haiti, which the Warriors lost 1-0.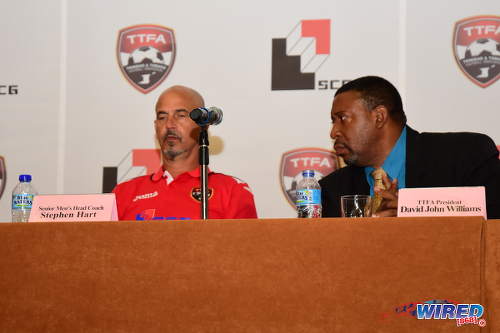 The big confrontation came in May 2016 when, after Hart turned down the offer of a friendly game coming from the TTFA, John-Williams allegedly walked into a national training session and asked the players whether they wanted to play the match anyway—and essentially invited them to overrule their coach.
John-Williams claimed he had Hart's blessing to interrupt the session but his coach never corroborated the president's version of the story. And Hart never got another friendly international as Warriors' coach.
In November 2016, after three losses in his last four matches—one in extra time against Martinique—Hart was summoned to a meeting at the Ruby Tuesdays Restaurant in Grand Bazaar and told that his services were no longer required.
Trinidad and Tobago were ranked 78th in the world at the time and, during his three-year spell in charge, Hart's troops lost just two of 12 home matches, a friendly against Panama and a World Cup qualifier against Costa Rica.
With John-Williams leading the negotiations, the TTFA Board turned to obscure Belgian Tom Saintfiet—a former Bangladesh coach—who promptly lost his first two competitive matches against Suriname and Haiti at Couva and quit before he was pushed.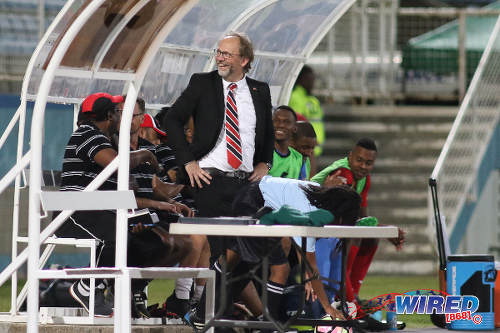 When Lawrence, a former 2006 World Cup hero, was hired in February 2017, the Warriors had already slipped six spots to 84th.
Lawrence started brightly enough with a friendly win over Barbados and a 1-0 triumph over Panama in his first competitive match on 24 March 2017. The Warriors have not won a game since.
Six months later, Trinidad and Tobago have slumped a further 15 spots to 99th in the world.
John-Williams' enthusiasm about his own contribution to local football has not been reflected in the FIFA rankings just yet.