Time was when the "Green Machine" and the "Blue Thunder" were forces to be reckoned with in national schools' football in Trinidad and Tobago. Back in the days of Dwight Yorke, Signal Hill too have had their 15 minutes of glory as have, in a later era, Arima Secondary.
Nowadays, the East and Tobago Zones don't quite make the national footballing headlines quite as often but their schools are still around, doing battle manfully. And by Christmas this year, at least one of the coaches concerned feels, the country could well have got a reminder that not only wise men come from the East. And that kings, not just Dukes, also come from the Sister Isle.
Wired868 spoke to coaches Kerry Lynch (Speyside High), Nigel de Souza (Signal Hill Secondary), Randall "Balo" Boyce (Carapichaima East Secondary), Michael Grayson (Trinity College East), Jerry Moe (San Juan North Secondary) and Adrian Romain (St Augustine Secondary) on their assessments for the 2017 SSFL season: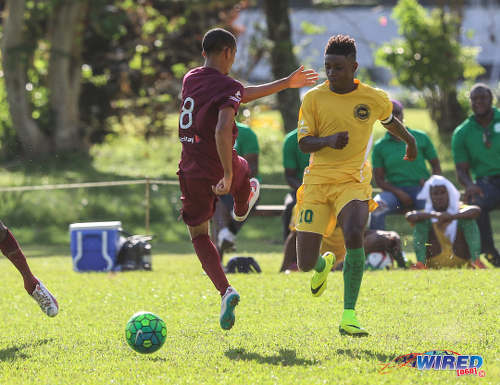 Wired868: Are there any major changes in the coaching staff this year?

Kerry Lynch (Speyside): Compared to last year, I brought in an assistant coach, Ako George.

Nigel de Souza (Signal Hill): We have a new coaching staff in place with a new assistant coach, Joel Sampson. The manager is the same person, Quasi Duke.
We're looking to improve on what we did last year, to try to bring back the title to Tobago. It will be difficult. We need to improve the quality of football we play and we'll make an assault and try to bring back the title to Tobago.
Randall "Balo" Boyce (Carapichaima East): There haven't been any major changes.
Michael Grayson (Trinity East): No changes, no changes at all. [It's] the same coaching staff, myself, Sean Best, Samuel McDonald and Nigel Ojagir as the manager. So there is definitely stability…
We have a coach from the U-13 and U-14 [teams], and he deals with us as regards equipment and so on and that's basically the set-up there; four or five people and we get things done.
Jerry Moe (San Juan North): No, we don't have any new staff; it's the same staff from last year.
Adrian Romain (St Augustine): I have Sean Bateau [national defender Sheldon Bateau's brother] as my assistant coach. Also, I've brought in Mr Shem Alexander as my assistant coach while Michael Taylor is my physio and I have a goalkeeper coach by the name of Earl DeFour.
Sean has left [the stamp of] his defensive style of the game because he is a defender. He has played in Thailand and the USA and he has brought that side [of his game].
On the goalkeeping side, Earl won titles with 'Gustine in the old days so he has brought a lot of experience in the goalkeeping department.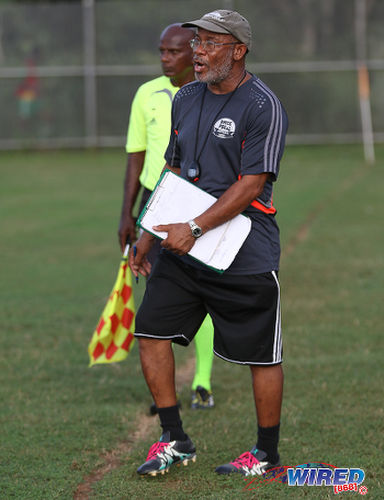 Wired868: Who are your new players in the squad this year?
Lynch: We have a couple new players who came in this year. We have Ja-den Henry and Jonathan Thomas, who is a goalkeeper who can also line up in the defence. He has been training in both positions because he knows if he has to be called up, he has to be sharp both ways.
We have the same attack from last year, that is, Shaffie McKenzie, Kerri McDonald and Stefon Antoine.
De Souza: We have a couple players returning, like the captain, Akil Frank, and we have [returning] defenders like Jokiah Leacock. We have some young players who are now coming into the team, like Jabari McMillan (midfield), Darion Stewart (utility) and Jeremie Quashie (defender). We have a nice blend of players returning and U-16 players being promoted into the team.
Boyce: No major changes; we remain basically with the same team.
Grayson: We got a couple transfers. There was a boy from Mucurapo West and [one] from El Dorado West. A couple of the fellas from Holy Cross who we wanted to get into the Sixth Form didn't get in because of the lack of space in Trinity/Bishop's Sixth Form; as you know, there is one Sixth Form. Because of that challenge, we couldn't get a couple of players we had training with us in but we do have a number of players from last year.
Moe: We have one or two changes in terms of players going out instead of players coming in. Kurdell Sween being transferred to Trinity East and a couple of guys who won't be back because of [the pursuit of their] education. The players who replaced them from U-14 and U-15 [are] coming up already.
Romain: I have Dorian Sampson, who is Taryk Sampson's younger brother. He is coming from Barataria North and he's a centre-forward. I have Daniel Rahaman, who is coming from El Dorado West and plays defensive midfield.
I also have Jelani Augustus from Trinity College East.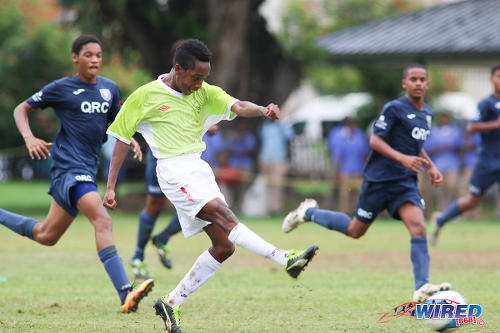 Wired868: Are there any marquee players or players on any of the national squads?
Lynch: Well, Shaffie (McKenzie) and Kerri (McDonald) and the returning goalkeeper Kellis Coker. We do not have any players on any national team.
De Souza: Our stars include [Akil] Frank, who is a striker, [Jokiah] Leacock and Jabari Francis, who is a utility player who can play anywhere.
Boyce: I don't really have any players like that. We have a team that [is] built around team play. I can't tell you that we have outstanding players. We train them in a way to play total team football so I don't encourage that business [the star player culture].
Our business is total team play. We play for one another, we support one another, we depend on one another. We get a total team effort. So, no names. I can't, I wouldn't give you any names at this point.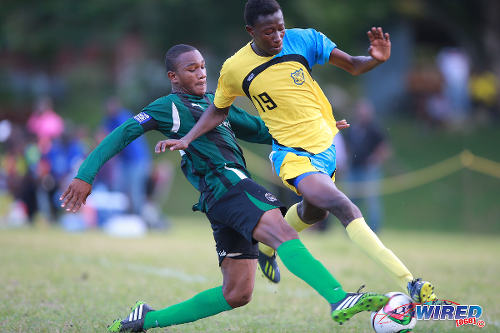 Grayson: We have returning players who are now going into football, people going into Fifth Form… We still have people like Kishon Hackshaw and Randy Jackson, the captain from last year, who have moved up into the Sixth Form. So overall, we now have about six, seven or eight sixth-formers.
We have people like our goalkeeper Emmanuel John and Nikkel Orr so they should provide us with a strong returning base.
Moe: No, for us it's a collective effort; we don't really have one outstanding individual. [Striker Renaldo] Boyce is still around… Central defender/midfielder Jordan Britto is one of the youngsters we are bringing up. He plays with the Jabloteh U-15 team. But it's not really guys who, if you mention them, they would be like household names.
Romain: Yes. I have Rivaldo Coryat in centre mid-field and he's on the National Under-17 [team]. I also have Kendell Hitlal, who is a forward and also an asset, and my goalkeeper, Yannick Gamaldo.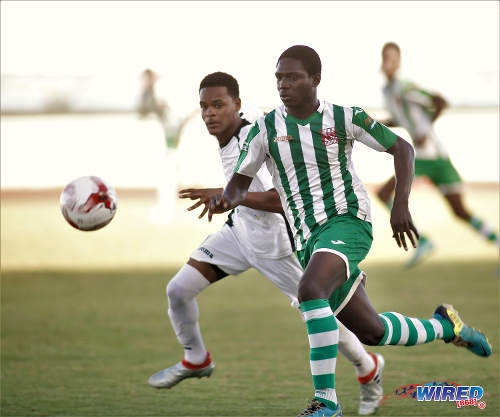 Wired868: What teams pose the biggest challenge if you are to compete for the title?
Lynch: (Laughs) I believe Shiva Boys. I'm not sure what [by way of contending teams] they have in Trinidad but I believe Shiva Boys, St Augustine and "Naps" are the ones to watch. I'm not sure how strong "Naps" are if it's a fresh group.
This rounds, we are aiming for a top six. I believe we have a squad capable of making the top six. We have to solidify our defence. I believe we have the fastest and most talented of attacks but, defensively, that calls for concentration and you know that is where you win and lose championships.
De Souza: Well, I'd show respect to the defending champions, which is Shiva Boys. I'm not sure how much has changed in their team but we have to show respect to them. With [coach Nigel] Grosvenor going to QRC, it's a big change as well, so I expect QRC to be competitive.
Boyce: We are a new team coming up. All teams that participated in the League will be a tough challenge… I'm not underestimating any team. I respect all teams and I'm going to take it one match at a time. I would say each match is played on the day so we will take it one day at a time.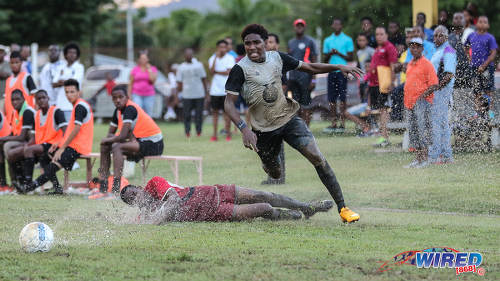 Grayson: Obviously, the teams in the first three from last year and over the last couple years, which should be Shiva Boys and Naparima definitely. Until they sent down Pres, the first three teams were South teams. So definitely Shiva and Naps.
And based on what I saw last year, I expect a lot from one of the Tobago teams…but then, I don't know if they retained their players. I was impressed with Carapichaima in the play-offs and they were one of the teams promoted. So, if they retain their players…
Moe: Every team will be our biggest challenge because some of these teams don't think we deserve to be in the League. So, I think, because of that, that all these teams will want to come and beat San Juan. So it will be a difficult season for us because all the teams will be our biggest challenge.
Romain: Honestly, I'm taking one game at a time. We have St Mary's on Saturday and I think that's our main focus. I think the favourites at the moment are St Anthony's and Naparima because they have a lot of recruits on their end. But other than that, we are well equipped to push for the title this year.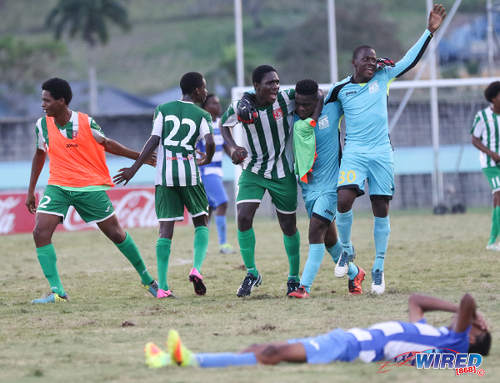 Wired868: What do you see as the biggest obstacle for your school this year?
Lynch: The biggest obstacle? Well, I don't think the travel arrangements have been sorted out and supported too. Two years ago when we were there [Premier Division], the THA assisted us with the travel and we are hoping that they come and support us again this time. That's the biggest challenge there is.
The SSFL assist to a certain extent but I think they would have normally come to Tobago to meet with the Secretary for Education. I don't think they did that as yet but I'm supposed to go to the Secretary of Education and submit a letter outlining everything, costs, fixtures, etc.
I know he told the Signal Hill guy point-blank that he doesn't have any money. He told him word-of-mouth that the Ministry doesn't have money…
I calculated it's $40,000 to go down to Trinidad seven times. I'm going to apply for it.
I think Wired868 should talk more about the plight of young Tobagonians on the national team. Because Jaiye Sheppard had to leave Tobago to live in Trinidad to go to Presentation College to be closer to the National Under-15 team. He lived up in the country in Tobago, where Speyside is, and he was going to come to Speyside to play in the Premier League. But instead, he opted to go to Presentation because the parents had to be taking out money to send him to Trinidad right through to train and that real unfair.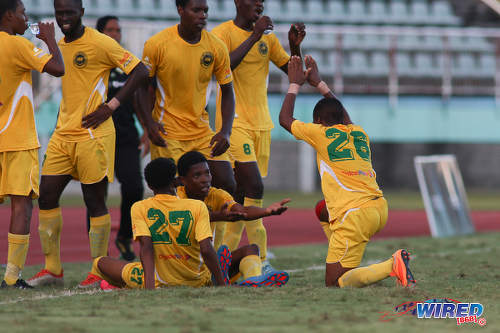 De Souza: Travel will be a little difficult, travelling and the slightly inexperienced team we have is what I feel will be the biggest challenge. At the same time,we have some young players coming up but because they [are] young we could use it to our advantage; they might just go out there and have fun. So, yes, travel and the inexperience…
Boyce: All the teams have developed but we have to get past one at a time. That's why I say we have to take it one day at a time. We are definitely going to try to compete, to challenge for the title because I don't like [just] participating in anything. I always want to be up there with the top teams.
It's going to be tough, it's going to be challenging and there is a lot of hard work that needs to be done. I know that playing at this level, there are going to be a lot of great coaches out there, some of the best minds in local football coaching at this level.
Grayson: We have to remain focused. We were demoted the year before I came here and they had got accustomed to losing. I had to try and change that culture over one season, which I think I did up to a point.
We could have done better in the Intercol but the objective was already achieved by getting promotion to the Premier Division. But now we have to get accustomed to playing 14 to 16 games of a high standard unlike when we were in the Championship Division last year. That's our biggest challenge, I think…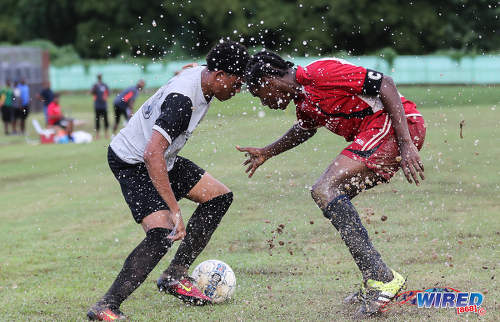 It makes no sense you having to work your butt off last year to get promoted and then you just take it easy and be a mediocre team in the next season this year. So, yes, there's hunger there which we are hoping to use.
Moe: It's not a obstacle. I think, for us, we can't believe in magic; we have to believe in hard work and effort and don't depend on luck. We have to go out there and make we own luck; we have to go out there and work hard, we have to be competitive, we have to have a winning mindset.
I think that is more important than anything else. I think that is the chief issue for us: how we believe and the kind of mindset we have.
Romain: Just keeping the guys focused. I think that's a massive obstacle because, as you know, they are still school kids and you are playing week in, week out. And also another obstacle is that we have two away games first and that will be very challenging for us at the moment.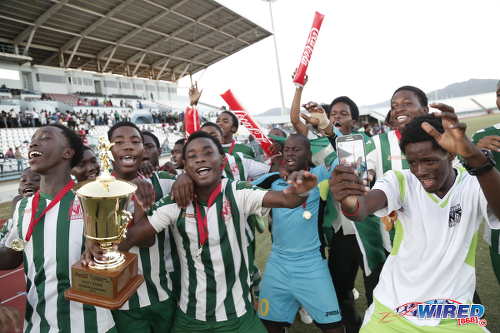 SSFL 2017 Fixtures
Round One
(Friday 8 September)
Carapichaima East v Fatima College, 3pm, Ato Boldon Stadium;
Shiva Boys HC v Naparima College, 5pm, Ato Boldon Stadium;
(Saturday 9 September)
St Benedict's College v St Anthony's College, 3.40pm, Barrackpore;
Speyside High v QRC, 3.40pm, Speyside;
St Mary's College v St Augustine Secondary, 3.40pm, St Mary's;
Fyzabad Secondary v Trinity College Moka, 3.40pm, Fyzabad;
Trinity College East v Signal Hill, 3.40pm, Trincity;
Presentation College v San Juan North, 3.40pm, Guaracara Park.
Editor's Note: Click HERE for the first in our three-part series on the 2017 SSFL season as we preview the North Zone.