Five of the Secondary Schools Football League (SSFL) Premier Division's 16 teams are from the North Zone, which has traditionally done well at schoolboy level over the years.
However—despite the previous glory years of the likes of Queen's Royal College, St Mary's College, Belmont Secondary, Malick Secondary and St Anthony's College—a North Zone school is yet to lift the Premier Division trophy.
Can the northerners change that in 2017?
Wired868 interviewed the relevant coaches from Fatima College, St Anthony's College, Queen's Royal College, St Mary's College and reigning North Zone Intercol champions, Trinity College Moka, on the run-up to the 2017 season and what they think lies ahead.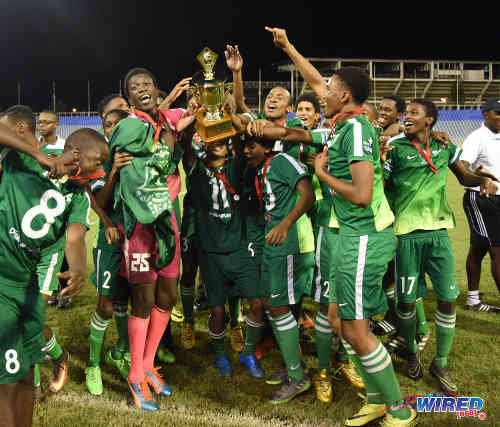 Wired868: How have preparations gone for the upcoming SSFL season? 
Wayne Sheppard (Fatima): Preparations so far this year have gone okay, I would say. We have lost 14 players. It has not been great because one of the dynamics with Fatima you would find is that a lot of the boys and their families go away on vacation for a long period of time. That issue, coupled with the fact that I had three players who were away with the National Under-15s, has kinda changed the dynamic of the starting squad because of the things we have worked on…
Nigel Grosvenor (QRC): Well, from the first time I came, they were all so excited because they are hoping to do well. I am not taking anything away from the last coaches but QRC have been in a sort of a slump for a while. When I first went there, they gave me a lot of applause and so on which puts a lot more pressure on me, of course[…] We are enjoying the training and we are excited about the season. We went to Tobago and that was more of a bonding exercise.
Ronald Daniel (St Anthony's): It's just to get the guys settled down. Once they are settled down, everything will be okay with them. The boys are in high spirits now. They are settling down and looking forward to the new season.
Ryan Shim (St Mary's): At this point in time, our pre-season has been going very well. I think we have a better balanced side this year than we did last year so I'm quietly hopeful and quietly confident that we could be a little better than we were last year.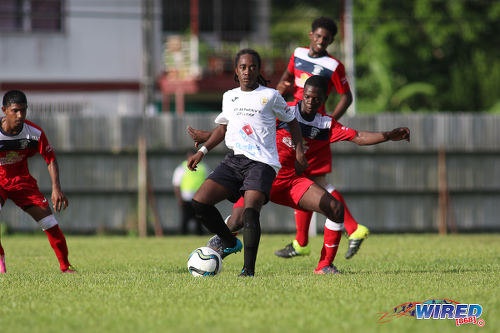 Wired868: Any changes to your coaching staff this season?
Marlon Minguel (Trinity College Moka): We brought in Bernard McCoy, who was the assistant down at Carapichaima. […] I brought him in as an assistant and we also have a goalkeeper coach in Abiola Benjamin, who was a standout goalkeeper for Trinity.
Sheppard: For the last couple years, the Technical Director was Hayden Martin[…] He has given me the reins of the team this year so I am the head coach and Dwayne Davis is now my assistant and Stephen Williams is the other assistant. All of the coaches are Fatima old boys.
Grosvenor: I have Wendell David, who was there for years but was never really involved in the football. He is assisting me and he is a past player for QRC. He is in my corner and I am in his corner. Then there is an old boy who played some years ago, Kiel Williams, he went away and graduated and came back.
There's another QRC old boy by the name of Duane Campbell, who is the trainer; he is doing a magnificent job. Duane played for QRC in 1997. And then there is my goalkeeping coach, Nigel Neverson, who I brought across from St Anthony's[…] He has been coaching on the national youth teams for a while and he has done a very good job with the keepers we have.
Daniel: We have had some changes to the staff but they are familiar faces to football. We have Mr Gilbert Bateau, Terry "Jughead" St Louis, a former national player, and the new goalkeeping coach, who is Trevor Nottingham.
Shim: Trevor Spicer is the assistant coach as per usual. I have added a strength and fitness coach, who has taken quite a burden off of me and my assistant coach. And that helped quite a bit as I am now able to focus more on the tactical aspect of the game as opposed to the conditioning so these boys will be ready come the start of the season.
I also have Jason Sheppard, who is my goalkeeper coach. This is his second year as goalkeeper coach.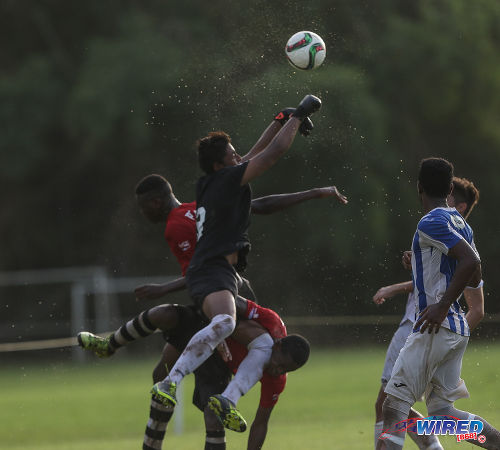 Wired868: What new players can we look out for? 
Minguel: We have probably kept two regular starters from last year and about five squad players; the rest are new players. We have brought in some transferees from Barataria South, one from St Anthony's, one from Five Rivers Junior Sec and one from Waterloo as well. We also transferred striker Kesean St Rose from El Dorado.
Sheppard: We have Zachary Welch, who is on the National Under-15 team[…] We have Luke Boucaud, who is with the National Under-17s and we have a new guy coming into the school who is Jaheim McFee. He is with the National Under-15s as well. He will be coming into Form Four in Fatima.
Grosvenor: No, we haven't brought in players. You know, people thought I would have brought along a lot of players. A lot of people wanted to come to QRC but QRC have their philosophy and their culture.
To get into QRC for Sixth Form first of all, you have to do really good. And then to repeat from outside, they don't allow that at all. To get into the Sixth (Form), you have to have ones and twos […] so nobody has come in.
Daniel: There a few new players who have come into the squad. We have [National Under-17 player] Jesse Williams, who came from Mucurapo[…] but we more or less have the nucleus of last season. Che Benny will be joining the team soon. We have the nucleus from last season, no big changes. Just one or two gaps we have to fill.
Shim: A few Under-16 boys who were in and out of the squad last year have done a lot of work in the off-season and the pre-season so they have improved quite a bit. And with the little experience they got last year, they now understand the grade required to play at this level and they have done some of that work in the off-season.
I'm hoping and expecting that these boys will step up come September. […] We have four starters coming back in so we are pretty young and inexperienced.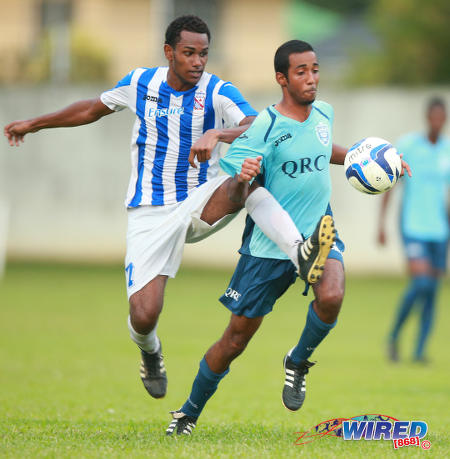 Wired868: Who are your marquee players?
Minguel: I would say Kesean St Rose, Saleem Henry and Jadel Hill, who is coming from Waterloo. Hill is coming in Form Six actually. […] Yes, we are looking for St Rose to put in some goals for us. Of course, we are hoping that he could get [a look-in on a national youth team as well]. I would be hoping the same for [Raheim] Jawahir as well; he's a nice exciting player, a quality left-back.
Sheppard: Four seniors: Andrew Peter-Abraham, Stephon Marcano, Justin Araujo-Wilson and Joshua Araujo-Wilson, Justin's bigger brother, who will most likely be the skipper.
Grosvenor: We have some seniors who are going into Upper Six. We have (former National Under-17 captain) John-Paul Rochford and we have Anfernee Stokes, who is our captain[…] I wouldn't say the ones to look out for but they have the experience.
Both Rochford and Stokes are the leaders and so far they have been showing great leadership in terms of keeping the team together.
Daniel: I think the team will be the key this year. You have to look out for the team and not only individuals. But more or less you will look at Tyrese "Boy Boy" Bailey.
Sheppard: My captain, Matthaeus Granger, is returning; he didn't have the season he wanted to have last year and he has been lucky enough to get back into Form 6, so he will be returning for one last year. I think he is somebody who should look to dominate this year, especially in the midfield.
Tyrese Spicer is another player to look out for. He did a lot of work in the off-season and I expect him to shine in the goal-scoring department this year.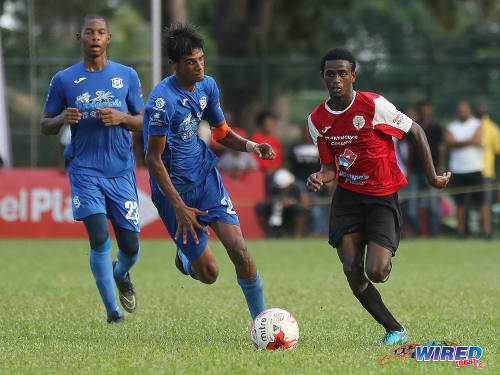 Wired868: What targets have you set for the SSFL season? 
Minguel: Seeing that it's basically a new team, the main objective is to fight and stay up in the league. Secondly, we will try to obtain trophies [and we have the North Zone Intercol trophy to defend].
If we were to go by tradition or custom, I would say again Shiva or Naparima would be favourites. And, as always, St Anthony's are always near to the top.
Sheppard: We want to finish in the top half of the table. I'm not putting pressure on the boys to win anything or anything like that. We have had a programme in place for the last couple of years and we have been producing and winning at the lower levels[…]
This group I have here is the group we had three years ago at the Under-16 level, so they have been together for a while and they understand what I have been asking of them for a while. Unlike the group from last year, which had a lot of senior boys and a lot of influences from outside pulling them left, right and centre—so they didn't really buy in to what we were doing…
Grosvenor: If any team goes out there and says they are not trying to win, they are just trying to fool you. Yes, we are going to try and win; that's the name of the game.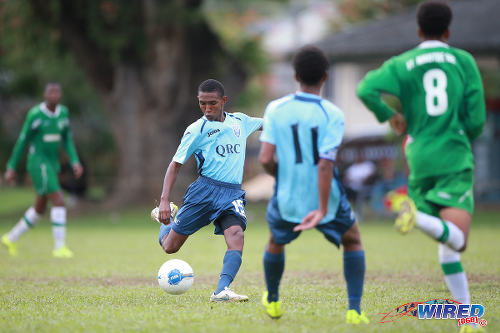 My first thing is to make sure that we come higher up in the table because, if it wasn't for the [relegation] confusion, QRC would have been relegated. […] Teams like Naparima and St Anthony's and so on, their players play in the Youth Pro League during the off-season so, when they come back into the Secondary School team, their technical ability—the touches and the passes—will be there.
With QRC now—and I suppose Fatima and CIC—they are not on top with the others. You see, when the SSFL finishes in November or December, they don't play football again until July because they go straight into the books.
Daniel: This is football, right? So each team that comes [our way] will be tough. And we just have to get over the opponent because an upset can happen at any time. We will be taking it one game at a time but, of course, one of the teams to watch will be Shiva Boys, who had a great season last year, along with Presentation and Naps.
But, you know, St Anthony's will also be there because we are always competitors. I think we will have a fine season this year.
Shim: (Laughs) We are quietly confident that we will have a better season[…] but as far as going for the title, we will have to see how the season goes. You have the Big Four—the three teams from South [Naparima College, Presentation College and Shiva Boys] and then St Anthony's; that's what we call the Big Four. They have proven themselves over the last three years of the Premiership to be the marquee teams. Those are the teams you have to beat if you want to get into that top four and anyone of them could be the favourite.
Naparima is Naparima; they are unbelievably consistent.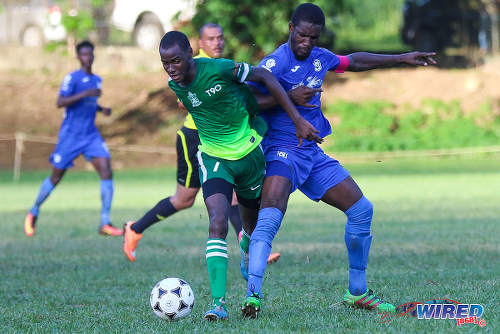 Wired868: What is your biggest potential obstacle this season? 
Minguel: Consistency. Once we are consistent, Trinity will be one of the marquee teams this year. We must be consistent. We lack a bit of experience so we are hoping that the younger players grow in mental toughness because every game is like a final and we are hoping that they can last until the end of the season.
Sheppard: The League is effectively a 20-and-under league and you heard how many National Under-15 players I have. By age 17, a boy in Fatima is in Upper Six and looking to leave school as Fatima does not repeat. […] There is a big disparity there in terms of age and maturity—both mental and physical—so that will always be the challenge for Fatima.
Last year we played Justin Araujo-Wilson as our main striker and he was aged 14. We are forced to coach from the bottom come up and this is something I am proud of.
Now, we are taking part in the League so we have accepted those as the challenges we are working under. If we didn't accept those as the challenges, then we wouldn't take part in the League.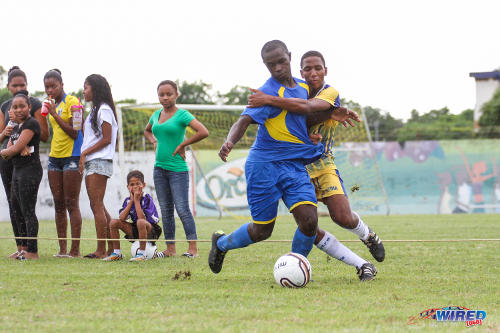 Grosvenor: You are not going to see attractive football from QRC; you are not going to see QRC string eight to ten passes together. […] We are going to be a little more direct. We are not going to be attractive but I think we are going to be effective.
People might say QRC aren't playing well or QRC aren't knocking the ball. They are probably going to say that but hopefully the scores will show differently. The League is very competitive this year and every year it is more and more competitive.
Daniel: I think defence is where we need to be looking at. My attack will be brilliant but my defence is what I'm [working on].
Shim: Yes, I would say the inexperience could hurt us. It's not that we don't have experience. We have Trey Lamont coming back; he was our top scorer last year and, with Granger coming back, I see Trey dropping back into the midfield. I see us trying to dominate the game more from midfield so hopefully that will pay dividends for us in the end.
The largest obstacle will be the inexperience of the players but hopefully the seniors could pull them along.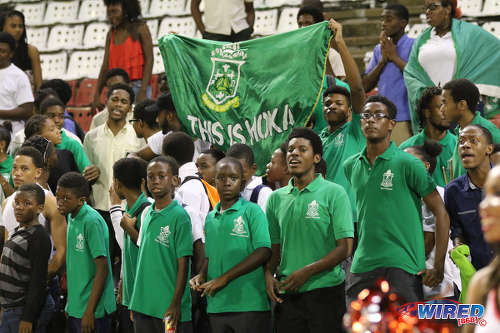 SSFL 2017 Fixtures
Round One
(Friday 8 September)
Carapichaima East v Fatima College, 3pm, Ato Boldon Stadium;
Shiva Boys HC v Naparima College, 5pm, Ato Boldon Stadium;
(Saturday 9 September)
St Benedict's College v St Anthony's College, 3.40pm, Barrackpore;
Speyside High v QRC, 3.40pm, Speyside;
St Mary's College v St Augustine Sec, 3.40pm, St Mary's;
Fyzabad Secondary v Trinity College Moka, 3.40pm, Fyzabad;
Trinity College East v Signal Hill, 3.40pm, Trincity;
Presentation College v San Juan North, 3.40pm, Guaracara Park.