The Trinidad and Tobago Women's National Under-17 team advanced to the final Caribbean stage of the Uruguay 2018 World Cup qualifying round on Sunday night—but only just.
After romping past Curaçao (7-0) and the US Virgin Islands (13-0) in their opening two group matches at the Ato Boldon Stadium in Couva, the young Women's Soca Warriors met their match against Grenada as they eked out a 2-2 draw on Sunday with both teams trading goals in the final three minutes of the match.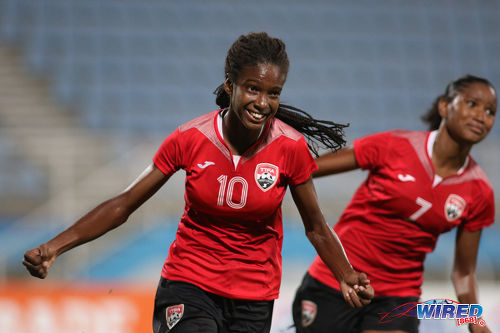 The Trinidad and Tobago U-17s will now head to Haiti for the next qualification phase where they will battle with Jamaica, Cuba, Puerto Rico, Bermuda and the host nation from 22 October 2017. The top three teams will advance to the Concacaf Final round.
Head coach Jamaal Shabazz was high in praise of his team but admitted that if he had: "a bad heart, I might not have made it through the game."
"The young girls showed tremendous grit and determination after crying for the entire halftime in the dressing-room," he told Wired868. "They came back and worked hard and got the draw, which was the result needed for us to advance.

"But the interesting thing was watching them at halftime; they all cried. They were never in a situation like this where they go out into a game thinking they will win and suddenly, at half-time, they [were] down 1-0 in front of their home crowd. And I think it was a very instructive moment and a learning moment for them."
The opening goal came off a mistake from Trinidad and Tobago custodian Chelsea Ramnauth who assumed the role of sweeper keeper but muffed a simple clearance in the 45th minute. Grenada's menacing forward Sheranda Charles gained possession and bullied her way past opposing defender Roshun Williams to poke the ball into the empty net.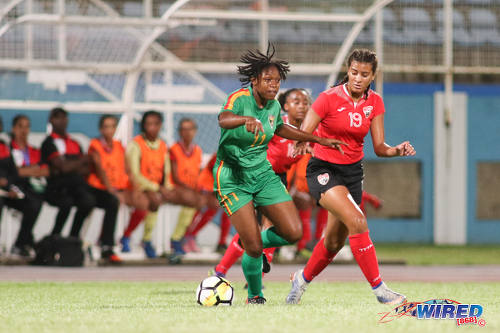 "The Grenada team was more experienced than us and we had to fight tooth and nail," said Shabazz. "They are (…) superior to us but we got the result."
The home fans thought their team had taken the lead in the 40th minute when, after some neat inter-passing by the young Women Warriors on the top of the area, attacker Kayla Baboolal sank a right-footer inside the far post. The disappointment was audible when the Jamaican referee's assistant, Princess Brown, raised her flag to signal off-side.
By then, forward Aaliyah Prince had caught the eye as she displayed good individual skill, fine ball control and deft touches. She was often part of good combination play throughout the first half, having the savvy and the required skill to look for and find the players on the flanks.
Two others who gave solid performances were midfielder/defender USA-born Sarah DeGannes and midfield anchor and skipper Kara Trotman. Trotman is a strong, unselfish midfielder who is not afraid to put her body on the line to win balls which she then distributes judiciously. She is also the dead ball specialist on the team and has the ability to shoot from distance with either foot.
DeGannes is a neat, aggressive, versatile player who always seems proactive because she is such a good reader of the game and constantly looks to be one step ahead of the play.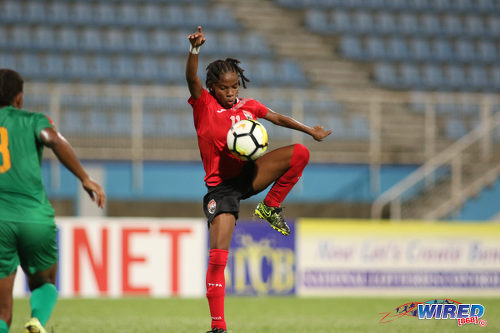 "I think the girls have done good work," said Shabazz. "We have a lot of pace and individual dribbling skills. And, most importantly, the girls are willing to listen."
He paid tribute to the two coaches who had preceded him for their work with the team.
"The people who had them before from March have done good work," he said. "We came in for three weeks and I think they adapted well. The bigger problem, I think, was not tactics but dealing with emotions because they changed two coaches (Italian Manuela Tessa and local Jo Daniel)."
Shabazz and his technical team clearly dealt with the emotional spillover at half time as their charges fought back to equalise in the 75th minute. Trotman, daughter of former 1991 Under-20 World Cup right back Kirk Trotman and niece of deceased ex-national midfielder Mickey Trotman, finished off a goalmouth melee—after a right side corner kick—by somehow scrambling the ball over the line.
The partisan crowd waited with bated breath to see what Canadian referee Sheena Dickson would decide and there were joyous shouts when she grabbed the ball and ran towards the centre circle. Grenada 1, T&T 1.
"We go win this one," a fan shouted from the stands. "See how they falling down? Like Grenada run outta dasheen!"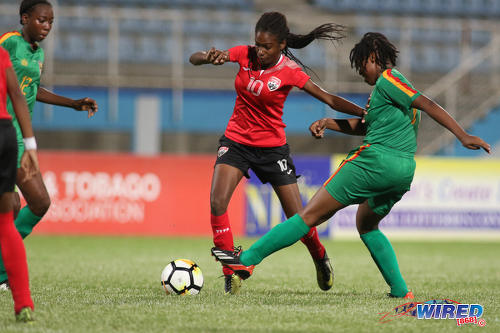 His prediction looked to be right on the ball when, in the 87th minute, substitute Maria-Frances Serrant gave Trinidad and Tobago a late lead. Latching on to a through ball from Prince, she outpaced Grenadian captain Judy McIntosh before unleashing a right-footed shot inside keeper Reshada Charles' far post. The goal set off rapturous celebrations in the stands, the home fans certain that their girls now had it won.
But they reckoned without Ramnauth's recklessness. Once more assuming the sweeper keeper role, she lunged at a Grenadian attacker inside the box, two minutes into stoppage time. Referee Dickson unhesitatingly pointed to the spot and Grenadian skipper and centre-back McIntosh stepped up and, to the dismay of the crowd, put the penalty kick safely out of Ramnath's reach.
Skipper Trotman expressed general satisfaction with her team's performance.
"We are happy that we are able to go through," she told Wired868, "and we want to come back together and work even harder to do what we need to do in Haiti."
Saying that the tournament "allows us to shape how we are going to train and build ourselves from today," she commented that the team now has "an idea of what international play is like. It will allow us to now prepare ourselves for the round in Haiti and we will be able to come out with a result and put up a good fight in every single game."
Shabazz said that he too was a better coach because of the challenges he encountered in the tournament, such as "having to break down the game a lot simpler."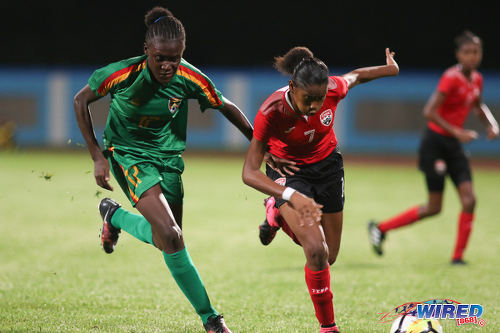 "Coaching at this level is also a learning experience for me," he explained. "These are young girls—some of them have only been playing two or three years—and most of them don't have a history. We have to take it in bits and pieces, which is why we have a big staff. We have to teach them to defend individually, then in pairs and in groups, and then as a team.
"It is really a good experience for me and this may sound a little strange but working with girls under-17 is a different challenge for me. I've had to grow into this job."
Joking that he was not making "a paid political announcement," he thanked the TTFA "for making the effort to camp the Under-17 Women's team while they have all these programmes going on."
Looking to the future, Shabazz said they have found some players in Tobago who trained with the team all during the tournament up to as late as Saturday night. Now that they have a bit more time, he added, they hope "to strengthen the team and work a little bit more with the girls."
"We have a couple more players to bring in from outside which certainly we hope would strengthen the team."
Looking ahead to their challenge Haiti this October, Shabazz said that his charges "will need to play some tougher opposition, (…) maybe from Central America or other Caribbean teams who are in the next group.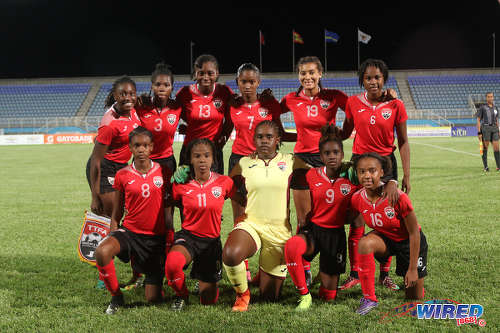 "So, certainly, we need to continue to train and we need international friendly matches if we want to prepare properly for the next leg."
In conclusion, the former national coach said that he has no reason not to feel his team will not do well. But, he noted, there is the small matter of support.
"If you know me where women's football is concerned," he told Wired868, "once we get the right preparation, I will be very confident. If we could get the corporate support going forward. I think we can better prepare going into Haiti."
(Teams)
Trinidad and Tobago (4-1-4-1): 1.Chelsea Ramnauth (GK); 16.Tianna Daniel, 13.Kya Edwards (17.Jessica Harragin), 3.Roshun Williams, 8.Nathifa Hackshaw; 18.Kara Trotman (captain); 7.Afiyah Cornwall, 19.Sarah DeGannes, 9.Kayla Baboolal (10.Maria-Frances Serrant 46), 6.Chrissy Mitchell (15.Latihfa Pascall 71); 11.Aliyah Prince.
Unused substitutes: 20.Makida Herbert (GK), 4.Shamika York, 12.Aaliyah Pascall, 14.Annika Daniel.
Coach: Jamaal Shabazz
Grenada: 1.Reshada Charles (GK), 3.Treasure Valcin, 5.Malia Ramdhanny, 8.Coie Smith, 9.Sheranda Charles (15.Tiranha Williams 86), 10.Melania Fullerton, 11.Amber Dominique, 12.Keldonna Jeffery, 17.Abigail Adewunmi, 19.Cardisha Rennie (18.Cassie Rennie 39), 20.Judy McIntosh.
Substitutes: 2.Sabrina Rennie (GK), 4.Sylvester Erin, 6.Diamond Lewis, 13.Shaniah Johnson, 16.Ruth Lewis.
Coach: Andrew Munro
Referee: Sheena Dickson (Canada)